Welcome to Life With Darcy and Brian, where we love to inspire creativity in young minds! This post is jam-packed with exciting craft ideas for kids to keep them engaged and entertained.
Whether we're exploring the simplicity of paper crafts, the versatility of popsicle sticks, or the festive charm of holiday crafts, we've got it all and more.
Help kids of all ages discover the joy of creating something new and beautiful at home or school. Let's get crafting, shall we?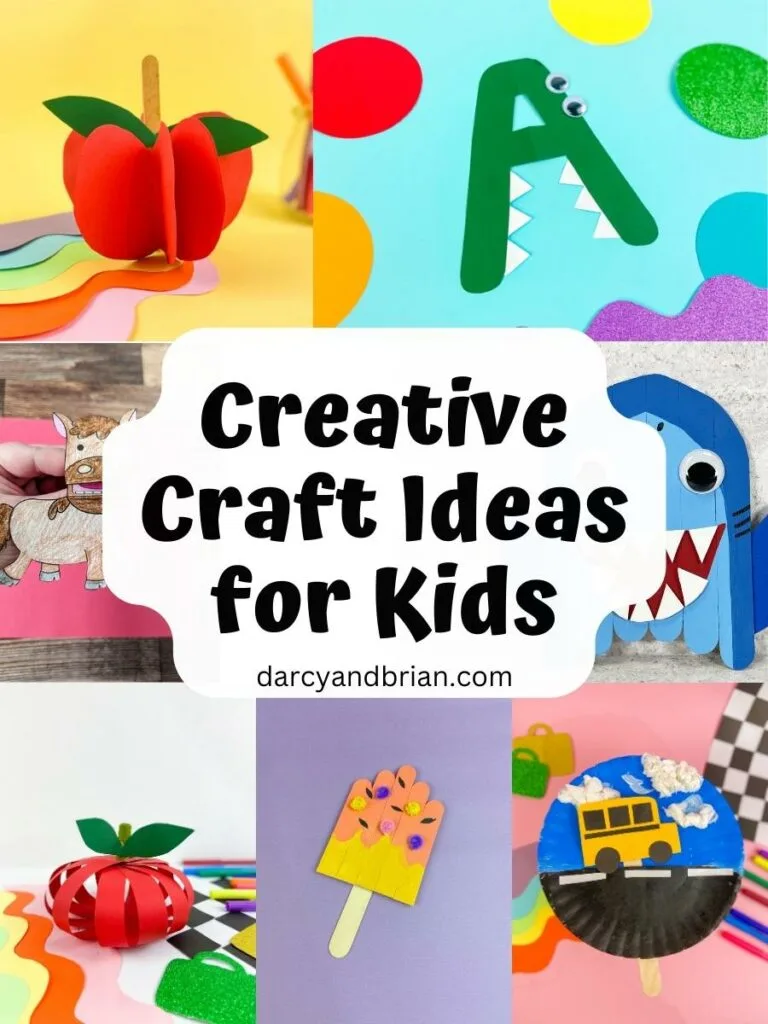 Crafting is a thrilling adventure that lets children dive into a world of color, texture, and imagination. It's not just about creating something beautiful; it's about learning, experiencing, and growing.
Let your little ones explore their creativity with paper crafts that range from simple cut-outs for preschoolers to more intricate assembly for older kids.
Or perhaps they'd enjoy transforming everyday objects like paper plates or coffee filters into stunning pieces of art.
From popsicle stick crafts that could be turned into animals to holiday crafts that bring a festive spirit into any time of the year, there are projects suitable for kids of all ages.
Fun Crafts for Kids
For example, if you are working on teaching the alphabet, young learners can make our easy 3D Red Apple Craft or this A for Apple Craft made using strips of paper.
Another simple idea is the Letter A Alligator Craft.
Older children may not need as much assistance as younger ones with some of our popular projects, like this DIY Kaleidoscope Craft.
If you are working on an ocean themed unit, you may want to include our Build A Shark printable craft.
Add in some imaginative play by using this Shark Clothespin Craft or Clothespin Mermaid Craft as puppets.
Kids will also have fun playing pretend with their very own Mermaid Wand or a Fairy Wand.
This edible Marshmallow Polar Bear Craft can double as a snack!
Does your child love Disney? Pretend to be Elsa and make a pair of Frozen Theme Paper Roll Bracelets. We've also curated a list of 11 Cute Toy Story Crafts as well as these 15 Disney Themed Kids Crafts Ideas.
Need Valentine's Day ideas? Make these easy Felt Conversation Heart Craft for Kids or these 15 Fun Valentine Crafts for Toddlers.
This post contains affiliate links. As an Amazon Associate and a participant in other affiliate programs, we earn a commission on qualifying purchases.
Apple Barrel Acrylic Paint Set, 16 Piece (2-Ounce), Best Colors Count
Bassion Pack of 2 Kids Art Smocks, Children Waterproof Artist Painting Aprons Long Sleeve with 3 Pockets for Age 2-6 Years
AdTech Ultra Low-Temp Cool Tool | Mini Hot Glue Gun for Safe Crafting | Children and Kids | Item #05690 , White
Aleene's Turbo Tacky Glue, 4 FL OZ – 3 Pack, Multi
What Are the Benefits of Kids Crafting?
Participating in craft projects offers a multitude of benefits for children. One of the most significant advantages is the development of fine motor skills.
Crafting often involves cutting, gluing, folding, or drawing, which help enhance hand-eye coordination and precision. These skills are crucial as they support other essential tasks such as writing.
Printable crafts that children can color, cut and paste, such as our Seahorse Number 3 craft and finger puppet printable farm animals provide plenty of fine motor practice.
Craft projects also ignite the spark of creativity in children. By allowing kids to think independently, make decisions, and use their imagination, crafts nurture creativity and innovation.
Whether it's deciding which color to use, how to design a pattern, or what materials to incorporate, every decision made during crafting contributes to cognitive development and problem-solving skills.
Furthermore, crafts can act as an excellent addition to unit studies or as an extension activity. They allow concepts and ideas to be visualized and applied practically, enhancing understanding and retention.
For instance, children learning about caterpillars and butterflies can create a butterfly life cycle craft showcasing each stage. This not only makes the learning process more fun and engaging but also reinforces the educational material in a memorable way.
Crafting is an engaging, fun experience that children can delve into, whether at home or school, and enjoy the thrill of creating something uniquely theirs. Check out all the different ideas below too!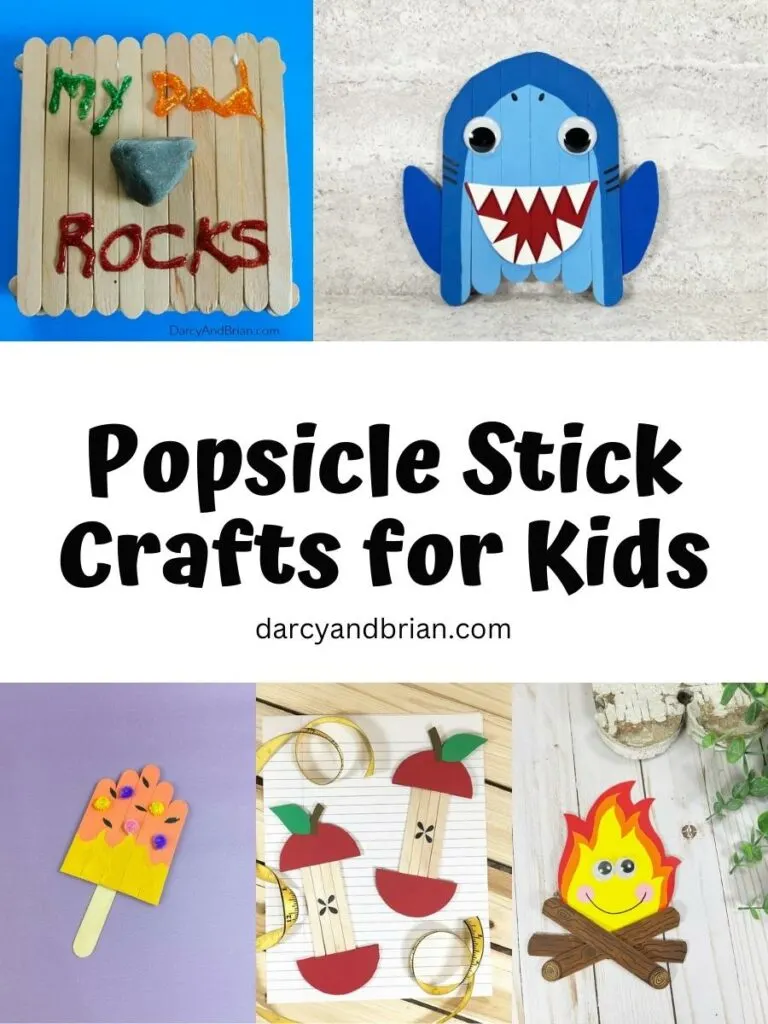 Popsicle Stick Crafts for Kids
Popsicle sticks, also known as craft sticks or ice cream treat sticks, are a versatile crafting material that can transform into almost anything with a little imagination and creativity.
You can build, paint, and glue them into all sorts of fun shapes and designs. Let's explore some exciting and engaging popsicle stick craft ideas for kids.
Coffee Filter Crafts for Kids
Coffee filters are not just for brewing a perfect morning cup; they can be transformed into a myriad of creative crafts.
With their flexible texture and ability to absorb and blend colors, coffee filters make an ideal crafting material for kids.
They can be used to create beautiful butterflies, vibrant peacocks, and many other imaginative masterpieces.
Check out these wonderful and engaging coffee filter crafts for kids that are sure to captivate your little ones and stimulate their artistic skills.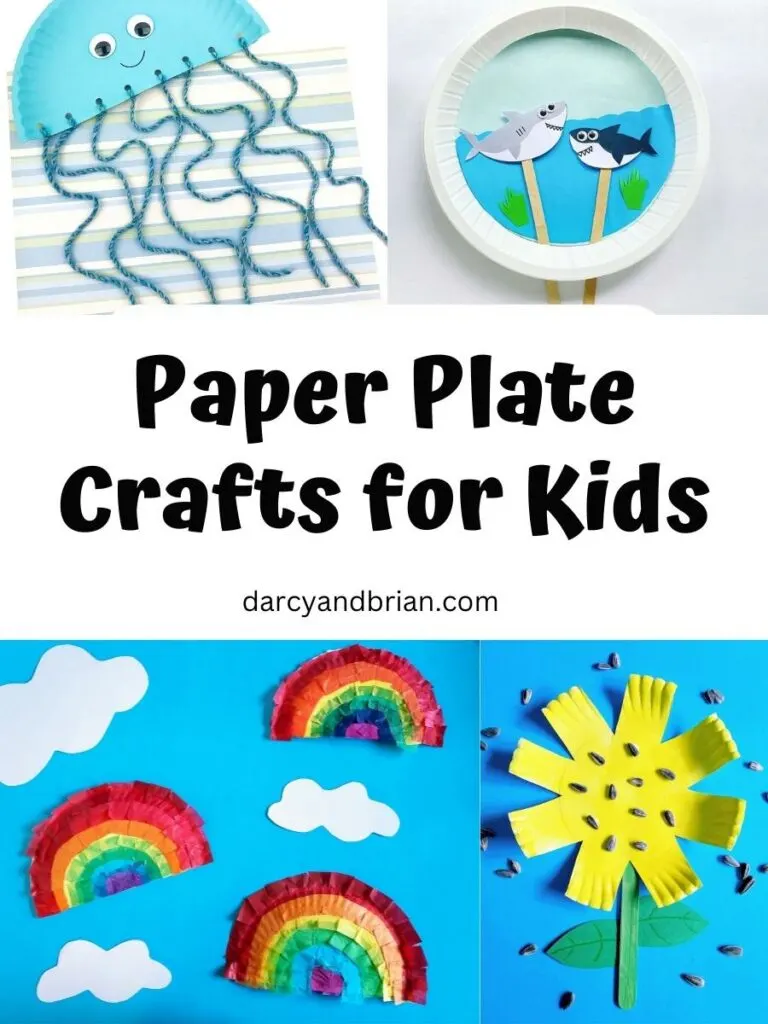 Paper Plate Crafts for Kids
Paper plates are more than just disposable dinnerware – they're a blank canvas full of possibilities! This inexpensive and widely available material can be transformed into a variety of creative projects.
Here are some fun paper plate craft ideas for kids that will engage young minds and keep their little hands busy.
With a little paint, glue, and imagination, children can bring their paper plate crafts to life, enhancing their artistic skills and creativity.
Tissue Paper Crafts for Kids
Tissue paper, with its various vibrant colors and easy-to-manipulate texture, is a fantastic material for crafting.
It's a great way to encourage creativity in children of all ages, especially toddlers and preschoolers.
Our list of tissue paper crafts for kids features a plethora of craft projects including beautiful suncatchers, seasonal and holiday-themed crafts, and even bookmarks, all made from tissue paper.
The projects range in complexity, making it easy to find something perfect for your child's skill level.
Superhero Crafts for Kids
From Batman to Superman, kids (and adults!) love their superheroes. What better way to engage young minds than by creating some superhero-inspired crafts?
You can combine paper plates, popsicle sticks, paper bags and other simple materials to create an array of exciting projects! Here are some great ideas that will help your little ones unleash their inner superhero.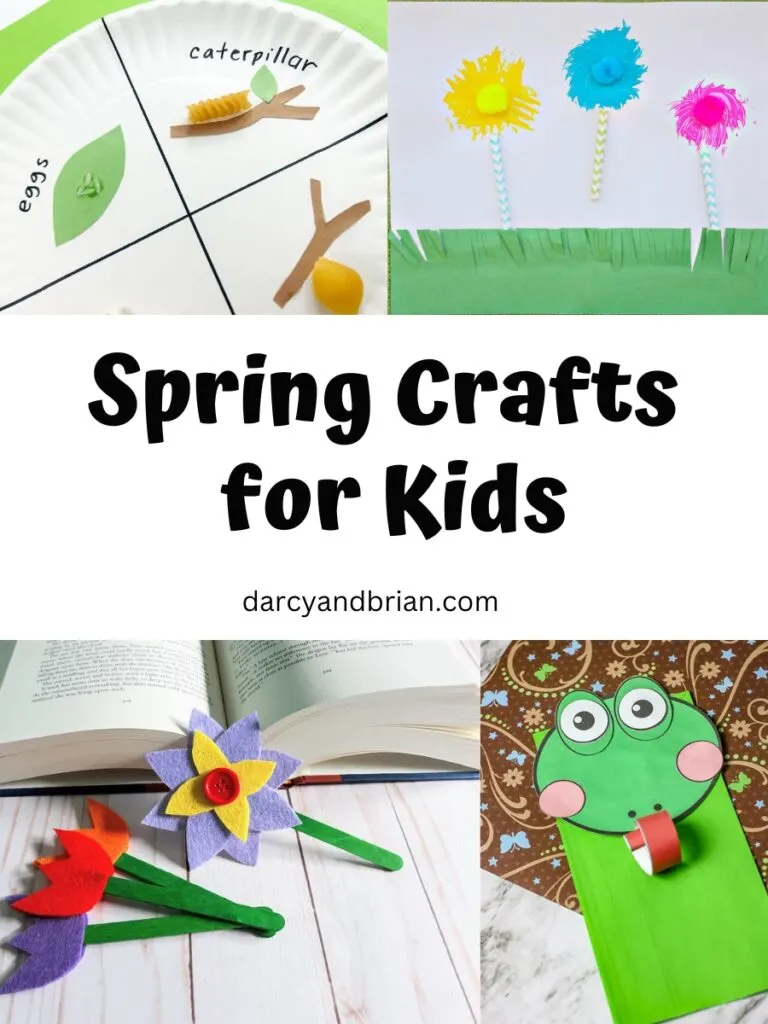 Spring Crafts for Kids
Spring is the perfect time for blooming flowers, vibrant colors, and outdoor fun. And with these cheerful spring craft ideas for kids, you can help your children explore the joys of this season. From felt flowers to colorful rainbows – let's get crafting!
Creative projects such as these will keep little ones engaged and entertained while allowing them to develop fine motor skills.
Recommended Arts and Crafts Supplies for Kids
Now that we have explored some of our fun and engaging craft ideas for kids, let's look at the materials you'll need. With the right writing and drawing tools, children can explore their creative side with ease.
When crafting with kids, an art smock is an invaluable tool to keep their clothes clean during all the fun. Also, having a dedicated craft area with a washable table cover can help manage the mess.
Remember, creativity can be messy, but the joy it brings makes it worth all the cleanup! Check out these tips on crafting with minimal mess.
To get your kids ready to craft with confidence, here are a few essential supplies they should have on hand:
Armed with these supplies, children can make their craft ideas come to life. From paper plate crafts to holiday decorations, they will have lots of fun bringing their creative projects to the next level.
Easter Crafts for Kids
Filled with adorable bunnies and colorful Easter eggs, our selection of crafts encourages kids to put their creativity to work. Let's hop into the world of cute Easter crafts and make this season unforgettable for your little artists!
Mother's Day Crafts From Kids
Show Mom love and appreciation with heartfelt Mother's Day crafts from kids. These delightful creations not only provide fun and engaging activity for children but also result in treasured keepsakes that moms will cherish forever.
Discover a variety of easy and creative projects in our list of Easy Mother's Day Crafts for Kids, perfectly suited for little hands to make and gift. These also make wonderful handmade gifts for Grandma too!
Fathers Day Crafts for Kids
Surprise Dad with a lovingly crafted, homemade gift this Father's Day! Our list of easy Father's Day crafts provide children with an engaging, fun-filled opportunity to express their love in the most creative way.
From cute photo frames to a keepsake box, these crafts not only serve as a perfect token of love but also as an exciting activity that kids can dive into.
Make this Father's Day unforgettable with a gift that truly comes from the heart!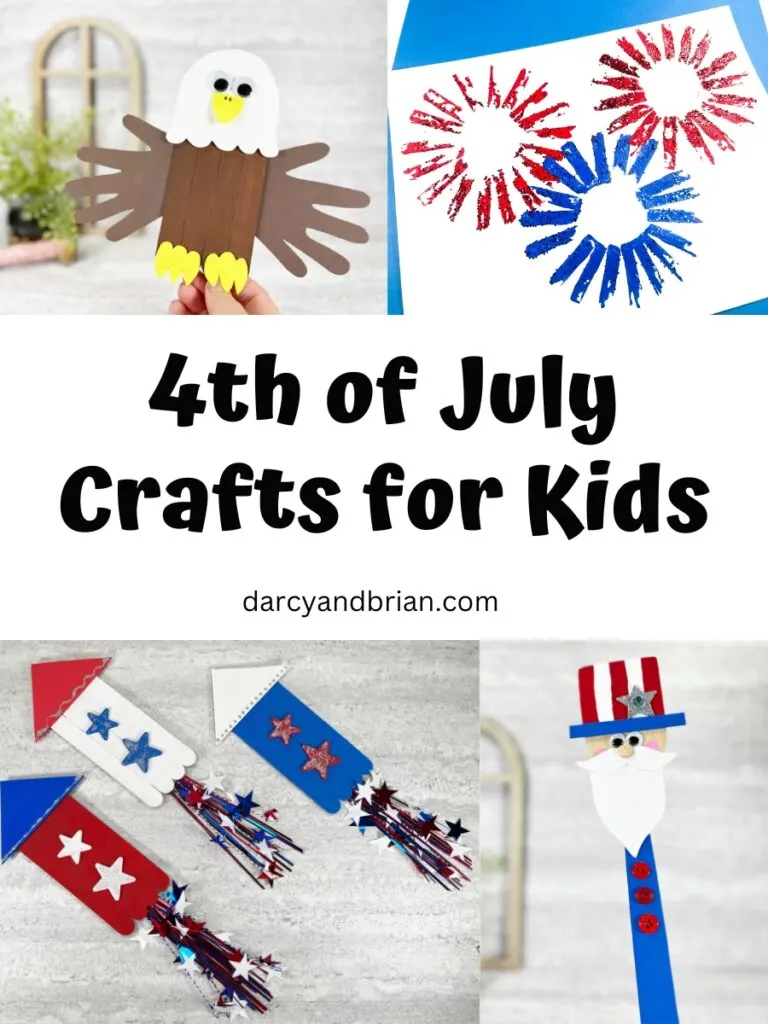 4th of July Crafts for Kids
Celebrate Independence Day with a dash of creativity and patriotic spirit, as we dive into a list of engaging 4th of July crafts for kids.
These craft ideas for kids are not just fun, but also a great way to introduce kids to the symbols of this significant day in American history.
From crafting a vibrant fireworks display to a proud Bald eagle, a national flag swaying in the breeze, or even an adorable Uncle Sam figure, these activities will provide hours of creative fun.
They serve as a wonderful opportunity to discuss the importance of Independence Day, while children create their very own symbols of celebration.
More Educational Activities for Kids
Beyond crafts, there's a whole world of educational activities that can stimulate your child's creativity, curiosity, and love for learning.
From science experiments to playing games, these activities not only foster intellectual growth but are also lots of fun. Let's explore some more exciting and engaging activities that you can introduce to your kids.
In conclusion, crafting truly is a world of creative fun, open to children of all ages, including preschoolers, kindergartners, and older kids.
With a little imagination, simple materials such as paper plates, coffee filters, and popsicle sticks can be transformed into vibrant, creative masterpieces.
These craft ideas for kids serve not only as exciting projects they can create at home or school, but can also be meaningful keepsakes that are created with love.
Our craft ideas cover a range of themes from delightful holiday crafts and special occasions such as Mother's Day and Father's Day, to simple and engaging everyday projects.
So, let's start crafting, and unlock a world of creativity and fun for our little ones!