Are you looking for easy Mother's Day crafts for kids to make and give to mom? We have lots of craft ideas for kids that they can make at home or in a classroom.
Mothers deserve to be celebrated every day, but Mother's Day is a special time to let them know how much we love and appreciate them.
There are many ways to celebrate Mother's Day too. Generally, we can buy them flowers, cards, or buy gifts. Kids can also make their own gifts to show mom (or another special grownup) how much they love them.
Some of the most cherished Mother's Day gifts are homemade ones. Certainly, the most important thing is to give from the heart!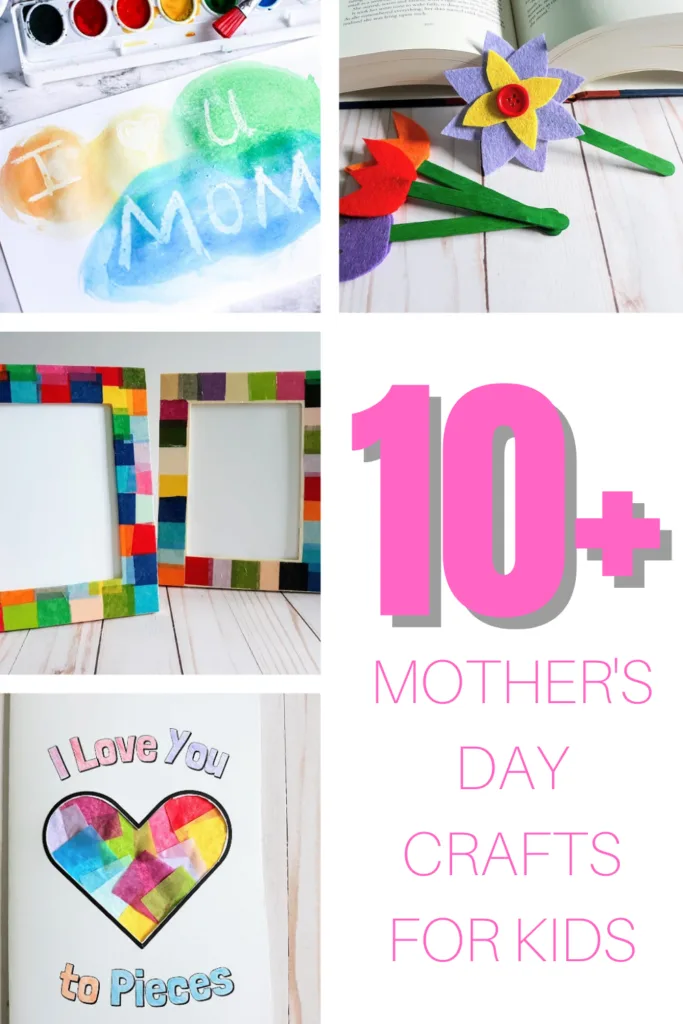 Crafts for Mother's Day
Tissue Paper Picture Frame Craft – Decorate a photo frame using brightly colored tissue paper and include a photo for mom. Love how pretty this looks and that it is less messy than painting.
Felt Flower Bookmark Craft – Does mom love to read? Then the kids can make a special bookmark for her. Some children may need adult assistance for this project.
Home is Where the Heart Is Magnet – Get out the popsicle craft sticks and glue for this cute project. It makes a nice fridge magnet too!
Coffee Filter Heart Craft – Making these is just fun and kids love it. Write Happy Mother's Day on a finished coffee filter heart and use it to decorate a card. Also, another cute option would be to make several and string them together to make a banner or streamers.
Pink Fizzy Bath Bombs – Older children can make homemade bath bombs to give as a present. It's a nice way to encourage self care time for mom.
Homemade Mother's Day Cards
While there are plenty of options at the store, most kids will enjoy making their own from scratch. Plus, moms love handmade cards as keepsakes.
Kids can make one of the card crafts below, use one of our printable cards or create one all on their own. They can use construction paper, markers, crayons, and other craft supplies to decorate their card and write a special message inside.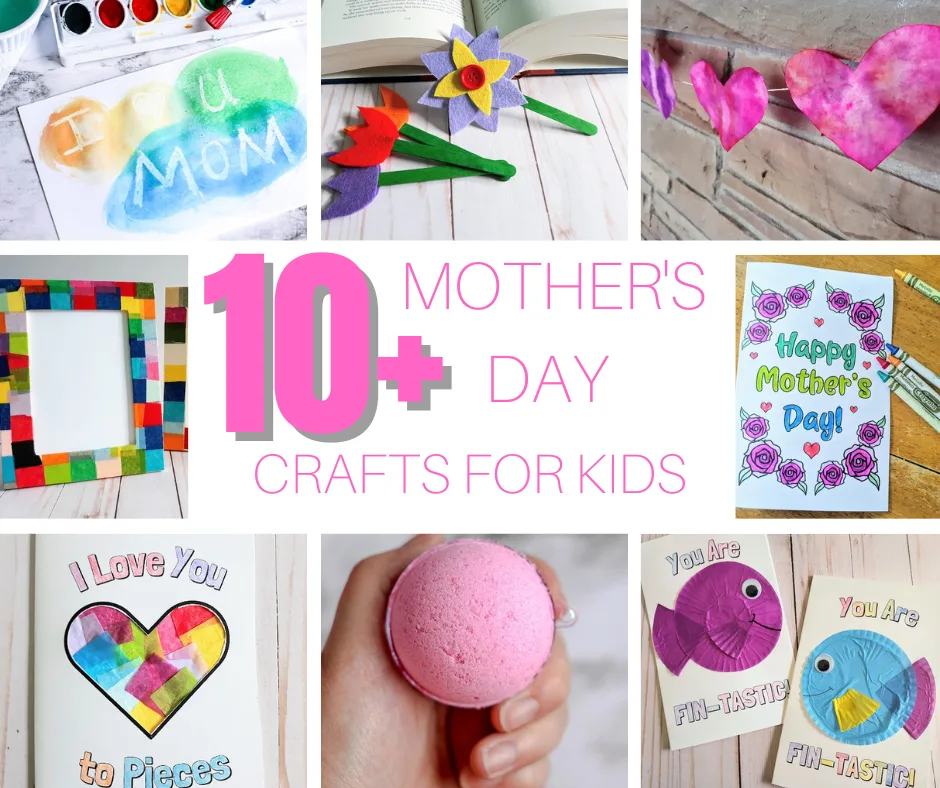 Watercolor Resist Mother's Day Card – Kids especially will love making this watercolor resist card. They start by writing a message and/or drawing a design. Then they paint over it for the reveal. Check out the full instructions to see how to make one of these.
"I Love You To Pieces" Printable Card and Craft – This is a Mother's Day card and craft all in one! Kids can make a small heart suncatcher and color in the card.
Fish Cupcake Liner Card Craft – The kids can make an adorable cupcake liner fish for the cover of the card. Choose from one of the silly fish pun sayings. This free printable pack can also be used to make cards for Father's Day and Grandparent's Day.
Chalk Heart Mother's Day Card – Use dark colored paper and chalk to decorate a card. This is a fun option for preschoolers to make!
Mother's Day Coloring Card Printable – Want a simple card to go along with mom's gift? Let the kids add something special by coloring this in. They can add their own message inside too. For more printable card options, check out this pretty floral Mother's Day card.
More Mother's Day Craft Ideas
Handprint flowers: This is a classic Mother's Day craft to make with the littlest ones. It is also an easy project for kids of all ages. Use paint to turn their adorable hand (or foot!) prints into flower petals on a piece of paper. Then add details like stems and leaves using markers or crayons.
Check out our set of Mother's Day handprint art printable templates.
Salt dough handprints: This is another easy and fun craft that kids will love. Simply mix together flour, salt, and water to create a dough. Then have your child press their hands into the dough to create a handprint. You can paint it after the dough has dried.
Thumbprint art: This is another creative way for kids to create a Mother's Day card or picture. It can be less messy than handprints too since you'll only need a little bit of paint to dip their thumb into. You can even help them create a special message for their mother.
Homemade Gifts: In addition to the crafts mentioned above, here are a few more ideas for homemade gifts kids can make: frame their artwork, they can help bake something like stained glass heart cookies, make a bead bracelet, make a perler bead creation, bookmarks, etc.
Mother's Day Celebration Ideas
Mother's Day is a special day to celebrate mothers and all that they do for their children. Whether you plan to make something, spend quality time together, or purchase a gift, there are many ways to show your appreciation.
Another idea is to enlist the kids for help decorating the house or setting the table.
Here are few other ideas on how to celebrate Mother's Day in case you need more inspiration:
Make her breakfast.
Get her a massage.
Take her to her favorite restaurant.
Go for a walk or hike together.
Spend the day doing her favorite activities.
Write her a heartfelt letter or poem.
Give her a framed photo of the two of you.
Plant a tree in her honor.
Donate to her favorite charity in her name.
Simply tell her how much you love and appreciate her.
Finally, no matter how you choose to celebrate Mother's Day, it is important to show mom how much you care. She deserves it!