Today we're going on a magical adventure with one of our craft ideas for kids. An adventure where we shrink down as tiny as a blade of grass, visit a fairy garden, slip through the tiny door, and learn how to make our very own fairy wand.
If you have a fairy costume (especially pretend wings), now is the time to put it on!
My kids love pretend play. Through observation, it's quite clear that they frequently require a wand of some sort.
If not a wand, then a lightsaber or a sword. When they are pretending to be superheros, they tend to find an excuse to grab a stick to wave around.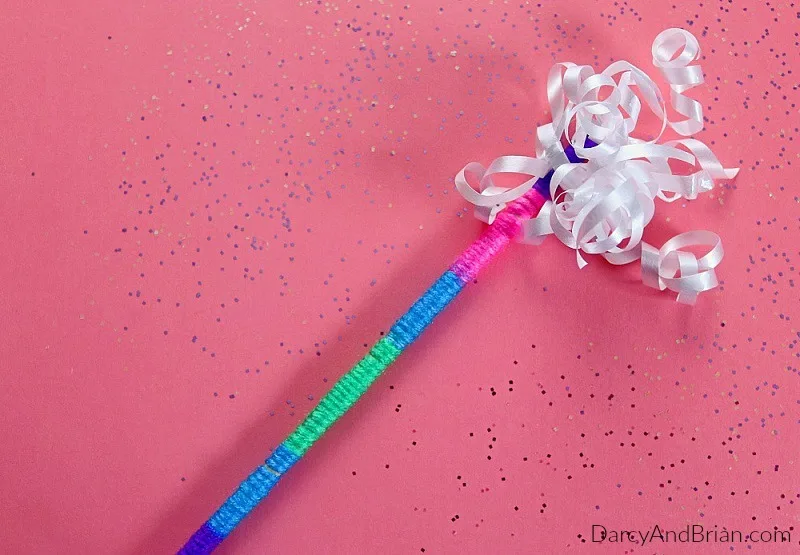 Even a princess needs a wand! (Especially a fairy princess.) You may also like our magic wand craft tutorial – it's perfect for little wizards.
This post contains affiliate links. As an Amazon Associate and a participant in other affiliate programs, we earn a commission on qualifying purchases.
Fairy Wand Kids Craft
This activity is great for encouraging pretend play. This kids craft would work as a play date, birthday, or sleepover activity too.
You can serve glitter brownie pops while making unicorn puppets and these fairy wands!
Fairy Wand Craft Supplies
How to Make a Fairy Wand
Start by gathering up your craft supplies.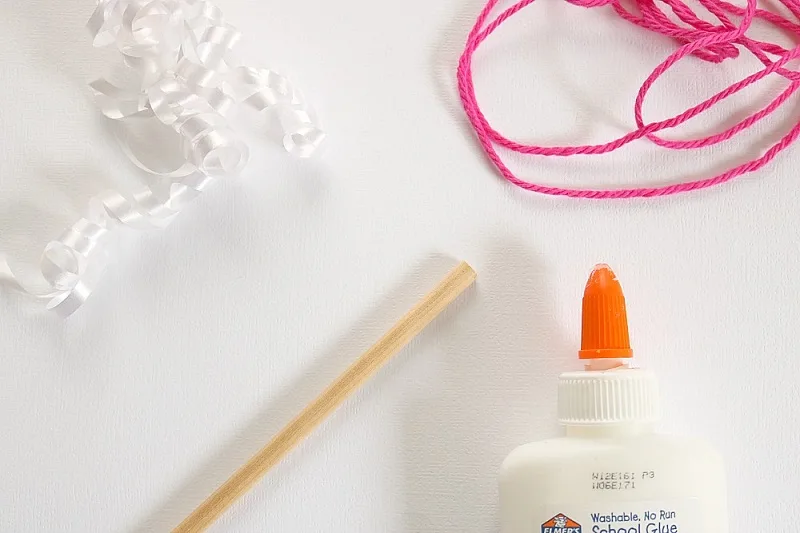 Squeeze glue all over the dowel. Don't have a dowel? A sturdy stick from your yard works too!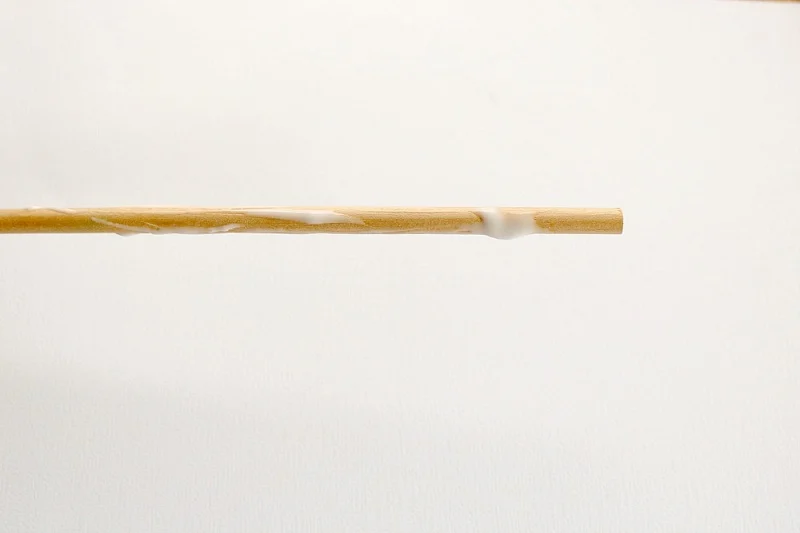 Starting at one end of the dowel, begin tightly wrapping the yarn around. Continue to wrap the yarn as tight as you can until you reach the other end.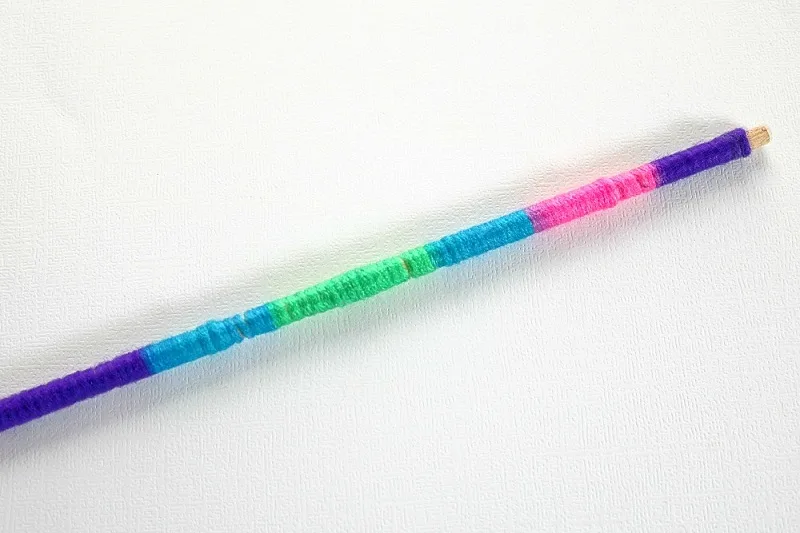 You can use one continuous piece of yarn or you may cut different colors. When one piece ends, just start wrapping the new one where the other one left off.
Take the ribbon and cut six 10 inch pieces. Gather the ribbon pieces (on top of each other) and tie them together in the middle.
Use scissors to make ribbon curls. (This may need to be done by an adult to ensure scissor safety.)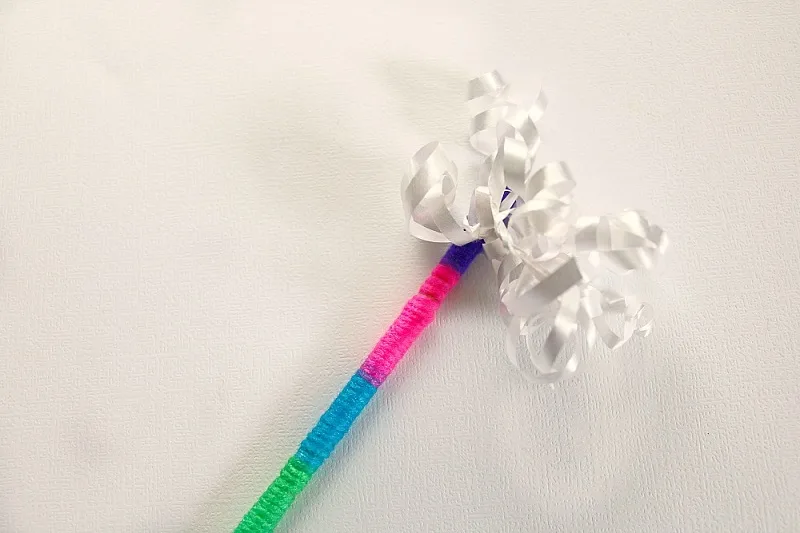 Tie the curled ribbon bunch on the end of the dowel. Reinforce with a dab of glue around the knot and allow to dry.
For extra fun, you can have your kids say "abracadabra" or a silly nonsense word to complete their wand. You may also consider sprinkling a bit of pixie dust (glitter) over it.
Are you ready to go on your own magical adventure? We hope you enjoy making your very own fairy wand. Kids craft days can be full of magic!
Don't miss these other fun kids crafts and activities: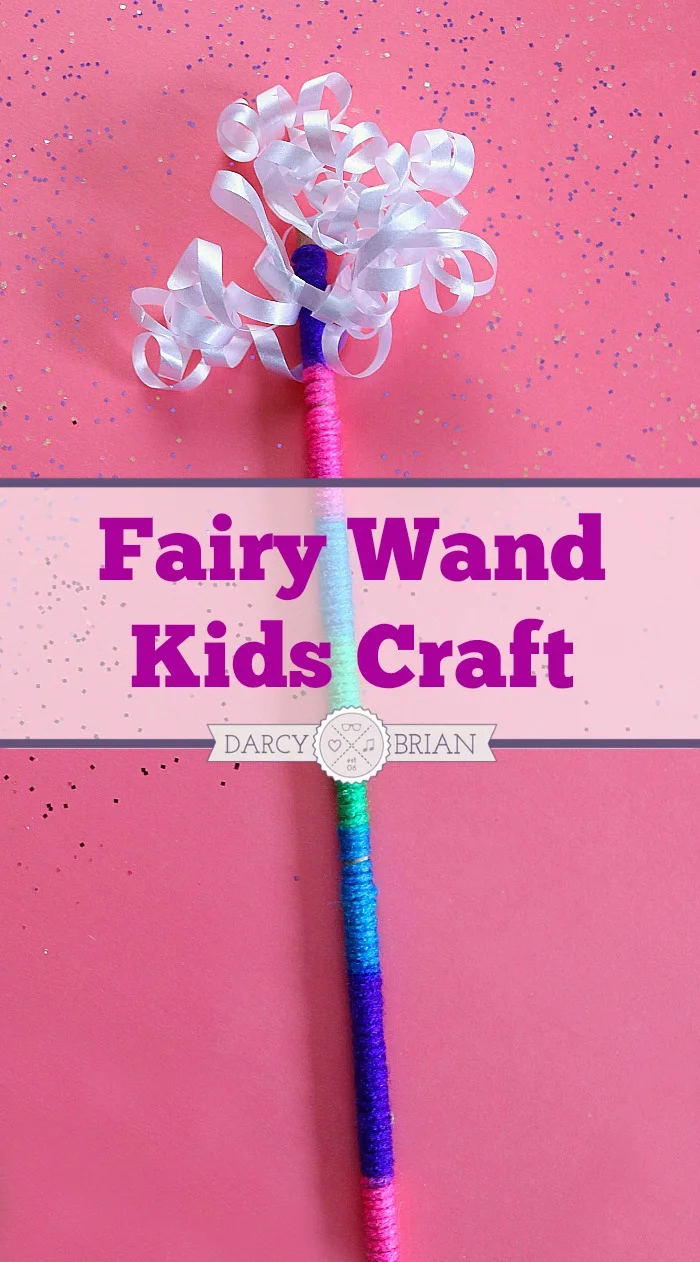 If you make your own, we'd love to see it. You may share it on our Facebook page, tag us on Twitter (@darcyzalewski) or Instagram (@darcyannz), or use the hashtag #LWDBCrafts