This 30 Day Science Activity Planner is an excellent resource for fun and easy science experiments for kids to do at home.
There are a variety of hands-on science experiments, activities, as well as demonstrations for observation. Most are simple to set up and use items that you already have around the house or are easy to obtain.
Make sure you grab the printable science activity plan you can print out at the bottom of this post.
So I put together this list that you can use to do just for fun or as part of your science curriculum. These work well for homeschool, school classrooms, virtual classrooms, and just for fun learning at home.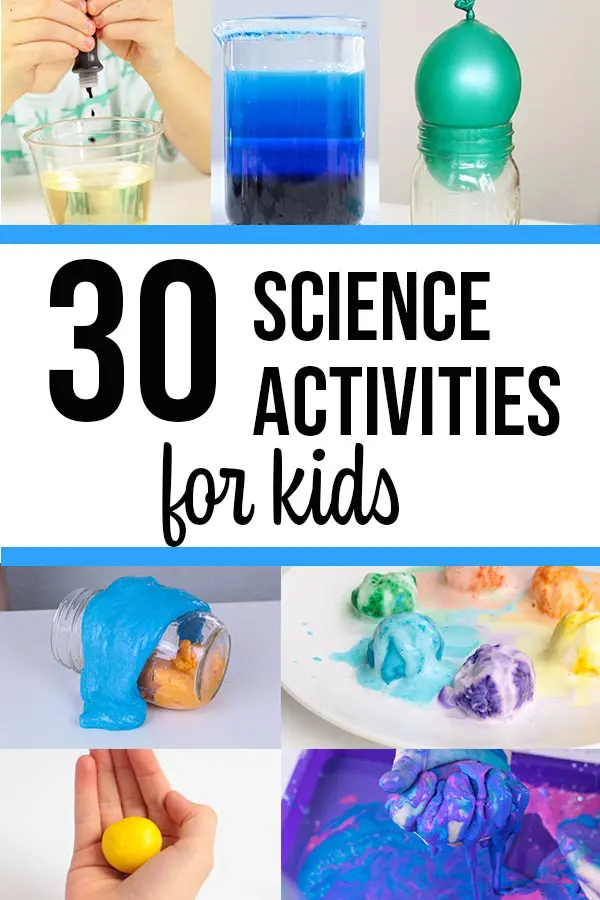 Kids are naturally curious and it's incredibly important to keep kids interested in science.
These science activities are great for kids of all ages, but are ideal for preschool and kindergarten. You may need to adjust some of them depending on your child's age.
For example, some of these are great to introduce to toddlers, but they may need to only observe. Whereas older children may be able to assist with set up.
You may also like these STEM gift ideas for kids too!
More Science Printables for Kids
Discover additional printable science activities to keep the little ones engaged and learning!
Spark your child's curiosity with our interactive Science Bingo and Science Pictionary games that are as fun as they are educational.
Plus, don't forget to check out our inspiring Women in STEM coloring pages. These pages feature trailblazing women in science, technology, engineering, and mathematics, offering kids a fun way to learn about these role models while enjoying some coloring time.
You can use these printable activities along with the science activity planner for even more scientific fun at home or in the classroom!
Free printable available at the end of this post.
Science Books for Kids
Before we dive into our exciting 30-day science activity planner, let's talk about the importance of good science books for our young inquisitive minds.
Here are some popular science books that would make a perfect addition to your child's reading list.
This post contains affiliate links. As an Amazon Associate and a participant in other affiliate programs, we earn a commission on qualifying purchases.
Awesome Science Experiments for Kids: 100+ Fun STEM / STEAM Projects and Why They Work (Awesome STEAM Activities for Kids)
The Fascinating Science Book for Kids: 500 Amazing Facts! (Fascinating Facts)
The Everything Kids' Science Experiments Book: Boil Ice, Float Water, Measure Gravity-Challenge the World Around You!
Science Book, The: Everything You Need to Know About the World and How It Works
Britannica All New Kids' Encyclopedia: What We Know & What We Don't
National Geographic Little Kids First Big Book of Why (National Geographic Little Kids First Big Books)
Science books serve as an excellent springboard for children, sparking their curiosity and igniting their interest in the world around them.
They cover a range of fascinating topics in a way that's engaging and easy for children to understand.
How to Use the 30 Day Science Activity Planner Printable
Get the printable kids' science activity calendar using the form at the end of this post and save it to your computer or mobile device.
Inside the PDF, you'll find clickable activity names that link to the instructions for each science experiment.
Our provided blank calendar offers a convenient resource for planning your own science activities. Arrange them in any order you prefer, whether it's a weekly or daily plan. This allows you to customize your schedule according to your needs and preferences.
Print it out and check off each activity as you complete it with your kids.
Don't forget to mark your child's favorite science experiments with a circle or star, so you can do them again!
Essential Items for Conducting Science Experiments at Home
Conducting science experiments at home is not just entertaining, but also educational.
The beauty of our 30-day science activity planner is that the experiments are simple and require items that are often readily available in your home.
However, it's key to have a few specific items on hand to ensure a smooth and safe experimental process.
Always confirm the materials needed for each experiment before you get started. Let's walk through some of the most common items:
Safety Glasses: Safety should always be your priority when conducting science experiments. Safety glasses protect your child's eyes from any splashes or debris.
Pipettes: These are great for teaching measurements and precision while adding liquids in the experiments.
Vinegar and Baking Soda: These basic kitchen ingredients are the stars of many science experiments and can demonstrate fascinating chemical reactions.
Glass Jars: They are perfect containers for many experiments. They are clear so the participants can observe changes easily.
Food Coloring: This brings a fun element to experiments, making it visually appealing and engaging for young children.
Notebook: This is a must-have for recording observations and documenting learning. Encourage your child to take notes about their thoughts, predictions, and results.
Remember, the goal is to make science fun and accessible, and these items will help you do just that. Happy experimenting!
30 Fun Science Activities for Kids
This collection of 30 science activities is a treasure trove of learning that promises both fun and education for children.
These engaging experiments, designed with the developmental capacities of preschool to early elementary children in mind, bridge the gap between learning and play.
They transform your home into a mini science laboratory where children can explore, experiment, and discover.
Whether you're looking for supplemental learning activities, homeschooling resources, or classroom activities, these science experiments cater to a range of needs.
They not only cement scientific concepts in young minds but also cultivate a spirit of inquiry and love for science.
Remember, each completed experiment is a step closer to raising scientifically literate and curious individuals!
Fun Science Kits for Kids
Add the Ooze Labs: Colorful Crystal Lab set to your schedule! It's a fun way for kids to explore and learn about different crystals and how they form.
My kids loved watching the progress of our crystals forming. During our first year of homeschooling, we incorporated this set into our lessons.
The lab station comes complete with beakers, test tubes, centrifuge, display dome, and safe, non-toxic crystal salts to conduct more than ten experiments in crystal formation. You can even make red, pink, blue, purple, and clear crystals using the spinning centrifuge!
One thing we noticed is our crystals took much longer to form than indicated in the instructions, so if you don't see anything for a couple days – just wait!
Also, you won't be able to easily complete all of the experiments in one day, so it will take some time to complete them all.
Einstein Box Science Experiment Kit For Kids Aged 8-12-14 | STEM Projects | STEM Toys | Gift for 8-12 Year Old Boys & Girls | Chemistry Kit Set For 8-14 Year Olds
NATIONAL GEOGRAPHIC Magic Chemistry Set – Science Kit for Kids with 10 Amazing Magic Tricks, STEM Projects and Science Experiments, Science Toys, Great Gift for Boys and Girls 8-12 (Amazon Exclusive)
NATIONAL GEOGRAPHIC Stunning Chemistry Set – Mega Science Kit with 45 Easy Experiments- Make a Volcano and Launch a Rocket, STEM Projects for Kids Ages 8-12, Science Toys (Amazon Exclusive)
Creativity for Kids Grow 'N Glow Terrarium Kit for Kids – Science Activities for Ages 5-8+, Craft Kits and Creative Gifts for Kids
Miracle GRO My First Root Viewer- Decorate & Plant Your Own Garden – Science Kit for Kids – Soil & Vegetable Seeds Included – STEM Educational Teens Kids Gardening Set Age 6+, Multicolor
NATIONAL GEOGRAPHIC Battery Making Kit – Potato Clock and Penny Powered Flashlight Science Kit, 2 Electricity STEM Projects for Kids, Electrical Circuit Toy for Boys and Girls (Amazon Exclusive)
30 Day Science Activity Printable Calendar
Our printable science activity planner is free for your personal use at home or in your classroom. Please share this post with other parents and teachers to get their own copy.
*Special Note For Teachers: You may use this planner with your virtual classes too.
In conclusion, these 30 science activities provide a fun-filled and educational journey for kids at home or at school.
It's incredible how simple household items can become tools for discovery, sparking curiosity and encouraging a deeper understanding of the world around us.
These activities are not just about learning science concepts, but also nurturing a lifelong love for exploration and discovery.
These experiments offer a delightful way to satisfy the scientific curiosity for kids of all ages. So let's get our little scientists started and let the fun begin! Happy experimenting!