This 30 Day Science Activity Planner is an excellent resource for fun and easy science experiments for kids to do at home.
Make sure you grab the printable science activity plan you can print out at the bottom of this post.
Kids are naturally curious and it's incredibly important for kids to participate in science activities.
So I put together this list that you can use to do just for fun or as part of your science curriculum. These work well for homeschool, school classrooms, virtual classrooms, and just for fun learning at home.
You may also like these STEM gift ideas for kids too!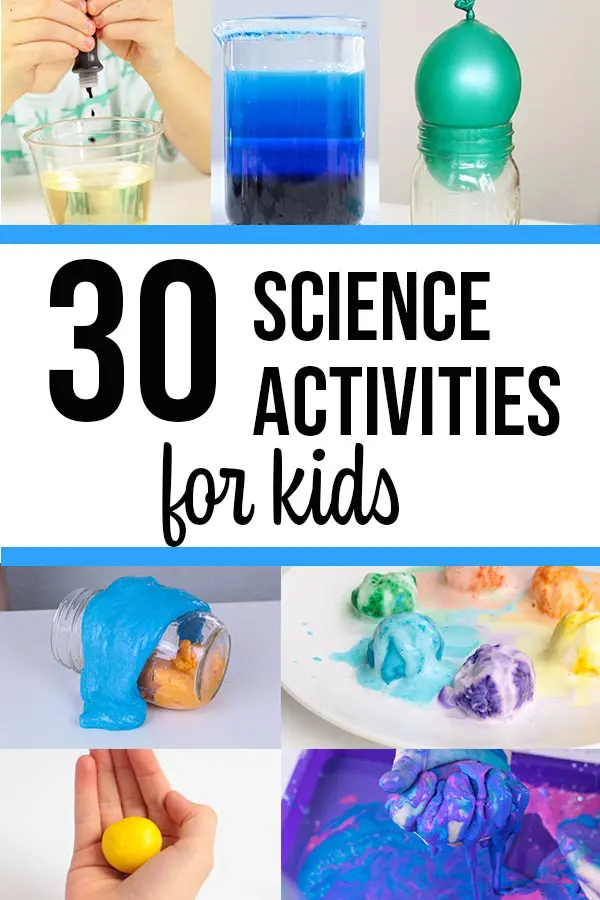 There are a variety of hands-on science experiments, activities, as well as demonstrations for observation. Most are simple to set up and use items that you already have around the house or are easy to obtain.
These science activities are great for kids of all ages, but are ideal for preschool and kindergarten. You may need to adjust some of them depending on your child's age.
For example, some of these are great to introduce to toddlers, but they may need to only observe. Whereas older children may be able to assist with set up.
30 Kids' Science Activities
Melting Rainbows – This baking soda and vinegar experiment is super fun and the perfect science experiment for preschoolers to do. Older kids may prefer this fizzy bath bomb science project.
Candy Rainbow – Use M&Ms for this pretty science experiment. Try making a rainbow and other color patterns.
Oil & Water Color Changing Lab – This activity is easy to set up and let's kids explore color mixing with oil and water.
Ocean Zone Density Jar – Learn about the different zones of the ocean while also learning about liquids having different densities.
Viscosity Art Project – Kids of all ages will be fascinated by the patterns they can make with this STEAM activity.
Galaxy Oobleck – Oobleck is easy to make and fantastic for sensory play.
Liquid or Solid? Experiment – Yes, this is a basic homemade slime recipe, but it's an excellent way to learn about non-Newtonian fluids and compare it to other liquids and solids.
Butterfly Life Cycle Worksheet – Learn about the different stages of a butterfly's life and use our printable worksheet to practice putting them in the correct order.
Human Body Bingo Game – Our printable game is a fun way to learn about organs.
Unicorn Tower Density Jar – Try this hands on activity to test density of different objects. My daughter did this for her second grade science fair project.
Balloon Air Pressure Experiment – Use a balloon and a mason jar to demonstrate air pressure to kids.
Bouncing Playdough – Make this playdough recipe and let the kids have a blast testing how well it bounces.
Sidewalk Paint Rockets from the Gluesticks blog – Delight the kids with some messy fun as they launch these chalk paint rockets.
Leak Proof Bag Experiment from Fun Learning for Kids – Grab a Ziploc bag and some sharp pencils for this one. The kids will be amazed when the water doesn't leak out!
Simple Light Refraction Experiment by Look We're Learning – This activity is a great way to learn about how light bends when passing through objects. All you need is some water and a Post-It Note for this demonstration.
Heat Conduction Experiment from Look We're Learning – This simple demonstration uses a few items from your kitchen to show how different materials conduct heat.
Lava Lamp Bottles from Natural Beach Living – This is such a cool chemistry experiment for little scientists!
Rain Cloud in a Jar by Natural Beach Living – This is a great weather science activity for kids. They will have fun making it rain and learning how clouds work.
Salt Water Density Experiment by Little Bins for Little Hands – Take the simple sink or float experiment to the next level by testing how salt affects water density.
Easy Flower Science Experiment by Kindergarten Worksheets and Games – There are so many things kids will learn with this classic flower dying science activity. Plus, the results are pretty!
Exploding Watermelon Experiment from 123 Homeschool 4 Me – Learn about potential and kinectic energy with this cool activity. It's messy and fun, so you'll want to set it up outside.
Dissolving, Expanding, and Bouncing Eggs from Blue Bear Wood – Kids will put their hypothesis to the test when attempting to dissolve egg shells in different liquids.
Color Mixing Sensory Bottle by The Chaos and The Clutter – This color mixing activity is both a science experiment and sensory play.
Make Borax Crystal Ornaments by The Craft Train – There are so many incredible uses for borax. Kids will have fun seeing these crystals grow!
Easy Coffee Filter Science Experiment by Sixth Bloom – Fun and simple activity to teach chromatography to kids. Perfect for toddlers and up.
Simple Pulley Machine Game from JDaniel4's Mom – Make a simple pulley system and play a counting sheep game with it.
Outdoor Bug Hunt Activity from KC Edventures – Explore the backyard and keep notes of your bug observations with this free printable.
Walking Water Science Activity by A Dab of Glue Will Do – Teach the kids about capillary action with this fun and easy science demo.
Coffee Ground Fossils from Crafts by Amanda – Whether your kids are obsessed with dinosaurs or not, they'll enjoy this science themed craft project.
Easy Weights & Measures Experiments by Mommy Evolution – Test the strength of coffee filters with a series of experiments. Great way for kids to work on learning weights, measurements, and counting.
Bonus Activity Idea
Add the Ooze Labs: Colorful Crystal Lab set to your schedule! It's a fun way for kids to explore and learn about different crystals and how they form.
My kids loved watching the progress of our crystals forming. Since we started homeschooling this year, we incorporated this set into our science activities.
The lab station comes complete with beakers, test tubes, centrifuge, display dome, and safe, non-toxic crystal salts to conduct more than ten experiments in crystal formation. You can even make red, pink, blue, purple, and clear crystals using the spinning centrifuge!
One thing we noticed is our crystals took much longer to form than indicated in the instructions, so if you don't see anything for a couple days – just wait!
Also, you won't be able to easily complete all of the experiments in one day, so it will take some time to complete them all.
30 Day Science Activity Printable Calendar
Our printable science activity planner is free for your personal use at home or in your classroom. Please share this post with other parents and teachers to get their own copy.
*Special Note For Teachers: You may use this planner with your virtual classes too.
How to use the 30 Day Science Activity Plan Printable
Download and save the printable kids science activity calendar.
Each activity name in the PDF is clickable and will take you to the instructions for that science experiment.
Use it for a handy reference for all of the activities.
Use it to create your own weekly or daily plan of science activities. You can do them in any order you choose.
Print it out and cross off each science activity after completing it with your kids.
Circle or star your child's favorite science experiments so you can do them again!
Did you enjoy doing this activity with your kids or students?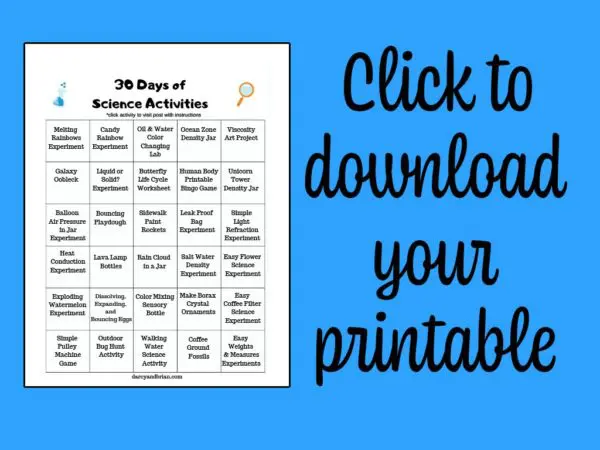 Looking for more fun things to do? Check out our other kids activities and craft projects too!