Get the kids off screens for a few hours and have fun with this easy popsicle craft! Like many of our craft ideas for kids, this project is perfect for preschool, kindergarten, or just to develop your child's fine motor skills.
Say goodbye to summer boredom and hello to a world of fun with craft project centered on a classic summer treat! As the temperature rises, it's the perfect time to gather simple household items and let your little ones' imaginations soar.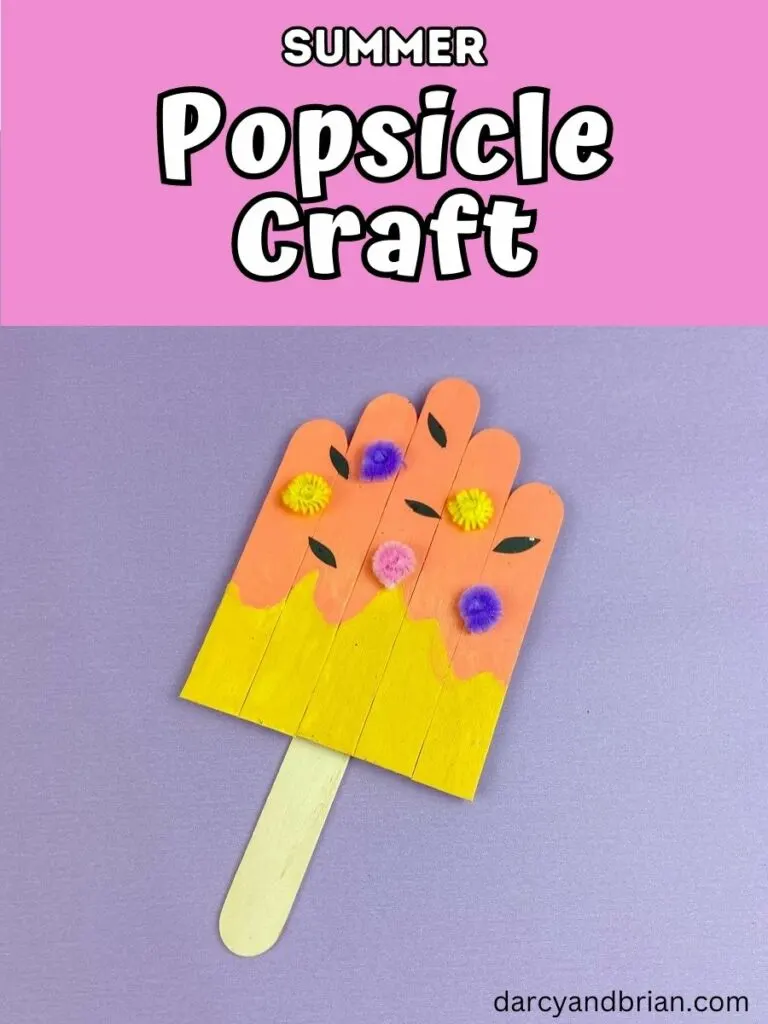 This delightful popsicle craft is an ideal activity for preschoolers and kindergarteners alike. It's a fantastic way to keep them entertained and engaged, away from screens, fostering their creativity and imagination.
After all, what kid doesn't love popsicles? They will also enjoy the process of designing their very own sweet treats. Pair this activity with reading a a few ice cream books for kids for a chill afternoon.
So, gather up your supplies, and prepare for an afternoon of colorful, hands-on fun this summer!
More Popsicle Stick Crafts for Kids
Let's dive into a world of creativity with more popsicle stick crafts for your little ones! These projects are a perfect antidote to summer boredom.
They provide entertainment and encourage your children to explore their creative side while developing their fine motor skills. So, let's spark some creativity this summer with these amazing popsicle stick craft ideas!
Benefits of Crafting for Young Children
In an era where digital devices dominate, this easy craft activity provides a refreshing break and a chance for kids to tap into their creativity.
Whether they're in preschool or kindergarten, or just looking for a fun home activity, this project is tailor-made to their needs. The craft not just entertains but also aids in the development of their fine motor skills.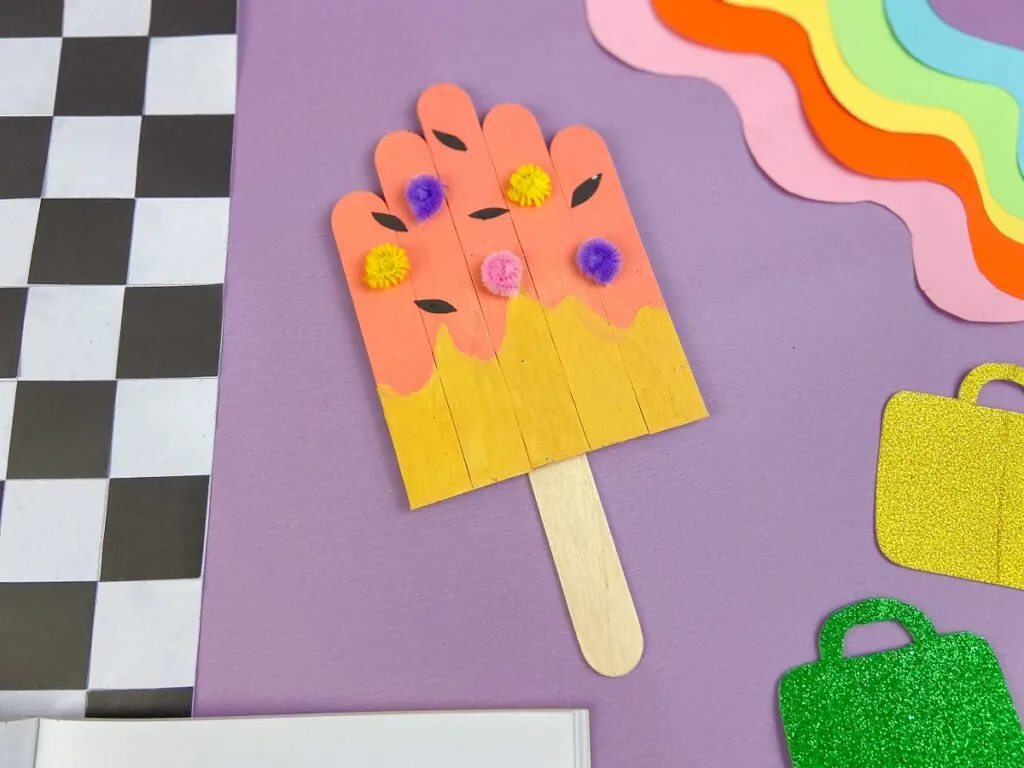 As children maneuver the popsicle sticks, chenille stems, and paint, they strengthen their hands and fingers, enhancing their ability to perform more intricate tasks in the future.
Plus, it's a wonderful opportunity for you to bond with your little ones, making it a perfect summer learning craft.
Popsicle Craft Supplies
How about we create something out of the ordinary using simple materials we can find around the house. If you don't have all of the materials listed, not to worry.
You can easily find them at your local craft store or shop online. I've included our Amazon affiliate links below to some of our favorite craft supplies. (We earn a commission on qualifying purchases at no cost to you.)
Optional items for added decoration: glitter, sequins, stickers, and glitter glue. You could even add googly eyes if you want to give your popsicles cute faces!
Apple Barrel PROMOABI Acrylic Paint Set, 2 Fl Oz (Pack of 18), Assorted Matte Colors, 18 Count
200psc 20colors, Pipe Cleaners, Chenille Stems, Pipe Cleaners for Crafts, Pipe Cleaner Crafts, Art and Craft Supplies,…
LEEFONE Mix Color Round Bulk Loose Sequins and Spangles for Holiday Applique Arts Crafts and Embellishment DIY Making (Assorted Size)
Aleene's Turbo Tacky Glue, 4 FL OZ – 3 Pack, Multi
AdTech Lo-Temp Mini Glue Gun | Low Temp Compact Tool for Crafting, School Projects and DIY | Item#0450
How to Make a Popsicle With Craft Sticks
You'll want to plan on using about 6-7 popsicle sticks per popsicle. Start by arranging 5 craft sticks next to each other, then stagger them so the top has a pointed shape.
Glue another stick across the back to hold them in place or carefully apply a small amount of glue in between the sticks with a glue gun.
You can cut the sticks to create a straight line along the bottom (as shown in our tutorial pictures); but this is not required.
Feel free to experiment with the popsicle shapes and widths – you can make tall skinny popsicles or rectangular shaped ones. Let the kids get creative!
Attach a single craft stick to the back, leaving about half of it visible stick out of the bottom center. This is the popsicle stick handle for the sweet treat.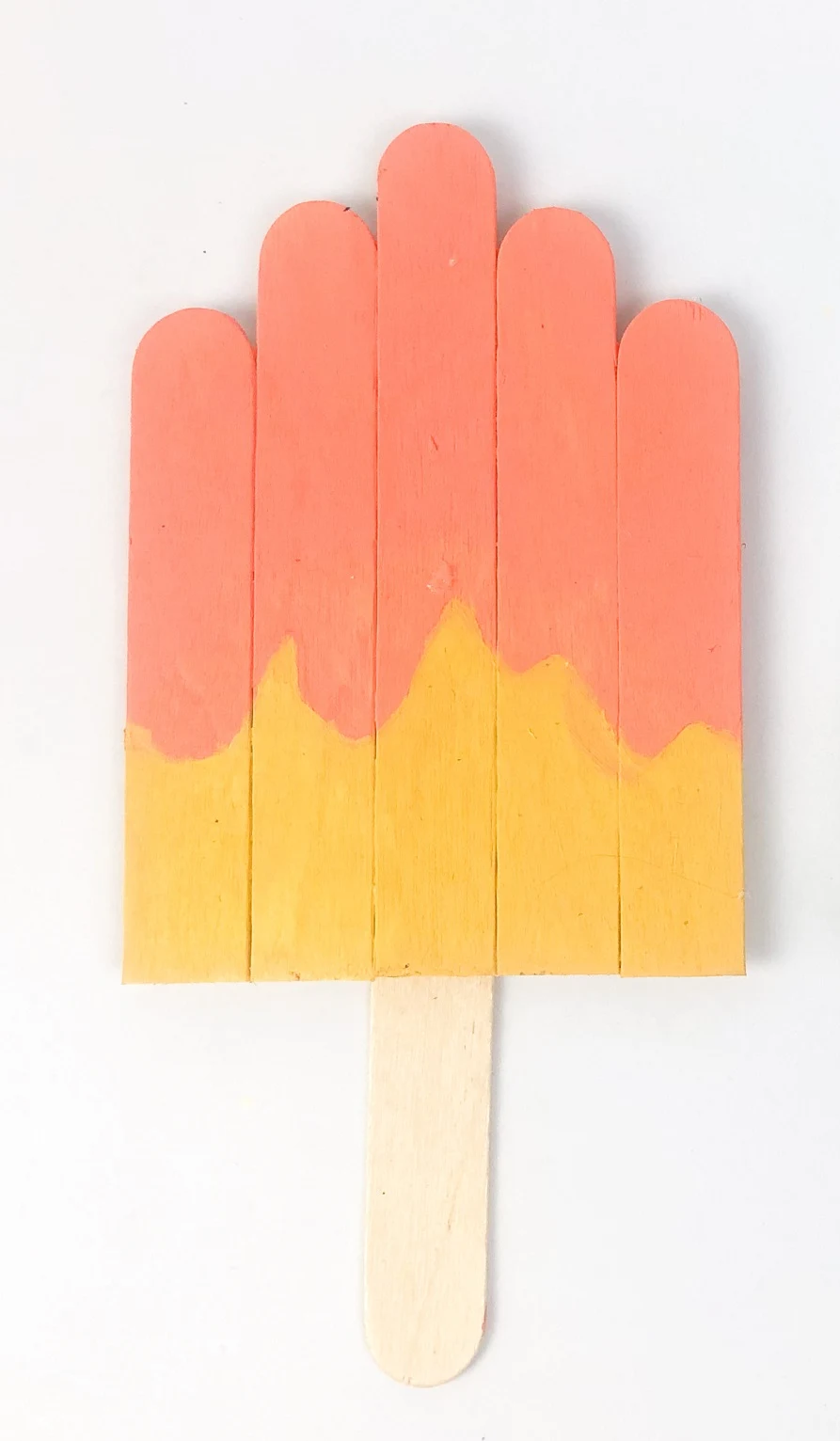 Select two colors and paint the craft sticks one color. In our example, we started by painting the sticks yellow. Set aside to dry before adding the second color.
Paint the top part of the popsicle with another color (we used pink) and give the illusion of it melting by having some of the paint look like it is dripping down. Set aside to dry.
Now decorate the popsicle treat by gluing on small strips of paper in assorted colors for sprinkles.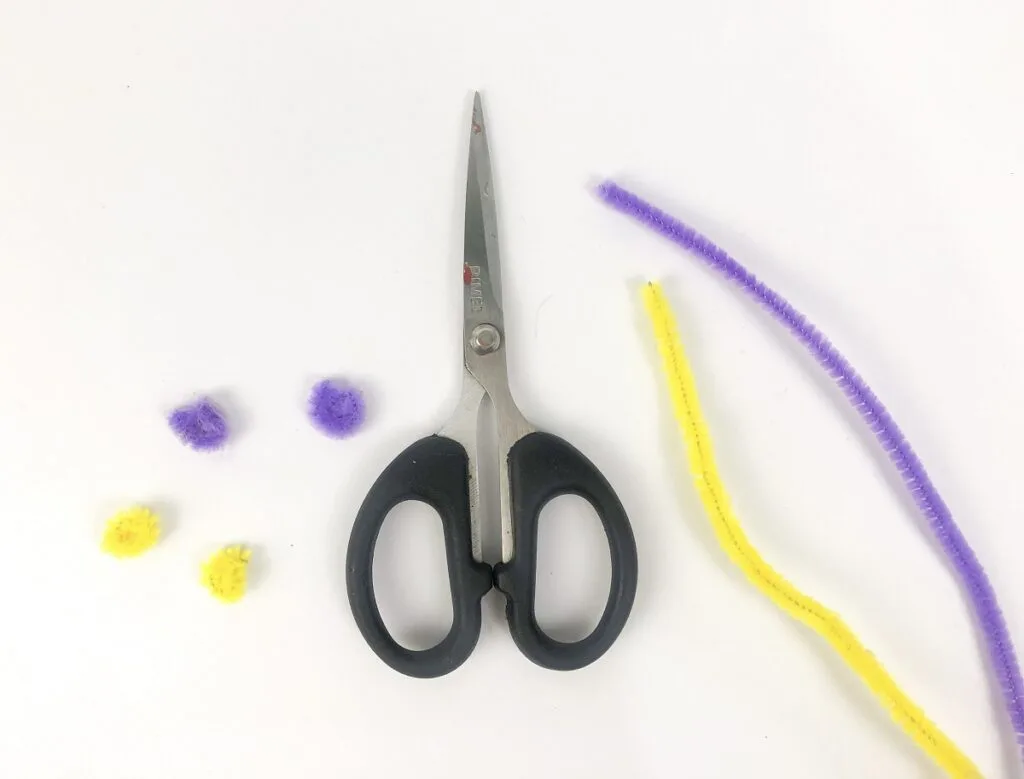 We also cut small pieces of chenille stems (aka pipe cleaners), rolled them up, and glued them on. You can also use glitter glue, sequins, etc to decorate yours.
Creative Ways to Use Your Popsicle Craft
Once your delightful popsicle stick craft is complete, here are some engaging ways to extend your child's learning:
Color Recognition: Use different colored popsicle sticks or paint them in vibrant hues. Ask your child to group the crafts by color or identify the colors used.
Counting Skills: Count how many sticks were used to make each craft. Make it more challenging by adding or subtracting some sticks.
Alphabet and Word Formation: Paint letters on each popsicle stick craft and use them to form words or practice the alphabet.
Number Recognition and Sequencing: Paint a number on each popsicle and use them to practice identifying each number as well as putting them into the correct numerical order.
Shape Learning: Arrange your popsicle stick crafts to form different shapes and ask your child to identify them. Another option is to draw a shape on each popsicle.
Make Popsicle Puppets: Use paper, googly eyes, and chenille stems to make your popsicles come alive! Encourage imaginative play by acting out stories with their popsicles.
Remember, the ultimate goal is to have fun while learning. Who knew popsicle sticks could be such versatile learning tools? Crafting is a great way to inspire creativity, boost motor skills, and teach valuable lessons.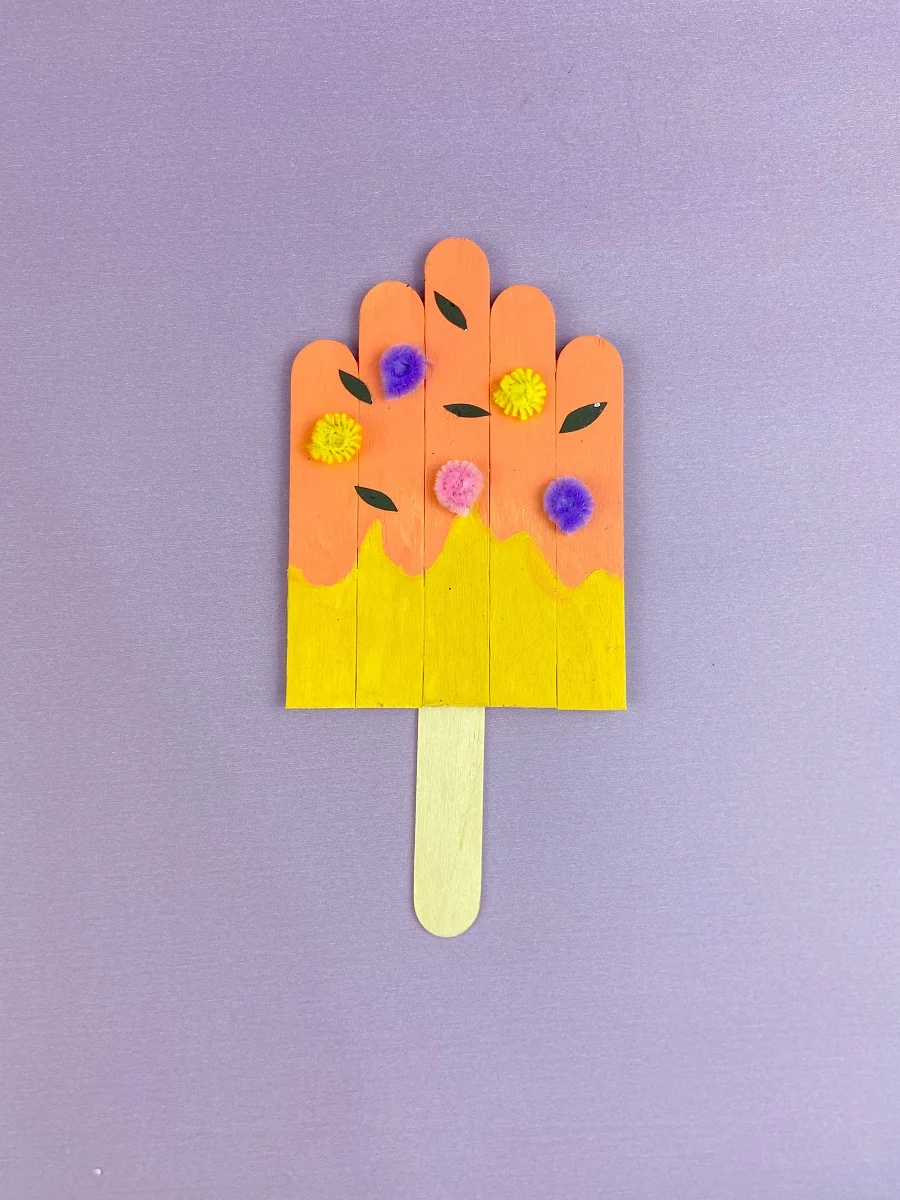 Additional Ice Cream and Popsicle Activities for Kids
For those hot summer days when the kids are craving something a bit more interactive and fun, we've gathered a few additional ice cream and popsicle themed activities that they will surely love!
Make your own batch of deliciousness with our homemade strawberry ice cream recipe.
Create a soothing experience with a popsicle sensory bottle from Mommy Evolution, designed to provide a sense of calm and tranquility.
Unwind and enjoy the soothing activity of coloring with this delightful Hello Summer coloring page (hand drawn by my friend Creatively Beth) showcasing vibrant popsicles.
Work on scissor skills and engage in pretend play with this adorable ice cream puppet craft from Simple Everyday Mom.
Preschoolers can enhance their skills in number recognition, counting, measuring, and one-to-one correspondence by engaging with these printable ice cream cone measurement cards provided by Stay At Home Educator.
Enhance counting and number recognition skills for numbers 1-10 with these popsicle clip cards from Living Life and Learning.
In conclusion, popsicle crafts are a fantastic, fun-filled way to spend the summer days, allowing kids to unleash their creativity while also improving their cognitive skills. Remember, the joy of crafting isn't just about the final product but also about the journey of creation.
So don't worry if your popsicle stick craft isn't perfect! The most important thing is that your child enjoyed making it and learned something in the process. Happy crafting!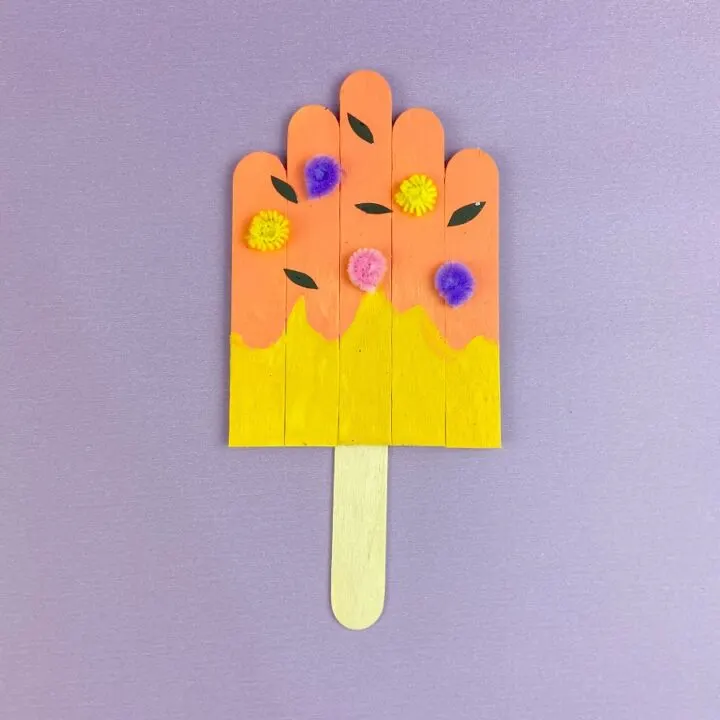 Easy Popsicle Craft
Estimated Cost:
$5 or less
Celebrate summer with this sweet popsicle craft in honor of an all-time favorite cool treat.
Materials
Popsicle Sticks
Craft Paint
Chenille Stems
Colored Paper
Glue
Instructions
Arrange 5 craft sticks next to each other, staggered to give the popsicle a rounded point at the top.
Glue another stick across the back to hold them together.
Cut the sticks along the bottom to create a straight line as shown in our tutorial pictures; but this is not required.
Make popsicles in whatever shape you would like!
Attach a single craft stick to the back, to be the sweet treat's handle.
Paint the craft sticks yellow. Set aside to dry before adding the second color.
Paint the top part of the popsicle sticks pink. Have some of the pink look like it is dripping as though it is melting. Set aside to dry.
Cut chenille stems into small sections, roll them up, and glue them on.
Cut small pieces of black or purple paper and glue them on for sprinkles.
Set aside to completely dry before using for decoration or imaginative play.
Recommended Products
As an Amazon Associate and member of other affiliate programs, I earn from qualifying purchases.