Crafting with kids is a great way to encourage their creativity and ensure that they are doing something productive with their time.
We're always looking for some new way to encourage children to expand their imaginations and dream.
All of these craft ideas for kids are great ways to allow them to explore that side of themselves.
Creative expression opens a person up to being able to express themselves in all areas of life. Having said all of that, crafting can be SUPER messy.
You're a busy family, and when it comes to big cleanups, you may take the Sweet Brown perspective: ain't nobody got time for that.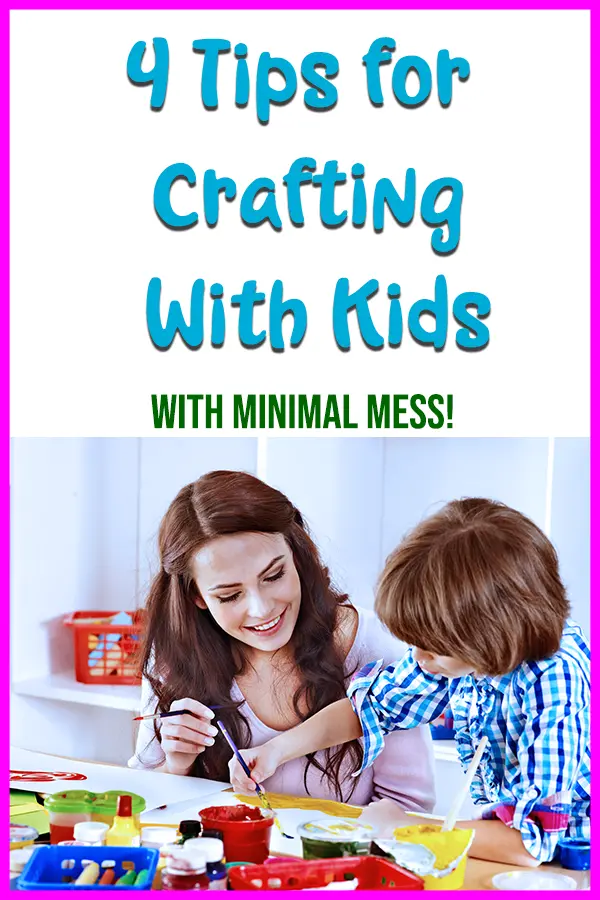 How to Have a Blast Crafting With Kids
This post contains affiliate links. We may earn a commission if you make a purchase.
Paint, and yarn, and clay and glitter and jewels, and glue could very quickly wind up all over your house if you're not careful.
The last thing you want is to ruin your carpet, your vacuum cleaner, and your good mood by a big crafting fail destroying your home.
That doesn't mean you have to miss out on the fun of crafting and getting your hands dirty, you just have to minimize the mess.
Here are some tips to help you do just that:
Plan In Advance
Don't just spring up, get the supplies, and start slinging them around. Create some kind of organized plan.
Having a plan is going to help you mitigate the mess.
Decide what project you're going to do, which craft supplies are allowed and which ones are not before you let anybody touch anything.
Rope Off An Area
It's like a VIP crafting section in your home.
You don't have to literally rope anything off, but make sure you're using a particular area and keeping the craft items contained in there.
For smaller projects, we love using these activity trays to keep loose beads, glitter, and even paint contained.
You can lay down newspapers, old towels, old bed sheets, or even plastic depending on how messy you intend to be.
Pick up the papers, and cleanup is a breeze!
Cover Up The Clothes
Get the kids art smocks. You know those ratty old tee shirts your husband finally let go of? Here's a great place to put them to use.
Make sure you are covering up the kid's clothing before you cut them loose.
Even if the clothing they're wearing is "play clothes", you don't want them to leave the designated crafting area and get paint, glue, or clay on furniture and walls.
Make sure everyone is well covered and removes their smock before moving about the house.
Coordinate Your Cleanup
Just like every other part of your crafting journey, you're going to need a cleanup strategy.
Before you begin your craft, give everybody a cleanup assignment using our printable chore chart. That way one person takes trash, one wipes down, one runs the vacuum . . . you get the idea.
This way no one person (you) is stuck with ALL of the cleanup. Crafting is big fun for everyone in the house.
You, the kids, your husband, everyone can get in on the action. Don't be afraid of making a little mess.
Some advance preparation, some good cover-ups, and staying in one spot can make any mess minimal.
You may enjoy these crafts for kids: