Every little girl dreams of being Wonder Woman! This DIY Wonder Woman Crown and Cuff's craft idea uses simple paper plates and a few craft supplies you already have on hand. In no time at all, you will have a terrific craft that doubles as a costume for building confidence as their favorite female super hero!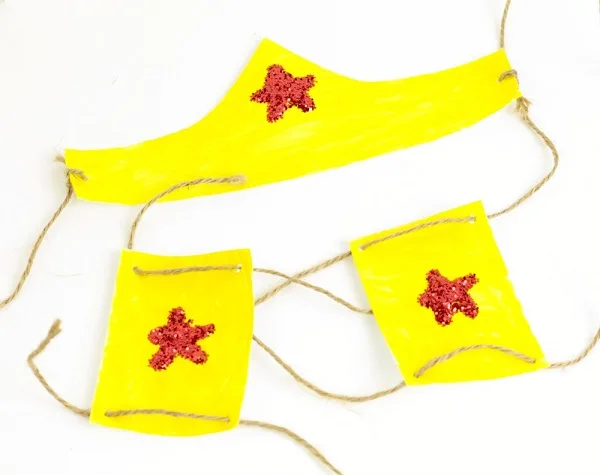 Wonder Woman Crown and Cuffs
If you have a yellow marker, glitter, and some paper plates, you can make a paper plate Wonder Woman crown and cuffs in just a few minutes! Kids will love this wearable craft and will spend the day zooming around the house pretending to be the famous superhero herself.
This post contains affiliate links. We may earn a commission if you make a purchase through our links at no extra cost to you. It'll help fund our craft obsession!
The best thing about this Wonder Woman crown craft is how easy it is to transform a paper plate into the accessories of a modern superhero. These would be perfect to make at a superhero birthday party, or just as a fun way to keep the kids occupied for an afternoon. Accessorize with glitter, or go the extra mile with some sequins and beads!
Materials for the Wonder Woman Crown and Cuffs

Directions for a Wonder Woman Crown and Cuffs
Draw the Wonder Woman crown shape onto the center of the paper plate.
On the second paper plate (and third, if need be), eyeball the width of about half of your child's forearm and draw an outline of the cuffs onto the paper plate.
Color the cuffs and crown yellow, then cut out.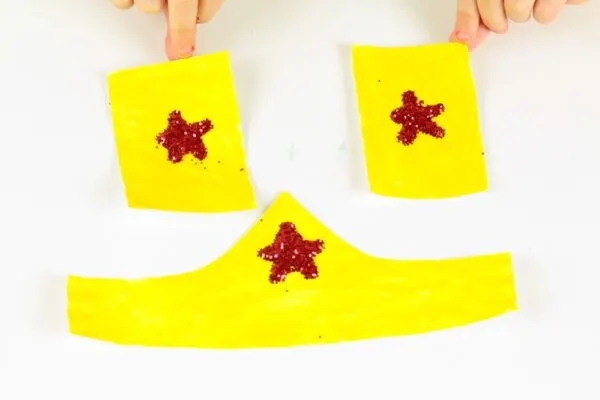 Draw a star onto the cuffs and crown with glue. Cover the glue in red glitter, then let dry.
Once the stars are dry, cut a hole into each corner of the cuffs, and on either side of the crown. (You can either use the scissors or a single hole puncher.)
Thread string through each of the holes, leaving enough to tie around the child's wrist (for the cuffs) and head (for the crown).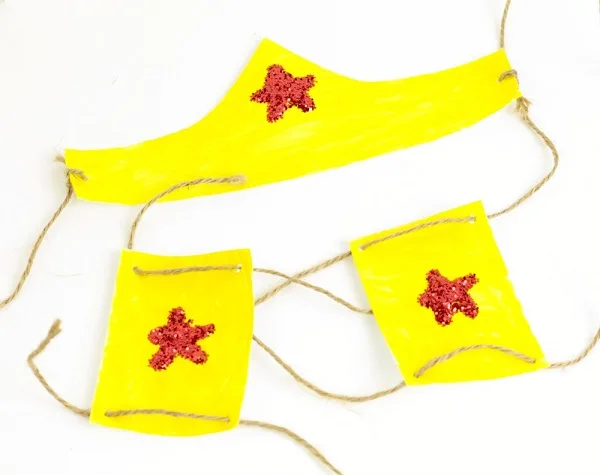 Tie a knot in the strings to hold them in place.
Tie the accessories onto your child, and they are ready to go off and save the day!
If you want to make this sturdier, you can add a layer of tape around every hole and use elastic string instead of the regular string. This will make the cuffs and crown easier to remove and wear again later.
Your Child is a Super Hero!
As you can see, this Wonder Woman crown and cuffs craft idea is a great little project that any age can help you make. While a bit messy with glitter and paint, it isn't too bad for younger kids to help make. It adds perfectly with a Wonder Woman Costume, or just for a fun afternoon play time with your kids. Add on a cute blue and red bathing suit or leotard, and you have a simple costume in no time!


More Kids Crafts:
Wonder Woman Paper Bag Puppet Craft for Kids
25+ Simple Craft Ideas for Kids
60 Gift Ideas for Kids who Love Crafts