Prepare for some spooky fun this Halloween season with our Halloween sorting activity, specially designed for curious preschoolers. Our printable games for kids turn learning into a fascinating adventure, ensuring your little ones have fun while they work on various skills.
This educational game offers a unique way for children to practice number recognition from 0-10, all under the enchanting Halloween theme. With witches, pumpkins, and Frankenstein's monsters to sort, learning numbers has never been this exciting!
Holiday-themed activities like these not only entertain children but also capture their attention and enthusiasm, making the learning process more enjoyable and effective.
By incorporating holiday themes into educational games, we can create a stimulating environment that encourages children to actively participate and develop essential skills.
In this Halloween-themed sorting activity, preschoolers will have the opportunity to sort numerals, number words, and captivating images with pips, tally marks, and sets of hands holding up the corresponding number of fingers.
This interactive and visually appealing method of number recognition enables children to understand and connect different representations of numbers, laying a solid foundation for their mathematical skills.
It's a combination of fun, creativity, and comprehension, making math a thrilling experience for our little learners.
Is Sorting a Math Activity?
Yes, indeed! Sorting is an integral part of early math learning. It introduces children to the concept of categorization, a key skill that serves as the basis for math operations, pattern recognition, and problem-solving.
When preschoolers sort objects or numbers, they are essentially classifying items based on specific attributes or characteristics.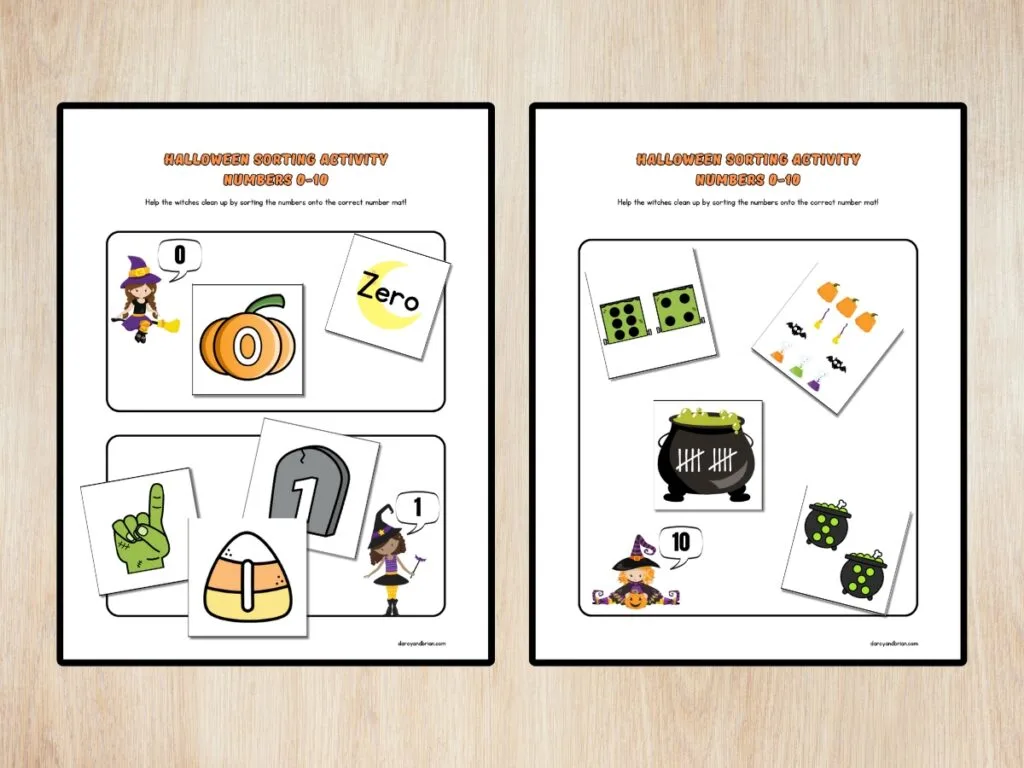 This process of grouping and organizing aids in the development of logical thinking, a critical component of mathematical understanding.
Hence, sorting activities, such as this Halloween-themed sorting game and our pumpkin size sorting printable activity, provide a fun and engaging way for children to explore foundational math concepts.
More Math Activities for Kids
In addition to our exciting Halloween-themed sorting game, we've put together a list of additional math activities. These hands-on activities are specifically designed to keep children interested while they explore and learn the fundamentals of mathematics. Here are a few to get you started:
Free printable available at the end of this post.
What Are the Benefits of Number Sorting?
Number sorting provides numerous benefits for young children, particularly in their early mathematical development.
It aids in number recognition, as children identify different numerals and learn to associate them with their corresponding names. This skill is fundamental in developing numerical literacy.
Furthermore, number sorting encourages subitizing, the ability to instantly see "how many" without counting. This skill is often developed through sorting activities that involve images with pips, such as dice or dominoes.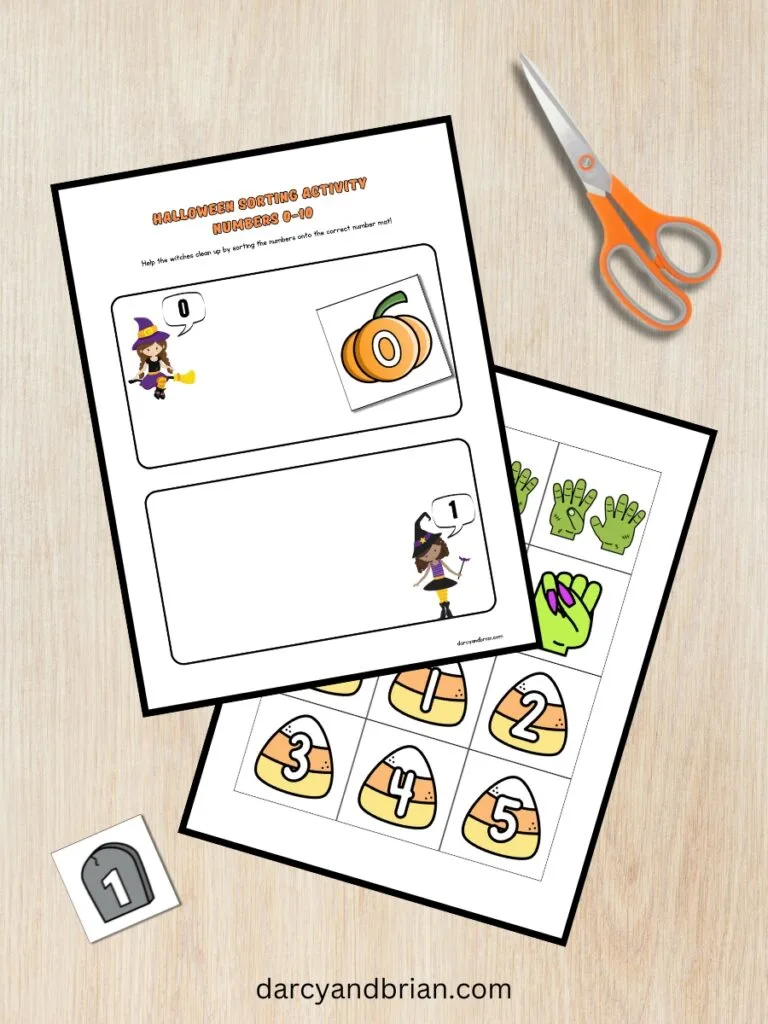 As children recognize and group these images, they cultivate their ability to understand and interpret numerical patterns.
Lastly, number sorting activities inherently involve counting, reinforcing this essential skill.
While sorting, children inevitably count items, simultaneously developing their ability to sequence numbers and understand the concept of quantity.
In essence, number sorting is a comprehensive activity that integrates key math skills in a fun and engaging manner.
Fun Preschool Math Games
Board games are an excellent tool for making math learning fun and engaging for preschoolers. They help foster key skills such as number recognition, counting, and basic arithmetic, all while keeping children entertained.
Here are some board games that effectively combine fun and learning for your preschooler's early math development:
This post contains affiliate links. As an Amazon Associate and a participant in other affiliate programs, we earn a commission on qualifying purchases.
Math for Love Tiny Polka Dot
Learning Resources MathLink Cubes Preschool Math Activity Set
Think Fun Zingo 1-2-3 Number Bingo Game
Hasbro Hi Ho! Cherry-O Board Game
Think Fun – My First Math Dice
Learning Resources Mathswatters Addition & Subtraction Game
What's Included in the Halloween Sorting Activity?
Our Halloween Sorting Activity is a comprehensive, 16-page printable set that is perfect for preschool math learning.
It includes 6 pages of number sorting mats and 10 pages of items to sort, providing multiple opportunities for kids to practice number recognition for numbers 0-10.
The set is filled with friendly and engaging Halloween-themed graphics, featuring witches, pumpkins, Frankenstein's monster, cauldrons, tombstones, bats, potions, brooms, candy apples, and candy corn.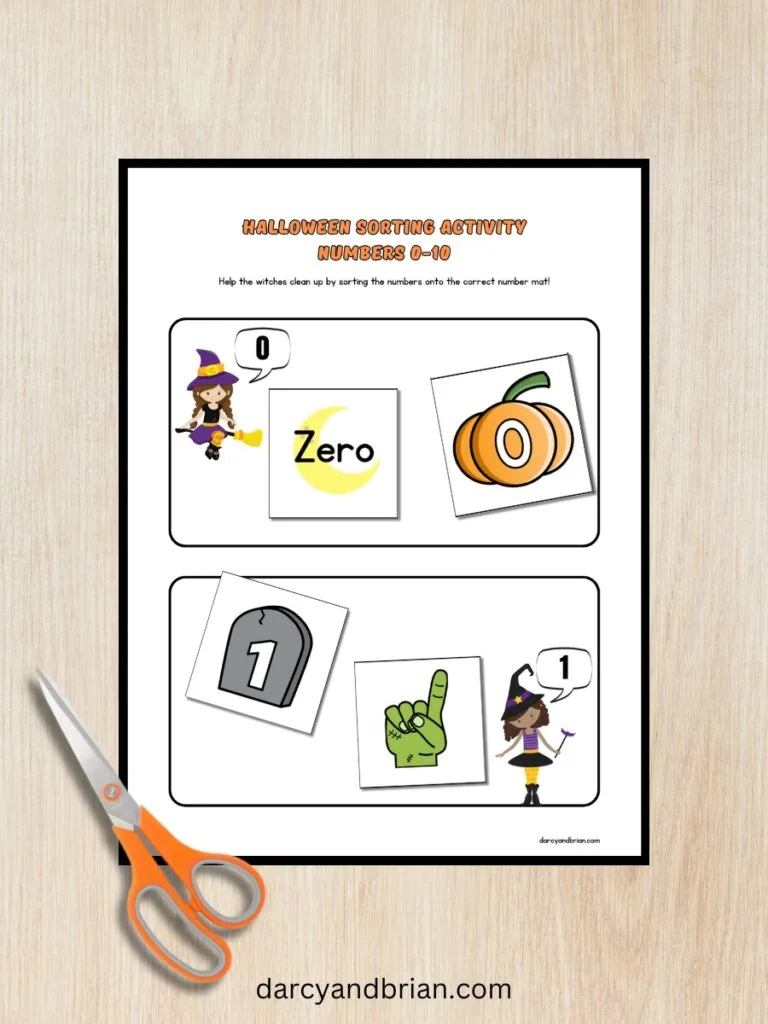 To make learning diverse and comprehensive, the activity covers numerals, number words, tally marks, pips, and sets of hands holding up fingers.
This way, children get familiar with multiple representations of numbers and learn to connect them.
Best of all, this Halloween Sorting Activity is a low-prep activity! Simply print, cut out the items, and your child is ready for a fun and educational Halloween-themed number sorting game. It's an easy way to make math learning enjoyable and festive!
Items Needed to Play:
Setting up this activity requires very little effort. However, for the best experience, we recommend using a high-quality printer like the Epson Ecotank, which we personally love for all our homeschooling printing needs.
If you plan on using the game multiple times or in a classroom setting, consider using a laminating machine or self-adhesive laminating sheets for added durability.
Also, a paper cutter will make the task of cutting out the square sorting cards much quicker and neater.
How to Play the Halloween Sorting Activity Numbers 0-10 Printable Game
To get started with the Halloween Sorting Activity, first, spread out the number sorting mats on a flat surface. Each mat represents a number from 0 to 10 with an adorable Halloween theme.
Next, give your child the number sorting cards, each containing numerals, number words, pips, tally marks, a number of objects or sets of hands holding up fingers.
They will need to identify the number on each card and place it on the corresponding number mat. This process of matching helps children comprehend the different ways numbers can be represented and promotes number recognition in an engaging, holiday-themed way.
Ways to Use These Halloween Sorting Activity Printables
These printable Halloween sorting activity pages offer more than just a number sorting exercise. Let's explore some unique ways to utilize these printables to make preschool math learning even more exciting and fun.
Arrange in Descending Order: Challenge your child to arrange the number sorting mats in descending order, starting from 10 and ending at 0. This activity not only reinforces their understanding of numbers but also introduces them to the concept of descending order in a fun, Halloween-themed setting.
Storytelling with Cards: Encourage children to create their own Halloween story using the number sorting cards. For instance, "Five witches brewed a potion," or "Two Frankenstein's monsters went to a party." This activity enhances their creativity while simultaneously reinforcing number recognition.
Memory Game: Turn the cards face down and play a memory game. The child should turn over two cards at a time, with the goal of finding two cards with the same number. This game tests memory skills and reinforces number recognition.
Frankenstein's Footsteps: Similar to musical chairs, play some spooky music and when the music stops, the child must stand on a number mat. Ask them to identify the number they are standing on. This activity strengthens number recognition and adds a physical movement element.
Cauldron Toss: Draw a cauldron on a piece of paper and label it with a number. Children toss the correct number of paper balls, or "potions," into the cauldron. This game enhances hand-eye coordination while reinforcing number recognition and counting skills.
Halloween Books for Kids
To further enrich your little learner's Halloween experience and to tie in with our number sorting activities, there are numerous Halloween-themed books that can add an educational twist to the spooky season.
These books can help reinforce math concepts, broaden vocabulary, and ignite their imagination. Here are a few that we recommend for your preschooler's Halloween book collection:
The Spooky Wheels on the Bus: (A Holiday Wheels on the Bus Book)
Skeletons ARE NOT Spooky!
Room on the Broom
How to Catch a Monster
The Little Old Lady Who Was Not Afraid of Anything
Pumpkin Jack
Fun Halloween Learning Activities
To ensure your preschooler has a fun and educational Halloween, here are some additional activities you can add to a Halloween themed unit or just for fun:
Halloween Would You Rather?: Download our free set of printable Halloween Would You Rather Questions for kids and have them answer the questions. Discuss which choices they made and why to encourage critical thinking and active dialogue.
Pumpkin Patch Alphabet Hunt: Scatter paper pumpkins around the room, each labeled with a different letter of the alphabet. The children's task is to find all the pumpkins and arrange them in correct alphabetical order. This improves their alphabet recognition and sequencing skills.
Candy Corn Handwriting Practice: Provide each child with a candy corn template and have them trace over the lines with different colored markers, practicing both their handwriting and fine motor skills. For additional Halloween themed literacy and writing practice, be sure to grab our Printable Spooky Fun Learning Packet for Halloween.
Witch's Broom Wind Experiment: Use a toy witch's broom and have children blow on it from different distances and observe how far it travels. This simple, fun experiment helps them understand the concept of wind force and direction. Check out this list of Halloween science experiments at Living Life and Learning for even more ideas!
Spooky Shadow Play: Shine a flashlight on different Halloween-themed objects like bats, witches, or cauldrons, and let the children trace the shadows on a piece of paper. This activity introduces them to the science of light and shadow in a fun, hands-on way.
Halloween Crafts for Kids
Keep the Halloween spirit alive with some delightful and educational craft activities perfect for your preschooler. These crafts not only provide a fun-filled creative outlet but also help strengthen other skills, such as fine motor. We hope you enjoy these spooky Halloween craft ideas that your kids can easily make at home or at school.
As we wrap up, remember that Halloween is much more than just costumes and candy. It's a perfect time to engage your preschooler in educational activities that spark creativity, enhance knowledge, and develop skills.
Our printable Halloween-themed crafts and math activities are designed to be fun, engaging, and educational. They offer a unique learning experience for preschoolers, blending the excitement of Halloween with important concepts in literacy, science, and math.
Make your Halloween season exciting and educational this year with these activities. Enjoy the chills and thrills of learning!