Looking for fun and creative Christmas crafts for kids? Celebrate the Christmas season with our collection of holiday craft projects! With easy-to-follow craft ideas for kids of all ages, these projects are perfect for home or school settings.
From adorable Santa crafts to festive ornament creations, there's something for every little artist. Not only will these crafts let children explore their creativity, but they also provide a fantastic hands-on learning experience that they'll love and remember.
Plus, they make charming decorations for your family holiday gatherings, adding a touch of personal and festive flair.
Get ready to see the pride and joy in your little ones' eyes when their handmade Christmas craft takes center stage this holiday season!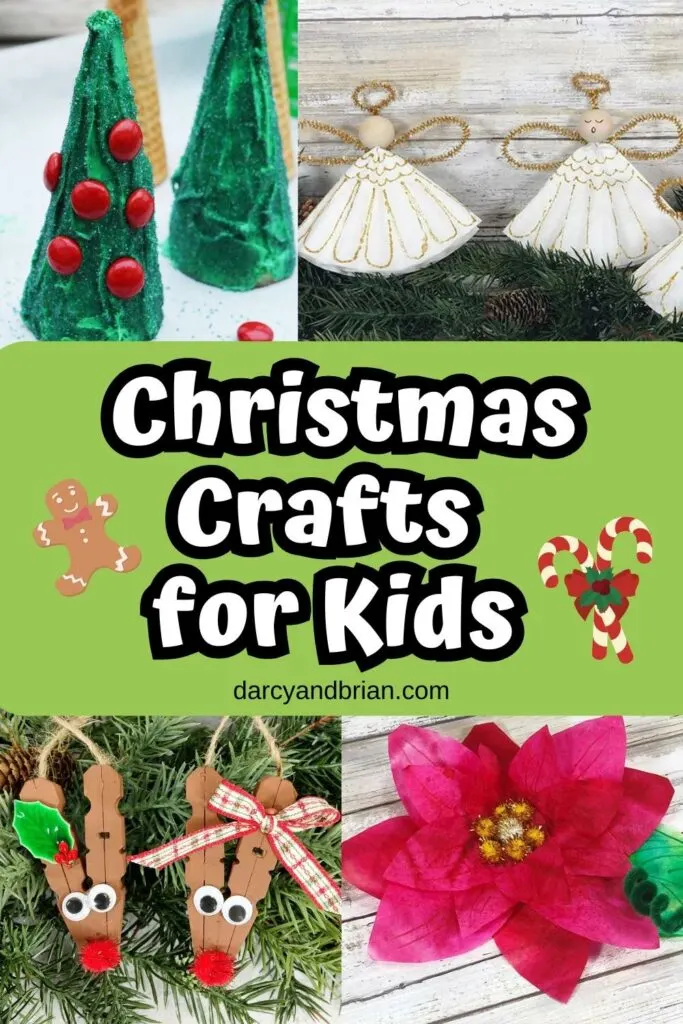 These Christmas crafts are perfect for kids from preschool to elementary school. They're designed to be simple yet allow for lots of creativity, making them great for little hands and growing imaginations.
Whether at home or school, they fit right into Christmas-themed learning units, adding to the festive spirit while also being educational.
They're also a fantastic addition to holiday art centers, giving kids a hands-on activity that helps with motor skills, creativity, and a sense of accomplishment.
What better way to learn and have fun than by making something beautiful and festive for the holiday season?
This post contains affiliate links. As an Amazon Associate and a participant in other affiliate programs, we earn a commission on qualifying purchases.
Arteza Kids Colored Pencils, Set of 48 Vibrant Colors, Triangular, Pre-Sharpened
Crayola Classic Color Crayons in Flip-Top Pack with Sharpener, 96 Colors
Epson EcoTank ET-3710 Wireless Color Inkjet All-in-One Supertank Printer, White
Crayola Erasable Colored Pencils 24 count
Benefits of Making Christmas Crafts
Making Christmas crafts is a truly beneficial activity for children, as it's not only fun, but also fosters a range of developmental skills.
These creative projects enhance fine motor skills as kids cut, glue, and paint, while also promoting cognitive development through planning and problem-solving.
As children create their own handmade ornaments or gifts, they also learn about the joy of giving and expressing their love through their creations.
Additionally, making crafts together as a family can strengthen bonds and create lasting holiday memories.
Finally, these crafts serve as great boredom busters during the holiday break, keeping kids engaged and entertained while away from school.
Shop some of my favorite craft supplies on Amazon!
Easy Christmas Crafts for Kids to Make
Whether you're a parent looking for a festive family activity or an educator in search of a classroom project, we've gathered a collection of Christmas crafts perfect for children of all ages.
These projects, ranging from simple Santa crafts for preschoolers and kindergarteners to more intricate ones for older kids, are designed to be enjoyable and easy to create, whether at home or in school.
Not only do these activities provide a creative outlet, but they also make for a wonderful group activity!
Recommended Christmas Craft Supplies
Most of our holiday projects can be created using common household craft materials. However, it's recommended to have the following items on hand for several of these craft projects:
Worry less about the mess of crafting with kids with a few helpful items. Have the kids wear an art smock to keep their clothes clean while they create. We also like to use activity trays and craft mats to help protect surfaces.
Apple Barrel Acrylic Paint Set, 16 Piece (2-Ounce), Best Colors Count
Bassion Pack of 2 Kids Art Smocks, Children Waterproof Artist Painting Aprons Long Sleeve with 3 Pockets for Age 2-6 Years
AdTech Ultra Low-Temp Cool Tool | Mini Hot Glue Gun for Safe Crafting | Children and Kids | Item #05690 , White
Aleene's Turbo Tacky Glue, 4 FL OZ – 3 Pack, Multi
Christmas Coffee Filter Crafts
We absolutely love making coffee filter crafts for kids! With their versatile shape and size, these everyday household items transform into fantastic Christmas creations with a little bit of imagination and craftiness.
They are a great canvas for kids to experiment with colors and textures, turning them into delightful holiday decorations.
The best part? It's an easy, low-cost crafting activity that everyone in the family can enjoy together, adding a personalized touch to your Christmas decorations.
Are Crafts a Good Family Holiday Activity?
Making crafts together as a family during the holidays is not only a fun and engaging activity, but it also offers a multitude of benefits for both children and parents.
Crafting allows children to unleash their creativity and imagination, helping them to develop important skills such as fine motor skills, hand-eye coordination, and problem-solving abilities.
It gives them a sense of accomplishment and boosts their self-esteem when they see their creations come to life.
Plus, crafting together creates precious memories and strengthens family bonds as everyone participates in the creative process.
So, this holiday season, consider spending quality time with your kids by tapping into their inner artist and enjoying some festive crafts together.
Make Your Own Christmas Gingerbread Man Craft Projects
24 Sets Christmas Craft Kits
9Pack Build a Snowman Kit
Creativity for Kids Easy Sparkle Window Art Craft Kit
Made By Me Create Your Own Holiday Window Art
24 Sets Christmas Craft Kits Popsicle Stick Christmas Ornaments
More Fun Winter Activities for Kids
As the winter season draws near and a blanket of snow covers the ground, it opens a whole new realm of activities for kids. Winter is a wonderful time for children to embrace the chilly weather and indulge in a variety of fun and educational activities.
From building snow sculptures to engaging in indoor crafts, there's always something to keep them entertained. While enjoying the magic of the season, these activities also provide a unique opportunity for kids to learn, grow, and create lasting memories.
It's the perfect time to engage your kids in creative holiday crafts. Not only will these activities fill their holiday season with fun and amusement, but they'll also provide a platform for learning and skill development.
So, grab those crafting supplies and let the delightful mess ensue! Together, you'll create more than just festive decorations – you'll be crafting lasting memories that embody the true spirit of Christmas.
Embrace the joy, laughter, and occasional mess that come with these Christmas craft projects. After all, the magic of Christmas lies in these shared moments of creativity and love.