This time of year our excitement for Halloween crafts for kids starts to bubble over! As you know, we love to nurture creativity with all of our craft ideas for kids. We strongly believe in making learning fun and engaging.
Whether you're looking for spooky bats and witches or adorable ghosts and silly monsters, we have a spooktacular array of project ideas.
These crafts are suitable for children of all ages and can be enjoyed at home or in school, turning each Halloween season into an exhilarating journey of imagination and artistic expression.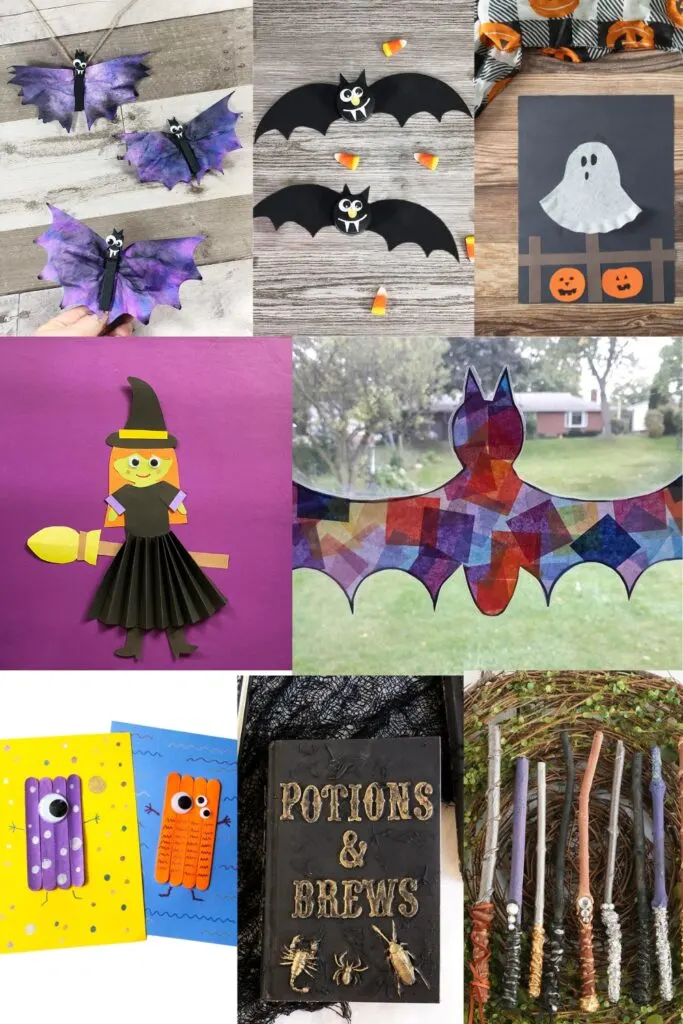 Plus, with Halloween being a popular holiday for parties, these crafts make for an excellent party activity that kids will love.
But it's not just about having fun – these crafts also help strengthen fine motor skills as children cut, glue, and decorate. It's a great way to encourage creativity while developing important skills.
So gather your supplies and prepare to get into the spirit of Halloween with these amazing ideas!
This post contains affiliate links. As an Amazon Associate and a participant in other affiliate programs, we earn a commission on qualifying purchases.
Apple Barrel Acrylic Paint Set, 16 Piece (2-Ounce), Best Colors Count
Bassion Pack of 2 Kids Art Smocks, Children Waterproof Artist Painting Aprons Long Sleeve with 3 Pockets for Age 2-6 Years
AdTech Ultra Low-Temp Cool Tool | Mini Hot Glue Gun for Safe Crafting | Children and Kids | Item #05690 , White
Aleene's Turbo Tacky Glue, 4 FL OZ – 3 Pack, Multi
What Are the Benefits of Making Halloween Crafts?
Crafting during Halloween brings a multitude of benefits for children aside from just the joy and fun.
One of the primary advantages is the development of fine motor skills. As children trace, cut, and glue, they're manipulating craft supplies and tools, which in turn strengthens their hand muscles.
Painting, in particular, can help to refine their dexterity. Additionally, such crafts offer children the opportunity to explore potentially scary themes in a safe and supportive environment, allowing them to voice their fears and understand them better.
Crafting encourages creativity and imagination, prompting children to design their very own monsters and other art pieces, which can lead to a deeper understanding of the world around them.
Moreover, the process of creating Halloween crafts presents a fantastic opportunity for family bonding, encouraging quality time spent together in celebration of the holiday.
Lastly, these crafts provide a platform for children to express themselves, fostering their ability to communicate their thoughts and feelings in a unique and artistic manner.
Shop some of my favorite craft supplies on Amazon!
Fun Halloween Crafts for Kids
Alright, let's get to the fun part! Below, you'll find a spooktacular collection of Halloween crafts that children can enjoy making at home or school. These crafts range from adorable bat designs, cute monster creations, to whimsical witch crafts, and more.
Our diverse collection of Halloween craft ideas caters to children of all ages, ensuring that everyone gets a slice of the creative fun!
Some crafts are perfectly tailored for preschool and kindergarten, incorporating simpler materials and designs, such as this list of Halloween crafts for kindergartners. Other projects offer a bit more complexity, making them a hit with older children.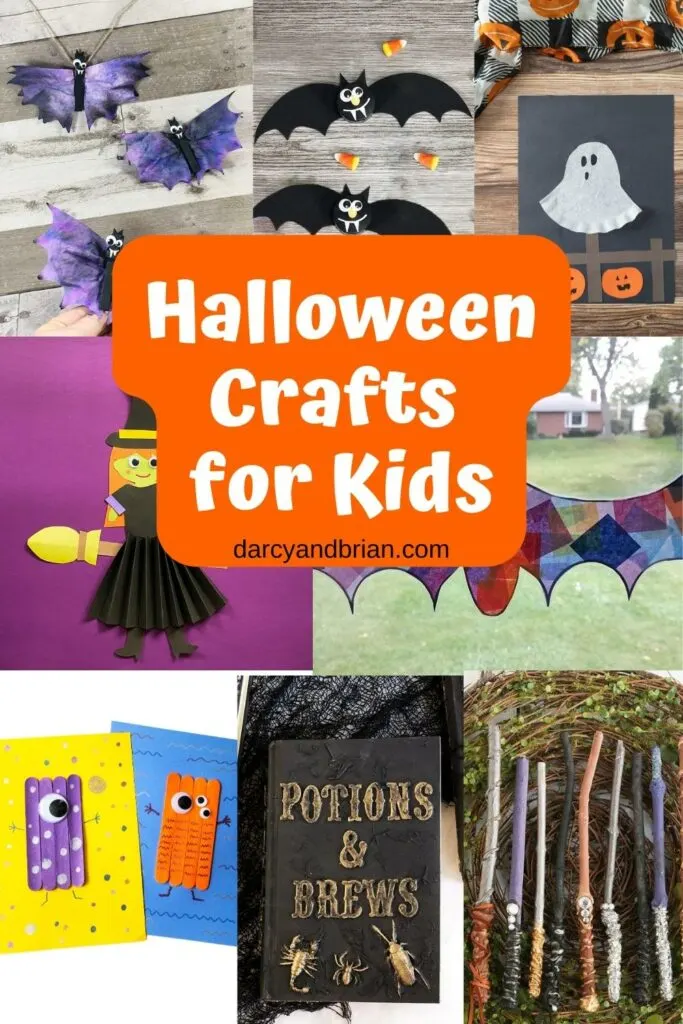 No matter the project, all of these crafts provide a wonderful opportunity for kids and adults to work together, creating Halloween memories that will last a lifetime.
Keep in mind, the level of adult assistance required may vary from craft to craft, but that's all part of the fun!
For even more enchanting ideas, be sure to check out our comprehensive list of Halloween witch crafts and our list of Halloween Popsicle Stick Crafts – there's something for every budding witch and wizard!
Recommended Halloween Craft Supplies
Many of these Halloween craft projects can be made using common household supplies. However, it's helpful to have the following suggested craft supplies on hand for the best crafting experience:
When you're crafting with kids, an art smock is also super helpful in keeping their clothes clean while they have a blast. I love using activity trays and craft mats because they are easy to wipe down afterwards.
And having a special craft area with a washable table cover can make it easier to handle the mess. Check out these tips on crafting with minimal mess.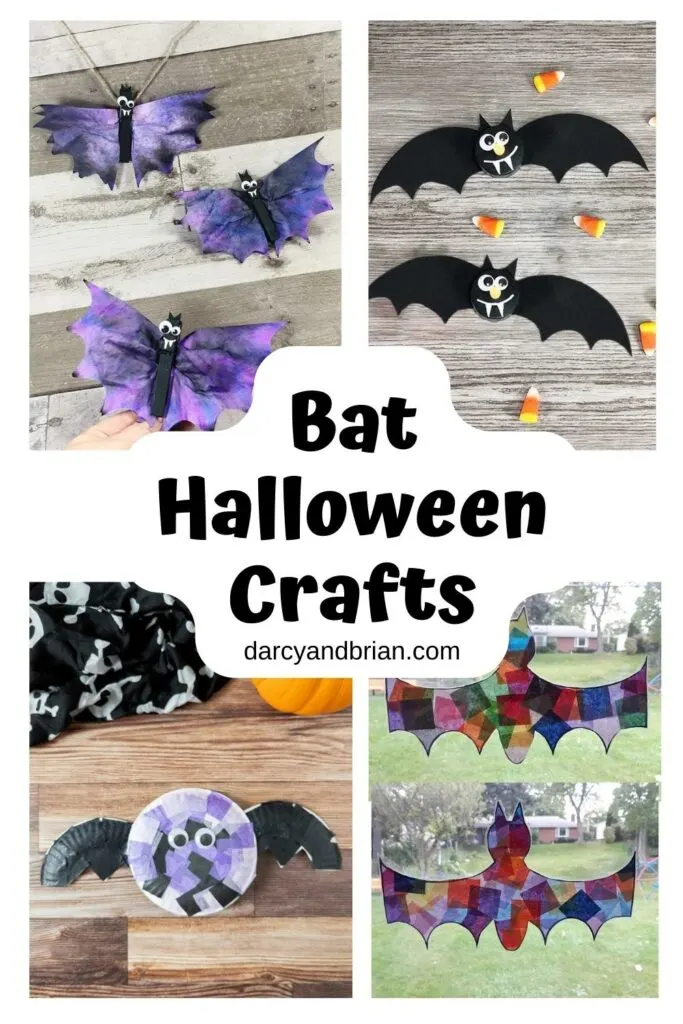 Bat Halloween Crafts
Bat crafts are a quintessential part of Halloween fun that kids absolutely adore. They can be created using various common household items like coffee filters and paper plates.
For instance, a coffee filter can be transformed into a fluttering bat with a bit of color and creativity. Alternatively, a paper plate serves as an excellent base for constructing a hanging bat decoration.
These easy-to-make crafts not only provide an avenue for children to express their creativity but also bring the eerie charm of Halloween to life.
Coffee Filter Halloween Crafts
Coffee filter Halloween crafts are an excellent way to engage kids in a fun and imaginative activity.
These crafts can be as simple or intricate as you desire, making them perfect for all age groups.
From creating silly monsters to designing unique ghostly apparitions, coffee filters offer endless possibilities for Halloween creativity.
Are Crafts a Good Halloween Party Activity for Kids?
Absolutely! Halloween crafts are a great way to keep kids entertained during parties and other gatherings. They can also serve as party favors for guests to take home with them.
Plus, crafting is a fun and creative activity that allows children to express themselves and strengthen their fine motor skills at the same time.
Creativity for Kids Halloween Window Art
pigipigi Halloween Scratch Paper Kit
READY 2 LEARN Create Your Own Halloween Characters
DIY Halloween Witches' Potions Kit for Kids
Weewooday 12 Pieces Foam Ghost Magnet Craft Kit
READY 2 LEARN Create Your Own Halloween Pumpkins
Encourage Creativity with Halloween Crafts
Halloween crafts allow kids to use their imaginations and creativity in creating unique and spooky masterpieces.
From designing their own witch hats to painting scary pumpkins, the possibilities are endless! Encourage your child to come up with their own ideas or put a spin on a classic Halloween craft.
More Fun Halloween Activity Ideas
When it comes to finding Halloween activities for kids, the sky truly is the limit.
These fun-filled tasks not only serve as a great way for children to learn and develop their skills but can also be incorporated into parties or simply used as a source of holiday fun.
Whether it's a pumpkin-carving competition or a spooky scavenger hunt, these activities will surely make Halloween memorable for your little ones.
Get ready to unleash your creativity this spooky season! We hope to inspire you to engage in some crafty fun with your little ones.
Crafting together is not just about creating amazing things, it's about the joy, learning, and love shared during the process.
So, grab your craft supplies and let your imagination run wild! Let's make this Halloween delightfully eerie with a whole lot of ghoul-tastic fun!