Ready to become a save the day? We have the perfect solution for you – printable superhero masks! With black and white versions and fully colored masks, you can make your kids' dreams come true in just minutes.
Plus, it's the perfect way to get them playing away from screens. All you need is a printer and some imagination to create an epic adventure story right inside your home!
Whether they want to fight off evil villains or help others in need, our free mask downloads will give them hours of fun.
Want more ideas like this? Don't miss all of these superhero activities for kids.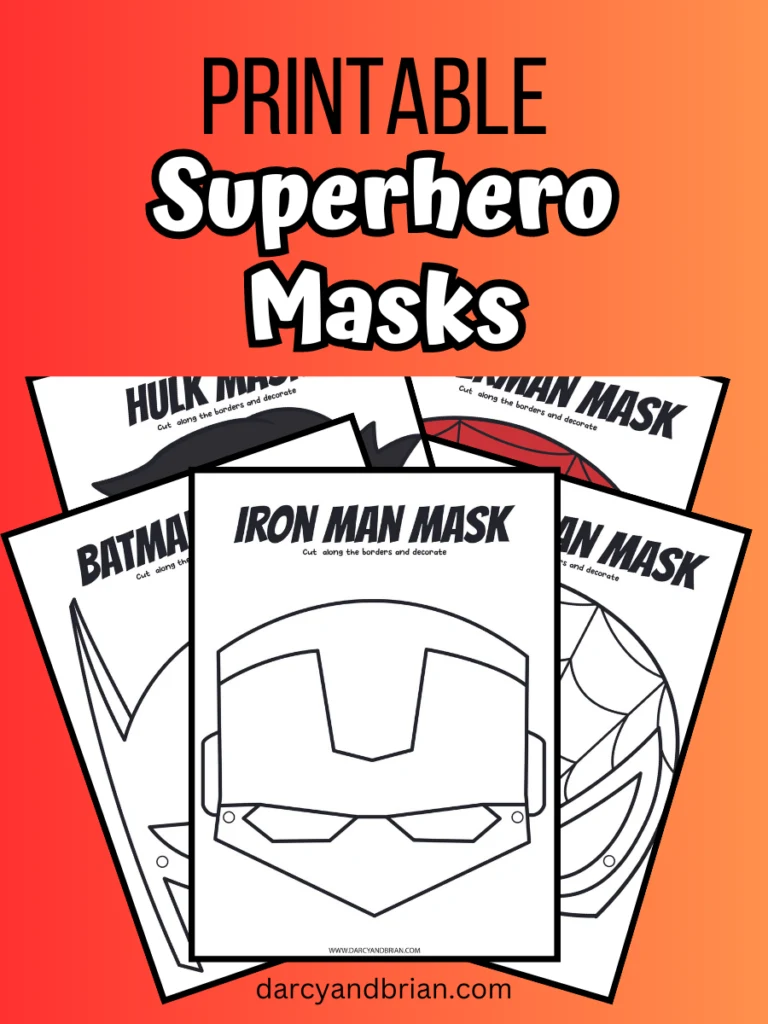 Fun Superhero Activity Ideas for Kids
Kids can't get enough of these popular comic book characters. From playing games to crafting, our superhero activities for kids will help bring out your child's inner hero!
The Superhero Universe
In the fantastical world of superheroes, children find captivating characters that not only entertain but also teach them about courage, resilience, and the power of good over evil.
These extraordinary figures, from the astute detective skills of Batman and Robin to the awe-inspiring strength of Hulk, resonate deeply with their young audience.
The patriotic valor of Captain America, the genius innovation of Iron Man, and the agile acrobatics of Spiderman are more than just storylines; they inspire dreams and spark creativity.
The lightning-fast speed of The Flash and the indomitable spirit and retractable claws of Wolverine add more excitement to the superhero realm, allowing kids to explore speed and strength in new and thrilling ways.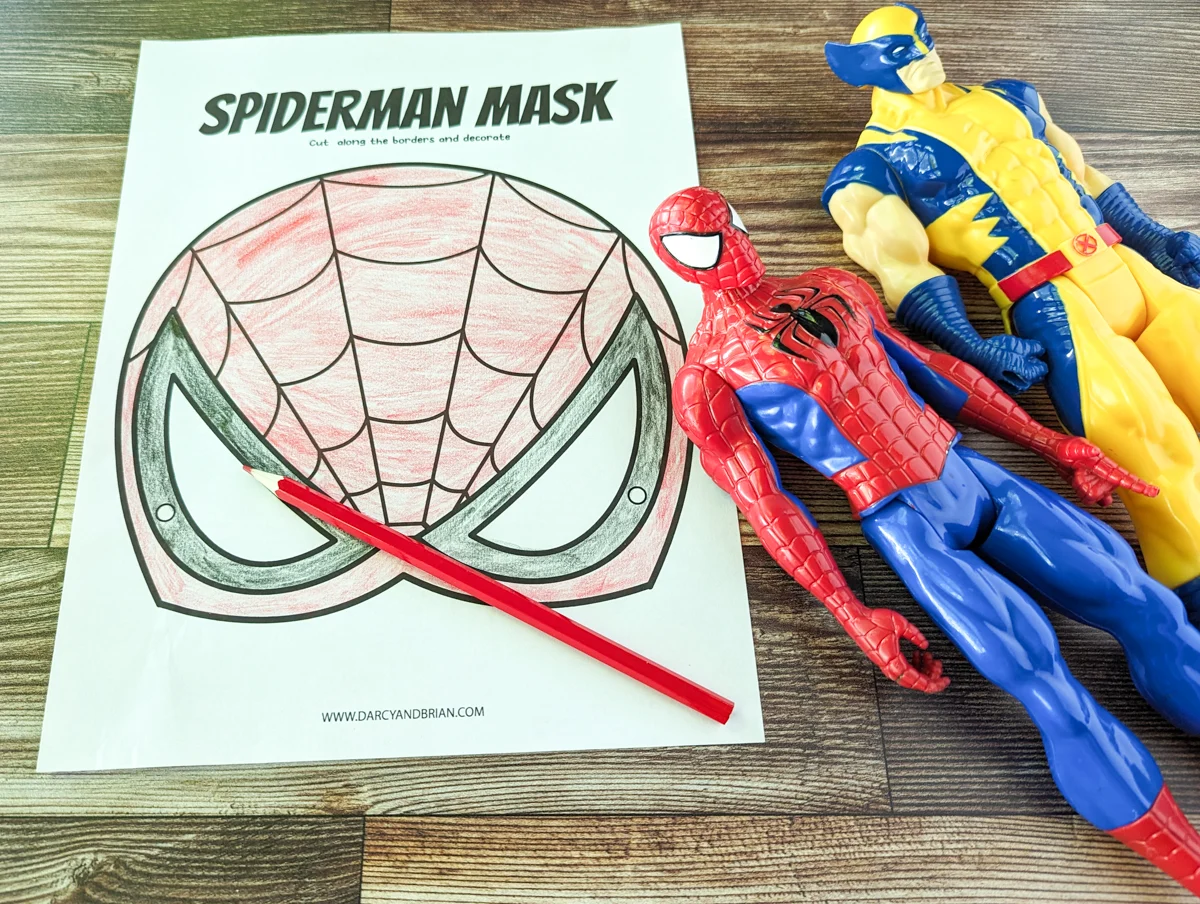 In our free printable mask collection, your child can step into the shoes of these beloved characters and act out the adventures of their favorite superheroes.
The Joy of Coloring
Coloring in our free printable masks is not only fun for your child, but it also develops their fine motor skills, hand-eye coordination, and creativity.
With a variety of heroes to choose from, ranging from Captain America to The Hulk, Spiderman, Wolverine and more, your little one can pick the superhero they want to be and get creative with what they color in.
The black and white masks provide a great canvas for kids to discover the joy of coloring and unleash their imaginations!
Ready-to-Wear Colored Masks
The color versions of our free printable masks allow your child to take playtime a step further. With these colored masks, children can dive right into the superhero role without the fuss of coloring.
Ready-to-wear masks are great for making playtime instantly exciting and fun. After printing out the colored version, kids can boost their imaginations as they fly around like Iron Man or battle evil forces like Batman and Robin!
These hero mask templates will make sure your little one has hours of fun donning the cape of their favorite superhero.
So, let your child's imagination soar and have them become the heroic character they've always wanted to be!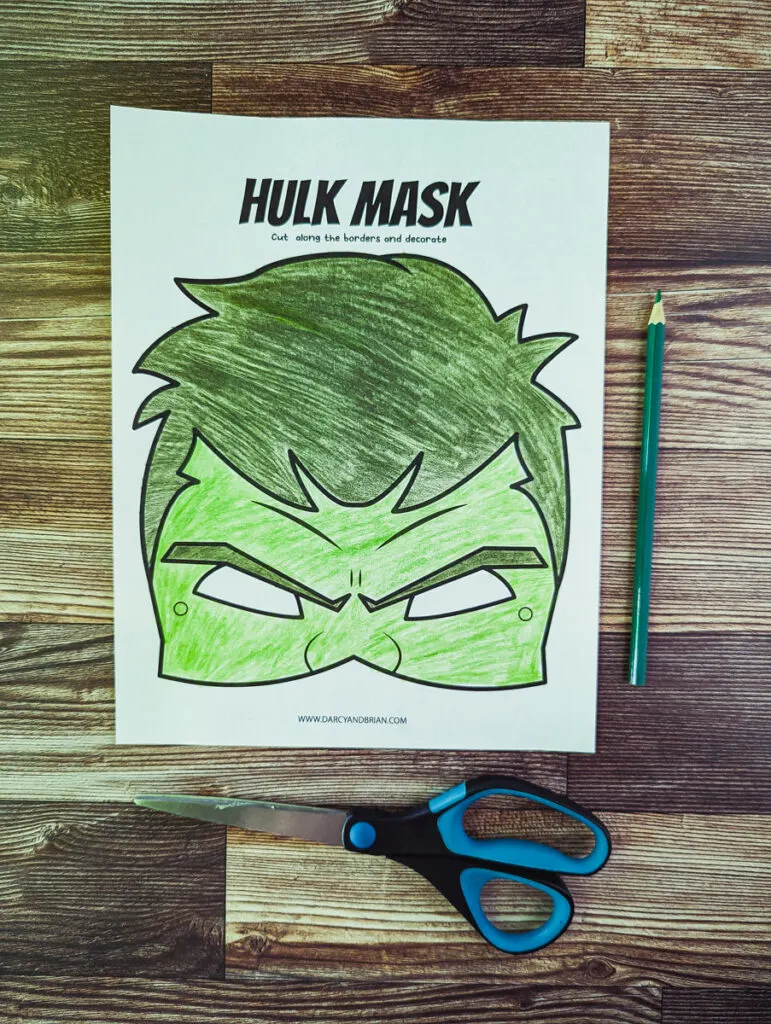 From coloring our black and white masks to donning pre-made colored masks, our collection of free superhero mask printables are sure to bring tons of fun for kids of all ages!
With these super hero masks, your child can explore their creativity and even learn valuable lessons from these iconic characters that they love.
Making Masks Even More Fun with Props and Accessories
Make masking even more fun by adding props and accessories! Props can be anything from homemade cardboard shields, capes or even swords. With these items, your little one will be all set to save the day!
Roleplay is a great way for children to explore their imagination and express themselves. Not only can they learn valuable lessons about problem solving but they can also have fun being the superhero of their dreams.
This post contains affiliate links. As an Amazon Associate and a participant in other affiliate programs, we earn a commission on qualifying purchases.
RioRand Kids Dress Up 8PCS Superhero Capes Set and Slap Bracelets for Boys Costumes Birthday Party Gifts
DC Super Hero Girls 21 Piece Dress-Up Trunk (Amazon Exclusive)
Imagine by Rubie's Marvel Avengers Play Trunk with Iron Man, Captain America, Hulk, Black Panther Costumes/Role Play * Amazon Exclusive , Multi-color
FAIRZOO Incredible HOK Superheros Gauntlet Smash Hands Fists Big Soft Plush Gloves Pair Costume Green
Rubie's Marvel Captain America 12
Rubie's costumes Rises Belt, Gold, Batman The Dark Knight Rises Batman Belt Gold One Size, Gold, One Size US
With a few props, your child will be ready for an adventure that only superheroes could experience. It'll be a fun way to keep them engaged in their playtime while using their creativity.
How to Use These Superhero Mask Printables
Now that you know how to make masking even more fun, let's learn how to download and use these masks.
It's easy and only takes a few steps! First, you need to fill out the form at the bottom of this post and the masks will be sent to your inbox.
Here is what is included in the PDF file:
20 pages total
10 are black and white pages
10 are full color masks
The character masks are for Spiderman, Hulk, Iron Man, Captain America, Batman, Robin, The Flash, and Wolverine. Two bonus masks (Darth Vader and Teenage Mutant Ninja Turtles) are also included.
We recommend printing them out on cardstock, but you can use regular printer paper. Next, take some colorful markers, colored pencils, or crayons and add color to the black and white masks.
This is where the creativity of craft ideas for kids comes in! Feel free to let your child's imagination run wild as they decorate their mask. Then use a hole punch along with yarn or twine to tie the mask around the back of your child's head.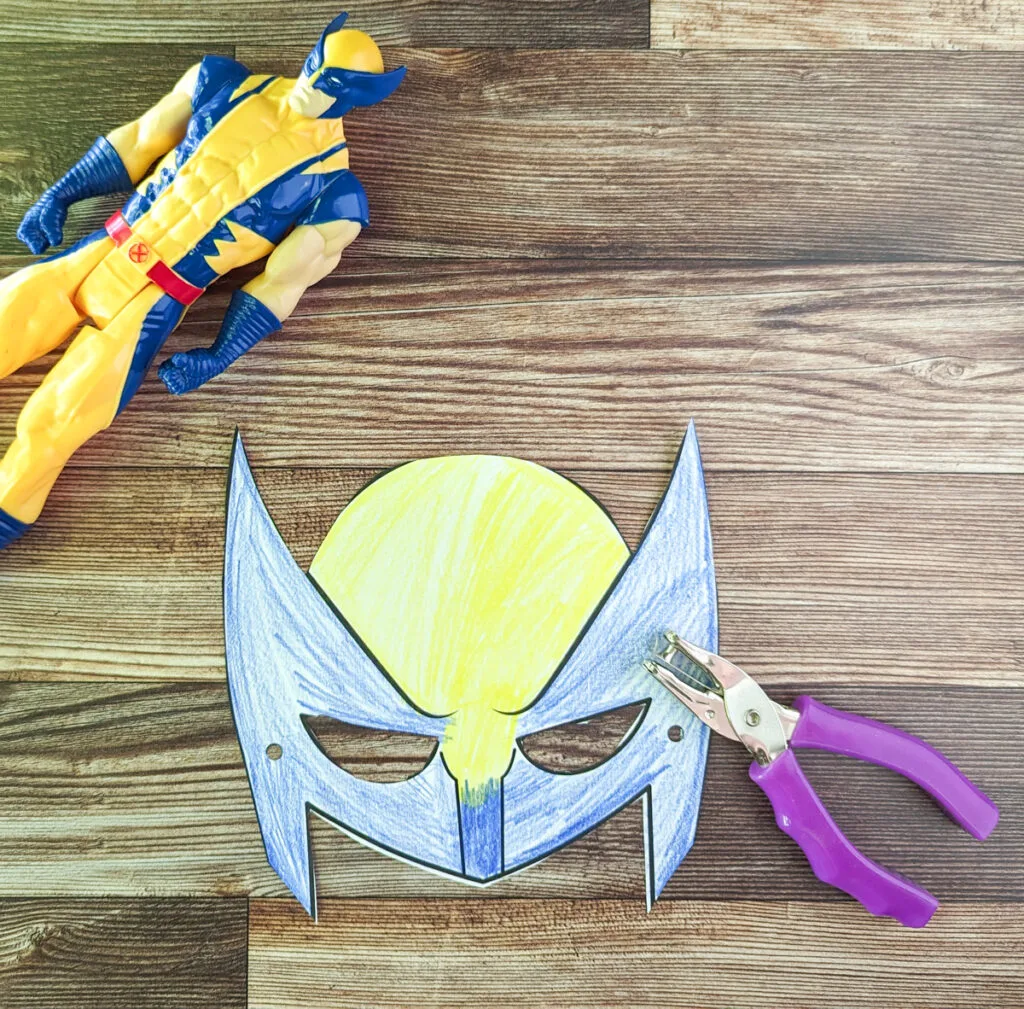 There are lots of ways you can use these masks to keep your little ones entertained. Have them dress up as their favorite superhero and act out scenes from comic books or movies, or even create their own original story.
They'll have a blast! This would also make a great activity for a superhero birthday party.
Superhero Books
For those who would like to take their superhero play to the next level, we recommend reading some superhero-themed books! Here are a few of our suggestions:
These books are great for helping kids understand what it means to be a superhero, as well as providing them with more story ideas to use during their pretend play. Give them a read and see what kind of adventures lie ahead! :)
Superhero Toys
In addition to superhero masks, there are plenty of awesome themed toys that kids can use during their pretend play.
We recommend getting some action figures, dress up costumes, or even building blocks for constructing superhero-like hideouts.
Playskool Heroes Super Hero Adventures Captain America Super Jungle Squad
DC Comics, 12-inch Batman Action Figure
Marvel Avengers Action Figures
LEGO Marvel Shuri's Lab, 76212 Black Panther
LEGO Marvel Sanctum Sanctorum 76218, 3-Story Modular Building Set
DC Super Friends Batman Toy, Wayne Manor Batcave Playset With Batman Figure & Accessories [Amazon Exclusive]
Any of these items make great additions to any pretend playtime!
Fun Mask Crafts
If your child is looking for more pretend play activities, why not check out this collection of mask crafts? These are great for kids who love to get crafty, and it will also help them work on their fine motor skills and creativity.
We hope these ideas have inspired you and your child to get started on a superhero adventure! With just a few clicks, you can have amazing masks ready to be printed and colored. Plus, it's a great way to foster creativity and encourage hours of fun play.
So go ahead, and fill out the form below to grab your masks and get ready for some superhero action!