Do your kids love butterflies? Then they'll enjoy making this easy butterfly life cycle craft, one of our spring craft ideas for kids.
It's a great way for preschoolers and kindergartners to reinforce what they've learned about how a caterpillar becomes a butterfly. I love how visual and tactile it is for being so simple to do.
You can easily pair this project with the learning activities we suggest later in this post as well as the cut and paste life cycle worksheet available at the bottom.
This butterfly craft is perfect to work on in the spring or summer. During this time of year, kids are more likely to find caterpillars and see butterflies fluttering around.
Preschool children are sure to have lots of questions about them too!
My favorite way to engage children in learning is with hands-on science activities. Those are more exciting and they look forward to it too!
It doesn't require a lot of materials and is pretty easy to pull together for an impromptu outdoor science lesson.
More Insect Crafts
Butterfly Life Cycle Craft Supplies
You'll need a paper plate, any plate size will do, but you'll have more room to decorate and label each life cycle stage if using a large one.
You will also need construction paper, a few pieces of uncooked rice, and three different shapes of dry pasta from your pantry.
Did you know farfalle pasta is called that because farfalle is the Italian word for butterfly? Farfalle is also known as bow tie pasta. It really makes it the perfect option to represent butterflies in this life cycle craft.
How to Make a Life Cycle of a Butterfly Craft
Gather up everything you need and start by dividing the paper plate into four sections. You can use a ruler and a marker to make the lines nice and straight.
Next cut out a leaf shape from green paper and glue it in one of the four quadrants. Then glue a few grains of rice onto the leaf to represent eggs.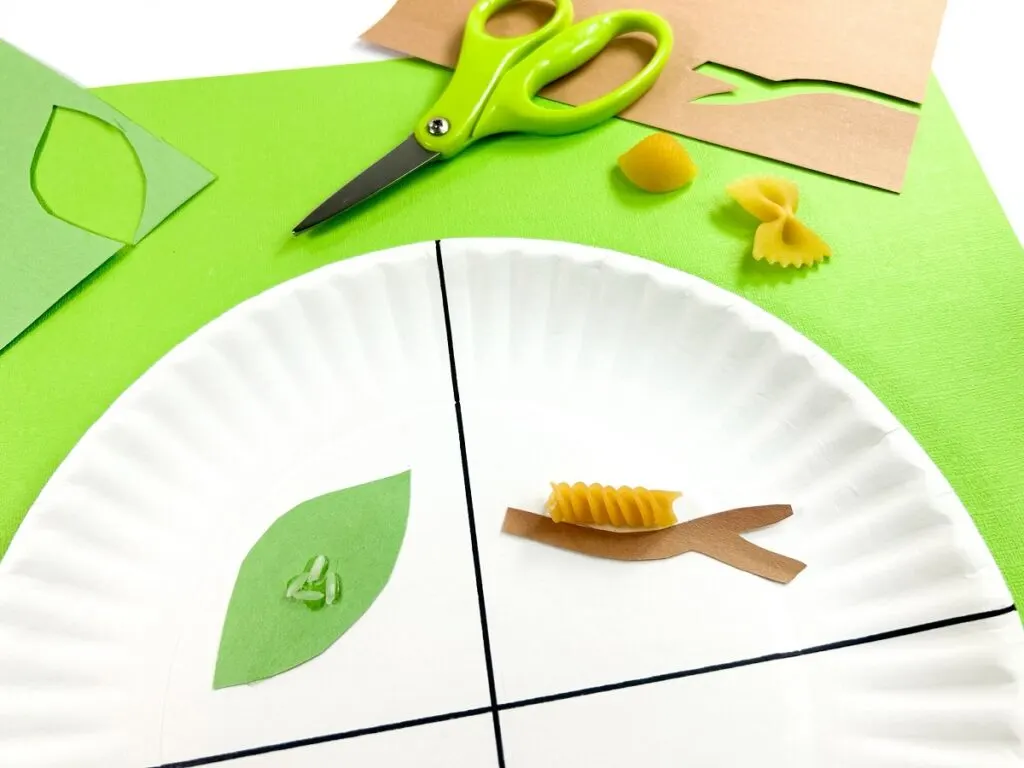 Use brown paper to cut out a branch and another small leaf from green paper. Glue them down in the section to the right of the eggs. Now add a rotini noodle to the branch to represent a caterpillar.
Cut out another branch and glue it in the section to the right of the caterpillar. Take a small shell shaped noodle and glue it just below the branch to look like a chrysalis hanging from it.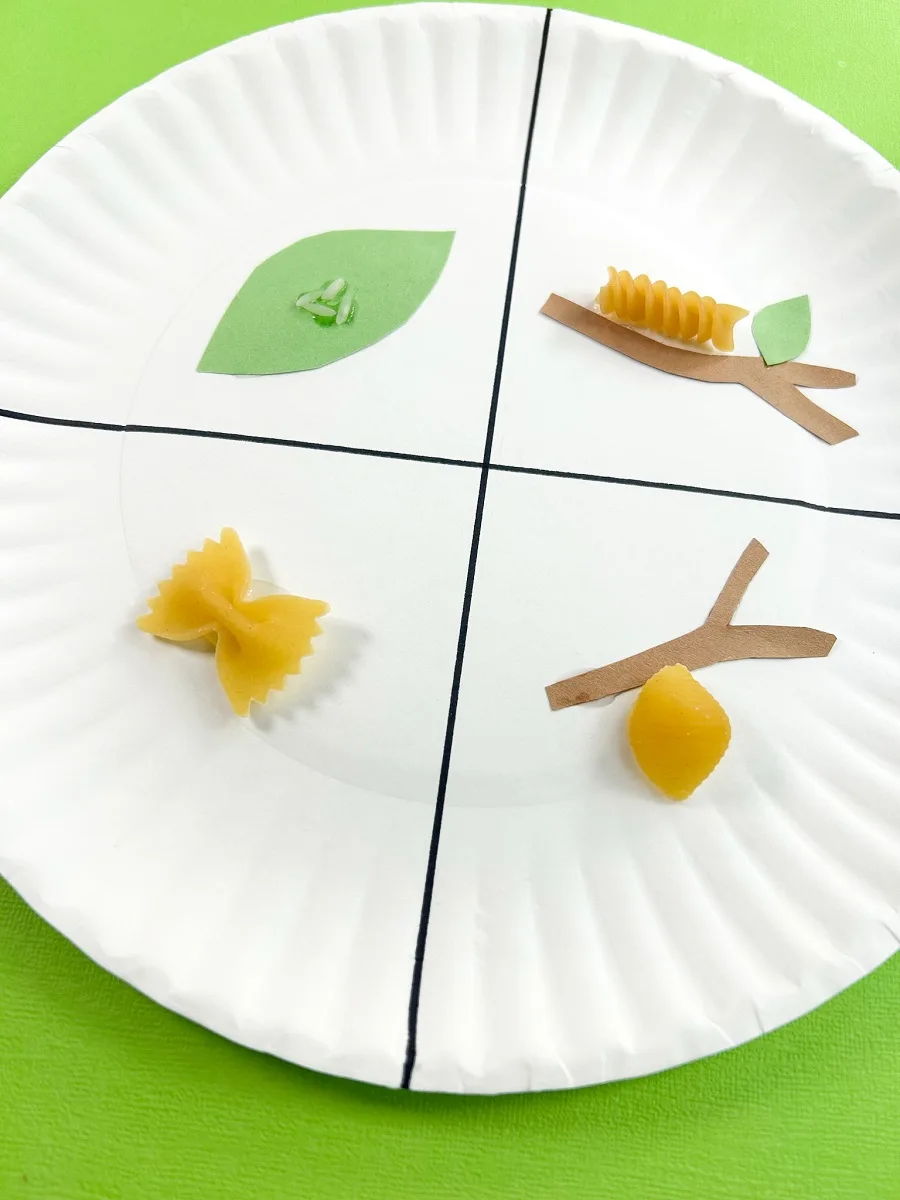 Now glue a farfalle (bow tie) pasta to represent the butterfly that emerged from the chrysalis.
If you want to make this more of a nature craft, you can glue small sticks down for the branches and gather leaves from outside too.
Use a marker to label each life stage section: eggs, caterpillar, chrysalis, butterfly. You can also add arrows showing the direction the life cycle follows from egg to butterfly.
If you want, create a Butterfly Life Cycle label and glue it in the center of the plate.
Butterfly Life Cycle Activities for Kids
Kids are naturally curious about the world around them. It's not surprising that they want to know more about caterpillars and butterflies.
By offering a variety of activities, such as crafts, games, books, worksheets, toys, and educational videos, you will keep learning interesting.
Here are a few ideas on how to extend this butterfly life cycle craft for further learning. You could use some or all of these ideas for a butterfly unit study!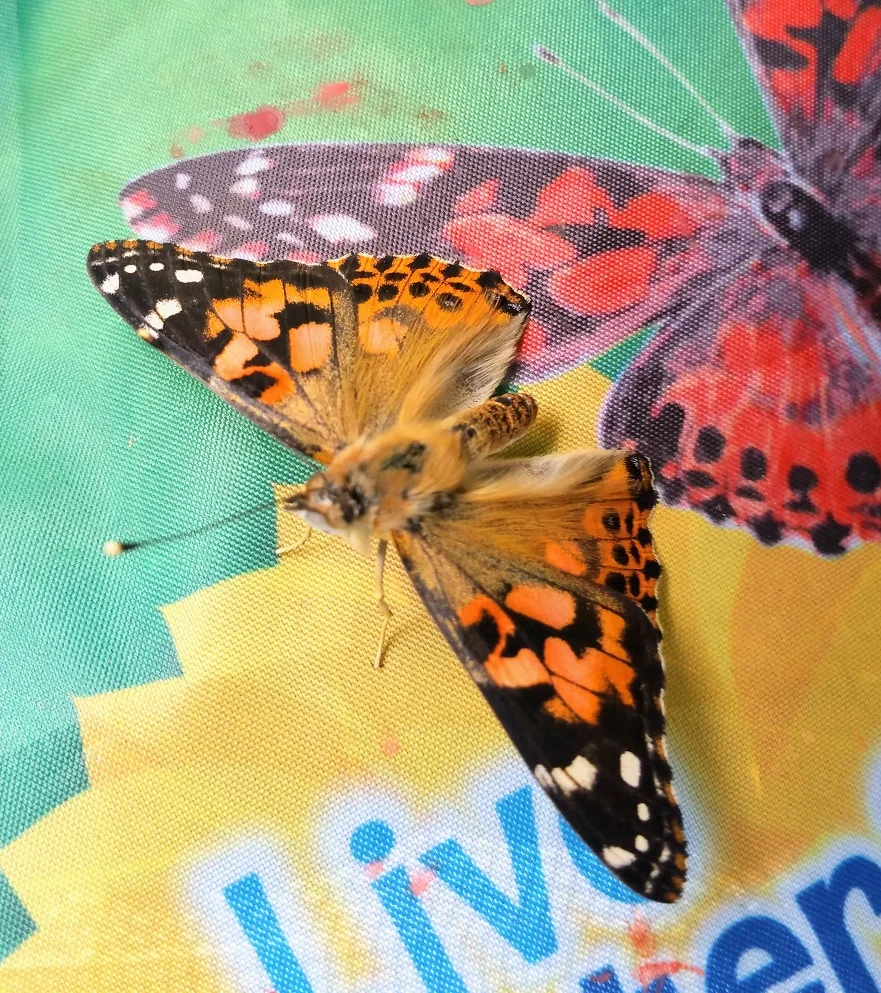 This post contains affiliate links. As an Amazon Associate and a participant in other affiliate programs, we earn a commission on qualifying purchases.
Raise Caterpillars – We've purchased this butterfly growing kit a few times and my kids are always fascinated by the process. Watching caterpillars go through metamorphosis and emerge from their chrysalis in your own living room is pretty amazing!
Butterfly Life Cycle Worksheet – Use this printable to discuss each stage of the butterfly's life cycle. Work on fine motor skills with this cut and paste sequencing activity.
Butterfly Snack – Another fun way for kids to visualize the different stages is to make this edible butterfly life cycle.
Butterfly Life Cycle Addition Ten Frame Printable – These ten frame printable math sheets use the butterfly's life stages to fill in the frames. Use them for themed kindergarten math practice to work on visualizing numbers, counting, and simple addition up to 10.
Books About Butterflies
National Geographic Readers: Caterpillar to Butterfly – National Geographic books always have gorgeous photography. This is a Level 1 Reader that gives kids a look at caterpillars and how they transform into butterflies.
Ten Magic Butterflies by Danica McKellar – This book mixes math with an enchanting story. It features flower friends who turn into butterflies with a bit of magic. Throughout the story, children will learn different ways to group numbers to create ten. They won't even realize it's a math lesson!
My, Oh My–A Butterfly!: All About Butterflies – This book is part of the Cat in the Hat's Learning Library. Many younger children enjoy the style and format of these stories. They'll learn interesting facts about butterflies, information about their life cycle, as well as follow the monarch migration.
Butterflies for Kids (A Junior Scientist's Guide) – An excellent option for independent readers, this book is for kids 6-9 years old. They'll learn about the complete life cycle, stats, facts, and information about over 30 different butterflies.
More Paper Plate Crafts
Butterfly Life Cycle Craft
Estimated Cost:
$5 or less
Help kids learn about the butterfly life cycle with this craft.
Materials
Paper Plate
Black Marker
Green, Brown, and Blue Construction Paper
Instructions
Use a marker and draw two lines dividing the paper plate into four sections.
Glue a paper leaf in one section and glue some rice on the leaf to be eggs.
Cut and glue a branch with a small leaf in the next section. Add a rotini on the branch to represent a caterpillar.
Add another branch and glue it in the section next to the rotini caterpillar. Glue a small shell pasta under the branch like a chrysalis.
In the last spot, glue a farfalle (bow tie) pasta to represent a butterfly.
Label each life stage and attach a Butterfly Life Cycle label in the center.
Notes
Use sticks and leaves from your yard instead of paper and pasta for a nature craft.