This craft stick pencil craft is a cute and easy back to school craft for kids or teachers.
I love low prep craft ideas for kids and this simple pencil craft is made using paper and wooden craft sticks.
I've included a printable pattern to use when tracing and cutting out the different parts of the pencil as well as a printable version of the direction at the bottom of this post.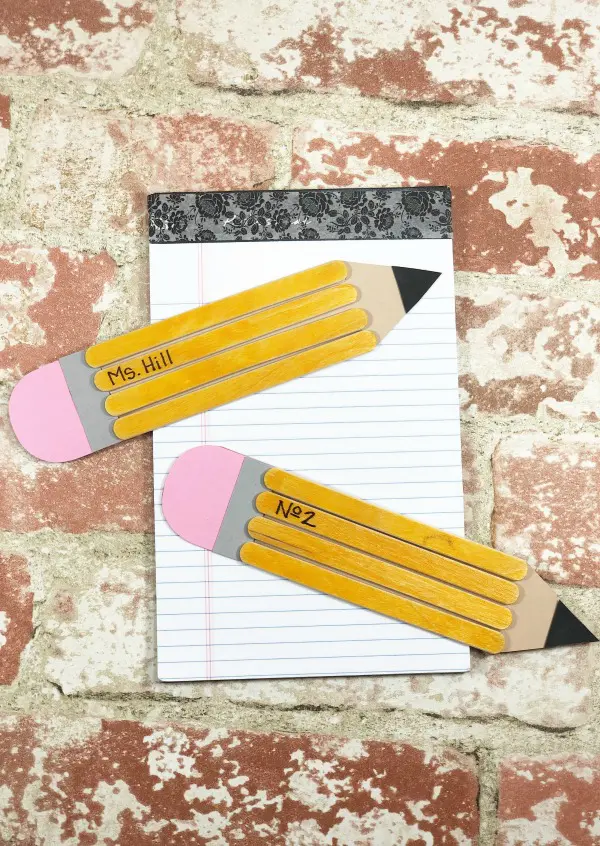 If you like popsicle stick crafts, we also have a fun Dad Rocks Keepsake Box and a cute Home is Where the Heart Is Craft Stick Magnet that preschool and kindergarten children can make. These Craft Stick Monster Bookmarks are perfect for kids who love to read!
Need a back to school ice breaker activity? Kids will enjoy making a back to school themed paper fortune teller using our printable template and asking each other questions.
Back to School Pencil Craft Stick Craft
I like using back to school crafts to keep the kids excited about the new school year. This popsicle stick pencil craft idea is perfect for art center in preschool or kindergarten as kids get used to the new routine.
The kids will be having so much fun making this easy pencil craft that they won't even realize they are learning.
Preschoolers and kindergartners will work on shapes, colors, cutting and counting with this simple craft stick pencil craft.
Don't forget to grab our Preschool Circus Printable Activities for a no prep idea to work on colors, counting, tracing, and cutting.
There are a few ways to use these cute popsicle stick pencils:
Teachers can create a bunch of pencils to make a banner or decorate a classroom bulletin board.
Kids can write their names on them to display by their desk or table spot or somewhere else in class.
You can glue a magnet on the back and put it on the fridge
Back to School Pencil Craft Supplies
This post contains affiliate links. As an Amazon Associate and a participant in other affiliate programs, we earn a commission on qualifying purchases.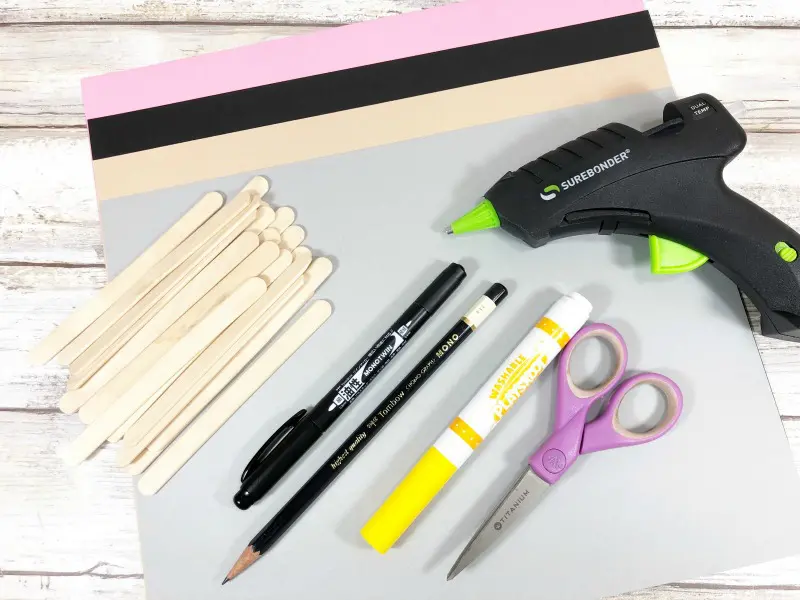 How to Make Pencil Popsicle Stick Craft
First, you need to download and print the Pencil Pattern Sheet HERE.
Next, cut out the pencil parts from the pattern. Trace each part on the cardstock according to the pattern instructions, then cut out the shapes with scissors.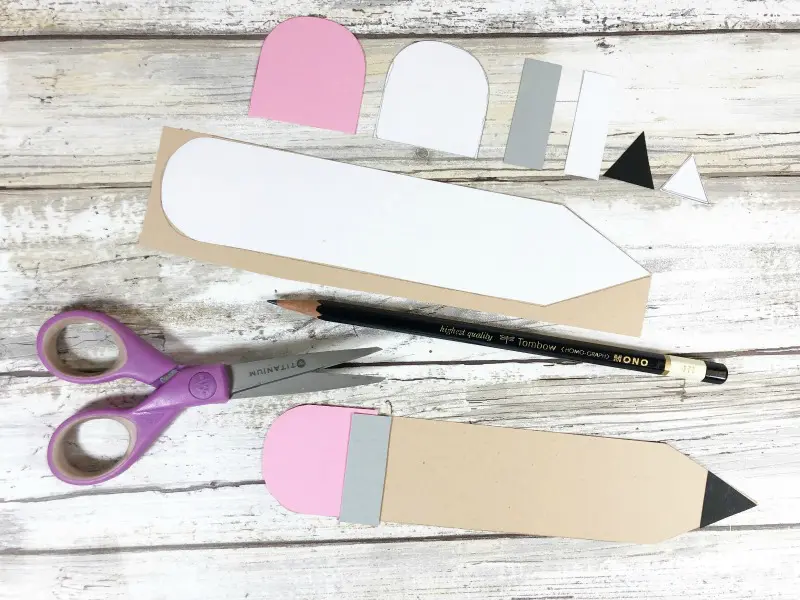 Use liquid glue to glue the pencil point, eraser, and metal cuff to the pencil base. Set aside to dry.
Color all four craft sticks with a yellow washable marker. Set aside to dry if needed. You could purchase colored craft sticks instead of doing this step.
Glue all four yellow craft sticks in a row to the front of the pencil. Liquid glue is fine for for kids to use. Adults working on this craft project may prefer to use a glue gun.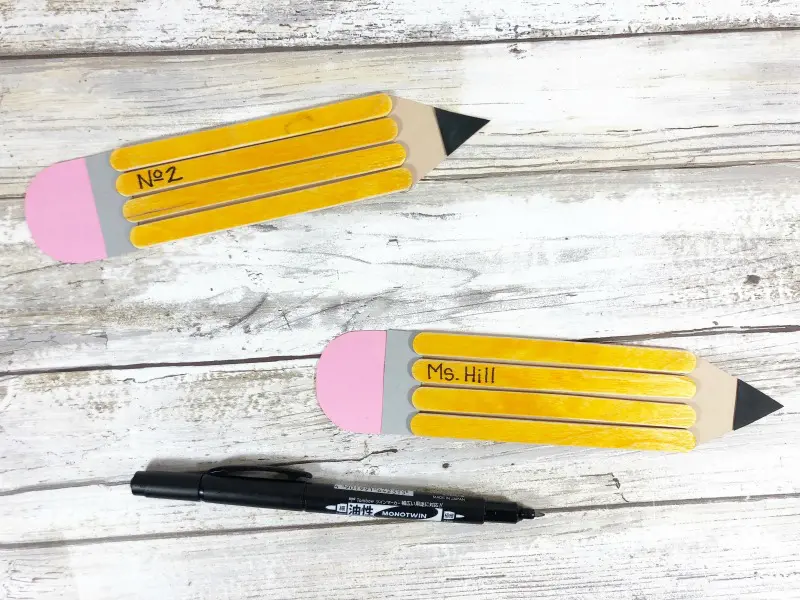 After the glue dries, you can write No. 2, the child's name or your favorite teacher's name on the pencil.
I hope you enjoy making this cute back to school craft stick pencil craft!
More craft ideas for kids:
Printable Back to School Craft Stick Pencil Craft Instructions
This printable craft pattern is for personal use only. You may use it at home or in your classroom. Know another parent or teacher who would love to do this activity? Share this post with them!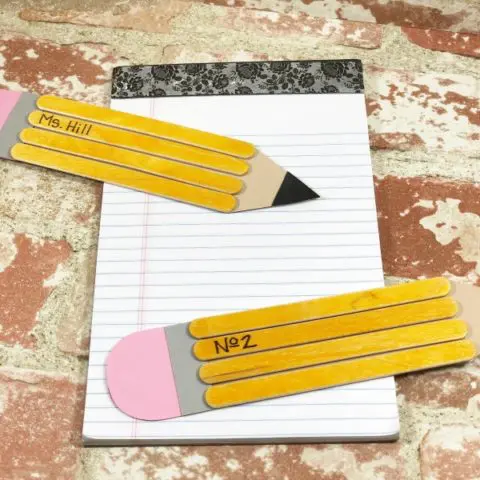 Craft Stick School Pencil Craft
Super cute and easy school pencil craft using popsicle sticks and cardstock paper.
Instructions
Print Pencil Pattern Sheet and cut out shapes.
Trace pattern shapes according to instructions and then cut them out from cardstock.
Glue pencil point, eraser and metal cuff to the pencil base with liquid glue. Set aside.
Color four craft sticks with yellow washable marker. Set aside to dry. (Should be quick)
Glue four yellow craft sticks in a row to the front of the pencil. Children may use liquid glue. Adults may use hot glue gun if they prefer.
Write No. 2, your name or your favorite teacher's name on the pencil.
Notes
Glue magnet to the back to display on your fridge!