Looking for simple, low cost crafting projects? These easy-to-make tissue paper crafts for kids provide a fun and creative outlet for young children.
With our step-by-step directions, all you need is some tissue paper, a touch of creativity, and a desire to unleash your children's artistic potential. Many of our projects also include a free printable template.
Want even more ideas? From popsicle sticks to coffee filters and more, we have a wide variety of craft ideas for kids that are perfect for both home and school.
Children, particularly younger ones, have an innate love for crafting. They delight in the process of creating something uniquely their own and using their imagination.
Crafting is also an effective method to extend learning activities beyond the traditional classroom setup.
It helps in developing fine motor skills, promotes creativity, boosts self-confidence, and encourages problem-solving.
Whether you're looking for a fun rainy day activity, an addition to your homeschool curriculum, or an engaging project for your classroom art center, crafting offers countless benefits and endless enjoyment for kids.
Why Make Tissue Paper Crafts?
Tissue paper crafts are an excellent choice for kids, inviting a world of creativity and imagination.
These colorful, versatile materials are easy for young hands to manipulate, making them perfect for promoting fine motor skills in preschoolers.
Not only are these types of craft projects cost-effective, but they also turn something as simple as tissue paper into beautiful masterpieces.
Often associated with gift wrapping or gift bag stuffing, tissue paper goes beyond its conventional uses, transforming into beautiful flowers, suncatchers, and a multitude of other vibrant crafts.
It's a testament to the idea that with a little creativity, everyday items can become extraordinary. Plus, it's a great way to reuse tissue paper used for gifts!
This post contains affiliate links. As an Amazon Associate and a participant in other affiliate programs, we earn a commission on qualifying purchases.
Apple Barrel Acrylic Paint Set, 16 Piece (2-Ounce), Best Colors Count
Bassion Pack of 2 Kids Art Smocks, Children Waterproof Artist Painting Aprons Long Sleeve with 3 Pockets for Age 2-6 Years
AdTech Ultra Low-Temp Cool Tool | Mini Hot Glue Gun for Safe Crafting | Children and Kids | Item #05690 , White
Aleene's Turbo Tacky Glue, 4 FL OZ – 3 Pack, Multi
What Age Can Make Tissue Paper Crafts?
Tissue paper crafts are wonderfully versatile and can be enjoyed by children of all ages.
Many of our projects are designed to be accessible and engaging for everyone – from toddlers and preschoolers to older children.
The lightweight, easy-to-tear nature of tissue paper makes it an excellent material for younger kids to work with.
It's perfect for developing their fine motor skills and hand-eye coordination.
On the other hand, older children can explore a more detailed and precise approach to their artwork, challenging their creativity and pushing the boundaries of what they can create.
Therefore, not only do tissue paper crafts offer a world of color and fun, but they also provide a range of developmental benefits for children at different stages of their growth.
Recommended Tissue Paper Craft Supplies
One of the main advantages of tissue paper crafts is that they don't require an extensive list of materials, and many of the items needed may already be found at home or in the classroom.
Basic supplies include items like liquid glue or glue sticks for adhering the tissue paper, and construction paper to provide a sturdy base for your projects.
Adding fun elements like googly eyes can bring your tissue paper creatures to life.
When it comes to the tissue paper itself, consider purchasing sheets in an assortment of colors to allow for maximum creativity.
You can cut these into squares or let the kids tear them into pieces for a more textured effect.
For convenience, you can also purchase pre-cut tissue paper squares. These work well for creating mosaic style suncatchers. With these simple supplies, the possibilities for crafting are endless!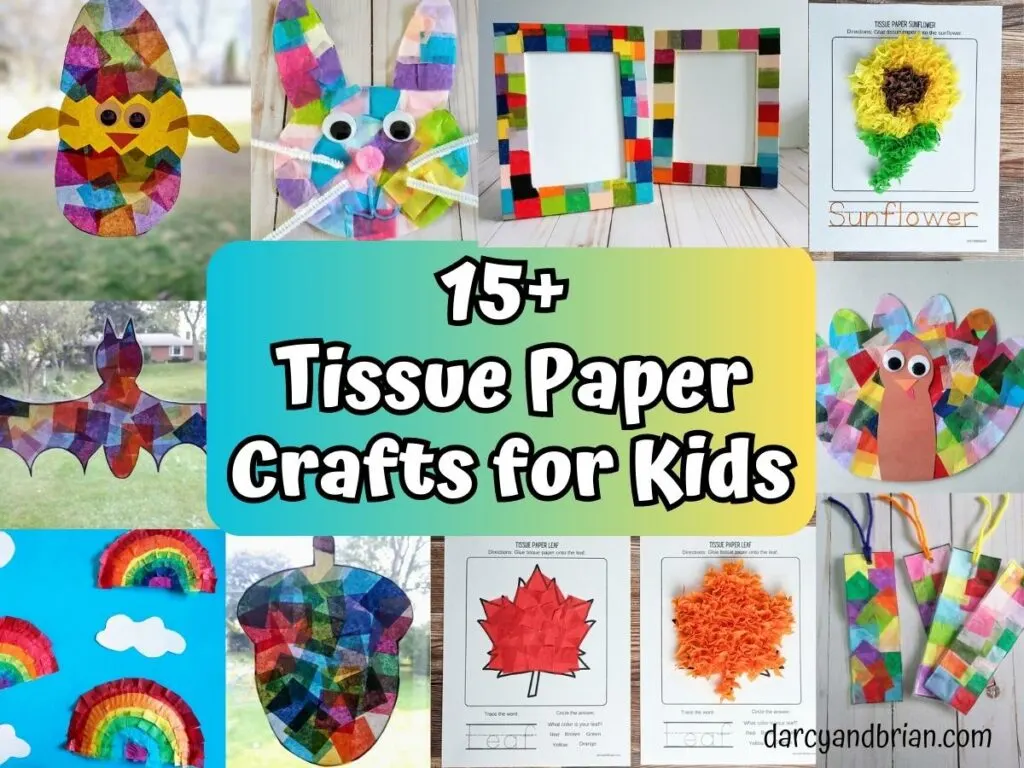 Fun Tissue Paper Crafts for Kids
Our collection is brimming with fun and easy tissue paper crafts for kids to create. These projects are simple to make and sparks their creativity while teaching them the joy of making something with their own hands.
Explore the seasons with our tissue paper tree craft! It's easy for kids to use different tissue paper colors to represent the tree's leaves in spring or fall.
Transform ordinary bookmarks into faux stained glass masterpieces with our Tissue Paper Bookmark craft. It comes with a free printable template, making it easier for kids to glue the tissue paper onto then cut them apart.
With our Tissue Paper Picture Frame craft, your children's creativity can truly shine in a practical and beautiful way. This charming little project turns colorful tissue paper and a dash of Mod Podge into a vibrant and personalized picture frame. It's a less messy alternative to painting that's perfect for showcasing cherished photos. Plus, these homemade frames make fantastic gifts!
Speaking of gifts, our printable I Love You To Pieces card craft with a mini tissue paper heart suncatcher is an excellent choice. Mothers, fathers, grandparents, aunts, uncles or friends will love receiving a gift that's made with love and bursts with color.
For a refreshing summer craft, turn ordinary paper plates and colorful tissue paper into a delightful watermelon craft, perfect for preschoolers to hone their fine motor skills while having a slice of fun.
Our paper plate and tissue paper rainbow craft is not just an enjoyable activity, but also an effective way to learn the rainbow color order. As kids layer the colors of tissue paper onto the plate, they familiarize themselves with the order of the rainbow colors, making learning a fun and colorful experience.
Even toddlers can join in the fun with our Tissue Paper Earth Day Craft! This simple activity allows them to tear pieces of tissue paper and glue it down, promoting their fine motor skills while they create a colorful representation of our planet.
For a fun Halloween project, grab a couple small paper plates and make your own tissue paper bat! It's simple enough for little ones to create too.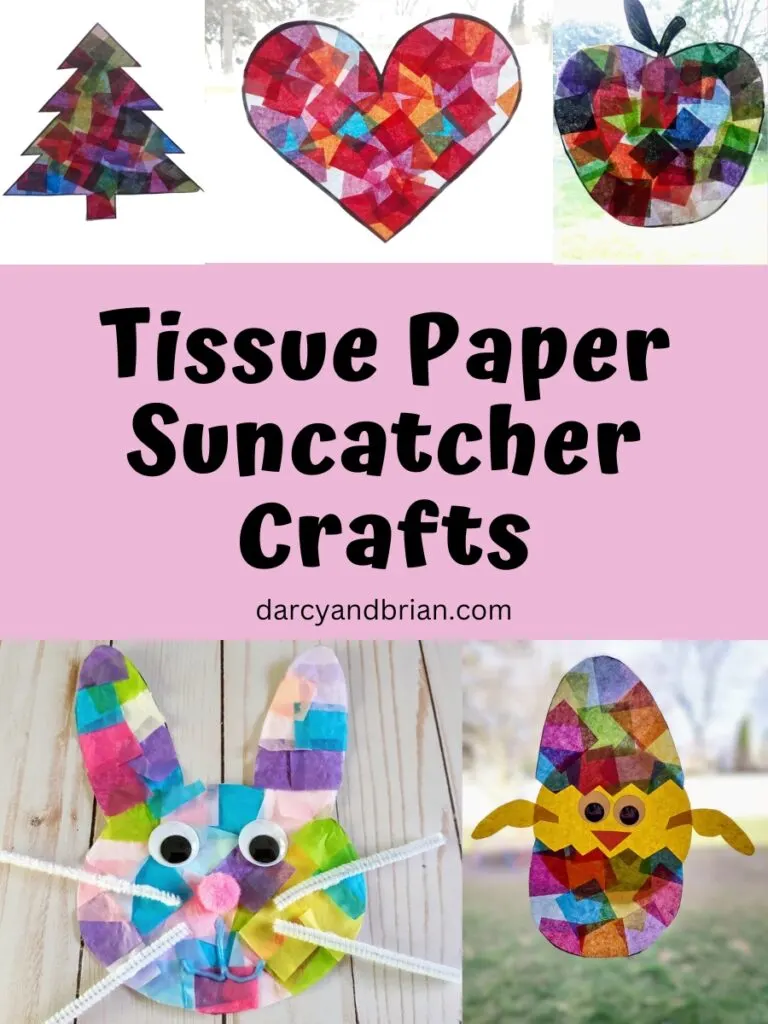 Easy Tissue Paper Suncatchers
Our tissue paper suncatcher crafts for kids are a fantastic and colorful project that children of all ages will love.
The best part is that each craft includes free printable templates, helping the little ones create stunning designs with ease.
These suncatchers, made without contact paper, look much like vibrant stained glass pieces when hung in a window.
For a heartwarming Valentine's Day project, children can create a heart tissue paper suncatcher craft. This craft not only engages them creatively, but the radiant colors of the final product brighten any room with love when displayed in a window.
As we welcome the season of rebirth and renewal, our tissue paper Easter crafts blossom with creativity and color.
Children can bring the essence of spring into their homes with our delightful tissue paper Easter egg craft that can be placed in the window as a paper suncatcher.
Adding to the spring-themed fun, our Hatching Chick Tissue Paper Suncatcher Craft allows children to create a cute little chick peeking out of an egg, symbolizing the new beginnings that spring brings.
Finally, children can hop into the Easter spirit with our Bunny Tissue Paper Suncatcher Craft. This adorable project results in a lovable bunny that's ready to bring joy to any room he hops into.
For another spring project, our Shamrock Tissue Paper Suncatcher Craft is an absolute winner. Children will enjoy creating this colorful shamrock that is a perfect addition to learning about Saint Patrick's Day celebrations.
As autumn leaves begin to fall, our set of Fall Tissue Paper Suncatchers craft brings the beauty of the season indoors. Kids will delight in creating their own vibrant pumpkin, leaf, acorn, and apple with our easy-to-use free printable templates.
When the Halloween season creeps in, kids can transform a gloomy night into a delightful spectacle with our Bat Tissue Paper Suncatcher Craft. This charming and non-spooky decoration, featuring a friendly bat silhouette, is perfect for adding a touch of festive magic without any scariness to your Halloween décor.
As the leaves change color and the air grows crisp, our Turkey Tissue Paper Suncatcher Craft makes the perfect fall activity. This charming craft not only offers a fun, hands-on creative endeavor but also doubles as a delightful Thanksgiving decoration, adding a touch of homemade warmth to the holiday festivities.
As the holiday season approaches, our Christmas Tree Tissue Paper Suncatcher Craft offers a fun and easy Christmas activity. This delightful project invites children to construct a colorful Christmas tree, bringing a festive touch to any window while sparking their creativity and holiday spirit.
To ensure that these beautiful creations last longer as a decoration, consider laminating them, using either a laminator machine or self-adhesive laminating sheets. This adds an extra layer of protection while maintaining their translucent charm.
Making these suncatchers is a fantastic way to brighten up any room and have fun while learning about colors and shapes.
Tissue Paper Crafts for Preschoolers
We're excited to share with you our series of specially designed tissue paper craft templates for preschool and kindergarten children!
These free printable templates feature an outline of different shapes that kids can fill in with vibrant tissue paper of their liking, making each project a unique piece of art.
But that's not all! Toward the bottom of the printable page, kids will find an added educational component.
They can trace and write words, identify and learn about colors, and even practice their counting skills by writing down the number of objects in the picture.
This multi-faceted approach ensures that our tissue paper crafts are not just fun to create, but also a fantastic learning resource for your little ones.
Benefits of Making Tissue Paper Crafts for Preschoolers
Engaging preschoolers in tissue paper crafts can yield a multitude of benefits, the foremost being the exercise of their budding creativity.
As they select colors and decide where to place each piece of tissue paper, they are making artistic choices and developing their creative thinking.
Additionally, the physical actions involved – ripping, cutting, scrunching, crumpling, and gluing tissue paper – are excellent for building their fine motor skills.
These tasks require precision and control, skills that are fundamental for handwriting, buttoning clothes, and other tasks they'll encounter as they grow older.
Thus, tissue paper crafts are not only an enjoyable activity but also an important tool in the development of essential life skills.
Skillmatics Ultimate Art & Craft Activity Chest, 2000+ Pcs
Learn & Climb Kids Arts and Crafts Activities – Create 21 Craft Figures
3000+ Pcs Arts and Crafts Supplies for Kids
Cut & Color Crafts for Kids: 35 Super Cool Activities That Bring Recycled Materials to Life
Preschool Paper Crafts: 25 Creative Crafts to Practice Hand-Eye Coordination & Scissor Skills
Paper and Tape Crafts: 28 Inventive Activities for Kids Ages 8-12
Tips for Making Tissue Paper Crafts with Kids
Making tissue paper crafts is a fun and exciting activity that can be enjoyed by kids of all ages. However, it's important to keep in mind some tips for making sure the project goes smoothly:
Provide guidance when needed to ensure that your child doesn't get frustrated.
Make sure they have access to plenty of glue or stick tape and a wide variety of colors so they can really express their creativity.
Have your child take breaks throughout the process if need be, as this will help them stay focused when continuing with their project.
Let them get creative with the design and color choices – this is an important exercise for their development!
Work together on the tissue paper crafts – it's more fun that way, and they'll appreciate your guidance.
Finally, make sure to use age-appropriate crafts whenever possible. For example, some simpler tissue paper suncatchers may be a great fit for younger children or those who are just starting out with the craft.
With just a bit of patience and some colorful tissue paper, you can create beautiful artwork that your child will be proud of!
More Fun Learning Activities for Kids
Looking for more fun and educational activities to keep your little ones engaged? From educational worksheets to interactive learning games, we have an array of fun-filled activities that not only entertain but also foster creativity and boost cognitive skills.
Tissue paper crafts offer a wonderful avenue for kids to explore their creativity, and the resulting artwork can make a delightful personal keepsake or gift.
These activities are more than just fun – they're vehicles for learning, promoting the development of fine motor skills, color recognition, and even basic math concepts through measuring and counting.
So, enjoy exploring the world of tissue paper crafts for kids – a world filled with color, creativity, and endless fun!