It is no mystery that we love Disney everything, so when I was looking for some fun new kids crafts to make with the kids, I knew I wanted to include some of our favorite characters.
Pretty soon, I had this list of fun ideas that include traditional Disney themes, Frozen themes, and even a few Disney Princess items!
I can say that I might have actually enjoyed this list more than the kids, but since there are great craft ideas for kids and adults alike, that's okay.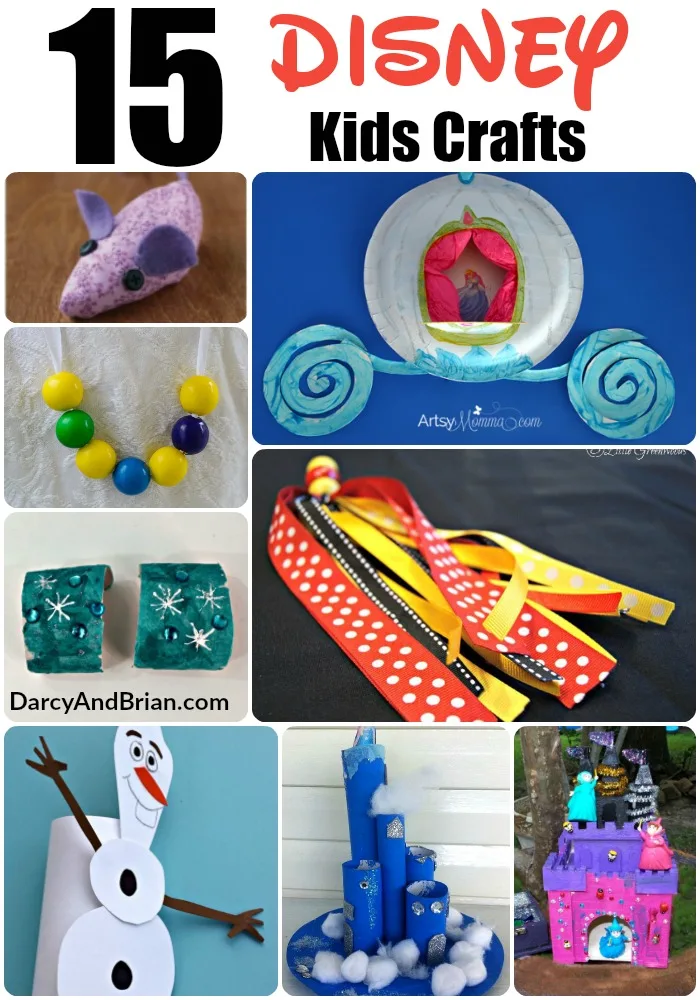 If you love the Toy Story movies, then you'll want to check out our dedicated list of cute Toy Story craft ideas.
Don't miss watching your favorite Disney movies with our Freeform 30 Days of Disney printable calendar! Or act them out with our Printable Disney Charades Game.
This post contains affiliate links. As an Amazon Associate and a participant in other affiliate programs, we earn a commission on qualifying purchases.
15 Disney Themed Kids Crafts Ideas
Grab some simple supplies and have fun with your kids making Disney-inspired kids crafts.
These and our other craft ideas for kids are perfect for using up those bits and pieces of paper rolls, tissue paper, ribbon, and beads you have hanging around.
Upgrade with some fun Disney themed stickers and embellishments to bring the Disney theme full circle!
If you are looking for craft ideas for little hands, we have some great ones here. We also have a few that are perfect for older kids to have fun with, or for your younger kids to help you make.
I love that you can easily create a Disney themed room using some of these fun ideas!
Disney's Frozen Themed Paper Roll Bracelet Craft from Darcy And Brian
DIY Mickey Mouse Ears For Disneyland from You Brew My Tea
Handprint Sleeping Beauty Craft from Fun Handprint Blog
Cardboard Tube Elsa's Frozen Castle Craft from Crafty Morning
Inside Out Gumball Memory Necklace from Almost Supermom
Disney Inspired DIY Desk Set from Daily DIY Life
Disney On Ice Inspired Craft Stick Skaters from In The Playroom
Disney Fairy Godmother House from Family Fun Journal
Disney Ribbon Tassel Keychain from 3 Little Greenwoods
Paper Plate Craft Cinderella Carriage from Artsy Momma
Frozen Inspired Peasant Dress Tutorial from Almost Supermom
Disney' Pixar's Up Thumbprint Craft from Fun Handprint Blog
Frozen's Olaf Toilet Paper Roll Craft from Crafty Morning
Cinderella Inspired Rag Mice Craft from In The Playroom
Disney World Countdown Calendar from Mess For Less
I love making kids crafts that we all enjoy making. I secretly love making stuff with the kids, and if it is Disney themed that makes it even better, like this Frozen Snowflake Calm Down Bottle.
I can show my love of all things, Disney while the kids are happy helping. That, to me, is a huge win.
Getting them involved in using hand-eye coordination to create fun items is always on my agenda. I want to see them stepping outside of their comfort zones to really use their imagination.
Disney has always been a great source of imagination inspiration, and making fun crafts like these makes it even better.
If you want to make this a mini homeschool lesson or preschool-prep lesson, you can even grab some great movies and books to go along with the kids crafts.
I of course, always want to keep Frozen or Mickey Mouse Clubhouse playing while we work since those are both some of our favorites!

Other great kids crafts: