Introduce your kids to anatomy in a fun and entertaining way with this human body bingo printable game. Featuring cute clipart images of internal organs, you can help children learn body parts while improving their visual recognition and memory skills.
Learning with printable games for kids is a great way to keep lessons interesting. Using a cute bingo game like this one helps teach kids about human anatomy all while having fun. Download now for free using the form at the bottom of this post!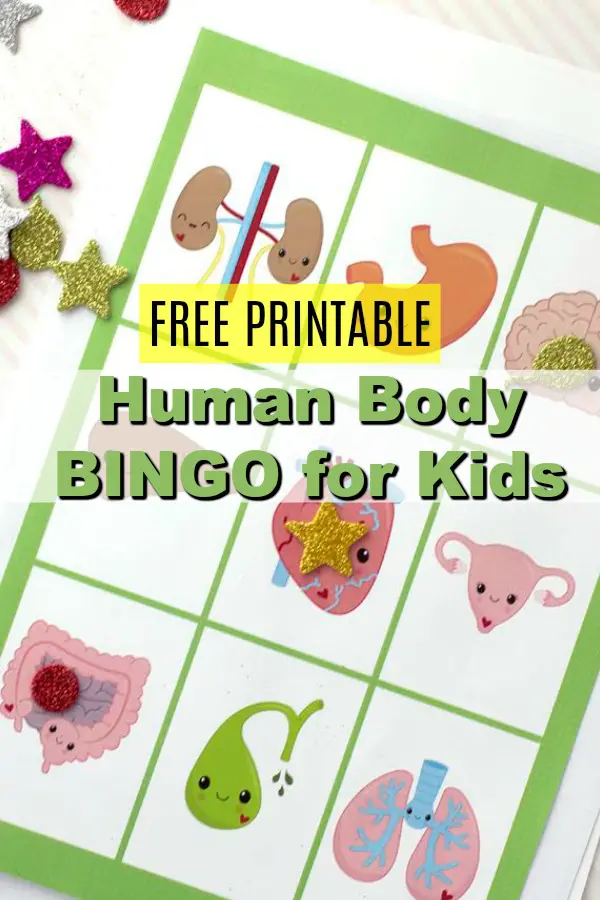 Games serve as a powerful educational tool, particularly for young learners. They foster an engaging learning atmosphere where kids are motivated to participate and explore new concepts.
When children play games like our Human Body Bingo, they're not just having fun – they're absorbing knowledge and reinforcing lessons taught.
The interactive nature of games prompts kids to actively recall and apply information, which strengthens memory and comprehension.
Plus, the enjoyable game experience leaves lasting impressions, making it more likely that the lessons learned will stick with them.
What Do Kids Learn Playing Human Body Bingo?
Playing Human Body Bingo enables children to acquire vital knowledge about the human anatomy in an interactive and engaging manner.
This game showcases 10 different internal organs, including the heart, stomach, liver, uterus, brain, intestines, lungs, adrenal gland, bladder, and kidneys.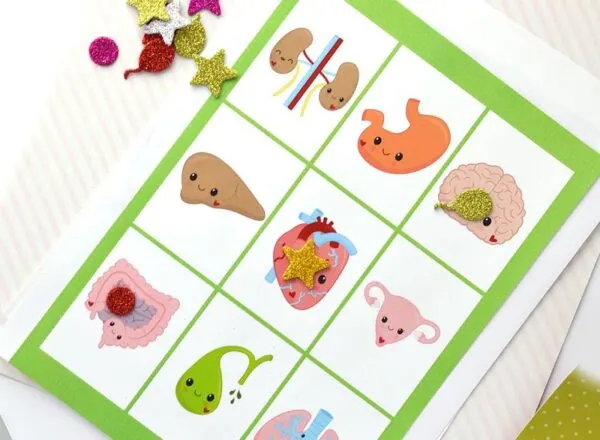 As kids match these organs, they not only learn the names but can also learn their locations and basic functions.
Furthermore, this game promotes visual recognition and memory skills as children have to remember and identify each organ.
The process of constant recall and association helps in enhancing their memory abilities. Additionally, it can be used for vocabulary development, giving children the language needed to discuss and understand the human body.
Human Body Books for Kids
Reading is another fantastic avenue for children to explore and learn about the human body. Books catered to young readers can present the complex world of anatomy in a simple, engaging, and colorful manner.
The following are some excellent preschool books about body parts that introduce children to the fascinating workings of their bodies, from the brain's intricate functions to the role of tiny cells. Let's dive into the world of knowledge about the human body!
This post contains affiliate links. As an Amazon Associate and a participant in other affiliate programs, we earn a commission on qualifying purchases.
Knowledge Encyclopedia Human Body! (DK Knowledge Encyclopedias)
My First Human Body Book
Human Anatomy for Kids: A Junior Scientist's Guide to How We Move, Breathe, and Grow
Weird But True Human Body: 300 Outrageous Facts about Your Awesome Anatomy
Freebear Montessori Busy Book for Kids, Human Body Anatomy Book for Toddlers, Preshool
See Inside Your Body
How to Play Human Body Parts Bingo Game
Playing the Human Body Parts Bingo game is simple, fun, and a low-prep activity. Begin by printing out the four unique Bingo boards, each featuring nine colorful images of different human organs.
While the vibrant colors add an element of fun and excitement, black and white printouts are also effective and budget-friendly.
Once the boards are ready, each child in the small group gets one. Then, the leader calls out the names of different body parts one by one.
The children listen, identify the organ on their board, and cover it up. The first one to cover all the organs on their board shouts "Bingo!" and wins the game.
This interactive game not only aids in learning about human anatomy but also improves memory and focus.
Recommended Bingo Game Accessories
To make the most of your Human Body Parts Bingo game, there are a few essential items you'll need.
First and foremost, a printer is necessary to print out your Bingo boards. For high-quality prints that bring your game to life, my go-to choice is the Epson EcoTank.
After printing, consider laminating your Bingo boards. Not only does this make them more durable for repeated use, but it also allows them to be wiped clean after each game.
As for marking off the organs on their boards, children can use a variety of items. Plastic bingo chips are perfect because they can be moved around and reused.
However, if you want to add a splash of fun and color, dot markers or bingo daubers are a great alternative.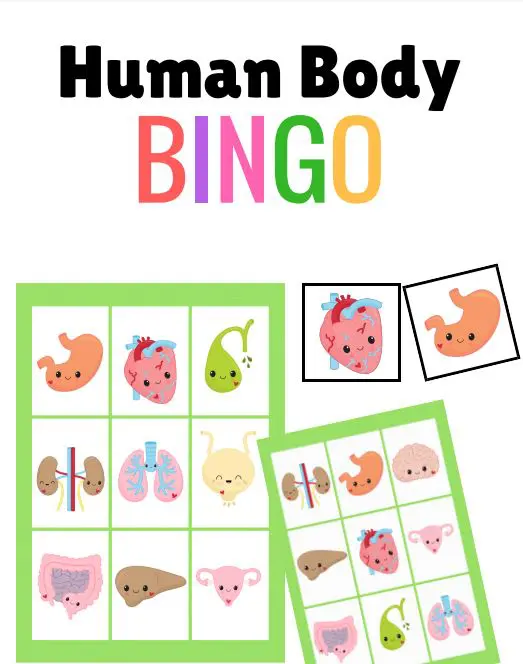 Human Body Learning Kits
Looking to enrich the learning experience even further? Discover some highly-rated and educational Human Body Learning Kits available on Amazon. Each kit has been designed with an interactive and engaging approach to make learning about human anatomy fun and insightful.
Here are some top picks to supplement your child's journey into the fascinating world of human anatomy:
Learning Resources Human Body Model, 31 Pieces, Grades 3+, Ages 8+, Science Classroom Demonstration Tools, Realistic Human Anatomy Display,Back to School Supplies
The Magic School Bus:Human Body Lab By Horizon Group USA,Homeschool STEM Kit,Includes Hands-On Educational Manual,Experiment Cards,Plastic Human Skeleton,Data Notebook,Hinge Joint Model & More ,Yellow
Kidzlane Girl Wooden My Body Puzzle for Toddlers & Kids – 29 Piece Girls Anatomy Puzzle Kid Play Set – Anatomy for Kids, Skeleton Toys for Kids Ages 3 Plus
Melissa & Doug Magnetic Human Body Anatomy Play Set With 24 Magnetic Pieces and Storage Tray – Human Body Model Puzzle For Preschoolers And Kids Ages 3+
Be Amazing! Toys Interactive Human Body – 60 Piece Fully Poseable Anatomy Figure – 14" Tall Model – Anatomy Kit – Removable Muscles, Organs,Bones STEM Toy – Ages 8+
Human Anatomy Kids Floor Puzzle – Doctor Livingston Jr Full Body Model – 4 Foot Life-Sized Human Anatomy – 100 Piece Jigsaw Puzzles – Medically Accurate Science Toys for Children, Toddlers, Teens
More Science Activities for Kids
Now that we've explored our Human Body Bingo game and kits, let's dive deeper into the fascinating world of science! Below are some exciting science activities designed to spark curiosity and ignite a passion for learning in your little explorers.
Ways to Use the Human Body Printable Bingo Cards
The versatility of the Human Body Bingo cards enables parents and educators to be creative and efficient in their teaching methods, making the learning process enjoyable and engaging for the kids.
Memory Matching Game: The Bingo cards can also double up as a memory matching game. All organ images can be printed twice, shuffled, and laid face down.
Children then take turns flipping two cards at a time to find a match. This fun exercise helps to reinforce their memory and recognition skills, while simultaneously teaching them about human anatomy.
As Part of a Body Unit: The Bingo cards are an excellent supplement to any unit about the human body. They can be used in conjunction with human body coloring pages for a comprehensive learning experience.
While coloring pages help children learn about the structure and location of specific organs, the Bingo cards help them recognize these organs.
You could also include a unique hands-on activity while learning about blood, by making a blood model in a bottle.
Portable Play: These Bingo cards are not limited to classroom usage. They can be easily packed along with markers or tokens for a game on the go.
Whether you're waiting at the doctor's office or enjoying a family dinner out, this game can keep kids entertained and educated.
Remember, learning doesn't have to be confined to a conventional setting. With these Human Body Bingo cards, each moment can be transformed into a fun, learning adventure.
Fun Educational Activities for Kids
While our Human Body Bingo is an excellent resource, it's just the tip of the iceberg when it comes to educational activities for children.
There's a whole universe of fun, interactive activities designed to engage young minds and promote learning. Here are a few other educational ideas you might want to explore for your little learners.
In conclusion, exploring human anatomy can be an exciting adventure for kids, especially when it is presented in a fun and interactive way.
Our printable Human Body Bingo game, coupled with engaging science activities and comprehensive learning kits, provides a unique approach to education.
It allows children to learn and retain important information about their bodies, while also sparking their curiosity about the wider world of science.
So, gear up for a journey filled with knowledge, discovery, and a whole lot of fun!