Kids love playing games, and this Human Body Printable Bingo Cards set is a great way to get them learning while having fun.
My kids like playing Bingo because they love shouting out BINGO at the top of their lungs.
Learning with a cute printable like this is a great way to teach them about internal organs all while having fun. We thought it was a great addition to our science activities plan for kids.
If you are looking for more printable games for kids, check out our printable Disney Charades clues and printable Disney Pictionary phrases. Also, take a look at our suggestions for quick board games for kids.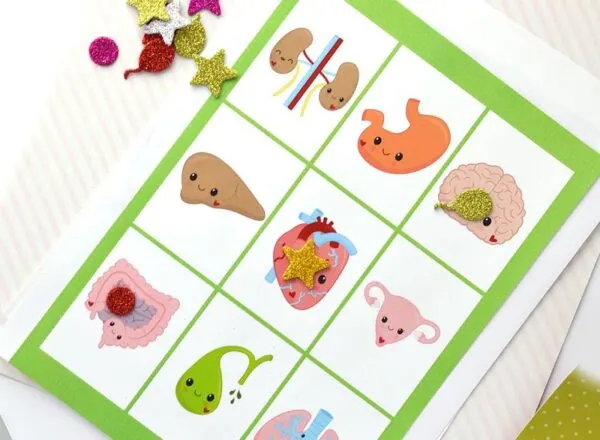 This post contains affiliate links, which means we'll earn a small commission if you make a purchase.
Human Body Printable Bingo Cards
Printable Bingo Cards make a great activity to have on hand for cheap.
These come in fun colors, but you can even print them in black and white and still have fun with them.
You can even tuck these into a nice envelope and add them to your travel bags for the kids to use in the car.
Ways to use Printable Bingo Cards
As mentioned above, we love using these for travel, but there are so many ways to make use of printable Bingo cards with your kids.
We have a few great ideas that might make it easier for you to put these to good use.
Use these Human Body cards in your homeschool classroom to help teach your children about different body parts and their functions.
Use these to help children recognize different colors or shapes.
Keep in your purse along with a small bag of tokens to have on hand when busy waiting at the doctor, in the car line at school, or other times kids get fidgety.
Bingo Game accessories you need
Since these aren't traditional Bingo cards, you may prefer to keep something other than a marker on hand for your kids to place on the appropriate image when it is called.
Below are some of our favorite tools to use for marking the image. Grab some, or all of these to have on hand for your next game of fun Human Body party bingo!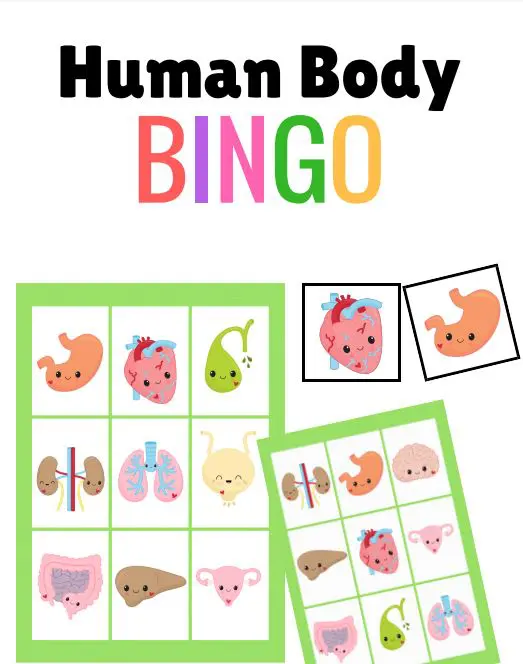 Download Human Body Bingo Printable Pack
Have fun with your kids playing BINGO by using our human body part themed printable BINGO cards.
You'll love that they are learning, and they will, of course, love that you have a fun game for them to play!
More Educational Kids Game Ideas: