These coffee filter bats are an easy Halloween craft for kids of all ages to make. They take about 20 minutes and use craft supplies you probably already have in your house.
I love how simple these are to create and they work great for DIY Halloween decorations. Make a night of it with Halloween movies and crafts!
Grab the printable directions at the bottom of this post for use at home or in your classroom. Have the kids learn more about bats with these bat life cycle printable activities.
For another fall project, don't miss our Bat Suncatchers and Coffee Filter Turkeys. These Pool Noodle Halloween Crafts and Kawaii Inspired Halloween Flower Pots make cute projects too!
Get 15 easy coffee filter craft tutorials conveniently all in one place for you with our Cute Coffee Filter Crafts digital craft book! Access it on your phone, tablet, or computer any time.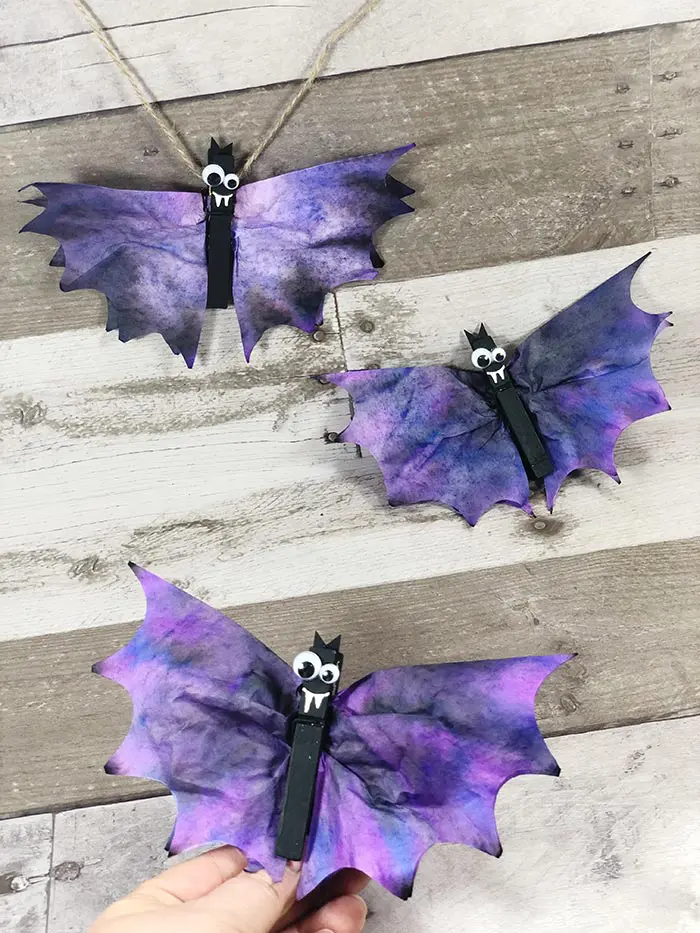 And for winter, check out our Coffee Filter Wreath for Christmas, Coffee Filter Poinsettia, Coffee Filter Santas, Coffee Filter Angel Ornaments, and Coffee Filter Holly Banner!
Halloween Coffee Filter Bats
Coffee filter crafts are great for preschool and kindergarten children. Even toddlers can help with the dyeing process.
Older kids will also enjoy making these bats and can assist with decorating the clothespins.
Easy crafts for kids are my favorite kind and I'm telling you these bats look great when they are finished!
The tie dye for the bat wings is created using coffee filters and markers, which is a magical process that the kids (and adults) will become addicted to doing!
Set them out and around your Halloween party food table or hang them on the wall. You could even make several and use twine to create a bat banner.
You may also enjoy making these adorable Monster Craft Stick Bookmarks and your own magic wand.
Coffee Filter Bat Craft Supplies
If you don't have these materials on hand, you can find them on Amazon, at the Dollar Store, or wherever you prefer to shop for crafting supplies.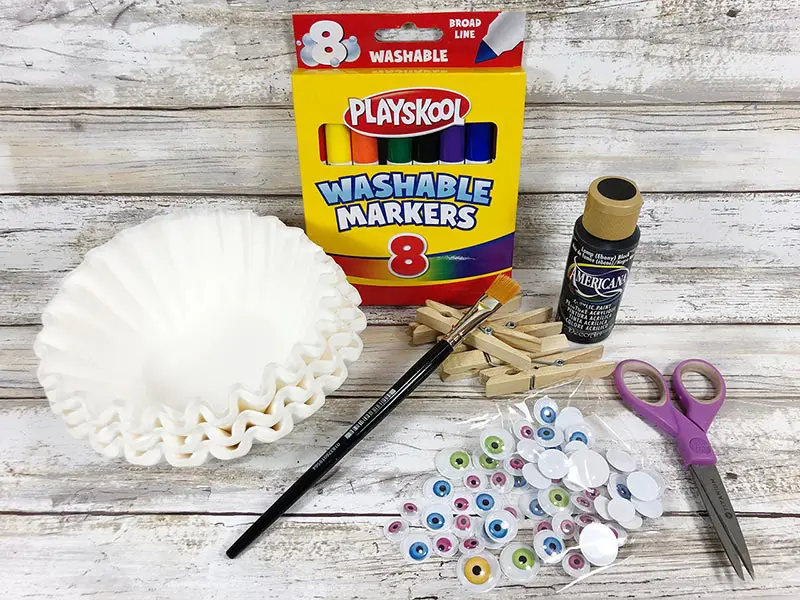 Recommended Tools:
How to Make Coffee Filter Bat Halloween Craft
Flatten coffee filters and draw different patterns with several colors of washable markers. Blue, black, and purple are great for making cool looking dark bat wings.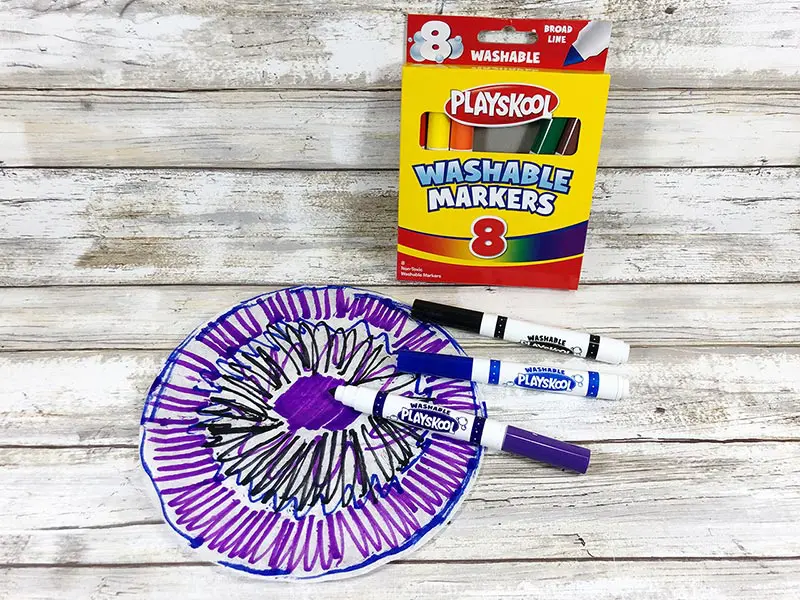 Place the colored coffee filter on a craft mat and spritz with water. If you don't have a craft mat you can lay it on top of a large zip top bag.
Kids will enjoy watching the magic as the colors spread! Set aside to dry.
Clip the clothespins onto a scrap of cardboard before painting. This way you can hold and turn the cardboard without getting paint all over your hands.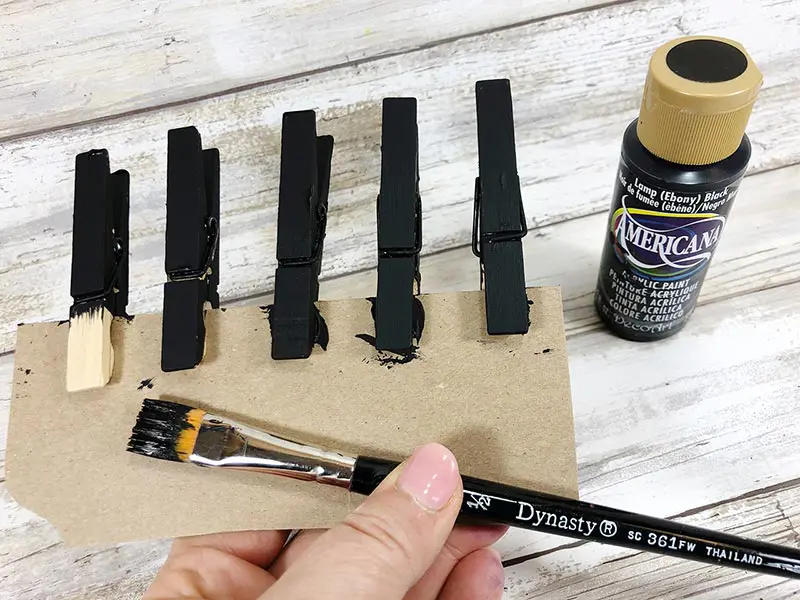 Paint all sides of the clothespin with black craft paint and a paintbrush. Set aside to dry.
After the paint is dry, glue on the googly wiggly eyes.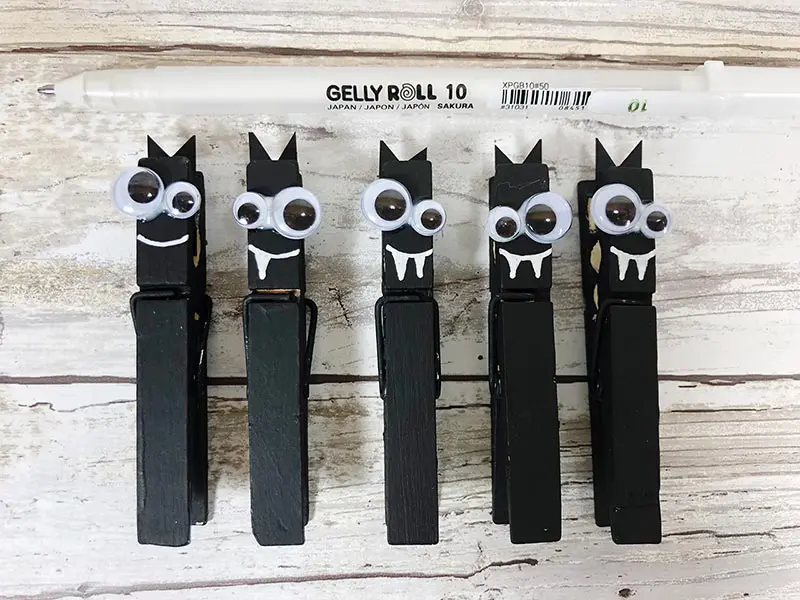 Using the white gel pen, draw a mouth and fangs on each clothespin. Set aside to dry.
Now fold the dry coffee filter in fourths and cut a scallop edge with scissors.
Unfold the filter to half and cut a 3" slit up from the scalloped edge. Then open the clothespin and insert the wings.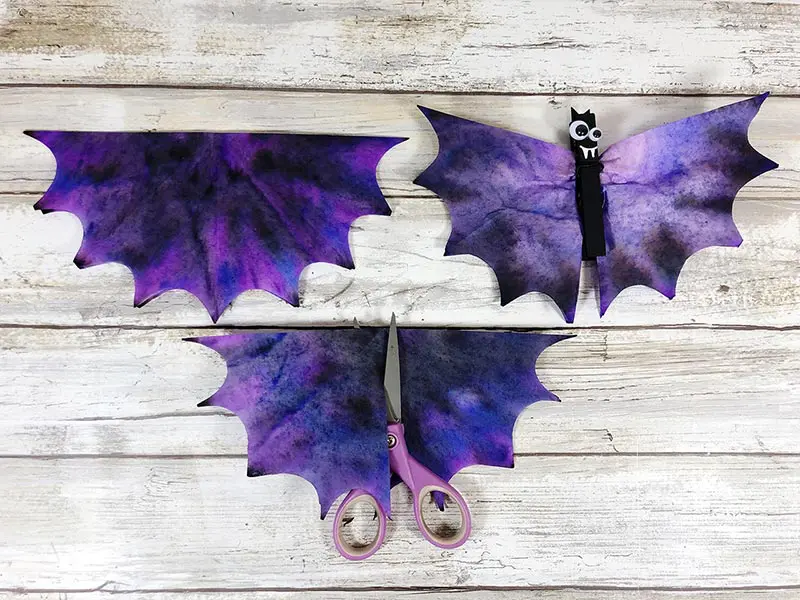 Cut out ears using a rectangular strip of black cardstock and cutting out a small triangle on one end. Attach the paper to the top of the clothespin with liquid glue.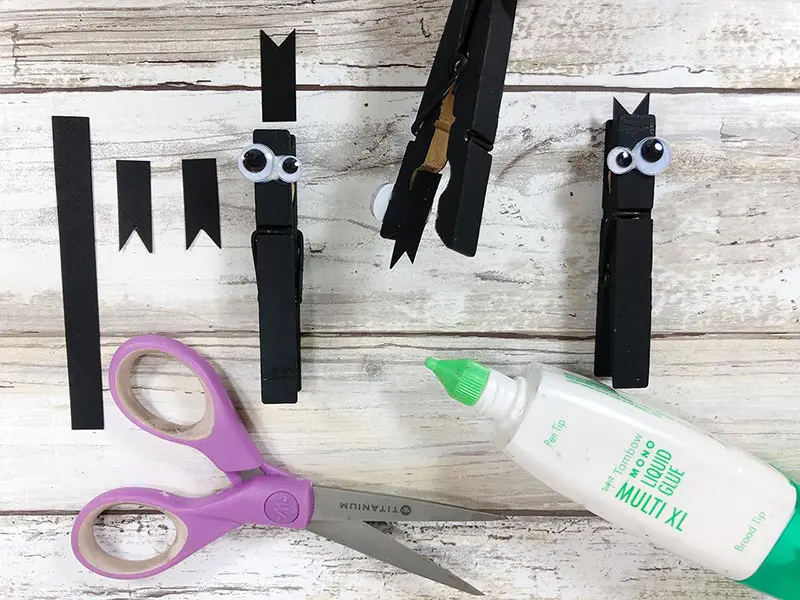 Once they are completely dry, display your completed coffee filter bats!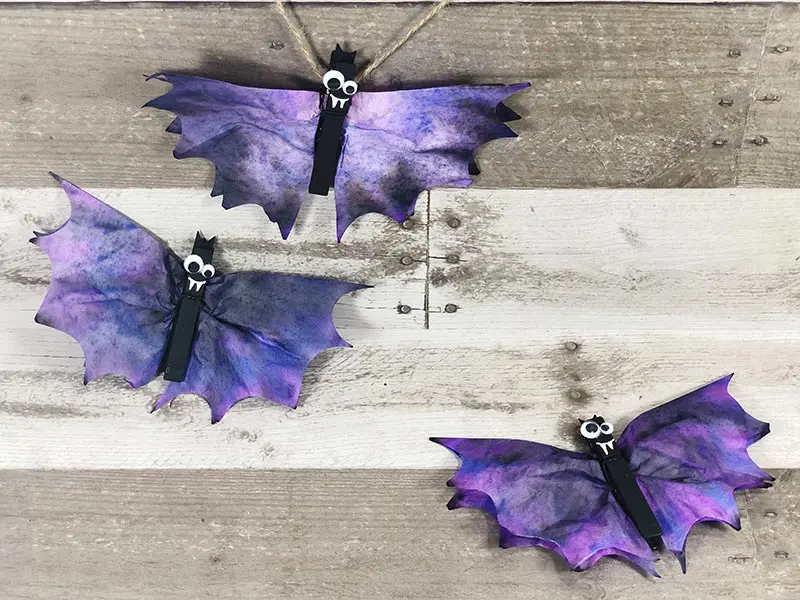 More Halloween Activities for Kids:
Printable Coffee Filter Bats for Halloween Craft Directions
We hope you have fun creating a colony of bats with this cute Halloween craft for kids. The instructions below are available for you to print out at home.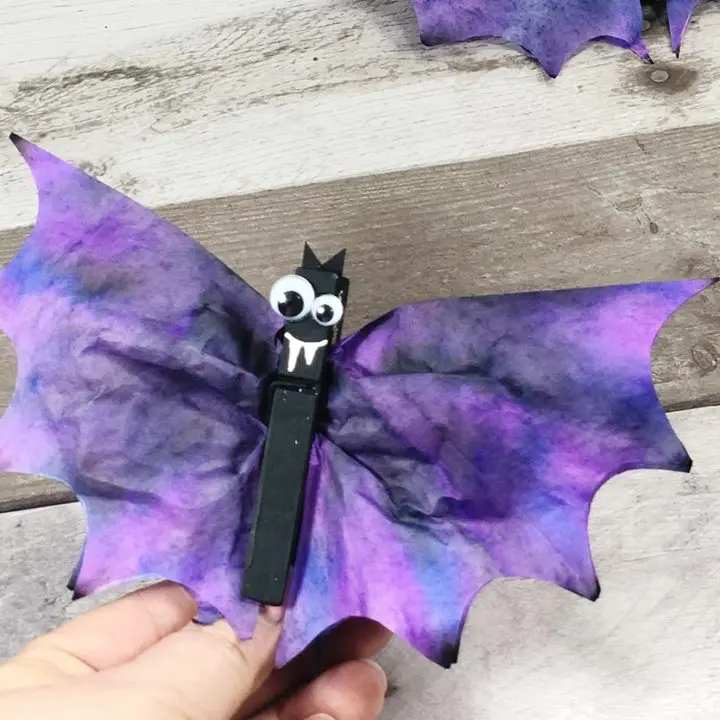 Coffee Filter Bat Craft
These coffee filter bats are a cute and easy Halloween craft project for kids.
Instructions
Flatten coffee filters and draw patterns with blue, black, and purple washable markers.
Place the colored coffee filter on a craft mat and spritz with water.
Clip clothespins to scrap of cardboard and paint all sides black. Set aside to dry.
Glue eyes to clothespin. Let dry.
Draw mouth and teeth with white gel pen. Let dry.
Fold coffee filter in fourths (in half and in half again) and cut a scallop edge.
Unfold filter once so it is folded in half. Cut a 3 inch slit up from scallop edge.
Open clothespin and insert the coffee filter wings.
Cut little triangle ears from black cardstock and glue to clothespin.
Notes
Easily make just one or several at a time. Drying times may vary and impact total time from start to finish of this project.