I love keeping the kids busy during Spring break with some of these fun Spring crafts that are kid friendly. Not only are they adorable, they are easy for little hands to make.
If you are a homeschooling parent, you might even be able to work these into a teaching moment easily. What's not to love about that?
RELATED: DIY Kaleidoscope Craft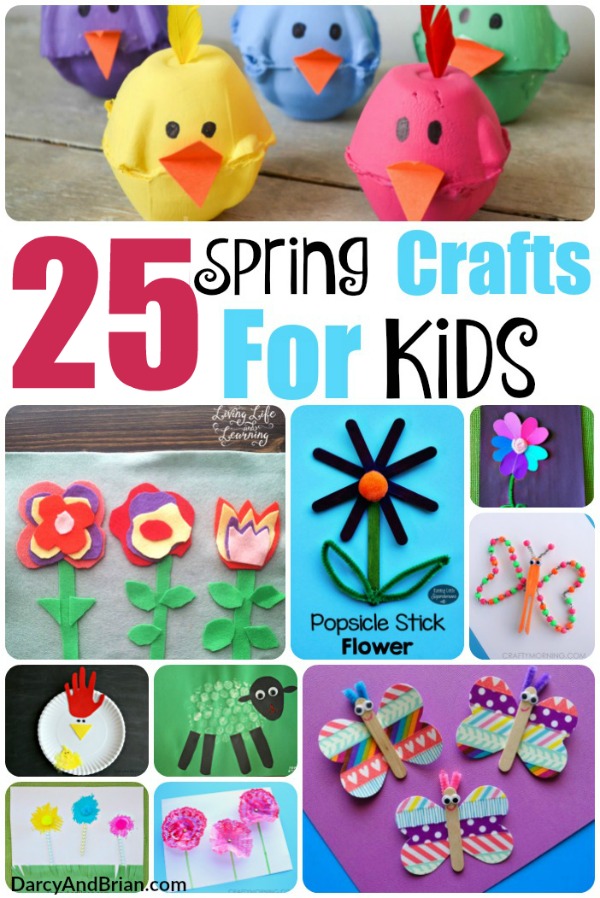 Top 25 Kids Crafts for Spring
This post contains affiliate links.
I love that a lot of these Spring crafts for kids are so easy to make with craft items you already have on hand.
I like to keep things like washable paints, glue, craft sticks, construction paper and similar on hand already.
Many of these crafts just take a bit of imagination alongside the simple supplies.
RELATED: Rainbow Writing Bag Activity
Make a day of it and create some fun crafts that your kids will enjoy. This list of kids crafts for spring has a lot of great items for the younger toddler crowd, but also some fun items for your grade school aged kids to enjoy.
Since Spring is full of bright and fun colors, it's a great time to really encourage your kids in learning colors, flower names, and of course, little things about how plants grow.
Do your kids love making Spring crafts like these, but you worry about the mess they will make?
RELATED: 4 Tips to Have a Blast Crafting With Kids With Minimal Mess
Don't hesitate to grab old t-shirts to cover their clothing and put down newspaper or butcher paper beneath them to protect your tables and floor.
It makes cleanup a lot easier and lets your kids continue expressing their creativity easily.
I love getting the kids involved in artistic things. I want them to feel confident about their abilities, and starting early with some simple crafts like these is a great way to make that happen.
RELATED: Butterfly Life Cycle Printable Activity
Spring craft projects are a great way to get them excited during a boring long week out of school.
It's also a great way to have a fun outside project for them to work on while you plant flowers, get a bit of sun, or just sip some homemade lemonade and spend quality time with your kids.
More kids crafts and activities you may enjoy:
Subscribe
Get weekly sanity saving parenting tips, recipes, and kids activities.