Want to get your kids excited about their first day of school? We have the perfect back to school craft for you!
With only a few simple supplies, your children will love putting together their very own moving paper plate school bus that's ready to take them back into the classroom!
Plus, it'll provide an opportunity for them to learn more about what's coming up in the new school year and give them a keepsake that'll remind them of their special day. Check out our list of craft ideas for kids for more projects to celebrate back to school!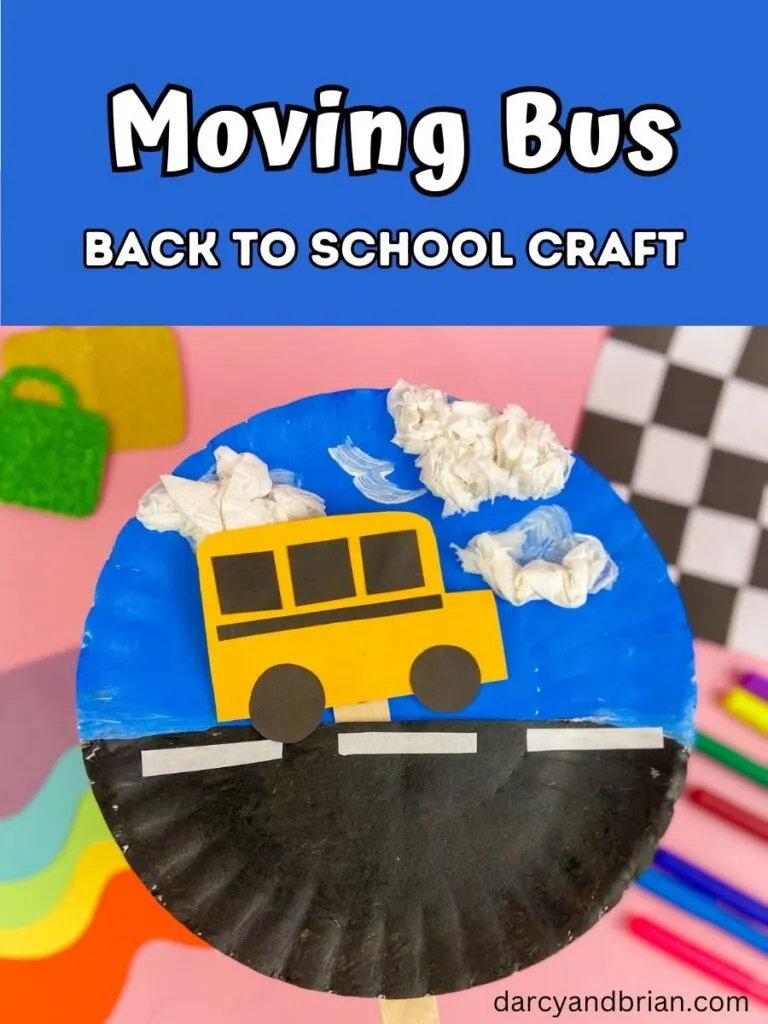 The first day of school can be both exciting and scary for little kids, especially if they're starting preschool or kindergarten. But guess what? Creating this cool bus craft can help them out!
They can ask questions, express their worries, and have fun all at the same time. Plus, it's a great opportunity to talk about school routines, different ways to get there, and how to stay safe on the road.
Fun and Easy Paper Plate Crafts for Kids
Get ready for some fun and engaging crafts that are incredibly easy to create! With just a paper plate and a handful of household items, your little ones can bring their imagination to life and make a range of adorable crafts. It's the perfect way to channel their energy into a creative outlet and have a blast!
Benefits of Making This Back to School Craft
Engaging in activities such as painting, cutting, and gluing can greatly enhance the fine motor skills of young learners.
This is particularly crucial for preschool and kindergarten children as it not only aids in developing their writing abilities, but also enables them to tackle tasks like tying shoelaces and buttoning up.
Moreover, it provides them with an opportunity to express their creativity through crafts.
School Bus Craft Supplies
Here is everything you will need to make this at home or at school. I've included my Amazon affiliate links below (we earn a commission at no cost to you) to several of the craft materials.
Paper Plate
Yellow and Black Construction Paper
White Tissue Paper – you could also use cotton balls or even a few squares of toilet paper.
Black and Blue Craft Paint
Popsicle Stick
Masking Tape – this is for the dash lines on the road, but you could use white paper or paint instead.
Glue – liquid school glue or glue sticks
Scissors
Paintbrush
How to Make a Moving Bus Back to School Craft
Start by painting the top half of the paper plate blue and the bottom half black. Set aside to dry.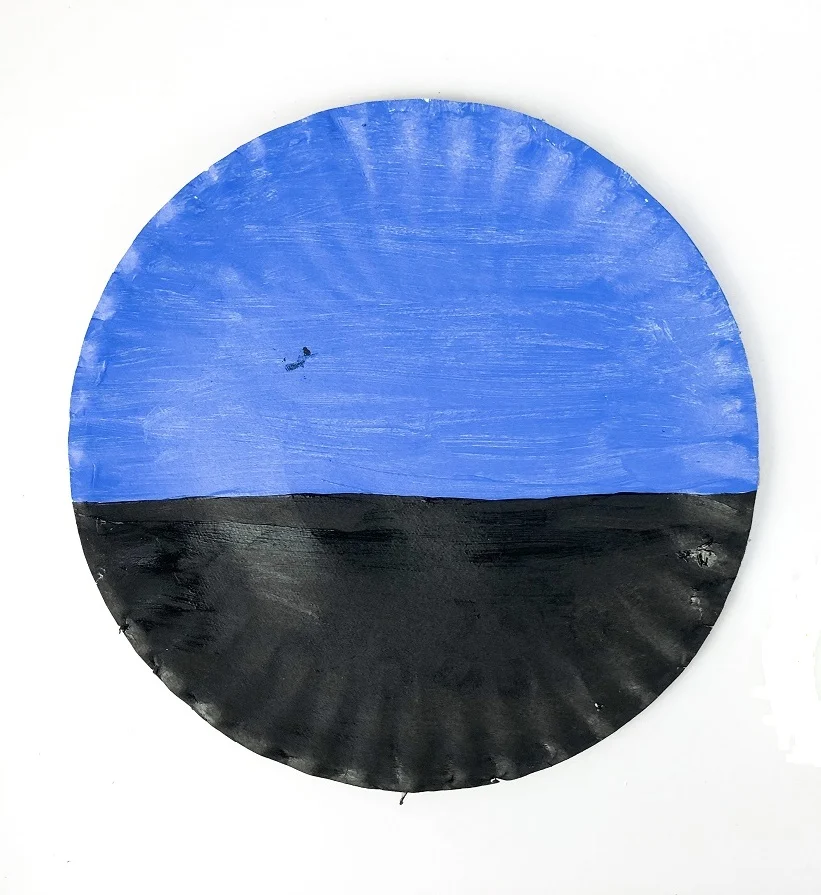 Cut out a school bus shape from yellow construction paper. For younger children, you can keep this to a simple rectangle shape.
Then cut out three small squares, two circles, and one thin strip from black construction paper. Use our photos as a reference while assembling the bus.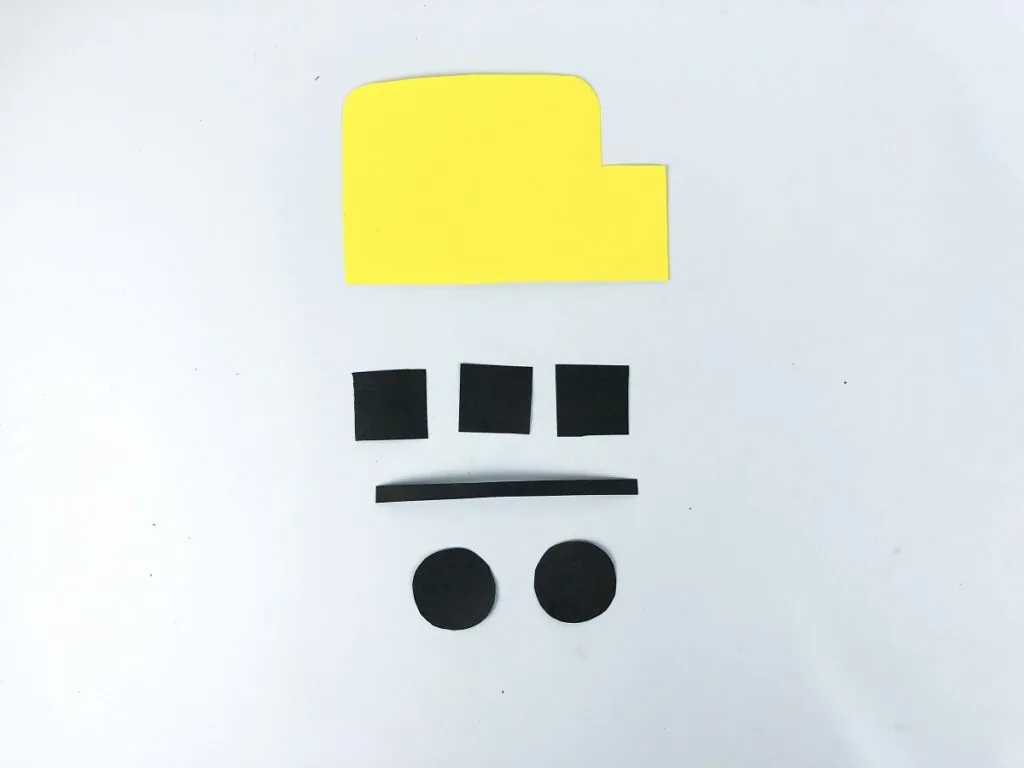 Glue the black squares onto the yellow bus to create windows. Add the black strip a little below the windows to create the classic school bus design from the side. Next glue on the circles for the wheels. (Perfect time to sing "The Wheels On the Bus!")
If you want to add more detail to your bus, cut out a red octagon for the stop sign attached to the side. Once your school bus is assembled and the glue has dried, attach the popsicle stick to the back.
After the paint has finished drying, cut a line along the black paint on the inside of the plate (do not cut all the way to the edges!). You will insert the popsicle stick in the slit to make the bus move along the road like it is driving.
To make clouds, scrunch up some white tissue paper and glue them down in a few spots near the top of the plate in the blue sky. Another option is to glue on a few cotton balls.
To create the white dash lines along the road, cut strips of masking tape and place just below the line you cut into the plate. You can also use strips of white paper or paint white lines on.
Now, hold the plate with one hand and wiggle the popsicle stick back and forth to pretend the school bus is driving kids to and from school or going on a field trip!
Transportation Learning Activities
Whether you're a homeschooling parent or a school teacher, incorporating this bus craft into a transportation unit study can be a valuable addition.
For instance, have your students create their very own school bus and talk about different types of transportation. You can also use it as a fun way to discuss road safety and the importance of following traffic rules.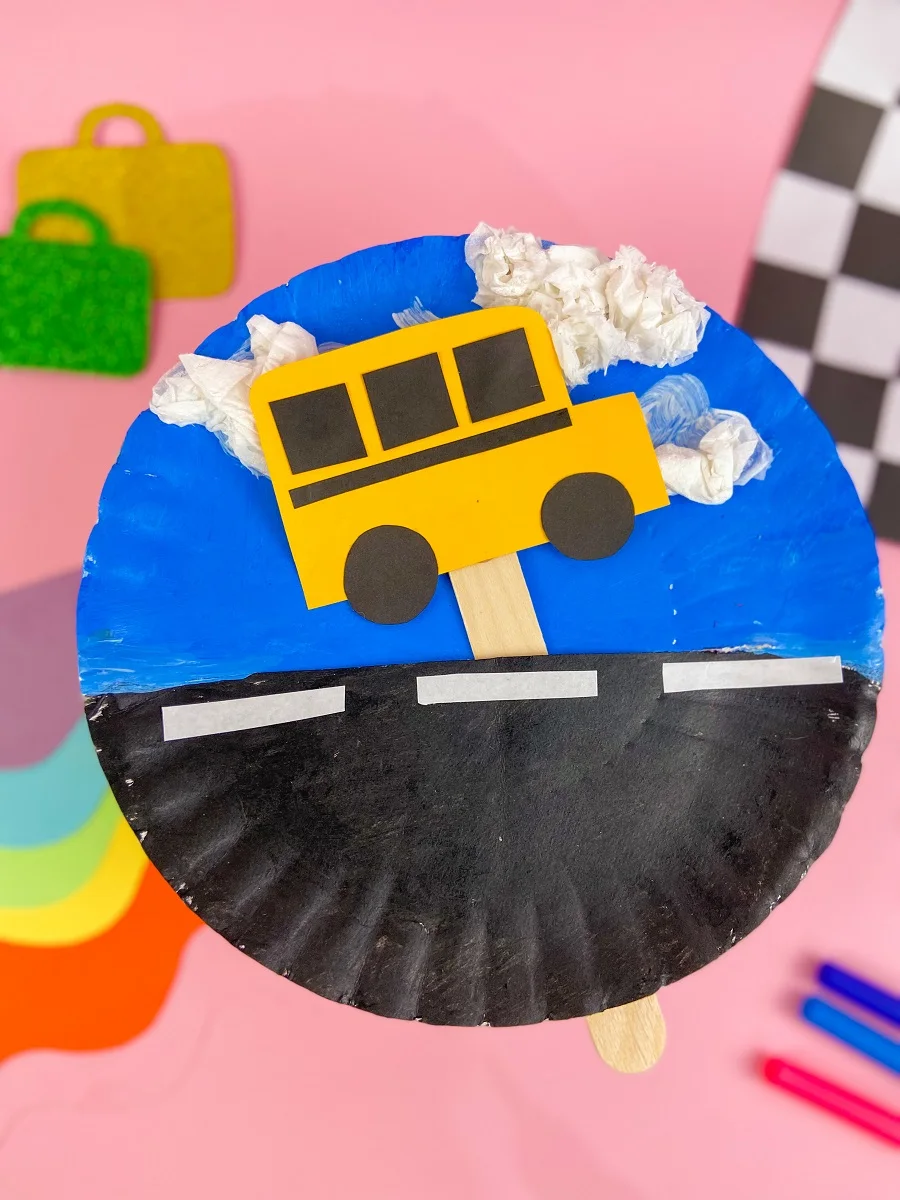 Transportation Printables
Here we have a selection of printable resources that complement the moving bus craft activity.
These printables provide additional educational material, allowing children to further explore the theme of transportation and ensuring that learning continues even after the craft session is over.
Incorporate the transportation theme into other subjects too, like these transportation math activity ideas.
Enhance your knowledge of various vehicle types with this transportation matching game. Explore and learn about six different types of vehicles in a fun and interactive way.
Transportation Crafts
If your kids enjoyed making this back to school craft, they will also love these other transportation-themed crafts.
From cars and boats to airplanes and trains, there are plenty of great ways for children to get creative and have fun while learning more about various forms of transportation.
Introduce young learners to geometry with this simple shape train craft.
If your child loves playing with toy cars, then they'll love making these cardboard car ramps!
Make a super simple cork boat craft using only a few materials. The kids will love seeing them float!
Explore the world of airplanes while practicing the alphabet with this delightful A is for Airplane craft.
Picture Books About Transportation
Reading books is a great way to introduce children to the world of transportation in an entertaining and informative manner.
From classics like Richard Scarry's Cars and Trucks and Things That Go, to more modern books such as Goodnight, Goodnight, Construction Site, there are plenty of stories that talk about different types of vehicles and how they work.
Dig It! Dump It! Build It! 10-Button Sound Book for Little Construction Lovers, Ages 2-7
The Little Book of Transportation: (Introduction for children to Transportation, Vehicles, Ships, Trains, Planes, and Transportation of Goods for Kids Ages 3 10, Preschool, K
Cars & Trucks ! A Kids Book About Cars and Trucks Learn About Firetruck, Monster Trucks, Ambulance and More
National Geographic Readers: Trucks
Reading together with your kids will not only be a fun bonding experience, but it will also help your children learn more about different vehicles and modes of transportation.
In conclusion, our moving bus plate craft is a fun and easy way to get kids excited about going back to school.
It combines hands-on crafting with transportation learning, making it perfect for preschool and kindergarten children. The additional transportation learning activities ensure the learning doesn't stop at the craft table.
So gather your supplies, embark on a journey of creativity and education with your little ones. They'll have a blast and learn invaluable lessons about transportation. Let's make the back to school transition fun and educational with crafts!
Moving Bus Back to School Craft
Estimated Cost:
$10 or less
Make this fun school bus for an easy back to school craft!
Materials
Paper Plate
Yellow and Black Construction Paper
White Tissue Paper or Cotton Balls
Black and Blue Craft Paint
Popsicle Stick
Masking Tape
Glue
Instructions
Paint the top half of the paper plate blue.
Paint the bottom half black. Set aside to dry.
Use yellow paper to cut out a rectangular school bus shape.
Cut out three small squares, two circles, and one thin strip from black construction paper. Use our photos as a reference if needed.
Glue the black shapes onto the bus (squares are windows, line goes under the windows, and circles are tires).
Attach a popsicle craft stick to the back of the bus to make it like a stick puppet.
Once the paint is completely dry, cut a slit into the paper plate along the top of the black paint. Insert the popsicle stick to move the bus around on the road.
Glue crumpled pieces of white tissue paper or cotton balls near the top of the blue sky.
Cut strips of masking tape to make dash lines on the road. If you don't have masking tape, use strips of paper or paint white or yellow road lines.
Recommended Products
As an Amazon Associate and member of other affiliate programs, I earn from qualifying purchases.