Struggling to keep your preschooler interested in learning numbers? You're not alone.
At home preschool activities and craft ideas for kids can sometimes be a challenge to come up with, especially when it comes to keeping young children engaged. Look no further than our number 3 craft!
Our free template will help you craft an adorable seahorse number 3 craft that your little one will love. Best of all, it helps reinforce fine motor skills and number recognition – all while having fun coloring!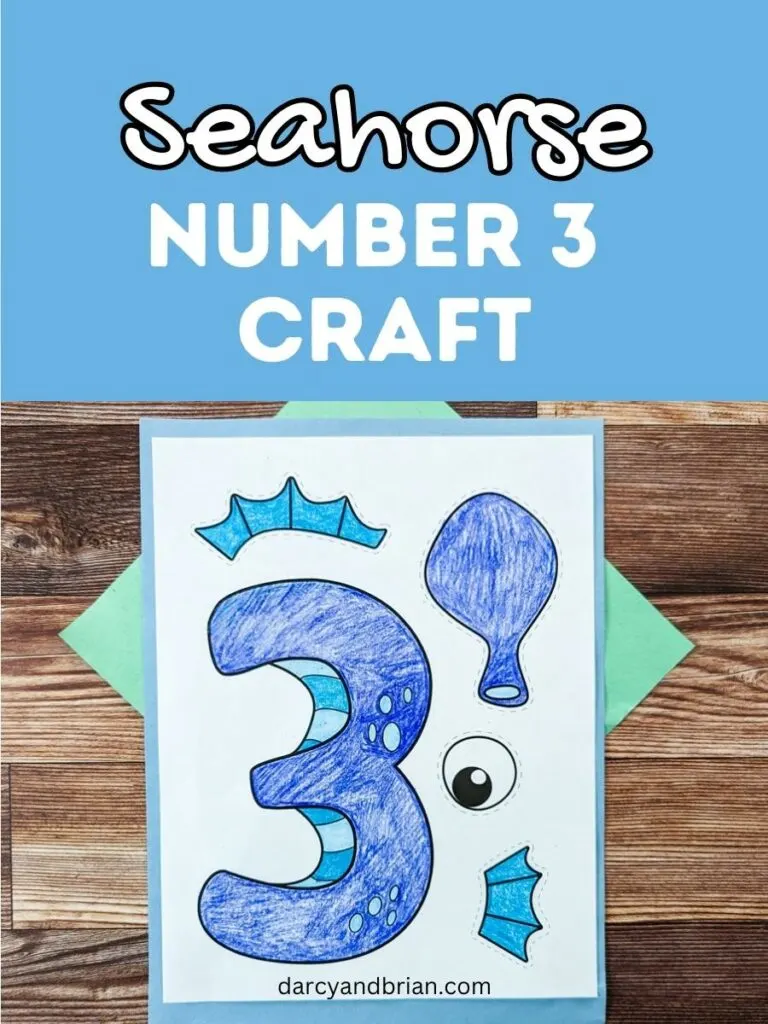 This easy and engaging Seahorse Number 3 Craft is a fantastic way for preschoolers to learn while having fun.
The activity not only helps with number recognition and fine motor skills development but also sparks creativity through coloring and crafting.
It is a wonderful way to introduce the number 3 to your little ones, with the added bonus of an ocean-themed activity.
For more ocean-themed number activities, check out our shark color by number worksheets.
Free printable download available at the end of this post.
More Educational Printables for Preschoolers
In addition to our Seahorse Number 3 Craft, we offer an array of other educational printables suitable for preschoolers. These activities are designed not only to be a great source of fun but also to support your child's development in essential areas such as early math and reading skills, fine motor skills, coloring, and creative crafting.
Why Number Crafts Are Beneficial for Kids
Embracing number crafts is a powerful, fun, and creative way to instill in children a strong foundation in numeracy.
These hands-on activities provide a multi-sensory approach to learning, which has been shown to improve understanding and retention of concepts.
Number crafts not only help kids strengthen number recognition, but they also introduce them to shapes, patterns, and spatial relationships.
Furthermore, these crafts foster critical skills such as problem-solving, concentration, and creativity.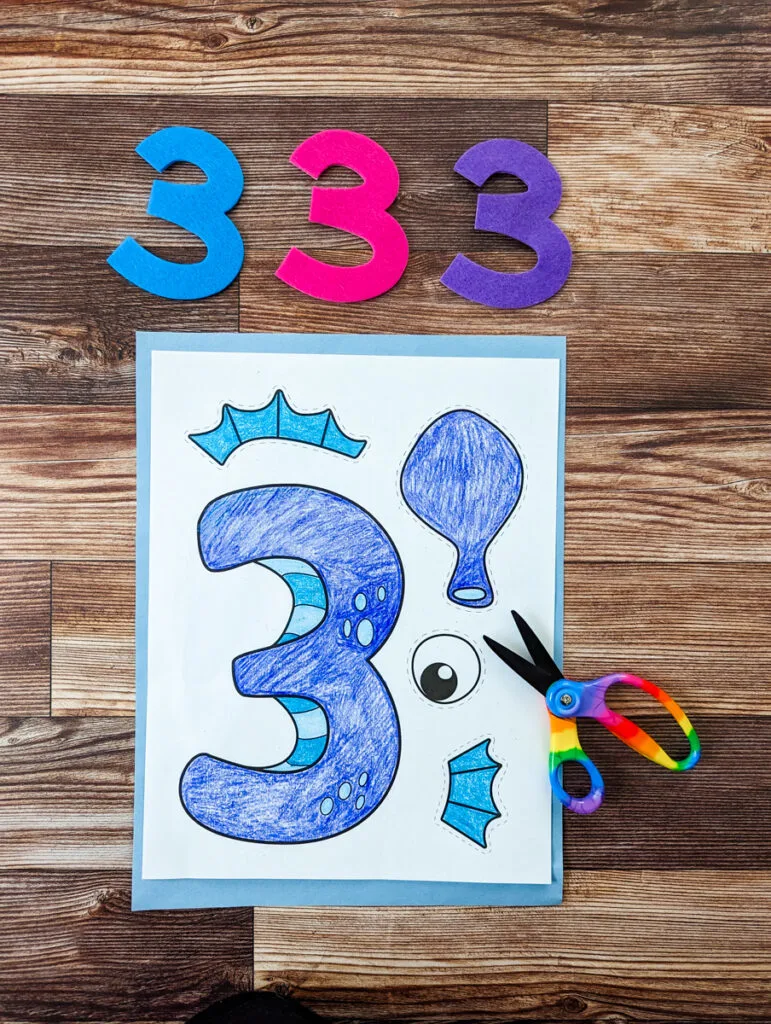 As children cut out shapes, assemble pieces to form numbers, or decorate their crafts, they're honing fine motor skills, practicing patience, and flexing their imaginative muscles.
For parents and educators looking to incorporate number crafts into their curriculum or daily routines, a great tip is to relate the crafts to real-world situations or to the child's interests to make learning more meaningful.
Remember, the goal is to make learning numbers an exciting adventure, not a chore!
Seahorse Number 3 Craft Supplies
I love the simplicity of this project, making it easy to incorporate both at home and in the classroom. Here are the basic items you will need:
Seahorse Number 3 Craft Template – Fill out the form at the bottom of this post to download this free printable.
Crayons/Markers/Colored Pencils
Scissors
Glue
Construction paper
This post contains affiliate links. As an Amazon Associate and a participant in other affiliate programs, we earn a commission on qualifying purchases.
Epson EcoTank ET-3830 Wireless Color All-in-One Cartridge-Free Supertank Printer with Scan, Copy, Auto 2-Sided Printing and Ethernet – The Perfect Printer Productive Families
Arteza Kids Colored Pencils, Set of 48 Vibrant Colors, Triangular Pencil Crayons, Pre-Sharpened, Art Supplies for School, Art Class, and Doodling
Crayola Ultra Clean Fine Line Washable Markers (40 Count), Colored Markers for Kids, Markers For School, Back to School Supplies for Kids, 3+
Crayola Ultimate Crayon Box Collection (152ct), Bulk Kids Crayon Caddy, Classic & Glitter Crayons, Gifts, Ages 3+
Crayola Construction Paper, 240 Count, Bulk School Supplies For Kids, 2-Pack School Paper
Kids Scissors 5-inch Blunt Scissors Safety Scissors 4 Pack Kid Scissors Right and Left Handed Scissors Assorted Colors Scissors For School Kids Blunt Tip Scissors
How to Make the Seahorse Number 3 Craft
Start by printing out the number 3 craft template (available at the end of this post).
Then color it in! Let children use what they prefer when coloring in the number three pieces. We used a mix of regular crayons, metallic crayons, and glitter crayons to add a bit of sparkle.
Cut out the number three and each piece to transform it into a seahorse. Lay them out on a piece of construction paper and glue down the 3.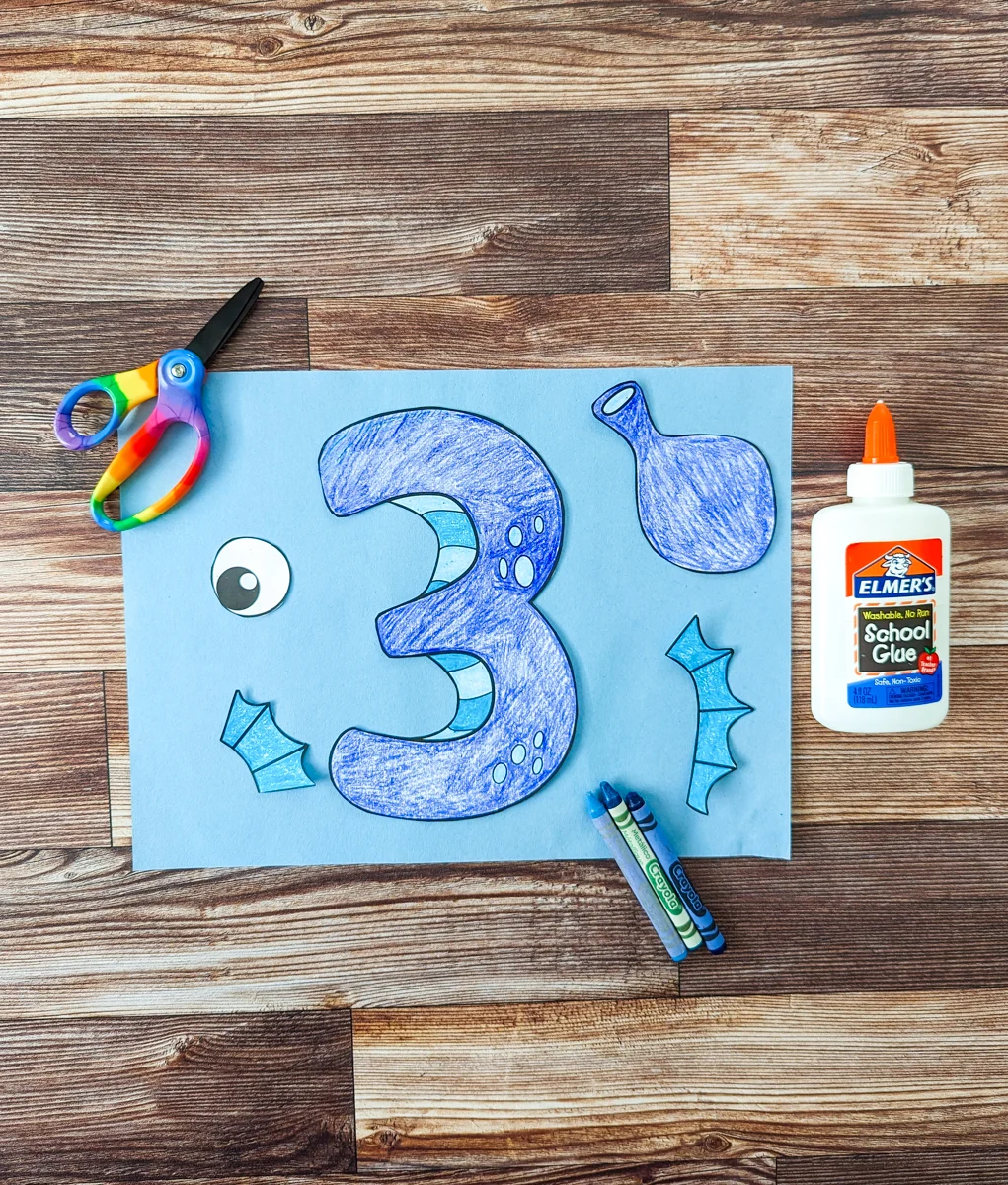 Add the small dorsal fin to the back of the lower curve of the 3. Place the head piece at the start of the 3. Line it up to fit well with the longer ridge piece that goes along the top and back of the head.
Lastly, glue the eyeball onto the head. There is a completed seahorse reference included in the template as well to assist with assembly.
You can further decorate your seahorse with glitter glue or add things like seashells and plants to create an underwater scene!
Other Ways to Use This Craft Template
There are other creative ways to construct a seahorse number three using our free printable template. For example, children could assemble all of the pieces, then glue on pieces of tissue paper.
Another idea would be to print it out on cardstock paper, assemble the seahorse 3 on another piece of paper, then outline it with black glue. After the black glue dries, paint it with watercolor paints.
You could also use the template to trace onto construction paper or craft foam and create the number three seahorse out of different materials.
Additional Number Learning Activities
To expand on the learning of the seahorse number 3 craft, incorporate a variety of counting and addition activities. For example, you can ask the children to count all of the craft pieces before gluing them together.
Create beautiful number rocks by painting them at home. These homemade number rocks can be used for counting and number sequencing, adding a touch of creativity to your learning activities.
Cut out dinosaur shapes and grab some colorful pom poms to make this simple dinosaur counting game.
Another idea is to ask children to identify and count objects in their environment that also come in groups of three. You could also provide children with different numbers of ocean animal cutouts and have them add them together to reach a total of 3. This will help reinforce the concept of threes and improve their counting and number recognition skills.
More Ocean Activities for Kids
Dive into more fun with our additional ocean-themed activities for kids! Just like our Seahorse Number 3 Craft, these activities are designed to be engaging and educational, helping children to learn and explore through play.
Learn about the different ocean layers with our ocean zone density jar. It's a good visible representation for kids!
Develop fine motor skills while creating your own sea turtle art project. It's a simple craft that is perfect for young learners.
Unleash your creativity with this delightful seahorse bubble wrap painting. It offers a unique and enjoyable texture that adds an extra layer of fun to your artistic endeavors.
Improve your handwriting skills and learn about the anatomy of an octopus with these engaging octopus worksheets. Enhance your letter recognition abilities and accurately label different parts of this fascinating marine creature.
Genius Games Ecosystem: Coral Reef – A Mensa Recommended Family Card Game About Aquatic Animals, Their Habitats & Food Chain | A Light Educational Marine Biology Board Game for Kids and Families
Ocean Fish Dig Science Kit, Sea Life Toy Science Kits for Kids Age 6-8-12, Excavate 12 Sea Fish Toys, Education Science Activities STEM Ocean Life Explore Toys Gift for Boys & Girls 6+
Reef Board Game (Second Edition) | Strategy Board Game | Family Board Game for Adults and Kids | Ages 8 and up | 2 to 4 Players | Average Playtime 30 – 45 Minutes | Made by Next Move Games
Just Play National Geographic Kids Tub of Realistic Sea Animal Toy Figures for Kids, QR Code to Shark, Turtle, Jellyfish Facts, Recycled Material Packaging, Storage Container, Amazon Exclusive
Creativity for Kids Sensory Bin: Ocean and Sand – Fine Motor and Sensory Toys for Kids
The Rainbow Fish Puzzle Box
From crafts to games to factual discovery, these activities will spark children's curiosity about the ocean world while reinforcing important developmental skills. Let's set sail for more educational adventures!
Books About Seahorses
To further promote your child's learning and curiosity, you can introduce them to fun facts and stories about seahorses. Here are a few books you may enjoy reading together.
Mister Seahorse: board book (World of Eric Carle)
Sully the Seahorse: A book about self-esteem and resilience
Seahorses (Amazing Animals)
The Little Seahorse (Ocean Storybook for Kids)
Sea Horses (Ocean Life Up Close: Blastoff Readers, Level 3)
National Geographic Kids Look and Learn: Ocean Creatures (Look & Learn)
Whether you are a homeschool parent or a classroom teacher, you can take this opportunity to dive into this craft with your children and make learning an enjoyable experience. Remember, the goal is to make numbers fun and approachable, and this seahorse craft does just that!
Number 3 Craft
Estimated Cost:
$5 or less
Work on numbers with this cute seahorse number three craft for kids. Perfect for preschool.
Materials
Seahorse Number 3 Craft Template - (available at the bottom of this post)
Crayons/Markers/Colored Pencils
Construction Paper
Glue
Instructions
Print out template of number 3 and seahorse pieces.
Color it in.
Cut out the pieces.
Glue together on construction paper.
Recommended Products
As an Amazon Associate and member of other affiliate programs, I earn from qualifying purchases.