If there's one thing kids love, it's superheroes! This list of fun superhero activities for kids includes games, craft ideas for kids, and educational activities. There's something for kids of all ages to do from preschool to elementary school age.
These caped crusaders are the beacon of good, shining a spotlight on evil. It's no wonder my kids want to be a superhero. Helping people out, making them feel safe, and being an overall awesome person – all things that make a person feel good.
Never mind all the mutants and aliens that become super heroes, your kiddo doesn't need anything radioactive to make them feel like a hero!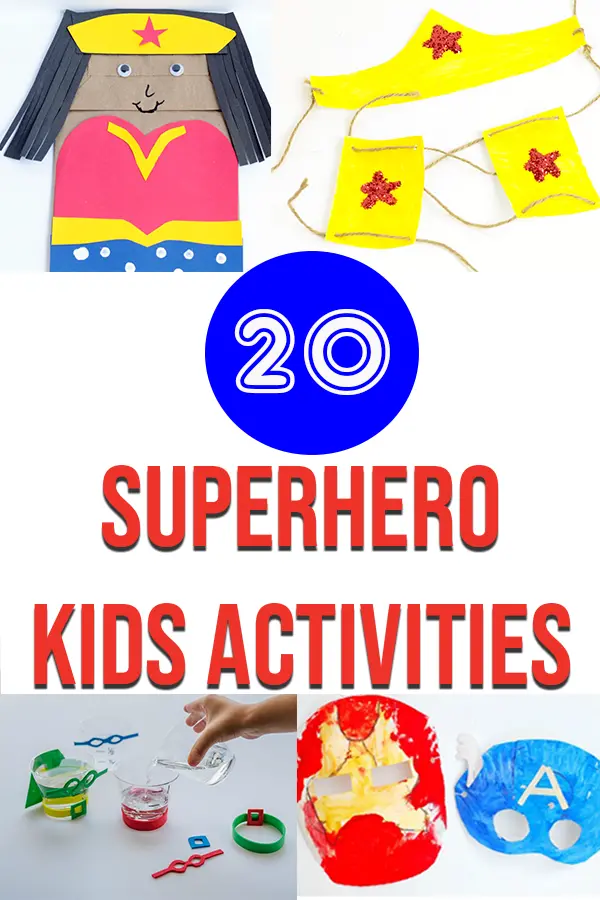 Encourage your child to unleash their creativity by designing their very own superhero persona. Assist them in crafting a superhero mask, wrist cuffs, a cape, and even a shield!
Don't forget about their favorite stuffed animal – they can join in on the fun too! Every superhero needs a loyal sidekick by their side.
The Importance of Play and Imagination
Play and imagination form the cornerstone of early childhood development. Superhero play not only brings joy but also helps children develop important skills.
By taking on superhero roles, kids practice problem-solving, empathy, and resilience, just like their on-screen idols. This imaginative play sparks creativity, allows for experimentation, and boosts cognitive abilities.
Additionally, playing superheroes often involves physical activity, including improving their fine motor skills.
Teamwork, a key aspect of superhero stories, promotes social-emotional learning by teaching cooperation, communication, and understanding different perspectives.
So, when your child wears a cape, remember they're not just playing – they're learning and growing in many ways.
Involving Stuffed Animals in Superhero Play
Incorporating stuffed animals into superhero play is a delightful idea that can encourage creativity and emotional bonding. Stuffed animals can become trusty sidekicks for your little heroes, embarking on exciting adventures alongside them.
Children can design matching superhero costumes for their plush friends, turning craft time into a fun dress-up session. This can include creating mini capes, masks or even little shields.
Alternatively, they can assign unique superpowers to their stuffed sidekicks, stimulating creative storytelling and role play.
This interaction with their cuddly companions not only makes playtime more fun but also builds compassion and empathy, as children learn to care for their sidekicks during their epic superhero missions.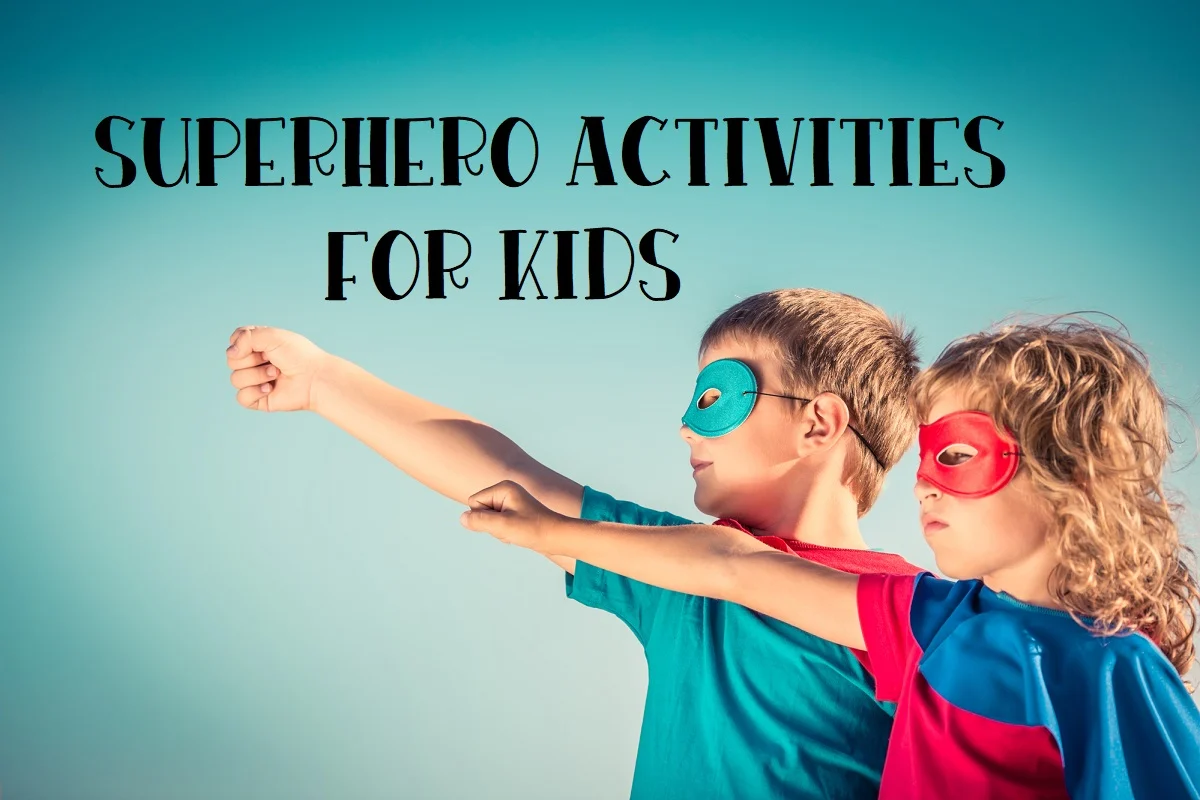 This post contains affiliate links. As an Amazon Associate and a participant in other affiliate programs, we earn a commission on qualifying purchases.
Recommended Items for These Superhero Activities
It will be helpful to have craft supplies on hand such as construction paper, paint, glitter glue, popsicle sticks, and paper lunch bags.
You may also want to use laminating sheets for some of the printables as well as dry erase markers and math manipulatives.
Apple Barrel Acrylic Paint Set, PROMOTCK 18 (2 fl oz/59 ml) Assorted Matte Finish Colors For Painting, Drawing & Art Supplies, DIY Arts And Crafts Acrylic Paint For Kids And Adults
Crayola Washable Glitter Glue – Assorted Colours (Pack of 9) | Add Some Extra Sparkle to Your Arts & Crafts! | Ideal for Kids Aged 3+
Crayola Construction Paper, 240 Count, Bulk School Supplies For Kids, 2-Pack School Paper
Learning Resources MathLink Cubes – Set of 100 Cubes, Ages 5+,Math Manipulatives, Math Cubes, Homeschool Supplies, Kindergartner Classroom Supplies, Back to School Supplies, Teacher Supplies
Superhero Games for Kids
Unleash your child's inner superhero with these dynamic and fun-filled games that are perfect for birthdays, playdates, or summer camp at home.
Skillmatics Marvel Card Game – Guess in 10, Quick Game of Smart Questions, Gifts for 8 Year Olds and Up, Fun Family Game
Marvel Mayhem-Card Game, Featuring Super Heroes, Fun Game for Marvel Fans Ages 8+, Fast-Paced, Easy-to-Learn for 2-4 Players
Marvel Fluxx Card Game with Collector's Coin
5-Minute Marvel, Cooperative Game
Marvel United, Award-Winning Superhero Cooperative Multiplayer Strategy Card Game Captain America Hulk, for Adults, Families and Kids Ages 14 and up
Wonder Forge DC Super Friends Matching Game for Boys & Girls Age 3 and Up – A Fun & Fast Super Hero Memory Game You Can Play Over & Over
Superhero Strengths: Building Resilience, Coping Skills, and Emotion Awareness Card Game
Hasbro Gaming Marvel Spider-Man Web Warriors Chutes & Ladders Game (Amazon Exclusive) for 3+ Years
More Imaginative Play Ideas for Kids
Discover a world of imaginative play ideas that will bring an extra dose of fun for kids. These engaging activities will ignite their creativity, nurture their imagination, and ensure endless entertainment!
Engaging Superhero Crafts and Activities for Kids
Engage your children in the excitement with this collection of superhero crafts and activities!
There is an abundance of options suitable for both younger and older kids.
Whether it's for classroom centers or simply for enjoyment at home, these ideas are perfect.
Not only will they have a blast with superhero-themed art projects, but they can also enhance their education by exploring topics like graphing, skip counting, contractions, writing, and critical thinking.
These activities would also be fantastic for a superhero-themed birthday party.
And there you have it, a treasure trove of superhero activities, crafts, and games, ready to transform your little ones into the superheroes they admire.
With a sprinkle of imagination, a dash of creativity, and their favorite stuffed animal sidekicks, they're all set to embark on an epic adventure right at home.
Remember, every cape they put on, every superpower they imagine, is a step towards learning, growing, and developing essential life skills.
Go ahead and dive into this super-fun world and make countless memories together. You'll be the hero for making these projects possible!