Looking for fun superhero activities for kids? This list includes superhero crafts, games, and educational activities. There's something for kids of all ages to do from preschool to elementary school age.
If there's one thing kids love, it's superheroes!
These caped crusaders are the beacon of good, shining a spotlight on evil. It's no wonder my kids want to be a superhero.
Helping people out, making them feel safe, and being an overall awesome person – all things that make a person feel good.
Never mind all the mutants and aliens that become super heroes, your kiddo doesn't need anything radioactive to make them feel like a hero!
Want more ideas like this? Don't miss these free printable games for kids.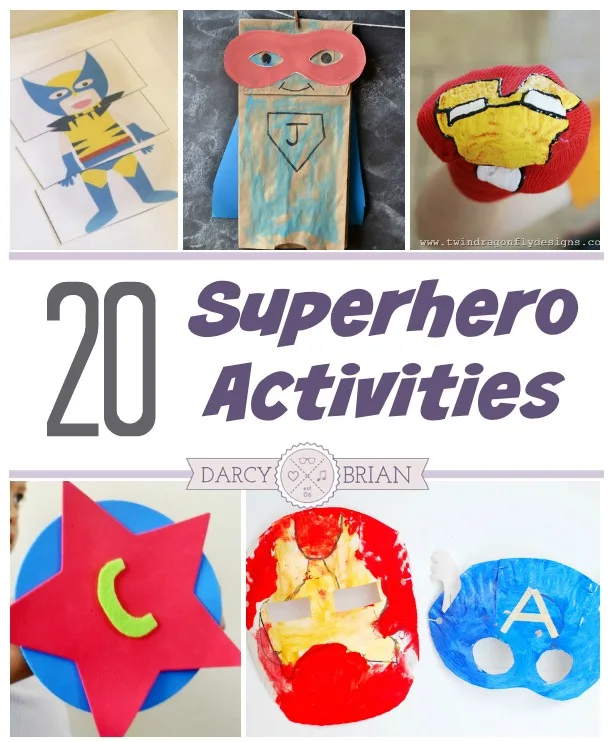 This post contains affiliate links. As an Amazon Associate and a participant in other affiliate programs, we earn a commission on qualifying purchases.
Superhero Themed Activities for Kids
Your children can get in on the fun with these 21 superhero crafts and activities!
There are plenty of crafts and activities for both younger children and older children. Add these ideas to your classroom centers or just for fun at home.
Not only can they work on educational topics such as graphing, skip counting, contractions, and even writing and critical thinking – but there are plenty of superhero art projects too!
So many of these would be great superhero themed activities for kids at a superhero birthday party too.
Let your child design their own super hero persona. Help them make a superhero mask, wrist cuffs, a cape, and even a shield!
Their favorite stuffed animal doesn't have to miss out on the fun, either.
Every superhero can benefit from having their best pal and sidekick with them!
These superhero activities for kids provide plenty of learning fun and are sure to spark their imaginations. They are perfect for preschool and kindergarten as well as older kids to do.
We hope you enjoy these ideas. You'll be the hero for making these projects possible!
More kids crafts and activities you may like: