If you need easy turkey crafts for kids, then you'll love these coffee filter turkeys! They are the perfect Thanksgiving craft for kids of all ages to make using simple arts and crafts supplies.
We'll show you how to tie dye the coffee filters and put these adorable turkeys together. You will love how easy they are to create. Plus, they make the cutest decorations!
Grab the printable directions at the bottom of this post to use at home or in your classroom.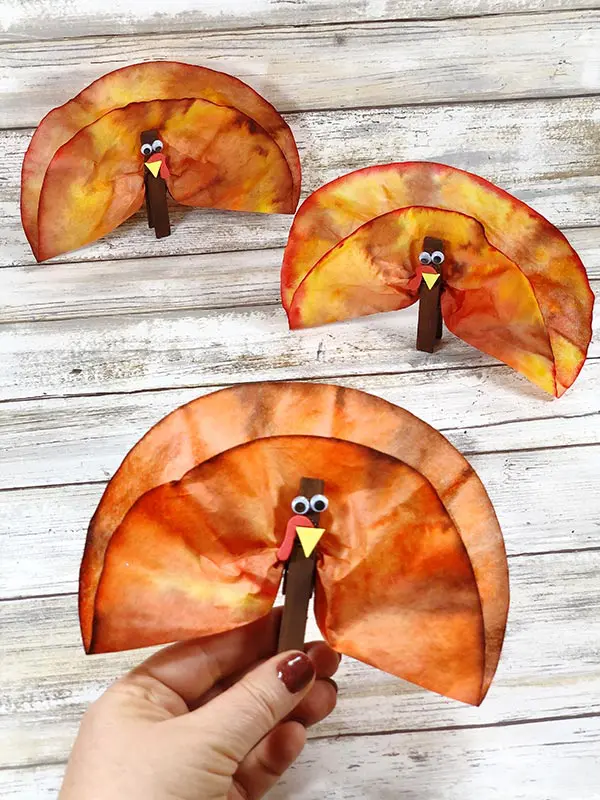 November is a popular time for kids to work on turkey crafts and activities. It's fun to try different materials and see how their creations turn out.
Preschool children will love making the coffee filter feathers and find their eyes to be silly. They are a great addition to a turkey themed art center!
Fall Crafts and Activities for Kids
There are so many awesome ideas to keep learning engaging this time of year. Here are a few hands-on fall activities to try:
What Age Can Make These Turkeys?
Kids of all ages will have fun creating turkeys made out of coffee filters and clothespins. Coffee filter crafts for kids are perfect for preschool and kindergarten children because they are fairly easy to create and don't take a long time (aside from drying).
Preschoolers and kindergartners can work on fine motor skills by coloring the filters, cutting out the beak and wattle, and painting the clothespins for the turkey's body.
The tie dye design for the turkey feathers is created using coffee filters, washable markers, and water. Kids will love watching the process! The colors spread and blend, creating a unique look.
Even toddlers can help with coloring and tie dyeing the coffee filter paper.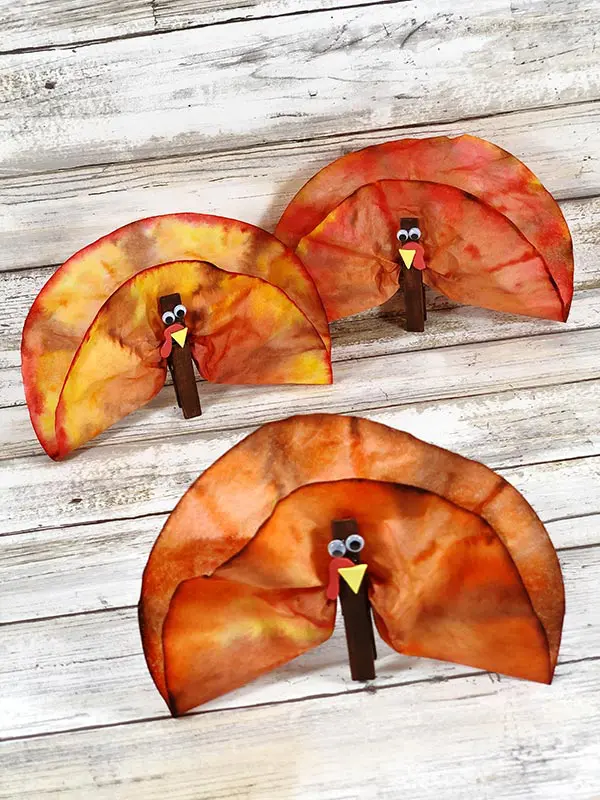 If you want to speed up the time it takes to complete these, you can paint the clothespins ahead of time.
For example, if you have limited art center time, you could spread it out over multiple days. The first day could be painting the clothespins and the next day work on coloring the coffee filters.
How Can I Use These?
These turkeys look fantastic when finished and your child will be so proud of their work! Here are a few ways to delight them by putting their turkey out as a fall decoration.
Add a magnet to the back and stick them on your fridge.
Use twine to string together a few for a turkey banner.
Attach a loop of twine to hang them up.
Write people's names on the back of the feathers for super adorable place cards.
Get 15 easy coffee filter craft tutorials conveniently all in one place for you with our Cute Coffee Filter Crafts digital craft book! Access it on your phone, tablet, or computer any time.
Coffee Filter Turkey Craft Supplies
If you don't have these materials on hand, you can find them on Amazon, at the Dollar Store, or wherever you prefer to shop for crafting supplies.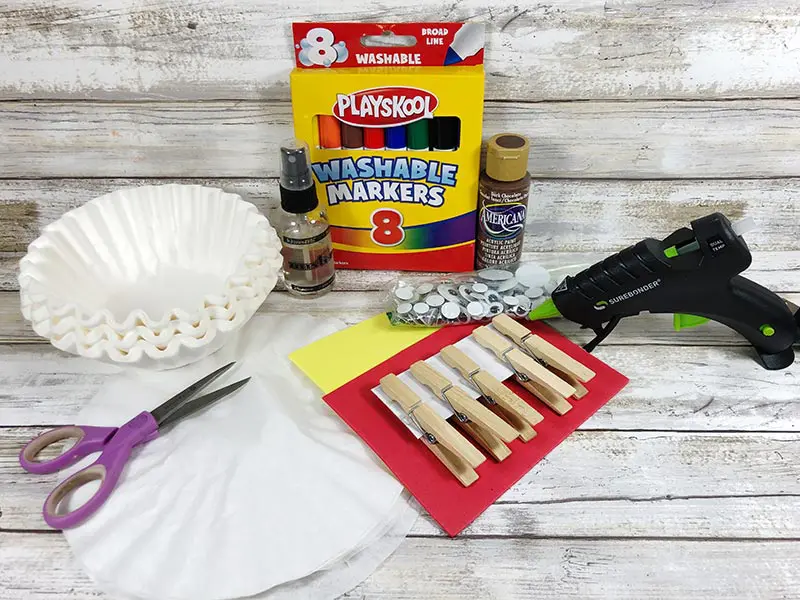 This post contains affiliate links. As an Amazon Associate and a participant in other affiliate programs, we earn a commission on qualifying purchases.
Recommended Tools:
More Coffee Filter Crafts
We have lots of adorable coffee filter crafts you can make all year round. Here are a few you might like to try next.
How to Make Coffee Filter Turkeys
Start by flattening out round coffee filters. Draw on them with several colors of washable markers in a variety of patterns.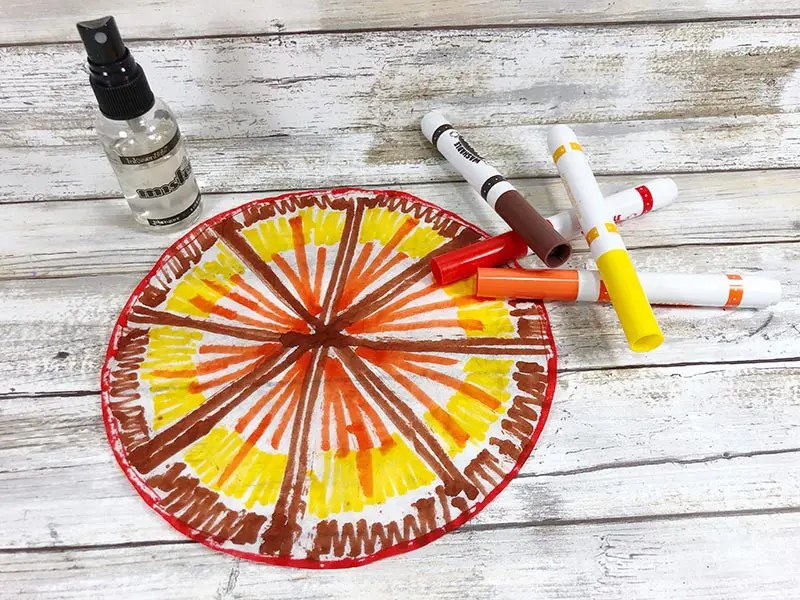 Using colors next to each other on the color wheel helps them blend harmoniously. For example, brown, red, orange, and yellow.
Lay the colored coffee filter on a craft mat or zipper bag and spray with water. Have fun watching the magic of the colors move and blend! Set aside to dry.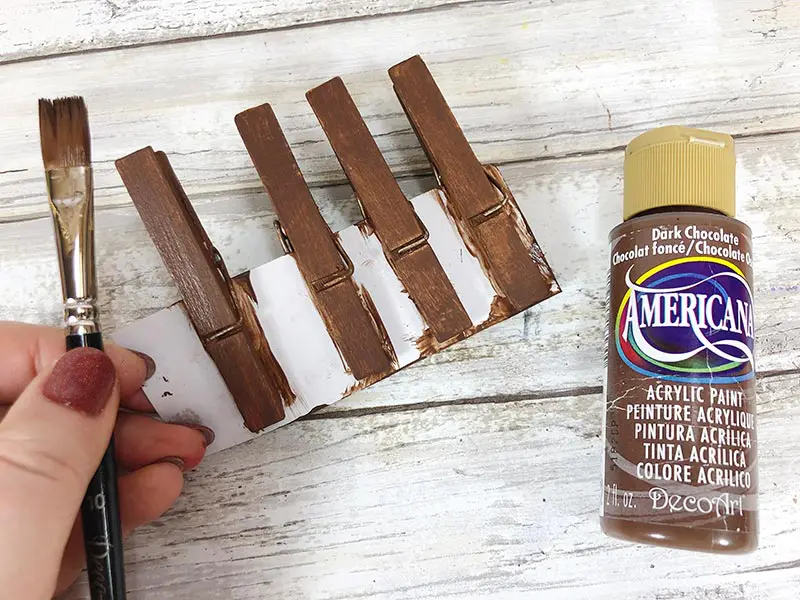 Use a scrap of cardboard to clip the clothespins onto for easier painting. Paint all sides of the clothespin with brown craft paint and a paintbrush. Set aside to dry.
Glue on the wiggly googly eyes. You can use a low temp hot glue gun or a tacky craft glue.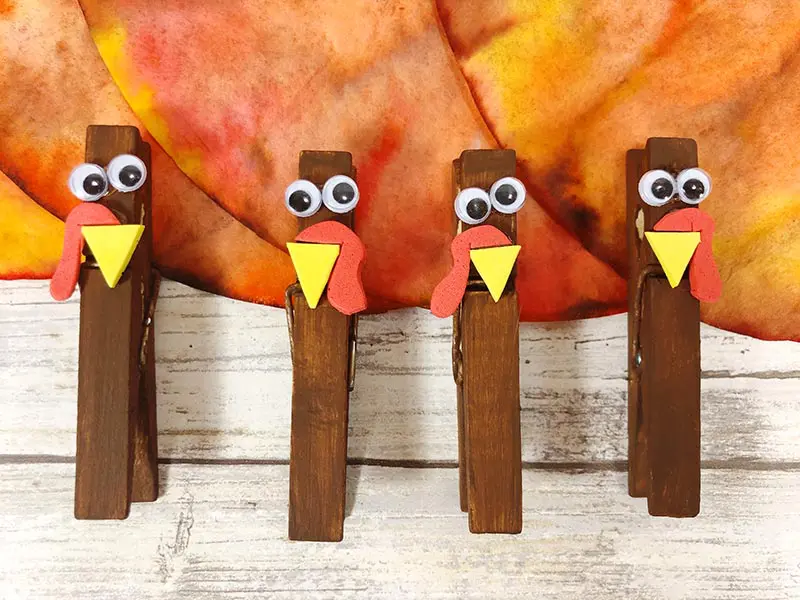 Now it's time to decorate the turkey's face! Cut out a triangle beak from yellow craft foam and a squiggly wattle from the red craft foam with scissors.
Glue the beak and gobbler (otherwise known as a wattle) under the eyes.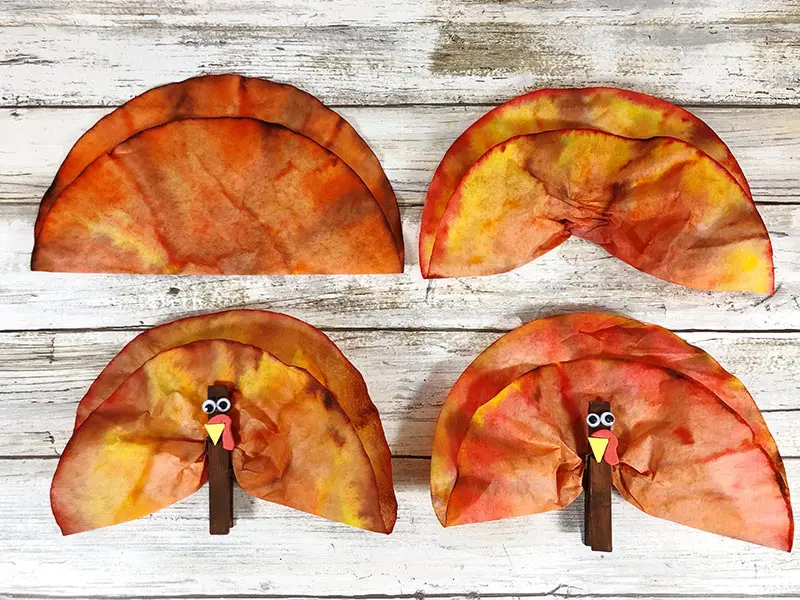 Fold the dry coffee filters in half and crinkle slightly to fluff them. Insert coffee filter into top clip of clothespin to be the turkey's feathers.
You can insert the dyed coffee filter as is or cut a scalloped edge to give the feathers more definition. I hope you enjoy making a flock of coffee filter turkeys!
Books About Turkeys for Kids
The world of literature has a wealth of enchanting tales featuring our feathered friend, the turkey.
These stories not only entertain kids but also impart valuable lessons and spark their curiosity about this fascinating bird and its role in Thanksgiving tradition.
Here's a curated list of delightful books about turkeys that your kids will love to read!
Turkey Goes to School (Turkey Trouble)
Taylor the Tooting Turkey: A Story About a Turkey Who Toots (Farts) (Farting Adventures)
Turkey Trouble
How to Catch a Turkey
More Thanksgiving Activities
If your little ones enjoyed creating the coffee filter turkey craft, we have more fun and engaging Thanksgiving activities lined up for them! These will not only keep their creativity ignited but also educate them about the spirit and traditions of Thanksgiving.
To wrap things up, the coffee filter turkey craft is a wonderful way to engage your little ones this Thanksgiving. It's not just an art project, but a creative journey that allows them to explore colors, textures, and shapes while learning about turkeys and Thanksgiving.
Coffee Filter Turkey Craft
Estimated Cost:
$10 or less
Make these coffee filter turkeys for a cute and easy Thanksgiving craft project for kids. They make adorable fall decorations!
Materials
Wooden Spring Clothespins
Round White Coffee Filters
Assorted Googly Eyes
Washable Markers in Brown, Red, Orange, and Yellow
Glue Gun or Tacky Craft Glue
Brown Acrylic Craft Paint
Red and Yellow Craft Foam
Tools
Paintbrush
Scissors
Pencil
Scrap of Cardboard
Non-Stick Craft Mat or Large Plastic Zip Top Bag
Water Spray Bottle
Instructions
Flatten out round coffee filters.
Color filters with red, yellow, and orange washable markers.
Place colored coffee filter on a craft mat or zipper bag and spray with water. Set aside to dry.
Paint the entire clothespin with brown paint. Set aside to dry.
Glue on two eyes using a low temp hot glue gun or tacky craft glue.
Cut out a triangle beak from yellow craft foam.
Cut out a wattle from red craft foam.
Glue the beak and wattle (aka gobbler) below the eyes.
Fold dry coffee filters in half and crinkle slightly to fluff them.
Insert filter into top clip of clothespin to be the turkey's feathers.
Notes
Easily make just one or several turkeys at a time. Drying times may vary and impact total time from start to finish of this project.
Recommended Products
As an Amazon Associate and member of other affiliate programs, I earn from qualifying purchases.