Our collection of Thanksgiving crafts for kids offer a fun and creative way to celebrate the season. With easy-to-follow craft ideas for kids of all ages, these projects are perfect for any setting, be it at home or school.
From colorful turkeys to cute pumpkin crafts, there's something for every little artist. These crafts not only let children explore their creativity but also provide a fantastic hands-on learning experience they will love and remember. Plus, they'll build a variety of skills too.
These fall crafts seamlessly integrate into your Thanksgiving-themed lessons and centers, making them an ideal resource for both homeschooling and classroom environments.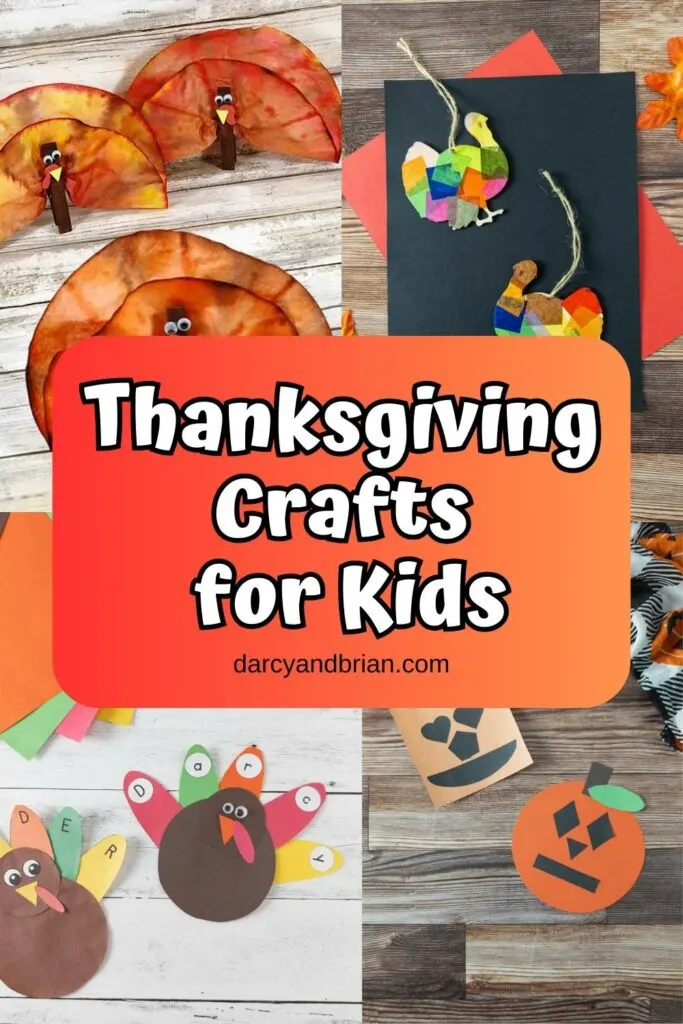 Engaging and educational, they offer an excellent way to work on skills with a seasonal theme. Moreover, many of these crafts go beyond their educational value, serving as charming decorations for your family holiday gatherings.
Imagine the pride and joy in your little ones' eyes when their handmade turkey or pumpkin craft takes center stage at your family dinner, adding a touch of personal and festive flair.
This post contains affiliate links. As an Amazon Associate and a participant in other affiliate programs, we earn a commission on qualifying purchases.
84PACK Foam Craft Sheets 8.5×5.5 inch Eva Color Bulk Foam Paper Set for Kids Classroom Art Craft Projects
Soarer Colorful Craft Rooster Feathers – 300pcs 3-5inch Colored Feathers Bulk for Kindergarten DIY Crafts
Crayola Washable Marker Set
Fiskars 5
Easy Thanksgiving Crafts for Kids
Whether you're a parent looking for a fun home activity or an educator in search of a classroom project, we've compiled an assortment of Thanksgiving crafts perfect for kids of all ages.
These projects, ranging from simple turkey crafts for preschoolers and kindergarteners to more complex ones for older children, are designed to be easy and enjoyable to make either at home or at school.
Not only do these activities provide a creative outlet, but they also serve as a fantastic group activity.
What Are the Benefits of Making Thanksgiving Crafts?
Creating Thanksgiving crafts featuring well-known symbols of the season, such as turkeys, leaves, and pumpkins, offers numerous benefits to children.
Firstly, these crafting projects help to refine fine motor skills as children cut, glue, and assemble their creations. They also foster creativity, encouraging children to experiment with colors, shapes, and design.
Moreover, many of these craft projects can integrate math and literacy skills, making them an educational experience. For example, counting leaves or writing messages on their crafts can enhance their numerical and linguistic abilities.
Additionally, these crafts make excellent extension activities for fall picture books and related units, providing a practical, hands-on complement to the concepts learned.
Lastly, when teaching about the history of Thanksgiving, these crafts serve as a fantastic opportunity to discuss themes such as harvest and family time, helping children to understand and appreciate the significance of the season.
Shop some of my favorite craft supplies on Amazon!
Recommended Thanksgiving Craft Supplies
Several of these Thanksgiving craft projects can be created using everyday items found in your home. However, it's recommended to have the following suggested craft supplies ready for an enjoyable crafting experience:
When you're engaging in crafting activities with kids, using an art smock can be incredibly helpful in keeping their clothes clean while they have an absolute blast.
Personally, I find that utilizing activity trays and craft mats is a fantastic choice because they are not only convenient to wipe down afterwards, but they also enhance the overall experience.
Activity trays provide a dedicated space for little ones to explore their creativity, while craft mats not only safeguard the working surface but also add a touch of practicality. So go ahead, let their imagination run wild, and worry less about the mess!
Apple Barrel Acrylic Paint Set, 16 Piece (2-Ounce), Best Colors Count
Bassion Pack of 2 Kids Art Smocks, Children Waterproof Artist Painting Aprons Long Sleeve with 3 Pockets for Age 2-6 Years
AdTech Ultra Low-Temp Cool Tool | Mini Hot Glue Gun for Safe Crafting | Children and Kids | Item #05690 , White
Aleene's Turbo Tacky Glue, 4 FL OZ – 3 Pack, Multi
Fall Pumpkin Craft Ideas
Pumpkins are truly the quintessential symbol of fall, lending themselves perfectly to a host of creative craft ideas. They're not just about Halloween and gleeful jack-o'-lanterns, but also hold a special significance in Thanksgiving celebrations, thanks to the delicious tradition of pumpkin pies.
Whether carved with whimsical faces or left untouched, pumpkins offer an abundance of fun and versatile crafting opportunities. These craft projects will certainly unleash your kids' creativity while immersing them in the spirit of the season.
Turkey Crafts for Kids
When it comes to Thanksgiving and fall-themed ideas, turkey crafts for kids top the popularity charts. This beloved feathered friend of the season becomes a source of endless inspiration, allowing kids to experiment with colors, textures, and techniques.
The turkey's vibrant plumage and distinctive features provide an ideal basis for kids to express their creativity. Engaging in turkey crafts is indeed one of the most delightful ways for young children to celebrate and connect with this special time of year.
Are Crafts a Good Holiday Activity for Kids?
Crafting offers numerous benefits to children beyond just creating something pretty or fun. Crafting is an excellent activity for kids because it stimulates their imagination and develops fine motor skills, hand-eye coordination, and problem-solving abilities.
It also provides a sense of accomplishment and boosts self-esteem when they see their creations come to life. Plus, crafting together as a family creates cherished memories and strengthens bonds.
So next time you're wondering how to keep your kids entertained during the holidays, consider tapping into their inner artist with some fall-themed crafts.
Fun Express Harvest Blessings Sign Craft Kit
Winlyn 24 Sets Fall Pumpkin Ornaments Decorations Art Sets
Winlyn 24 Sets Fall Craft Kits Halloween Thanksgiving Kids Crafts
4E's Novelty 12 Pack Thanksful Tree Craft
Winlyn 24 Sets Thanksgiving Suncatchers Ornaments Decorations
Sumind 24 Pcs Thanksgiving Craft Kit Fall Craft for Kids
More Fun Thanksgiving Activities for Kids
Apart from crafting, there are numerous other Thanksgiving activities that can make the holiday season even more enjoyable and meaningful for kids and their families. These activities can include various indoor and outdoor games, culinary projects, storytelling sessions, and more.
Each of these activities not only provides an opportunity for entertainment but also fosters learning, enhances bonding, and instills a sense of tradition. They can be tailored to suit children of different ages and interests, ensuring that everyone has a memorable and fun-filled Thanksgiving.
As the leaves change color and the air carries the crisp scent of fall, embrace the spirit of Thanksgiving with your little ones through these creative crafts and engaging activities.
Not only do these fun-filled projects serve as a great way to keep tiny hands busy, but they also offer a wonderful platform for kids to express their creativity and learn more about the importance of this special holiday.
So, gather up the craft supplies and gear up for a heartwarming, hands-on holiday experience that will surely be remembered for a lifetime.