Are you looking for a playful, fun way to spend time with your family and teach your kids something at the same time? If so, you've come to the right place! Toy Story Crafts are here to help bring out your inner artist and inspire creativity in both parents and children.
Whether you're a parent who wants to keep their child's mind active over summer break or an educator looking for some interesting activities for students, these cute Toy Story Crafts can offer wonderfully creative solutions. Get ready to unlock your imagination with lots of craft ideas for kids!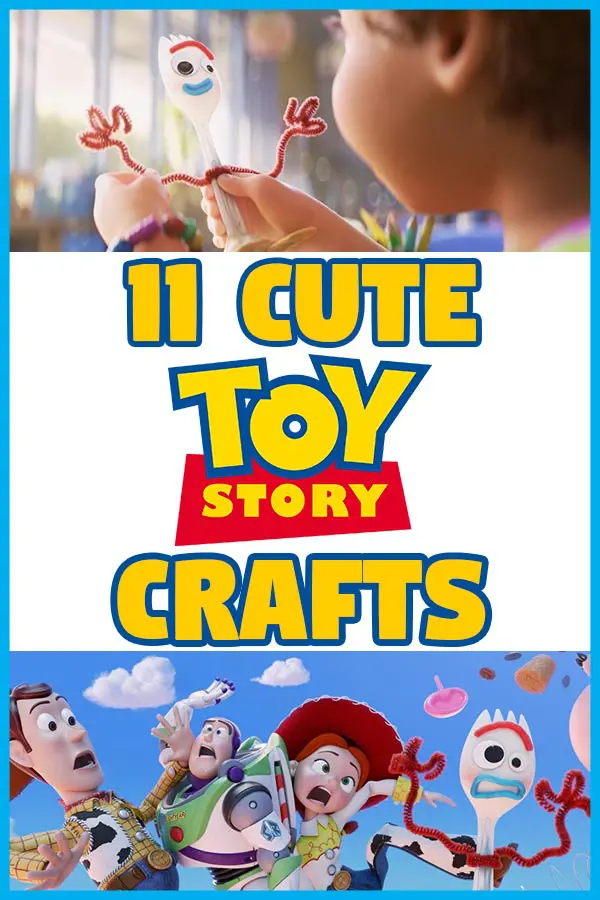 RELATED: 15 Disney Themed Kids Crafts Ideas
No matter which Toy Story movie is your favorite, there is a cute Toy Story craft for everyone to make.
Overall, I have a hard time picking a favorite Toy Story character because they are all so great.
Woody and Buzz Lightyear are often clear favorites along with Jessie. Of course they are often getting into the trickiest predicaments.
Can't forget about the aliens – they are adorable.
And there is a slew of hilarious characters too: Rex, Mr & Mrs Potato Head, Duke Caboom, Ducky and Bunny, and now Forky.
When we took the kids to see Toy Story 4, I was not expecting to fall in love with Forky so much. Thank you, Bonnie, for making him!
After seeing the movie, I started looking for fun Toy Story crafts for kids.
Below are the Toy Story craft projects I found and thought were the cutest. Most of them are pretty easy to make and perfect for the kids.
A few of them are better for older children or adults to create.
11 Super Cute Toy Story Craft Ideas
I hope you have fun making these Toy Story crafts and get inspired to create something new.
Don't forget to grab these free Toy Story coloring pages too if you haven't yet!
More kids crafts you may enjoy: