Have you ever heard of a Leprechaun Trap? This year I am sharing some great fun and easy leprechaun trap crafts for you to make with your kids. This is a cute idea to get kids excited about St. Patrick's Day, and of course, it is a super fun arts and crafts project!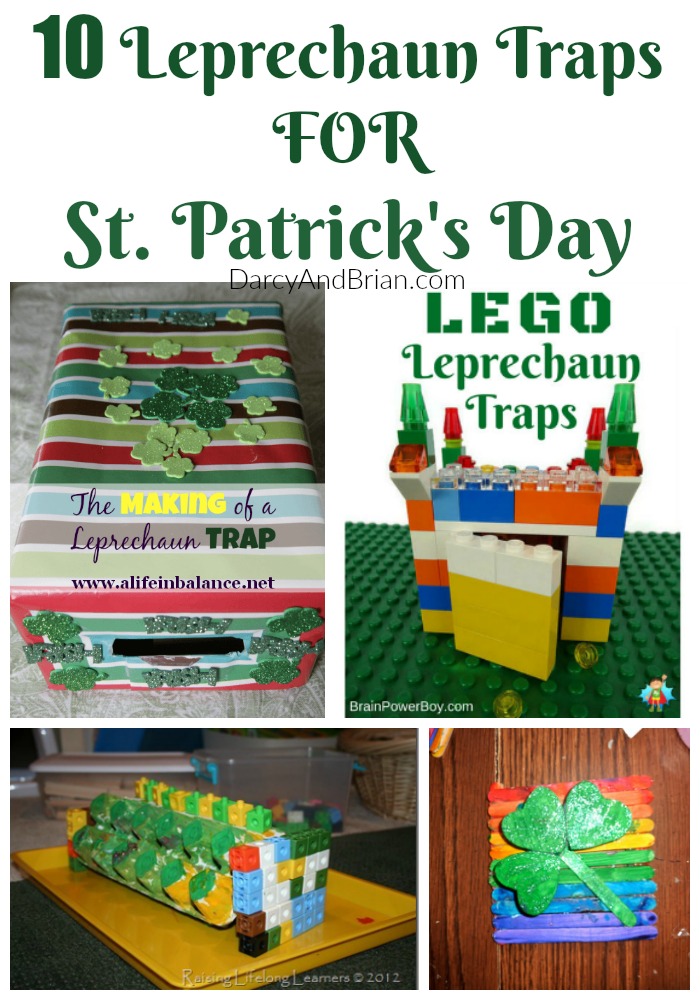 10 Leprechaun Trap Craft Ideas
This post contains affiliate links.
I don't remember making leprechaun traps as a kid, do you? The first time I heard about this my daughter was in preschool. Her class read The Night Before St. Patrick's Day and made a class trap. She told me about it after school and asked to make one at home too. I just love the idea of using making a colorful trap door craft as a fun tradition to make with the kids. There are so many fun ideas, and this list includes my favorite easy cardboard box options as well as super fun LEGO ideas!
Get your kids excited about this craft activity by reading How to Catch a Leprechaun. Then get started with a basic design idea and craft supplies. There are several ideas below with different products to build with, but I am going to share a short supply list below that is great for having on hand to get your kids started! Use these designs for inspiration!
How To Build A Leprechaun Trap (Cardboard box) from Handmade Kids Art
Lego Leprechaun Trap from Brain Power Boy
The Making Of A Leprechaun Trap from A Life In Balance
Saint Patrick's Day Leprechaun Trap from DIY Inspired
Leprechaun Mischief and Traps from Raising Life Long Learners
St. Patrick's Day Activities with easy Leprechaun Trap from Enchanted Homeschooling Mom
Popsicle Stick Leprechaun Trap from Mamma of Many Blessings
Building A Leprechaun Trap from Planet Smarty
Fun Leprechaun Trap from B-Inspired Mom
Making A Leprechaun Trap from Mom To 2 Posh Divas
Great supplies for your Leprechaun Trap Crafts:
Use your imagination with your kids. Making a leprechaun trap door craft is such a fun way to help them get excited about the folklore surrounding Saint Patrick's Day! You can make this project the night before, and set it up for the leprechaun to steal the gold. When your kids wake up, they'll find their trap opened and the gold missing. What a great way to celebrate!
More St. Patrick's Day Ideas:
Leprechaun Slime Recipe for St. Patrick's Day
Subscribe
Get weekly sanity saving parenting tips, recipes, and kids activities.