Are you a parent, homeschooler, or teacher in search of an entertaining and educational activity for your kids? Making finger puppets with these printable farm animals is a delightful way to keep them engaged while igniting their creativity and imagination.
These adorable puppets, made from our free printable templates of different farm animals, are perfect for preschoolers and kindergarteners.
The activity involves creating ten different finger puppets, each representing a unique farm animal, and provides additional learning opportunities.
If you are looking for more creative activities like this, you may also other projects from our collection of craft ideas for kids.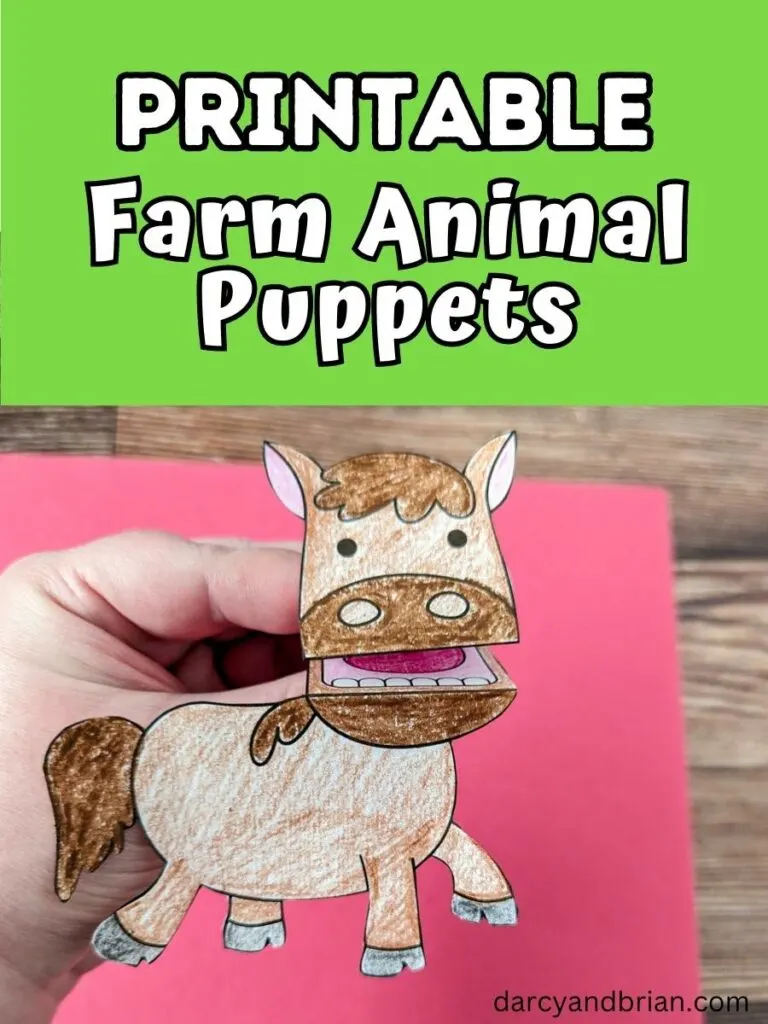 Kids are naturally imaginative, and with these printable farm animal finger puppets, you and your little ones will have loads of fun engaging in pretend play with the adorable animals on the farm.
The puppets also make great resources to learn about farm animals, as well as their eating habits and other interesting facts.
More Preschool and Kindergarten Printable Activities
Get ready to explore our wonderful collection of preschool and kindergarten printables, designed to make learning fun and engaging for your little ones.
Our printables promote creativity, cognitive development, early math and literacy, as well as build fine motor skills.
Free printable download available at the end of this post.
Sparking Creativity and Imagination at an Early Age
This activity is a great way to keep kids engaged in a screen-free activity. It's fun for the whole family and provides an opportunity for children to develop their fine motor skills, color recognition, and creative expression.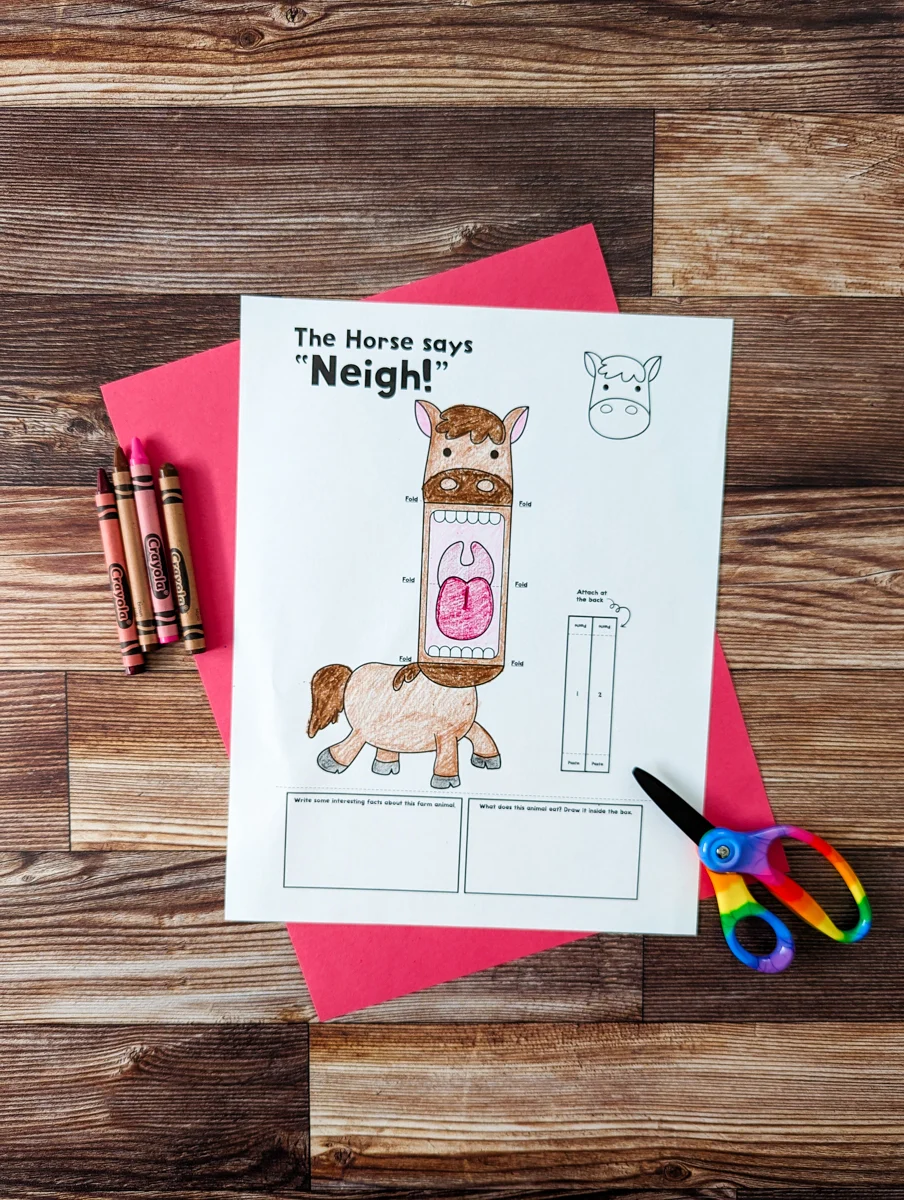 Plus, it can easily be adapted to suit any age group; for example, younger children can practice their scissor skills by cutting along the lines while older kids can add details to their drawings.
Once the finger puppets are ready, it's showtime! Children can put on puppet shows, enacting little stories about the farm animals.
This not only encourages imaginative play but also helps improve their storytelling and communication skills. It's a wonderful opportunity for you to join in and spend some quality time with your child too.
What's Included in This Set of Printable Farm Animal Finger Puppets?
The printable pages in this resource include a collection of 10 delightful farm animals. You'll find one of each of the following:
horse
cow
pig
lamb
goat
chicken
duck
dog
donkey
rabbit
Each page features a farm animal finger puppet for interactive play. Additionally, there is a dedicated space where young learners can jot down interesting facts about each animal, allowing children to deepen their knowledge.
Lastly, budding artists can explore their creativity by drawing what each animal eats, fostering both learning and imagination.
How to Make Farm Animal Finger Puppets
These are easy to make and don't require a bunch of materials. Start by downloading our printable farm animal finger puppets (available at the end of this post) and print them out.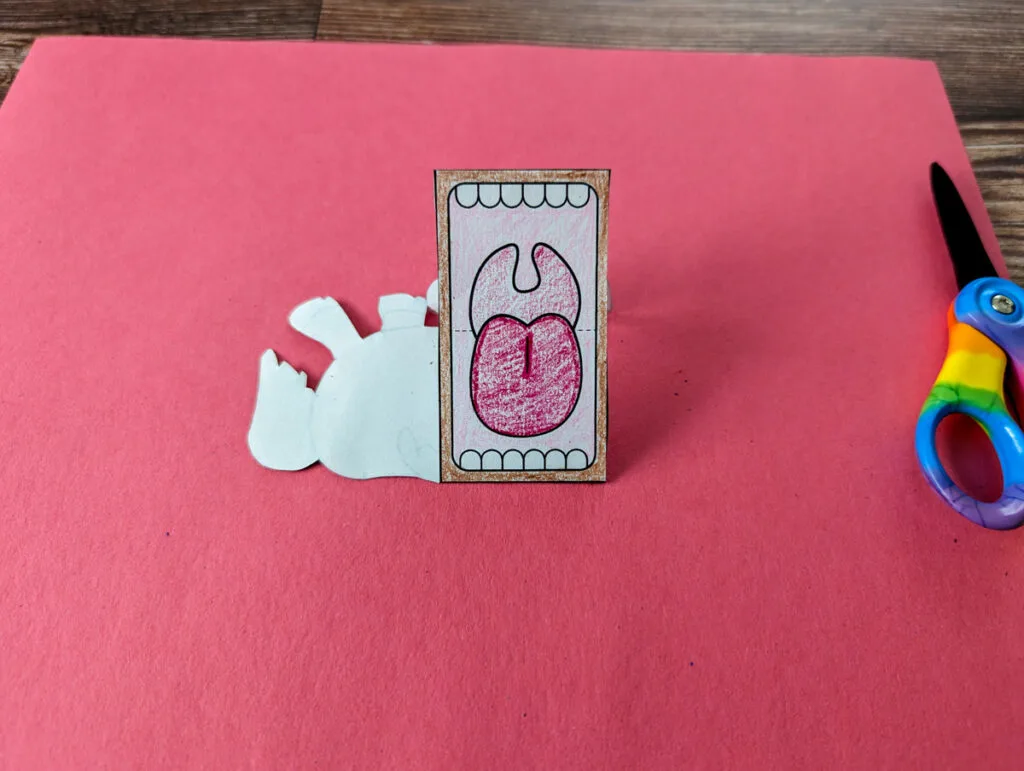 Color the farm animals and cut them out. You can use regular printer paper or make them sturdier with cardstock. Follow the fold lines to make the mouth open and close.
Finally, attach the finger loops to the back. This is not required, but it will make it easier to hold the puppets while playing.
This post contains affiliate links. As an Amazon Associate and a participant in other affiliate programs, we earn a commission on qualifying purchases.
Recommended Items
To complete this project, make sure you have a printer with ink (we love our Epson EcoTank printer), a stack of printer paper, and a variety of coloring tools like crayons, markers, or colored pencils.
Additionally, don't forget to have a pair of scissors on hand for cutting and glue or tape for assembling everything together.
Children who are new to using scissors should always be provided with child-safe scissors to ensure their safety.
Creative Ways to Use These Printable Farm Animals
The possibilities for learning with these finger puppets are endless. You can use them to teach your kids about different farm animals, their sounds, and characteristics.
How about turning it into a fun guessing game?
Another idea is to use the farm animals to work on literacy skills. You could practice beginning sounds as well as word and letter recognition for each animal.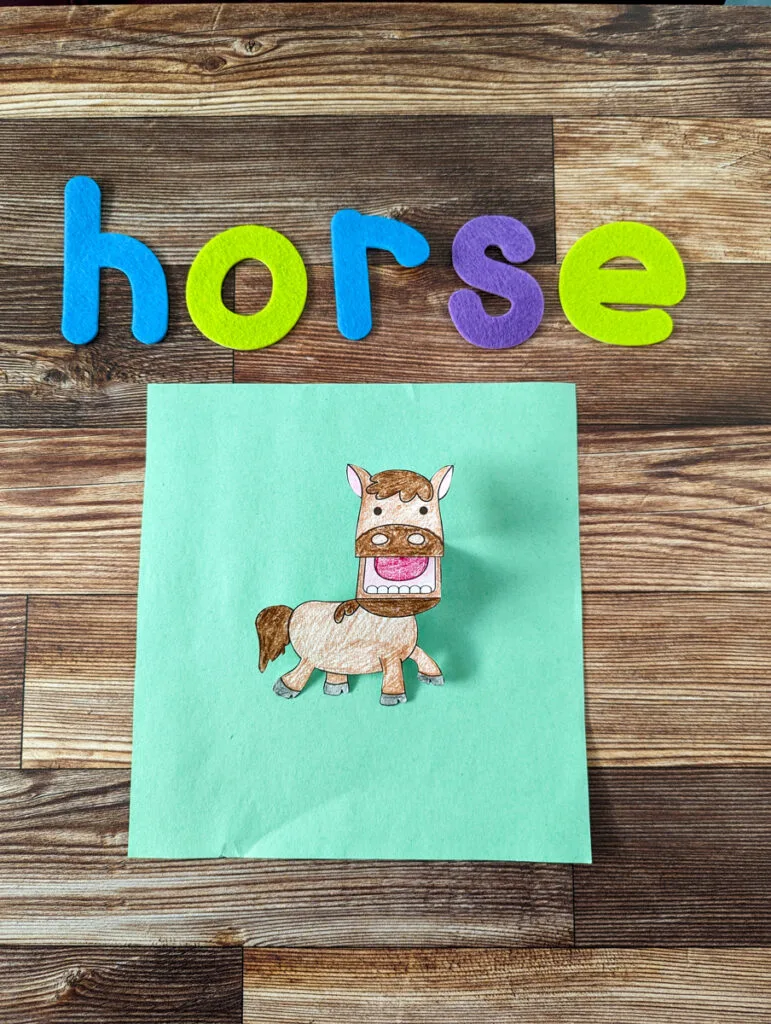 Or maybe have a sing-along session with popular nursery rhymes like "Old MacDonald Had a Farm" or "B-I-N-G-O."
For older kids, you can even incorporate lessons about where our food comes from. For instance, the cow puppet could be used to explain how we get milk, or the chicken puppet to talk about where eggs come from.
In a classroom setting, these puppets can serve as great props for role-play activities. They can also be used for group projects, encouraging teamwork and collaboration among the students.
Additional Farm Animal Learning Activities
To expand the educational journey further, here are additional fun, screen-free, and engaging farm animal learning activities.
Consider going on a farm animal scavenger hunt! You can take a field trip to visit a farm or have the kids search for images or toys of the farm animals included in our printable.
This activity not only solidifies the child's recognition of each animal but also offers the thrill of a game.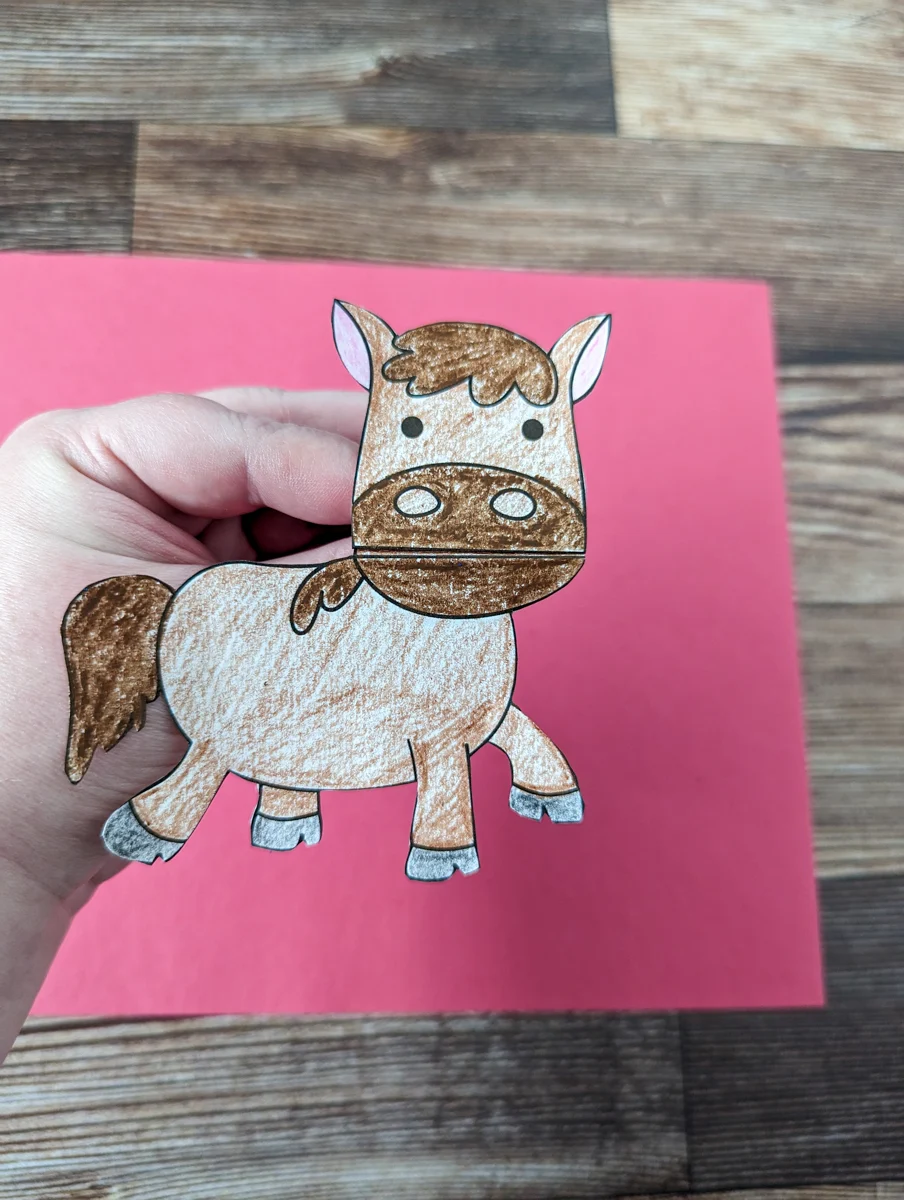 For a more hands-on approach, try a farm-themed sensory bin. You can fill it with materials like hay, faux fur, and plastic farm animals. Children can dive in and explore different textures while identifying each animal.
Enjoy some quick thinking fun and play Animal Charades. The kids will have a blast acting out a variety of animals and taking turns guessing.
Lastly, creating a simple farm shoebox diorama can be a fun craft that leads to hours of imaginative play. All these activities are designed to enhance learning while keeping children engaged and entertained.
Books About Farm Animals
Reading about farm animals is another engaging way for kids to learn while having fun. Here are some excellent books that will take the children on an exciting journey through the farm, meeting various animals and learning about their roles and characteristics.
These books are not just informative but also beautifully illustrated to hold the kids' interest.
This Farm Is a Family (Barn Sanctuary)
National Geographic Readers: Farm Animals (Level 1 Coreader)
Cows Can Moo! Can You?: All About Farms (Cat in the Hat's Learning Library)
Cam the Pig on a Farm So Big: Farm Animals Bedtime Story. Good Night Rhyming Story for Kids, Ages 3 to 6.
This Farm is a Family by Dan McKernan – Join the rescue farm animals at Barn Sanctuary in this heartwarming picture book for kids. Discover how they rally together to support a fearful cow in her new home, teaching children about friendship, compassion, and the power of helping others during difficult times.
National Geographic Kids: Farm Animals – Learn fun facts and look through photos all about farm life in this level one coreader.
Cows Can Moo! Can You?: All About Farms by Bonnie Worth – Join the Cat in the Hat on a day-long adventure at the Greenbean farm, where kids will experience the joys of milking cows, feeding chickens, shearing sheep, and tending to fields. From dawn to dusk, there's never a dull moment as they witness the farm in action.
Cam the Pig on a Farm So Big by Shelly Rollins – Engage your little one with this entertaining rhyming story about farms. Follow the adventures of a brave piglet as they explore farm animals and life on a ranch. Captivating pictures on each page complement the story, keeping your new reader curious and eager to find out what happens next!
Farm Animal Crafts
These crafts offer an entertaining, hands-on way for children to connect with the world of farm animals. Use a few of these ideas to turn an ordinary afternoon into a magical journey to the farm.
Farm Animal Toys
Toys are a great way to let the kids explore their creativity while learning about farm animals. From simple finger puppets to more detailed plastic models, there are plenty of options available that allow them to build and play with these familiar creatures. Through this activity, they can gain an understanding of the different activities that each animal carries out on the farm.
Farm Animal Big Barn Toy, Learning Educational Toy for Toddlers 1 2 3+ Years Old, Montessori Toy with Finger Puppets, Preschool Kindergarten Farm Learning Playset with a Big Red Barn, Farmer, 11PCS
Learning Toys for 1,2,3 Year Old Toddlers, 20Pcs Farm Animals Toys Montessori Counting, Matching & Sorting Fine Motor Games, Christmas Birthday Easter Gift for Baby Boys Girls Age 12-18 Months
3 Pack Farm Toy Tractor with 40pcs Plastic Animals Figurines and Fence Playset, Farm Figures Farmer Vehicle Toy Truck with Trailer for 3-12 Years Old Kids Boys Girls Toddlers
Learning Resources Farm Animal Counters – 60 Pieces, Ages 3+ Toddler Learning Toys, Farm Animals Toys, Develops Counting and Matching Skills
Pretend play is another great way to engage kids in the farm experience. Include some fun props like stuffed animals, a pitchfork, wheelbarrow, or feed buckets for an extra layer of imaginative play. Kids will love pretending to be farmers and caring for their animals!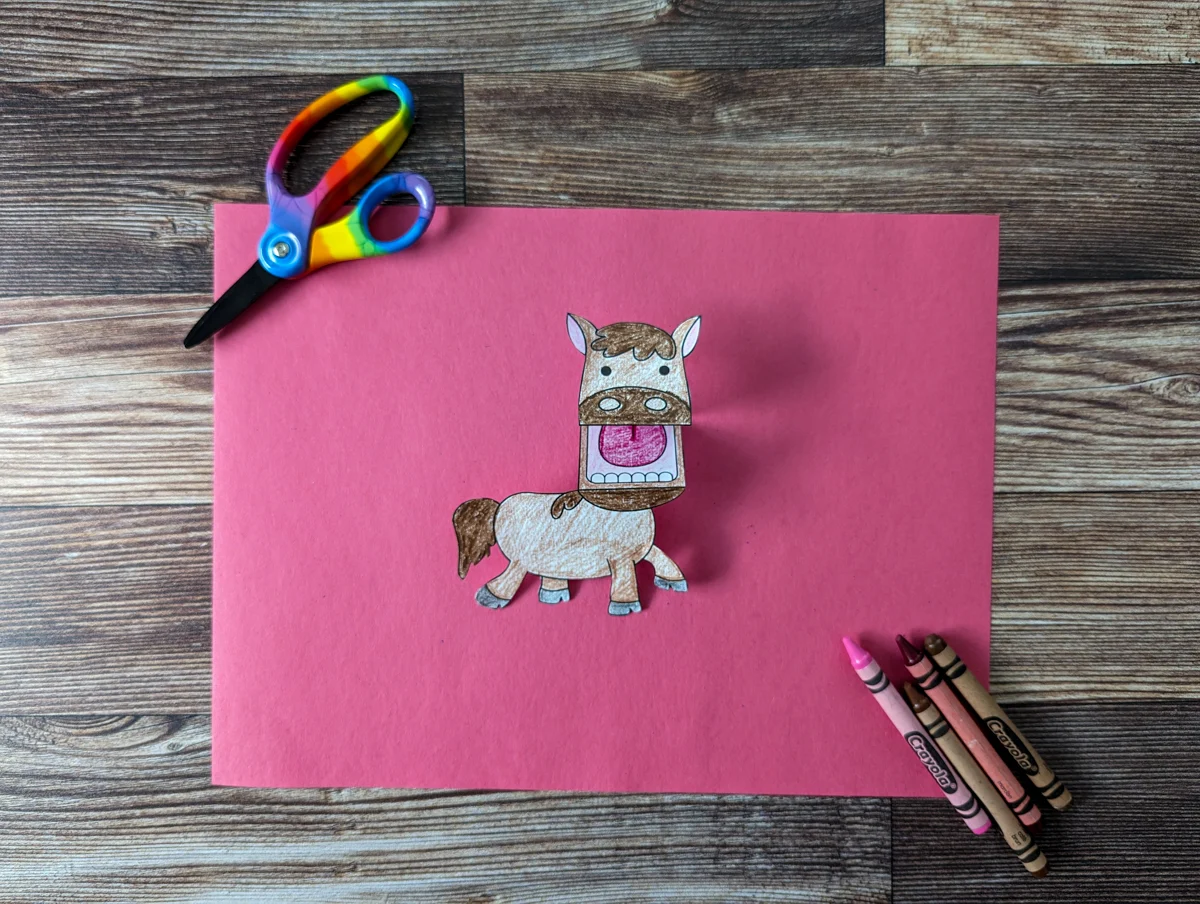 In conclusion, these farm animal finger puppets offer a wealth of opportunities for fun and learning. They're easy to make, engaging, and above all, a fantastic way to foster creativity and imaginative play in early age children.
So why wait? Download the templates using the form below and let the fun begin!
Remember, every moment spent playing is also a moment spent learning!
Printable Farm Animal Finger Puppets
Estimated Cost:
$5 or less
Have fun playing pretend with these easy farm animal finger puppet printables.
Materials
Printable Farm Animals Finger Puppet Set
Crayons/Marker/Colored Pencils
Glue or Tape
Instructions
Print out the finger puppets.
Color the animals.
Fill out interesting facts about each animal and what it likes to eat.
Cut out the animal puppets.
Fold back along the solid fold lines at the top and bottom of the face.
Fold forward along the dotted line in the middle of the mouth.
Cut out the finger loop strips and attach to the back of the puppet's mouth.
Have fun playing!
Recommended Products
As an Amazon Associate and member of other affiliate programs, I earn from qualifying purchases.