Easy 3D Edible Marshmallow Polar Bear Craft
Once the buzz of the holidays are over, there is still so much of winter left! We might get sick of it, but Christmas is only the start of winter. We have several long months of winter ahead with only a few bright spots to look forward to.
Kids will appreciate this fun 3D marshmallow polar bear craft because it will give them something fun to make when the doldrums of winter strike. This craft is perfect for boredom busters, classroom projects, a snow day activity, and just something to do during the weekend!
The best part of all is that this polar bear craft is 100 percent edible.
3D Edible Marshmallow Polar Bear Craft
This post contains affiliate links.
If you have marshmallows in your kitchen, you're all set for this project. We used super jumbo marshmallows and mini marshmallows to make our bears, but you can also use mini marshmallows and regular sized marshmallows.
Materials:
Toothpick
Paintbrush
Small cup of water
Food coloring (we used blue gel coloring)
Directions: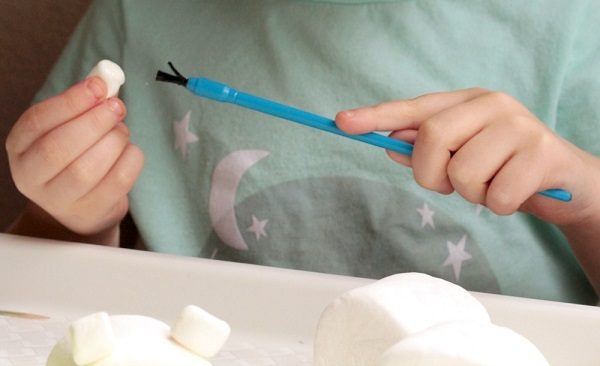 Step 1:
Select a jumbo marshmallow for the body of your polar bear. Our jumbo marshmallows had one side that was flatter, which we used as the bottom of the bear where the feet attached. Instruct your kids to dip a paintbrush in the water and paint one side of a mini marshmallow with the water. This will make it sticky and it will stick to the bottom of the jumbo marshmallow. Repeat three more times to complete the legs.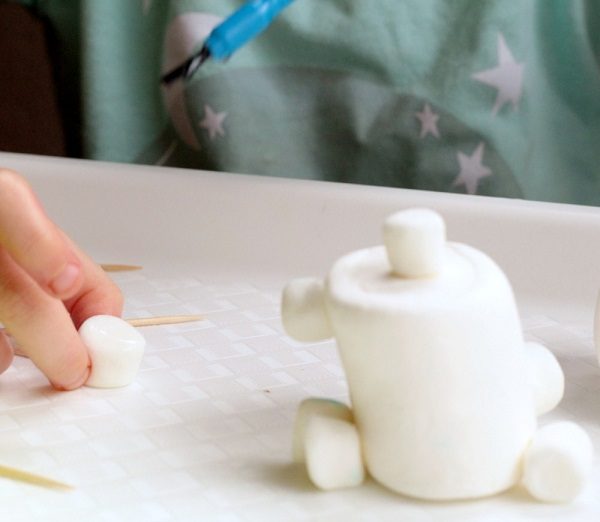 Step 2:
Flip your bear onto its feet. "glue" one marshmallow to the back as a tail and one to the front as a nose. Glue two mini marshmallows to the top of the jumbo marshmallow near one end to make ears.

Step 3:
Dip the end of a toothpick into your food coloring. Carefully add two dots of color above the snout to make eyes. Cover the entire front part of the bear's snout to make its nose or make a dot in the center of the mini marshmallow. Let the marshmallow dry.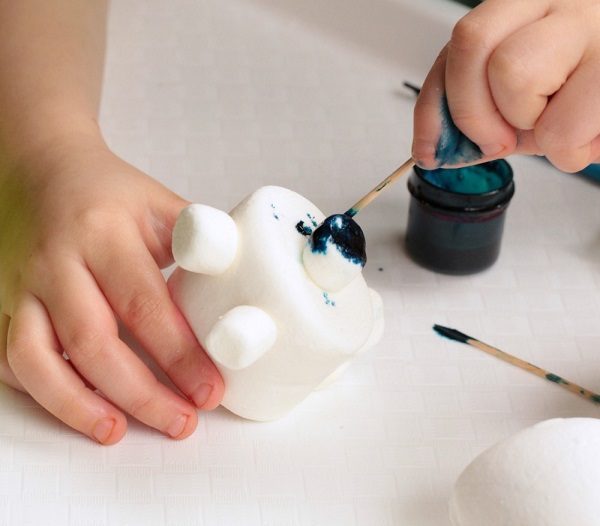 Step 4:
When the polar bears are dry, kids can eat them right away or they will also make fun accent decorations for a gingerbread house or other winter scene you have in your house.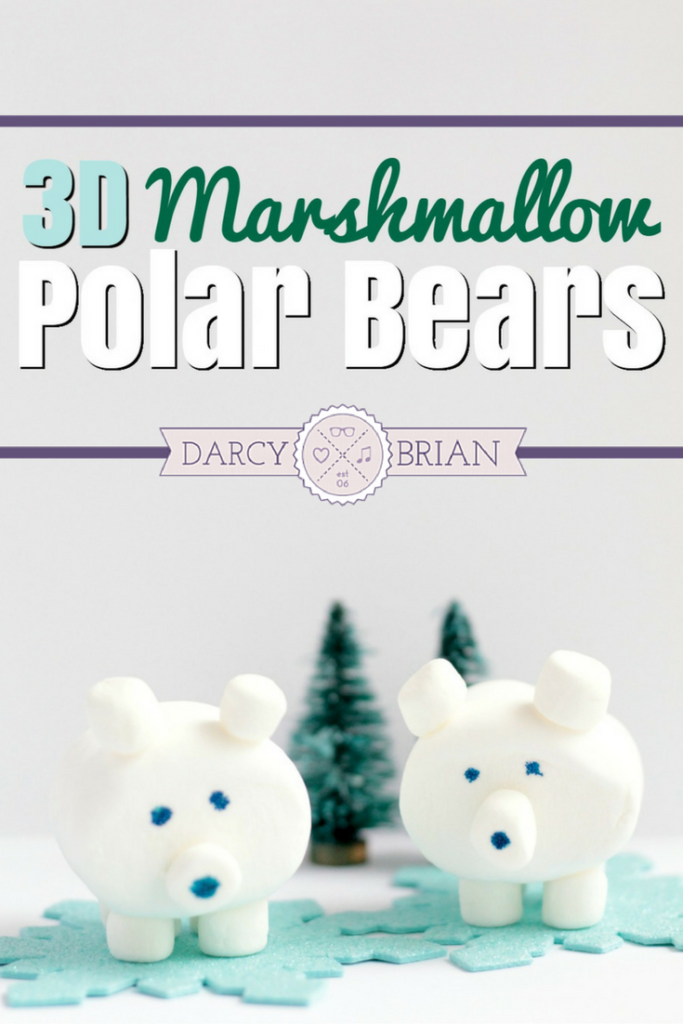 My kids were absolutely in love with this edible polar bear craft and almost couldn't bear to eat them! Eventually, they happily chomped down on their polar bear craft while enjoying a mug of hot chocolate.
More kids crafts you may enjoy:
Subscribe
Get weekly sanity saving parenting tips, recipes, and kids activities.