Kids love learning with their favorite animals, and sharks are a great way to get them excited about numbers! With our Shark Color by Number worksheets, kids can have fun and learn numbers from 1 to 10. They will practice fine motor skills while coloring the shark scene and build number recognition in a creative and engaging way.
Your kids can explore colors as well as numbers with these free printable coloring pages available at the bottom of this post. It's an ideal way for preschoolers and kindergartners to make learning fun during Shark Week—or anytime of year!
Looking for more fun shark activity ideas? Check out our popsicle stick shark craft.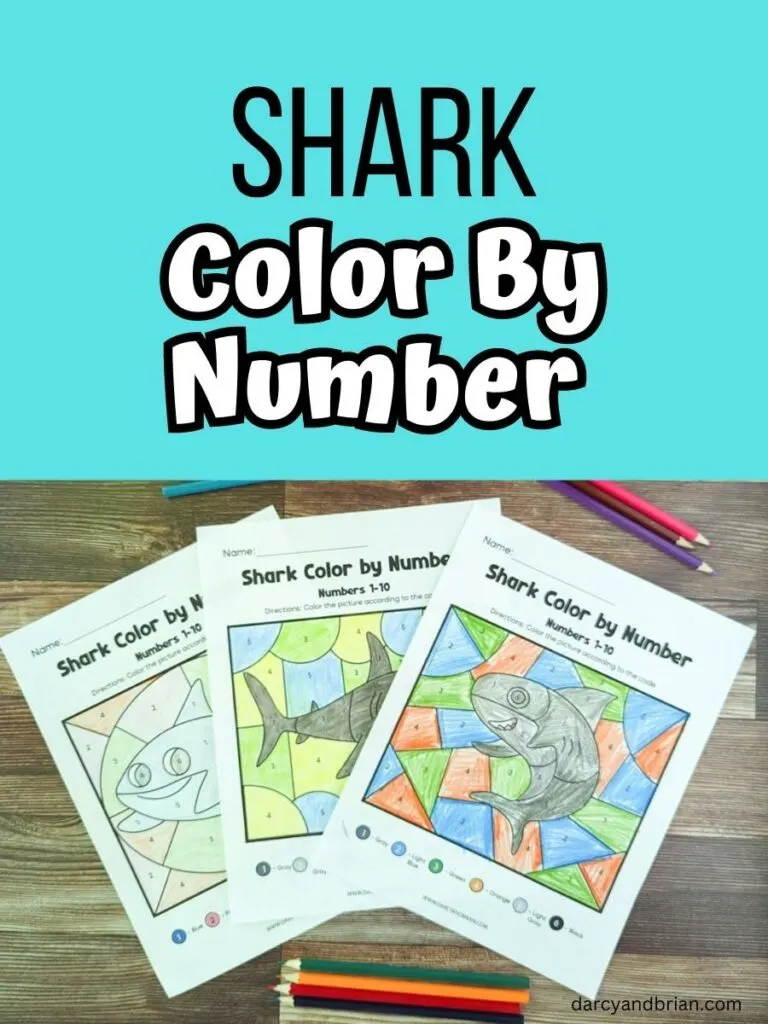 Stimulate learning and focus with our Shark Color by Number worksheets! They're sure to be a fun and educational activity for kids.
It'll help your kids practice following directions, while building early math skills in a screen-free way. Plus, it's developmentally appropriate even if they don't stay within the lines or scribble on their coloring page.
More Coloring Pages for Kids
Looking for more coloring fun? Check out our selection of free printable coloring pages, featuring popular themes like animals, superheroes, and movies.
Free printable download available at the end of this post.
Benefits of Shark Color By Number
Your child will have a blast coloring in these fascinating ocean creatures, and they'll gain valuable early math skills such as number recognition for numbers one through ten.
Plus, with so many colors to choose from, they'll be developing their color recognition abilities as well.
And let's not forget about the fine motor skills they'll be practicing while coloring in the pictures. By holding the coloring tools with a steady grip, they enhance their hand-eye coordination and dexterity.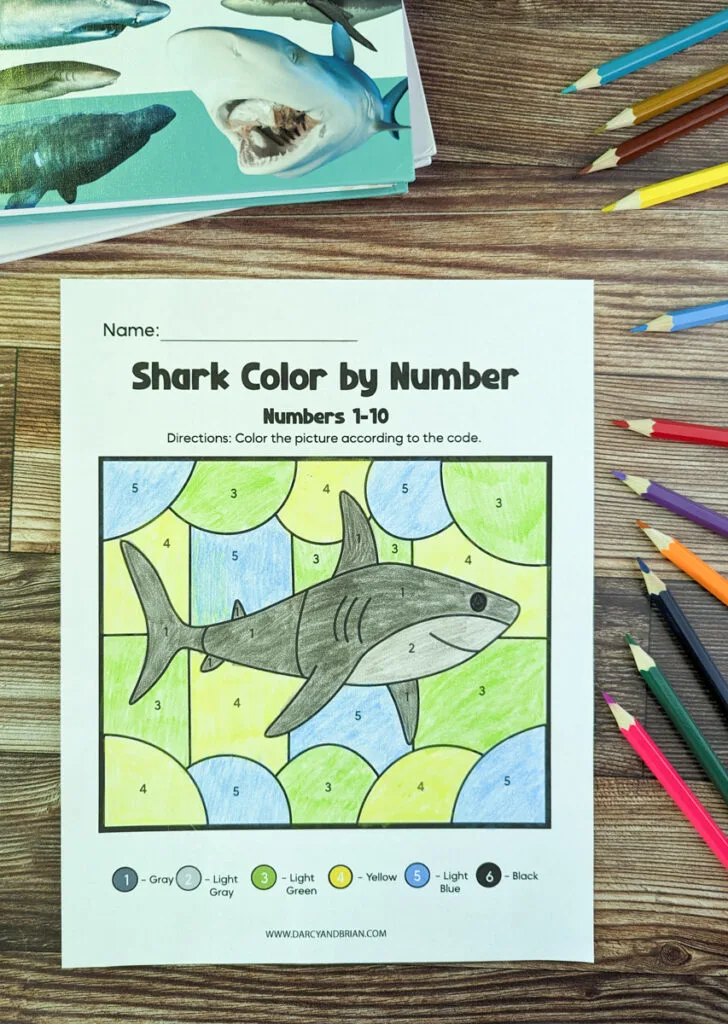 This activity not only provides a creative outlet but also promotes the development of precise movements and attention to detail.
Completing shark themed color by number pages also promotes focus and direction following – skills that will benefit your child throughout their academic career.
Don't worry if your little one scribbles outside the lines – it's all part of the learning process! So break out the crayons and colored pencils and let your child dive into the world of shark color by number.
How to Use Shark Color By Number Worksheets
Whether you're homeschooling or teaching in a classroom, these free printable shark color by number worksheets are the perfect addition to any ocean themed unit study or math center.
Not only will your kids have fun coloring in these iconic ocean predators, but they'll also have the chance to practice their math skills. They are ideal for preschool and kindergarten children, but kids of all ages can enjoy coloring them in.
This post contains affiliate links. As an Amazon Associate and a participant in other affiliate programs, we earn a commission on qualifying purchases.
This printable pack includes 8 pages of sharks to color. Kids can use colored pencils or crayons – whichever they prefer.
If you are wondering what the best printer is for all these printables, we highly recommend getting an Epson EcoTank printer. We bought one shortly after we began homeschooling and absolutely love it. We own the ET-3710, but just about any series will be helpful when you do lots of printing.
Arteza Kids Colored Pencils, Set of 48 Vibrant Colors, Triangular, Pre-Sharpened
Crayola Classic Color Crayons in Flip-Top Pack with Sharpener, 96 Colors
Epson EcoTank ET-3710 Wireless Color Inkjet All-in-One Supertank Printer, White
Crayola Erasable Colored Pencils 24 count
Other Fun Ocean Activities
In addition to our shark color by number worksheets, you might also have some fun with these other ocean activities:
Play a fun game of acting out clues with our ocean charades printable game. Kids have a blast trying to guess what the word or phrase is from the game cards. It's a super fun family activity too.
Embark on an enchanting journey into the mesmerizing depths of the ocean with our captivating ocean zone density jar. This engaging scientific activity presents a visually stunning depiction of the ocean's diverse layers.
Explore the fascinating world of sharks through engaging and interactive shark science experiments. Discover their incredible sense, understand buoyancy, and delve into other captivating aspects of these magnificent creatures.
Capture all the interesting facts and valuable information that students are acquiring through the use of our engaging and comprehensive Shark Research Worksheets. These educational resources provide a structured and interactive way for students to delve into the world of sharks, exploring their biology, behavior, and ecological importance.
Ocean Crafts
Kids love getting creative and our ocean crafts are a great way to do just that. From a simple paper plate jellyfish, to a bright and colorful coffee filter starfish, you'll find plenty of projects here to bring the ocean alive in your home.
Ocean Books
Curl up with a good book and explore the depths of the sea! Here are some great books about the ocean to read with the kids:
The Snail and the Whale
Dear Greenpeace 25th Anniversary Edition
Over and Under the Waves
Shark Lady: The True Story of How Eugenie Clark Became the Ocean's Most Fearless Scientist
The Snail and the Whale by Julia Donaldson – This heartwarming tale of friendship between a snail and a whale is fun to read aloud with its entertaining rhyming and repetition.
Dear Greenpeace by Simon James – Concerned about the well-being of the whale residing in her pond, Emily reaches out to Greenpeace. Despite their expert advice that a whale cannot thrive in a pond, Emily remains undeterred in her quest to find the best solution for her cherished aquatic companion.
Over and Under the Waves by Kate Messner – Discover the hidden realm beneath the crashing waves, where a secret forest of kelp thrives. Whales, wolf eels, and an array of vibrant sea creatures find sanctuary amidst the undulating kelp. Embark on a captivating journey to uncover the enchanting depths of this underwater world.
Shark Lady by Jess Keating is a captivating ocean picture book for kids. It tells the true story of Eugenie Clark, a remarkable woman who dedicated her life to studying sharks. With its engaging narrative and non-fiction approach, this book offers young readers an exciting exploration of the world of sharks and the science behind it.
No matter how you use these shark color by number worksheets, they are sure to be educational and entertaining! They provide a great opportunity for children to practice their number recognition skills, early math skills, focus, fine motor skills and more—all while having fun!
Plus, it's a screen-free activity that kids can enjoy. What's not to love?