Let's dive into the world of letters with a playful letter A alligator craft. This activity is designed specifically for preschoolers and kindergartners.
Not only is it a delightful way to engage your little ones, but it's also an excellent tool to familiarize them with the alphabet.
By using our free printable template and some simple supplies like construction paper, your child will get to practice their fine motor skills and enhance their letter recognition.
So, get ready to create, learn, and most importantly, have fun as we bring the uppercase letter 'A' to life with our alligator craft! And don't forget to check out our collection of other craft ideas for kids.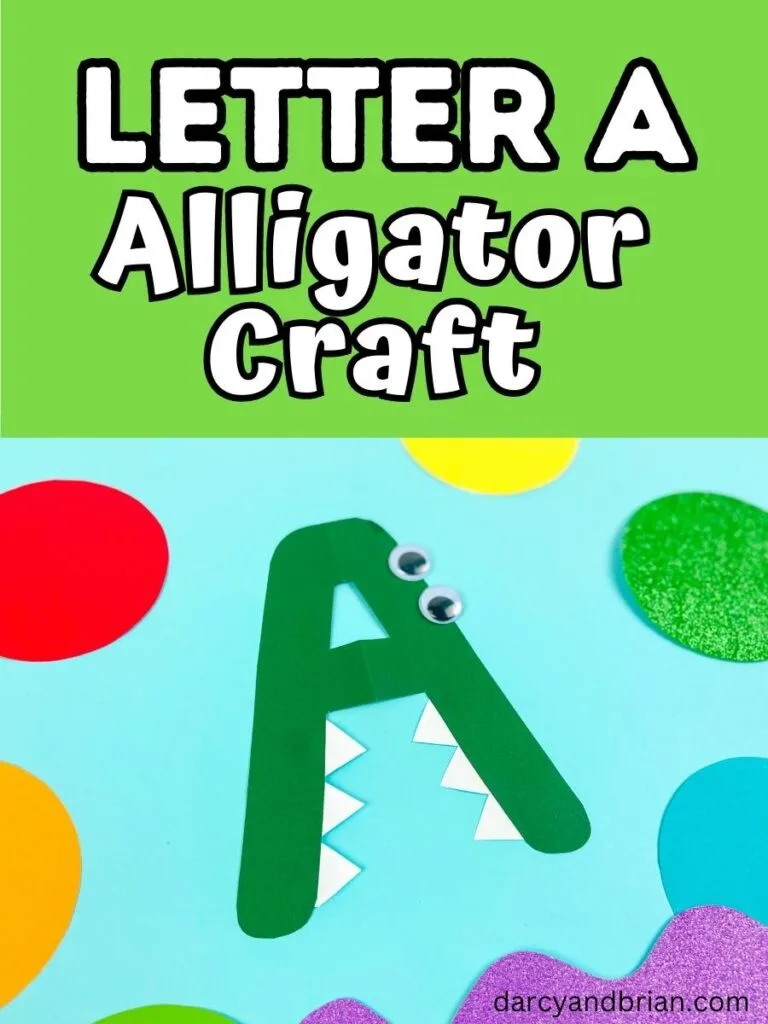 Engaging in simple cutting and pasting activities can effectively strengthen the hand muscles of young children.
Additionally, they thoroughly enjoy creating charming animal crafts, just like this adorable alligator! It also provides an excellent opportunity to enhance their understanding of the letter Aa and letter sounds.
Want more alphabet activity ideas? We also have tips on how to teach letter sounds using our A to Z winter themed printable booklet.
Free printable download available at the end of this post.
More Cute Animal Crafts
Animal-themed crafts are a wonderful way to both educate and entertain children. These crafts not only encourage creativity and imagination, they also introduce children to different animals and their unique characteristics.
Continuing with the animal alphabet theme, these crafts can be paired with relevant alphabet letters, making learning an exciting, hands-on experience.
This post contains affiliate links. As an Amazon Associate and a participant in other affiliate programs, we earn a commission on qualifying purchases.
Alligator Craft Supplies
This project uses materials you likely already have on hand or are easy to find when shopping at your favorite craft store. I've also included my Amazon affiliate link if you prefer to shop online.
How to Make a Letter A Alligator Craft
Download and print our free alligator template (available by filling out the form at the end of this post).
Cut out the Letter A template and trace it onto green construction paper. You can also print the template out on green paper to save a step. However, tracing is good practice for preschool children!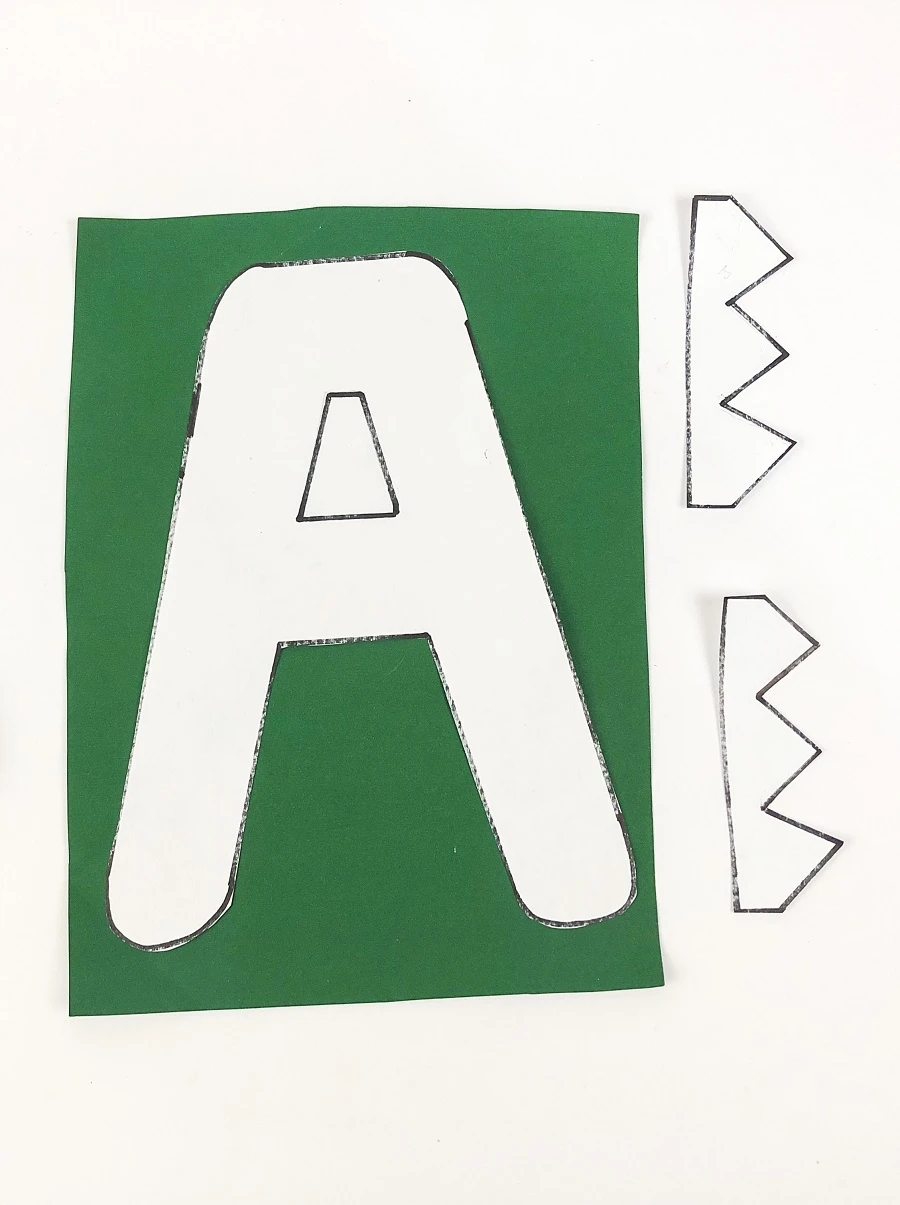 Cut out the teeth. You can use the printer paper teeth as is or trace them onto white construction paper or cardstock first, then cut them out.
Glue the alligator teeth to the inside of the lower part of the letter A. Next, attach the eyes near the top of the A.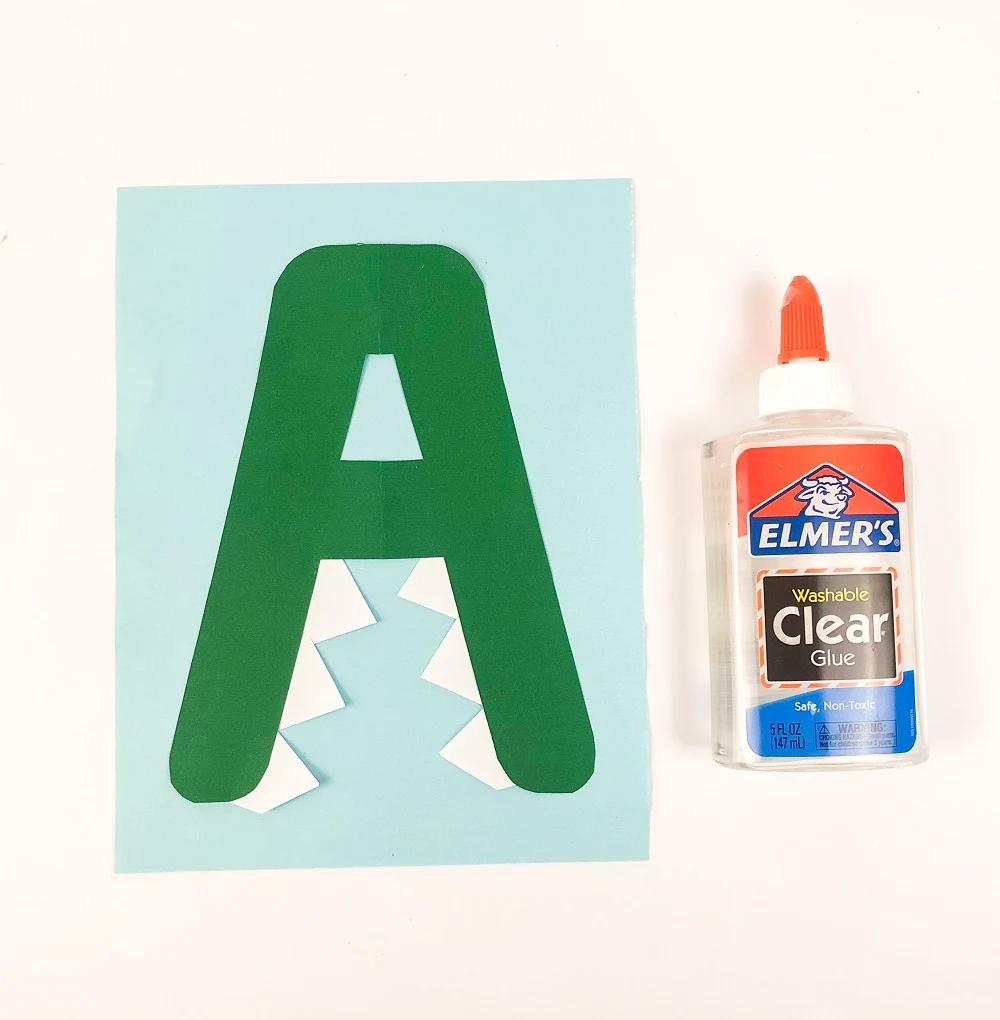 When you tilt the A on its side, it looks like an alligator with its mouth open! You can display your child's creation as is or have them glue it onto a full size piece of paper.
Tips for Enhancing This Craft
One great way to add a little extra sparkle to this alligator craft is by introducing other materials such as tissue paper, googly eyes, or glitter glue.
This will make it even more fun and engaging for your child, allowing them to express their creativity.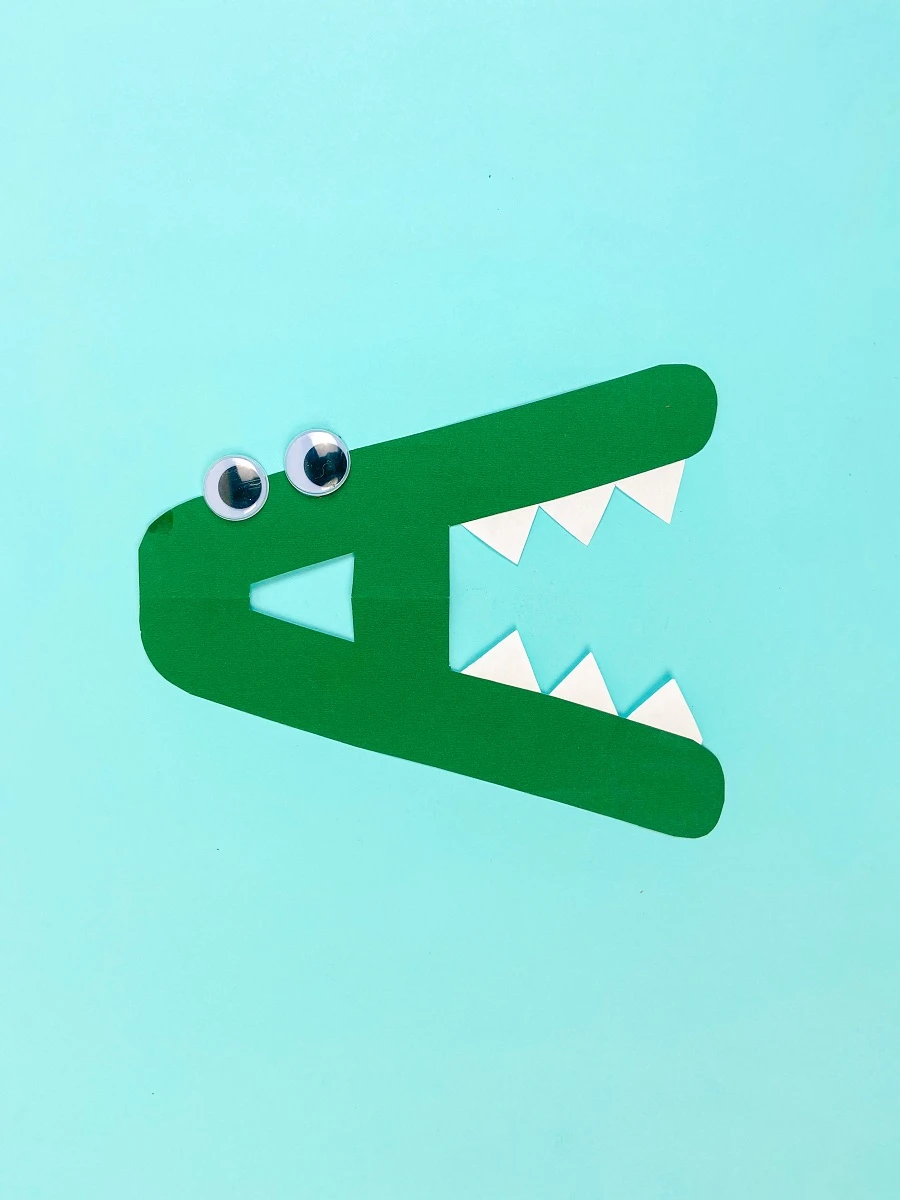 Furthermore, you can also read some of the stories about the alligator or find some videos on the internet to learn more about this incredible creature!
This will help your child gain a better understanding of what they are creating and make their learning experience even richer.
Educational Benefits of Making an Alphabet Alligator Craft
This craft can easily be done with preschoolers and kindergartners, making it the perfect activity for this age group.
The letter A alligator craft provides numerous educational benefits for young learners. Not only does working on this craft help your child with their fine motor skills and letter recognition, it also helps them develop visual discrimination skills by paying attention to the details of the cut-out shapes.
Additionally, when you discuss with your child about what animal they are creating, it allows you to introduce them to different animals and their characteristics.
This is an excellent way for your child to learn new words and develop a better understanding of the world around them!
By participating in activities such as creating an alligator craft, children can develop the necessary skills for school and build confidence to take on any other learning challenges that come their way.
Fun Facts about Alligators
Did you know that alligators have been around since the time of the dinosaurs? They live in freshwater swamps and marshes and live up to 50 years in the wild. In captivity, they can live to be 65-80 years old!
Alligators also have powerful jaws that enable them to eat prey with ease, while their tough skin helps protect them from predators. They also effortlessly hold their breath for 20 to 30 minutes regularly while swimming and diving.
Books About Alligators
If you're searching for books to enjoy with your child that delve into the world of alligators, here are a handful of recommendations for both fiction and non-fiction:
There's an Alligator under My Bed (There's Something in My Room Series)
See You Later, Alligator
Alligators and Crocodiles
Alligators and Crocodiles Can't Chew!: And Other Amazing Facts (Ready-to-Read Level 2) (Super Facts for Super Kids)
More Letter A Activities
Once your children have created their alligator crafts, you can extend this activity even further with some fun hands-on learning activities. You can review letter sounds and words that begin with Aa.
You can also have your kiddo draw their own version of the alligator craft, or make a story about an alligator adventure!
If you're looking for more letter A crafts, why not try one of these cute ant crafts or our apple popsicle stick craft? Each craft is fun and engaging while helping your child work on their fine motor skills.
This upper and lowercase letter matching activity is another way for little ones to work on letter recognition.
Kids will enjoy coloring in this Letter A coloring page. The possibilities are endless – be inspired by these letter activity ideas and let your creativity take over!
Another fun ABC activity is to work on these alphabet letter puzzles. Children will strengthen their fine motor skills by cutting apart the pieces while working on letter recognition to recreate each letter.
With this alligator craft, it's easy to help your child learn about letters while having fun at the same time.
Animal alphabet crafts are especially engaging because they combine letter recognition, fine motor skills practice, and creative play. So why wait? Start crafting with your little one today!
Letter A is for Alligator Craft
Estimated Cost:
$5 or less
Make learning the alphabet fun with this Letter A Alligator craft. It's perfect for preschool!
Materials
Printable Letter A Alligator Craft Template
Green Construction Paper or Cardstock
White Construction Paper or Cardstock
Googly Eyes
Glue
Instructions
Print out the letter A craft template (available at the bottom of this post).
Cut out the A and trace it onto green paper.
Cut out the zig zag teeth shapes.
Cut the green A out.
Glue teeth to the inside of the A to look like an allligator mouth.
Glue on two googly eyes.
Recommended Products
As an Amazon Associate and member of other affiliate programs, I earn from qualifying purchases.