Here at Life With Darcy and Brian, we love to create and share fun, educational fall activities for children of all ages. We offer a range of ideas suitable for toddlers through elementary school-age children, ensuring there is something to captivate and engage every young mind.
Whether it's incorporating autumn themes into art projects or exploring the science of why leaves change color, our activities add an enriching touch to your fall-themed unit studies and centers.
These activities, designed to stimulate creativity and cognitive development, can be utilized both at home and school, making learning an enjoyable experience.
Incorporating seasonal activities into lessons and playtime is not just fun but highly beneficial. It's a creative method to keep children engaged in learning by blending the excitement of the season with essential skills and concepts.
For instance, a simple pumpkin carving session can turn into a lesson about shapes, or a leaf collection activity can turn into a science lesson on photosynthesis.
This approach makes education feel less like a chore and more like an adventure. It allows children to grasp and reinforce their learning in a lively and relatable context, enhancing their cognitive development and fostering a love for learning.
Fun Fall Activities for Kids
Let's discover the endless fun that fall has in store for our little ones! Autumn brings countless opportunities to spark creativity, curiosity, and learning in children.
From arts and crafts to educational projects, fall is the perfect time to introduce a variety of enjoyable and enriching experiences. Check out this fantastic collection of fall activities for your kids.
For even more fall-centric ideas that are perfect for the little ones, check out our collection of fall activities for toddlers. These ideas are designed to keep the little ones busy, happy, and learning.
Don't forget to spend quality time reading together too. Head to the library or local bookstore to enjoy a selection of fall picture books for kids.
The Biggest Pumpkin Ever
We're Going on a Leaf Hunt
Pete the Cat Falling for Autumn
The Very Last Leaf
Pumpkin Jack
There Was an Old Lady Who Swallowed Some Leaves!
Pumpkin Activities for Preschoolers
Pumpkins are an iconic symbol of fall and an excellent resource to introduce preschoolers to the magic of the season. Our pumpkin activities for preschoolers are designed to engage our youngest learners with interactive and hands-on experiences.
These activities not only celebrate the joy of the season, but also encourage fundamental skills like sensory exploration, fine motor development, and early math and science concepts.
These fun, pumpkin-themed tasks will ignite their imagination, stimulate their curiosity and make learning a truly enjoyable journey.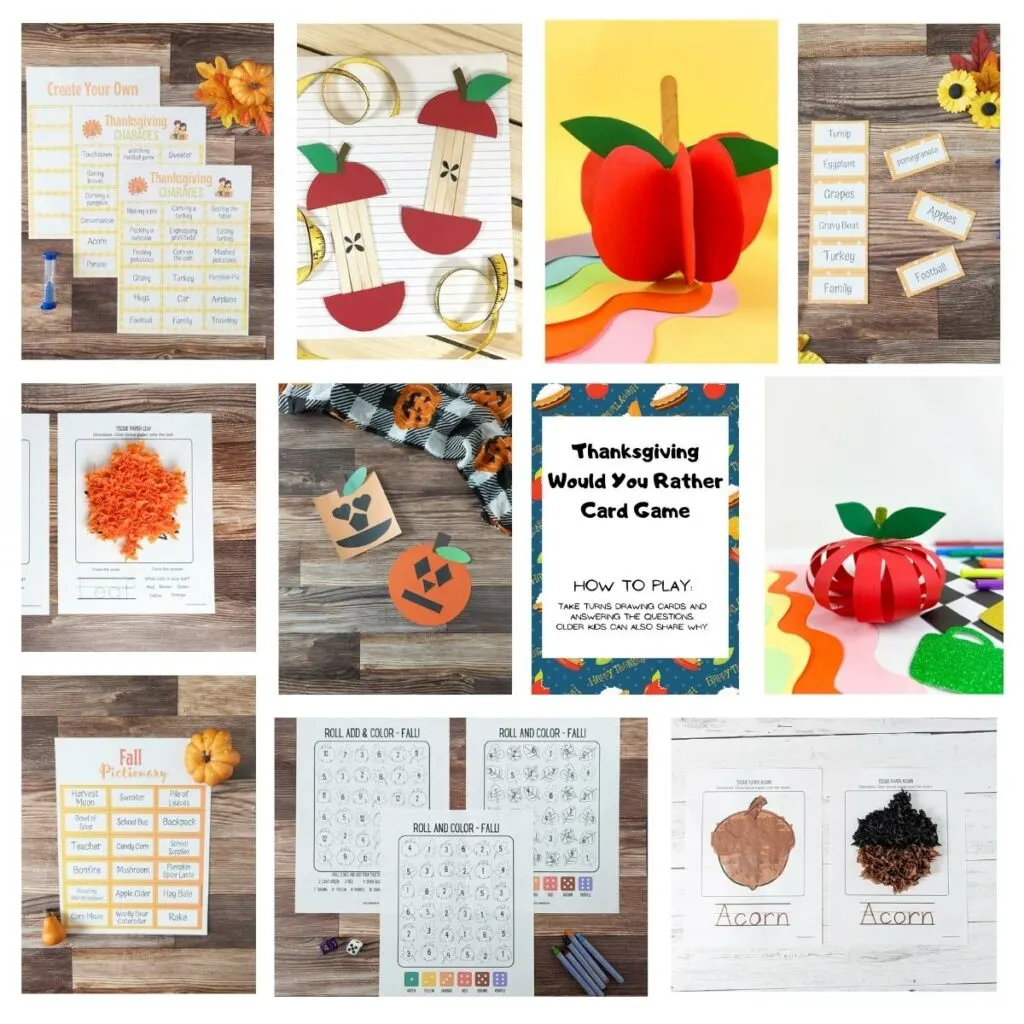 Fall Crafts for Kids
Immerse young learners in the wonderful world of fall with our exciting range of craft projects. These projects tap into the vibrant colors and rich textures that define the season, allowing children to express their creativity while developing fine motor skills.
Autumn crafts also offer a unique opportunity to blend learning with hands-on creation, encouraging kids to explore the world around them in a meaningful way.
Whether crafting a colorful leaf collage or designing their own fall-themed masterpiece, these fall crafts for kids bring the magic of autumn right into their hands, fostering a deeper appreciation of the season.
Apple Barrel Acrylic Paint Set, 16 Piece (2-Ounce), Best Colors Count
Bassion Pack of 2 Kids Art Smocks, Children Waterproof Artist Painting Aprons Long Sleeve with 3 Pockets for Age 2-6 Years
AdTech Ultra Low-Temp Cool Tool | Mini Hot Glue Gun for Safe Crafting | Children and Kids | Item #05690 , White
Aleene's Turbo Tacky Glue, 4 FL OZ – 3 Pack, Multi
Thanksgiving Printable Activities
Thanksgiving is a time of gratitude, togetherness, and delicious food. What better way to engage kids during this special occasion than with our collection of Thanksgiving printable activities?
These activities range from engaging printable games that offer hours of entertainment to educational worksheets that blend learning and fun!
These resources are perfect for use at home or in the classroom, providing a festive and interactive way for kids to appreciate the holiday.
Epson EcoTank ET-3830 Wireless Color All-in-One Cartridge-Free Supertank Printer with Scan, Copy, Auto 2-Sided Printing and Ethernet – The Perfect Printer Productive Families,White
Astrobrights/Neenah Bright White Cardstock, 8.5
Firbon A4 Paper Cutter 12 Inch Titanium Paper Trimmer Scrapbooking Tool with Automatic Security Safeguard and Side Ruler for Craft Paper, Coupon, Label and Cardstock (Black)
Classroom Timers for Teachers Kids Large Magnetic Digital Timer 2 Pack
TIHOOD 24PCS Sand Timer Assortment Plastic Sand Clock Timer 30s / 1min / 2mins / 3mins / 5mins / 10mins for Adult Kids in Classroom Kitchen Games Office
Charles Leonard Dry Erase Lapboard Class Pack, Includes 12 each of Whiteboards, 2 Inch Felt Erasers and Black Dry Erase Markers (35036)
Halloween Activities for Kids
Experience the chills and thrills of Halloween with our spine-tingling range of activities for kids. These activities blend fun, creativity, and holiday spirit, perfect for making this Halloween an unforgettable one.
Whether at home or in the classroom, these Halloween activities for kids are designed to entertain and engage children.
From crafting spooky decorations to playing themed games, kids can immerse themselves in the spooky, exciting atmosphere of Halloween while developing important cognitive and motor skills. Hold on to your broomsticks, because a spook-tacular adventure awaits!
This collection of fall activities for children offers a unique blend of learning, creativity, and fun that can be enjoyed at home or in the classroom. Whether it's exploring nature, creating crafts, or engaging in educational games, these activities are designed to stimulate young minds and make the most of the autumn season. So, gather the little ones and embark on a journey of discovery and excitement this fall!