Do you remember collecting leaves and making leaf rubbings as a kid? I do! This is one of many fun fall activities for children that is both engaging and educational.
Most kids enjoy exploring nature and discovering the world around them. Capture this love of nature by completing this Leaf Rubbings Idea for Kids.
Making leaf rubbings is the perfect science activity for little naturalists and is ideal for kids in preschool, kindergarten, or first grade.
Kids will have a blast hunting for leaves then making rubbings to preserve the leaf shape for the future.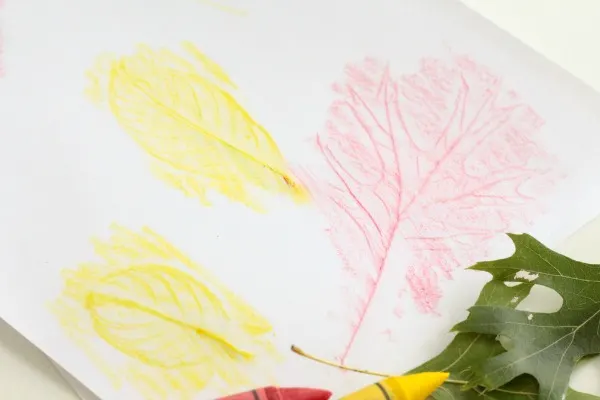 It's also the perfect nature science activity to do along with fall counting mat activities and reading these fall picture books.
Leaf Rubbings Idea for Kids
This is most commonly done in the fall as the leaves fall off trees but is a great activity for year round. Children have fun, while parents are happy to have them do something that doesn't require a lot of money or supplies!
You'll need a few simple supplies to make this experiment work, but you probably already have everything you need at home. That means it is a last minute kids activity or fall craft idea that you don't have to go shopping to manage.
With the supply list below and some focus on creativity, your children will have a blast with this time honored traditional leaf rubbings idea.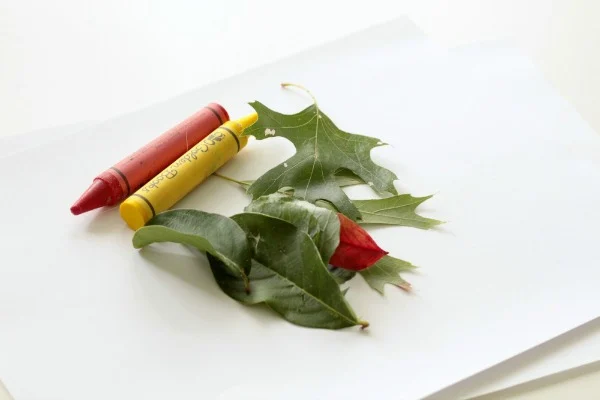 This post contains affiliate links. As an Amazon Associate and a participant in other affiliate programs, we earn a commission on qualifying purchases.
Supplies needed for Leaf Rubbings: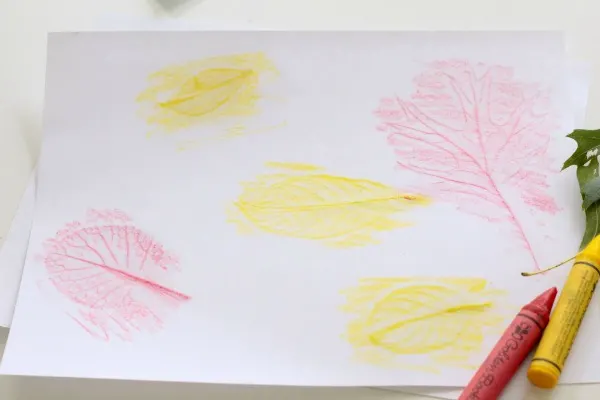 How to create Leaf Rubbings:
Spend some time outdoors collecting leaves from various trees and plants. Look for them in your yard or go on a walk to see what you can find around your neighborhood or at the park. In our experiment, we were able to collect an oak leaf, a leaf from a potato plant, and a few other leaves from our yard.
We found that the dried leaves fell apart too quickly to be used as rubbings, so we stuck to green leaves. You may want to grab leaves just as they fall from trees since they aren't too dry at that point, but will be easy to access.
Place the leaves rough side up between two pieces of white paper.
Show the kids how to gently apply pressure to the crayon and rub across the paper to reveal the leaf's pattern.
How to use Leaf Rubbings in homeschool or education:
Examine the rubbings up close with a magnifying glass. Take time with each leaf as well as each of the leaf rubbings to ask questions and interact with your children and their observations.
Below are some great questions to get you started:
How are the leaf rubbings different?
How are the leaf rubbings the same?
What are the differences between leaf types?
How are the rubbings different from the leaves themselves?
Why are leaves different shapes?
Use a magnifying glass to examine the leaves and the rubbings and you can find out a lot about leaves! Save the rubbings into a little science notebook for future exploration and examination.
You can also teach kids how to preserve leaves (for crafting). Then they can get creative making crafts with them or simply display their leaf rubbings in a shadow box to use as decor.
As you can see, this is a great idea for encouraging kids of all ages in science!
Leaf rubbings in various colors make an excellent image to put around your home for Fall. Make these, and mark the date and year on them to make a long lasting memory the entire family will love to see!
More Kids Activities: