Looking for a Thanksgiving game for family to play? This free Printable Gratitude Game is great for any family gathering, but is perfect for the Thanksgiving holiday.
I think it's important to teach my kids kindness, compassion, and gratitude. One of the best ways to do this is by example. Combining this with playing printable games for kids is a wonderful way for them to learn without it feeling like a lesson.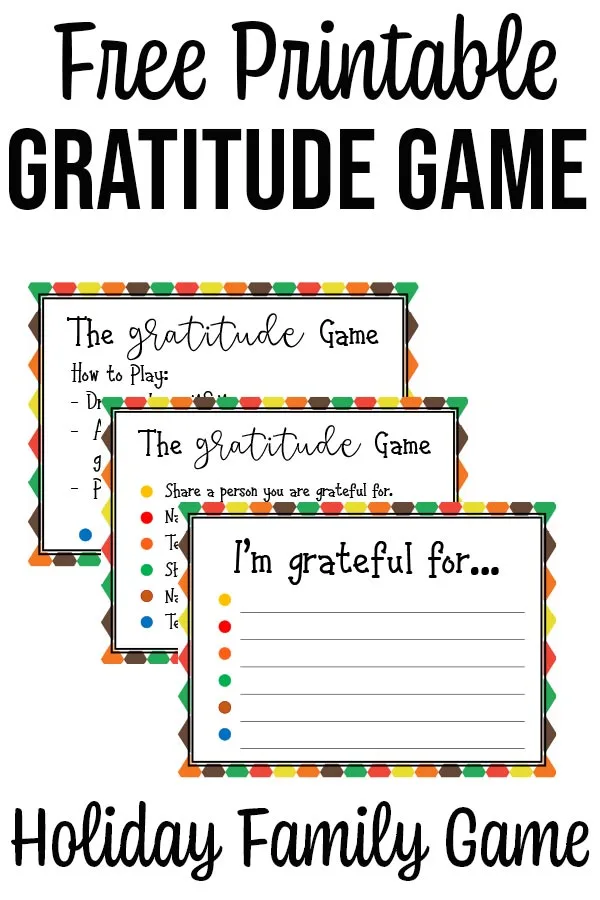 If you like this printable game, check out these other Thanksgiving printable activities for kids and families.
More Thanksgiving Ideas:
This post contains affiliate links. As an Amazon Associate and a participant in other affiliate programs, we earn a commission on qualifying purchases.
How to Play the Gratitude Game
Even though we tend to talk a lot about showing gratitude and giving thanks during the month of November, this printable Gratitude Game can be played any time of year.
It's a nice ice breaker to use at family holidays, but can also be played solo. Think of it as a new twist on keeping a gratitude journal!
To play this game, grab the printable down below and print it out at home or at a local print shop. You only need one set of the rules, but make as many copies of the cards as needed so everyone has something to write on.
If you are using this Gratitude Game in a classroom or for a daily or weekly activity, laminate the Gratitude Game cards and the kids can write their answers with dry erase markers.
Gratitude Thanksgiving Game Rules
Pass out the cards.
Pour M&Ms in a small bowl.
Pick an M&M and match the color prompt.
Write down what you are grateful for on the matching color line or say what you are grateful for to the group.
Eat your piece of candy and pass the bowl to the next person.
You can use this as a Thanksgiving game to play while waiting until it is time to eat or go around the dinner table.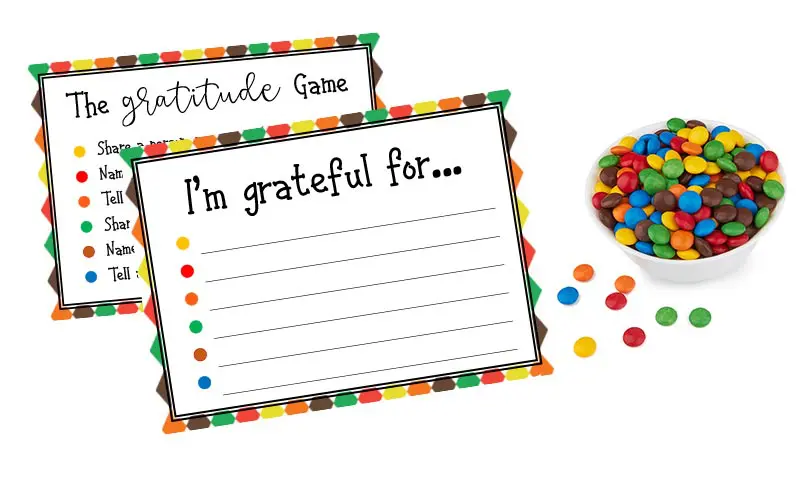 If you do not have any M&Ms, you can use Skittles or other small candy in similar colors.
A non-food option is to use mini pom poms, and place it back in the bowl after your turn is over.
Want more printable games to play? Have fun with these printable Disney charades clues!
More Printable Games:
Gratitude Thanksgiving Game Printable
We hope you enjoy using the printable Thanksgiving Gratitude Game with your family. Save a copy for your personal use at home or in your personal classroom.
Share this post with another parent or teacher who would love it so they can get their own copy.