We're all about creating memorable fall activities for children and their families. That's why we've curated a list of Fall Minute to Win It games that'll bring joy and laughter to any setting.
These games can be enjoyed at home with family and friends or in classrooms, serving as perfect brain breaks to get kids moving and having fun.
We believe that learning and entertainment can go hand in hand, and these quick-paced games offer just that – cognitive stimulation through playful challenges. Get ready to make this fall season unforgettable with this collection of games!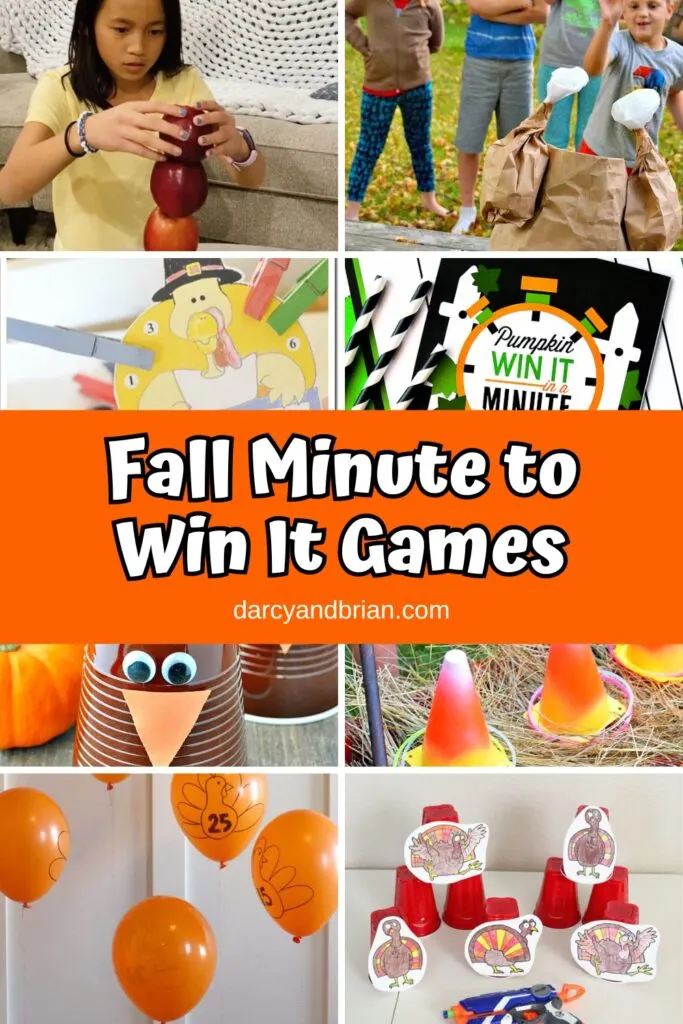 We strongly believe that learning can and should be fun. We also believe that games offer an enriching array of benefits to children.
While a game might not appear educational on the surface, it's important to remember that kids are constantly learning and honing their skills as they participate.
They're enhancing their problem-solving abilities, refining their quick decision-making skills, and even developing their interpersonal skills as they play and engage with others.
Plus, we strongly believe in the importance of taking time out to simply enjoy, laugh, and have fun.
Games, in our view, provide the perfect opportunity to create these joyful moments. They serve as wonderful platforms for children and adults alike to connect, bond, and create unforgettable memories with family and friends.
Family Games to Play at Thanksgiving
Thanksgiving is a time for family, friends, and togetherness. However, it can also be a challenge to keep everyone entertained throughout the day, especially if you have a diverse group with varying interests and ages.
This is where our general Minute to Win It games for kids, as well as the fall themed ones below, can come into play.
Other fantastic options to consider include conversation ice breakers, perfect for getting to know one another better, and group party games that can cater to larger crowds.
What Are Minute to Win It Games?
Minute to Win It games are engaging and fast-paced challenges that are designed to be completed in one minute or less.
These games typically involve tasks that require dexterity, quick thinking, or problem-solving skills, using readily available, everyday items.
They are perfect for parties, gatherings, or as a fun family pastime, adding an element of excitement and competition. They are easy to understand, quick to play, and a surefire way to liven up any event.
How Do You Play Minute to Win It?
Playing Minute to Win It games is simple and straightforward! Essentially, participants are competing against each other to see who can complete the challenge or task the quickest, all within a one-minute time frame.
Each game comes with its own set of instructions which are easy to understand. Once the clock starts ticking, your goal is to finish the task as fast as you can before time runs up.
Remember, it's not just about speed, but also about accuracy and quick decision-making.
These games are an excellent test of agility, quick thinking, and a fun way to instigate some friendly competition. Get ready to enjoy a thrilling experience where every second counts!
This post contains affiliate links. As an Amazon Associate and a participant in other affiliate programs, we earn a commission on qualifying purchases.
Minute of Fun Party Game – Amazing, 237 Minute to Win It Games
Gutter Games Beat That! – The Bonkers Battle of Wacky Challenges
Super Skills – Action Game for Competitive People
Squirrel Products Battle of The Beards Game, Funny Party Game
Birthday Party Games for Kids 4-8 8-12, Shaking Swing Ball Toys Minute to Win It Game
Floor is Lava Escape Challenge Kids Game
What Are the Benefits of Playing Minute to Win It Games for Kids?
Apart from being incredibly fun, Minute to Win It games also offer a host of benefits for kids. These quick-thinking challenges can help improve cognitive skills such as problem-solving, memory, and decision-making.
They also promote healthy competition and team-building among children. Playing these games in school or at home provides an opportunity for kids to learn new skills through play.
It is also a great way to keep kids engaged and entertained, especially during the fall season when outdoor activities may not be feasible.
So get ready for some silly, exciting, and challenging fun with Minute to Win It games!
Helpful Items for Playing Fall Minute to Win It Games
One of the best aspects of Minute to Win It games is their versatility; they often make use of common household items, negating the need for extravagant or expensive equipment.
From disposable cups and straws to ping pong balls, most of the supplies required for these games can be found right at home.
When it comes to fall Minute to Win It games, a delightful twist is introduced by incorporating autumn-themed elements such as turkeys and pumpkins into the challenges.
This makes them perfect for seasonal get togethers and also amplifies the fun factor. Some of the games listed below also make great Halloween activities for kids.
For more convenience, there are also Minute to Win It party game kits available. These kits come packed with an array of challenges and necessary supplies, making setup a breeze and allows you to dive into the games without any delay.
More Fun Family Board Games
Family board games serve as an excellent choice for family game nights, enabling all members, regardless of age, to participate, compete, and enjoy.
These games offer a fun-filled experience that also facilitates quality time together, fostering stronger bonds and communication within the family.
Additionally, they can also be a versatile tool for homeschooling lessons. With their inherent emphasis on rules, strategy, and critical thinking, board games can be effectively used to reinforce educational concepts from math to geography in a fun, engaging way.
Fun Fall Minute to Win It Games
Now that you know about the basics of playing Minute to Win It style games, it's time to explore some fall-themed games that are perfect for the season.
These games are not only entertaining but also incorporate elements of autumn, making them ideal for Thanksgiving or any fall gathering.
Fall Minute to Win It games are great for the whole family to play together.
The games listed below can be played by kids of all ages, but some may need to be modified slightly for younger players.
You can allow more time or not be as strict on the rules so that everyone, even the little ones, can have loads of fun!
As the leaves turn and the air grows crisp, these fall-themed Minute to Win It games offer a splendid way to keep your family entertained. Whether you're hosting a Thanksgiving gathering or simply wanting to spice up an ordinary day, these games provide a laugh-filled experience.