This 30 Days of Fall Picture Books printable list is a fun way to plan for reading fall books with your kids. It's a fantastic way to get your preschooler into a daily reading routine too.
Changes are happening all around during the fall season and are observable for children. Use the 30 Days of Fall Picture Books printable calendar to explore why the color of the leaves change every fall.
All children delight in seeing the leaves turn brilliant colors throughout the season. Want more great fall activities for preschoolers? Check out our printable fall counting mats and pumpkin size sorting activity.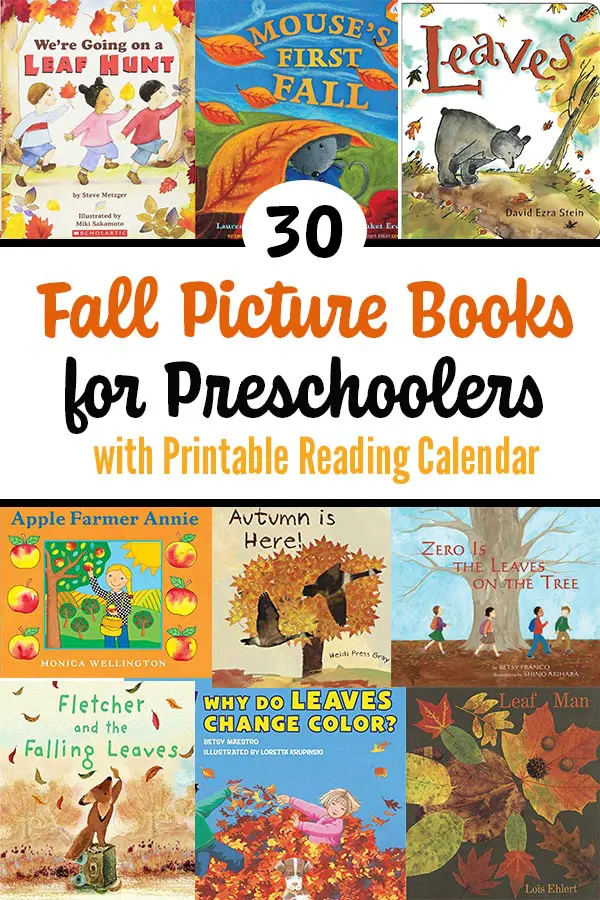 Why Read Picture Books About Fall?
The smell of cinnamon, pumpkins everywhere, and warm cozy sweaters mean fall has arrived. The changing of the seasons from summer to fall means a plethora of reasons to grab picture books and read.
With the cooler weather, you can take time to explore the outdoors in conjunction with your stories. Take time to sit under a tree and read one of these fall books for kids.
Let the stories spark their imagination with all of the things they are observing outside.
Apples reach their peak season during autumn. Who doesn't love the story of Johnny Appleseed or learning to bake an apple pie?
Don't forget to serve up some warm apple cider on those cool crisp days!
Pumpkins are also a fall staple. It's the perfect time of year to plan all kinds of fall activities around pumpkins, such as this pumpkin counting activity. Continue your exploration with fun pumpkin picture books to capture your student's imagination.
Fun stories about jack-o-lanterns, making pumpkin soup, and even let them discover how other things may look like pumpkins but are, in fact, not a pumpkin.
Fall means lots of opportunities to read books and then getting to taste all the fall goodies you can make with apples and pumpkins, like our pumpkin chocolate chip pancake muffins.
We have even more year round kids activity ideas, so be sure to check those out!
30 Fall Picture Books List
This post contains affiliate links. As an Amazon Associate and a participant in other affiliate programs, we earn a commission on qualifying purchases.
Here is the full list of fall books we've included on the printable reading list at the bottom of this post. You can look for these titles at your local library or shop the links to build your home library.
More Fall Activities You May Enjoy:
30 Days of Fall Picture Books Printable Calendar
After you download and save the printable list of fall books, you may print it out at home or at a local print shop.
This printable book list is for personal or classroom use only. Share this post with someone you know who would love it!
Click to download 30 Fall Picture Books Calendar
When the weather turns stormy during you will want to cozy up with a good book to pass the time. With the 30 Days of Fall Picture Book Printable, you will always have a good book about fall already chosen!