Are you in search of fun and easy Thanksgiving crafts for kids to keep them entertained? Then you'll love our Shape Pumpkin Craft! It is the perfect activity that not only sparks creativity but also promotes learning.
This engaging craft allows children to explore the world of simple geometry while improving their fine motor skills.
With our free printable craft template, kids can have a blast creating unique pumpkin faces with a variety of shapes. Get ready for a delightful crafting experience that combines creativity, learning, and holiday fun!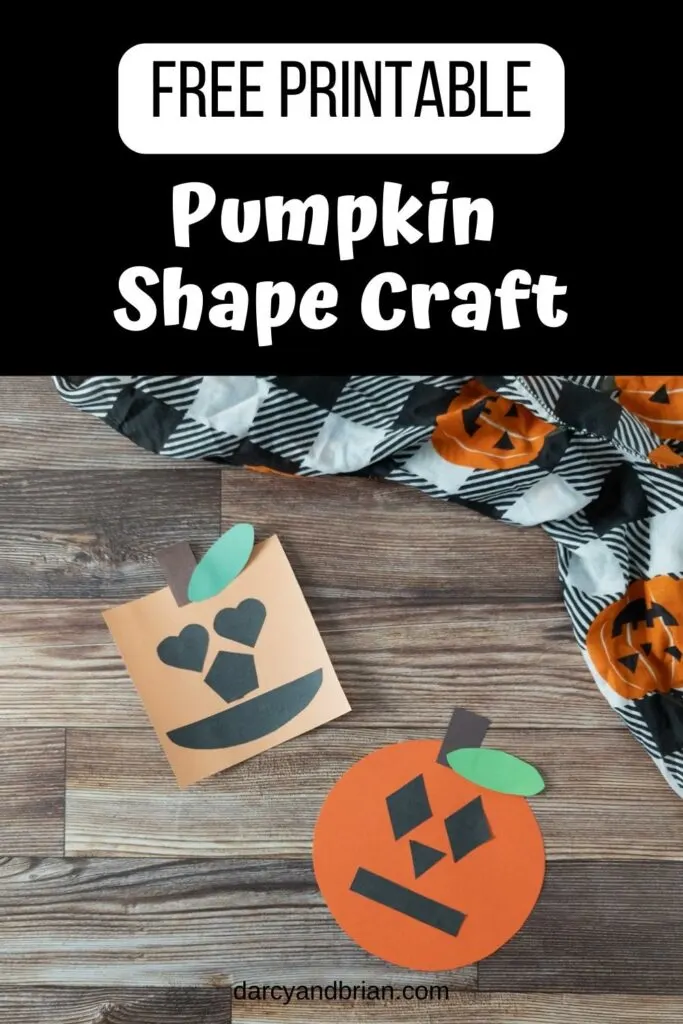 Including crafting in lessons has been shown to be a super effective strategy in helping kids learn and remember information.
Doing hands-on activities, like making crafts, helps with spatial thinking, boosts creativity, and reinforces cognitive abilities.
These activities let kids explore and understand concepts in a more hands-on way, which helps them understand and remember better.
Adding seasonal themes makes it even more exciting and interesting, keeping lessons fresh.
Making pumpkin shape crafts is perfect for fall and not only teaches about different shapes but also makes a cute seasonal decoration.
It's a fun and educational activity for parents and teachers who want to make learning interactive.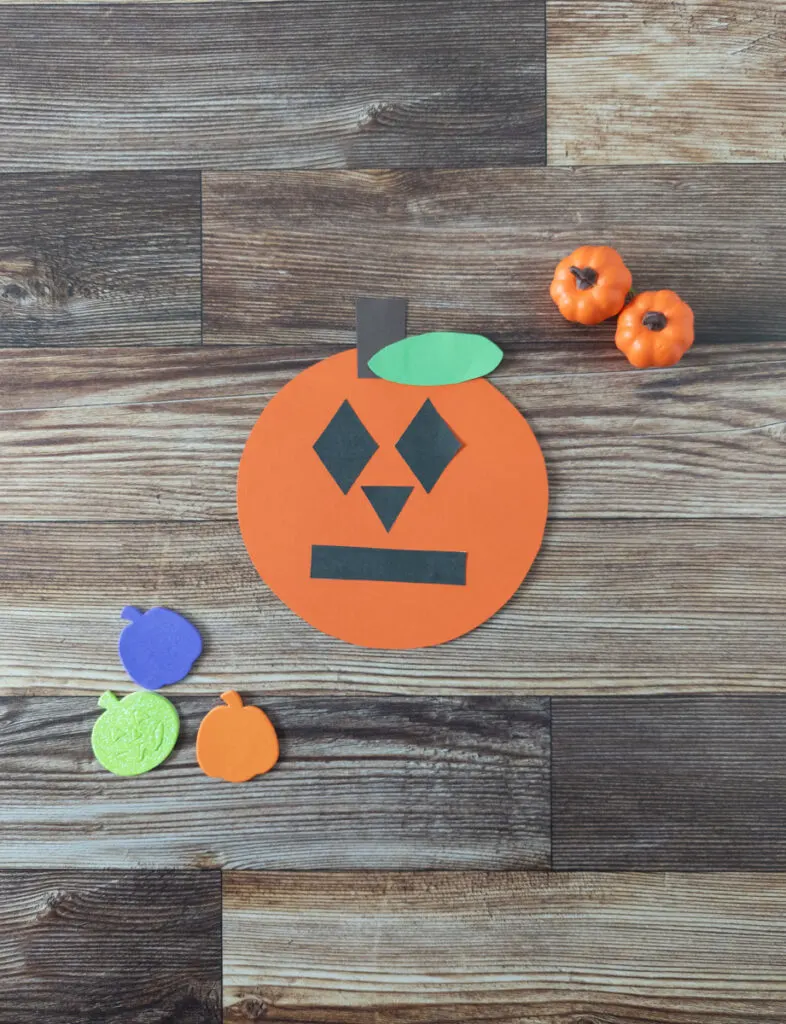 More Pumpkin Activities for Preschoolers
Whether you're a parent or an educator, you'll love these pumpkin-themed activities designed specifically for preschoolers. These fall activities for children are both fun and educational, ensuring that the little ones are engaged while they learn.
From pumpkin crafts to counting games, there's no shortage of ways to incorporate this fall favorite into your lesson plans. The activities work on their motor skills, creativity, and cognitive abilities while also teaching them about the fall season. Get ready to explore a world of learning with pumpkins!
Pumpkin Books for Kids
To deepen the educational impact of our pumpkin craft activity, we recommend pairing it with captivating, pumpkin picture books for kids. These children's books not only supplement the hands-on learning experience but also inspire a love for reading.
They vividly narrate the mysteries of the fall season, the joy of pumpkin harvest, and fascinating tales of Halloween, making the craft activity even more relatable and engaging.
These books are perfect for inquisitive young minds, blending the fun of story time with the excitement of the season.
So, grab a cozy blanket, your freshly crafted pumpkin, and embark on an exciting reading journey with these delightful, pumpkin-themed books!
This post contains affiliate links. As an Amazon Associate and a participant in other affiliate programs, we earn a commission on qualifying purchases.
Pete the Cat: Five Little Pumpkins: A Halloween Book for Kids
Spookley the Square Pumpkin
It's Pumpkin Day, Mouse! (If You Give…)
The Biggest Pumpkin Ever
Biscuit Visits the Pumpkin Patch
Seed, Sprout, Pumpkin, Pie (Picture the Seasons)
Benefits of This Shape Pumpkin Craft
This Shape Pumpkin Craft offers numerous benefits, perfect for preschool and kindergarten children. The activity promotes fine motor skills as children trace, cut, and paste various shapes into pumpkin designs.
It's more than just a fun craft; this activity also fosters shape recognition. Children will be able to identify and differentiate between a circle, square, octagon and many more as they construct their unique pumpkin faces.
The craft serves as a hands-on, engaging approach to learning basic geometric shapes, making education a fun and enjoyable process.
This simple yet effective activity is an excellent choice for parents and teachers looking to incorporate interactive learning into their routine.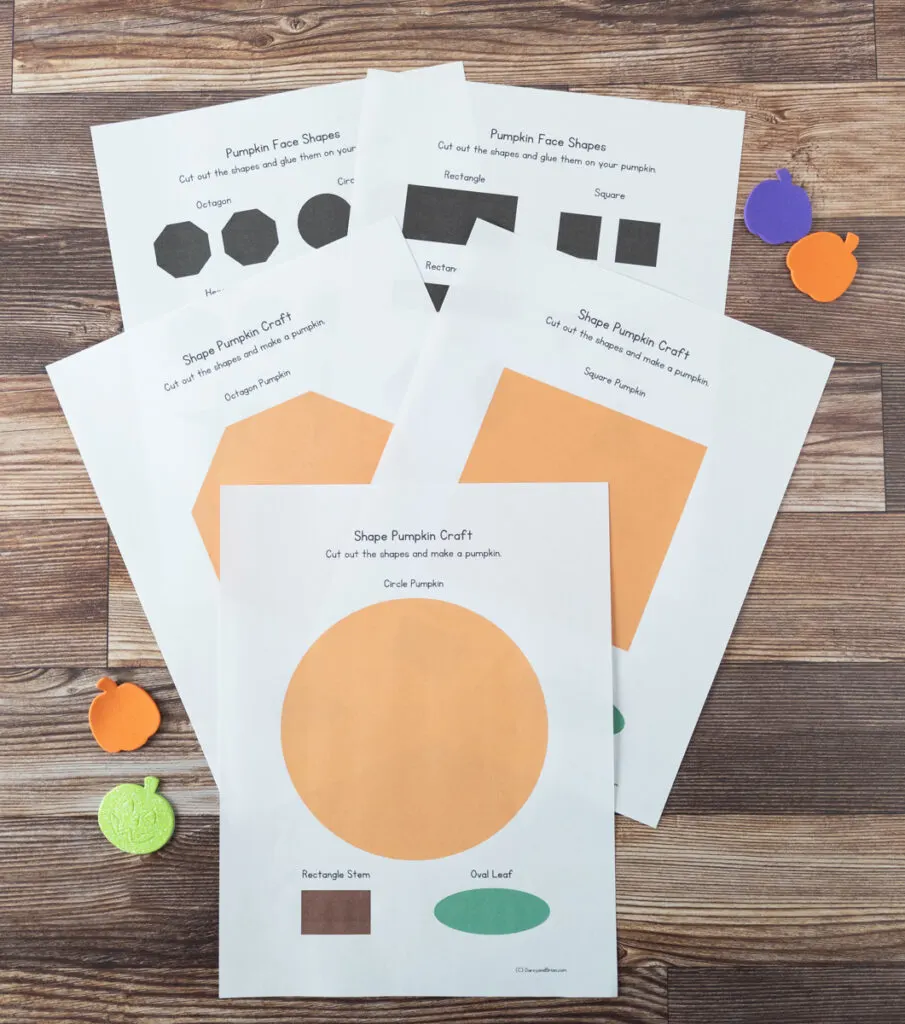 Why Do Preschoolers Need to Learn Shapes?
Learning shapes is a fundamental skill for preschoolers. It lays the foundation for developing crucial math concepts, such as spatial awareness, geometry, and measurement.
Shape recognition also plays a significant role in enhancing cognitive development by promoting visual discrimination and problem-solving skills.
Additionally, learning shapes can help children understand and describe their surroundings better, leading to improved communication and language skills.
The benefits of learning shapes extend far beyond the classroom, making it an essential skill for children to learn at an early age.
Chuckle & Roar – Shape Makers – Tangram Puzzle for Kids 3 and up
Colors & Shapes Bingo Game
Melissa & Doug Shape Sorting Cube
Fisher-Price Make-A-Match Card Game with Little People Theme
I Spy, You Spy – Shapes & Colours!: A Fun Guessing Game for 2-4 Year Olds
What's Included in the Shape Pumpkin Craft Printables?
Our free printable includes three pumpkin shapes: circle, square, and octagon. Each shape comes in both full color and black and white versions to cater to different preferences.
The printable also includes two pages of smaller shapes that children can use to create unique faces for their pumpkins. These include hearts, stars, semi-circles, rectangles, triangles, and more.
With a variety of options available, this activity allows children to develop their creativity while learning about shapes.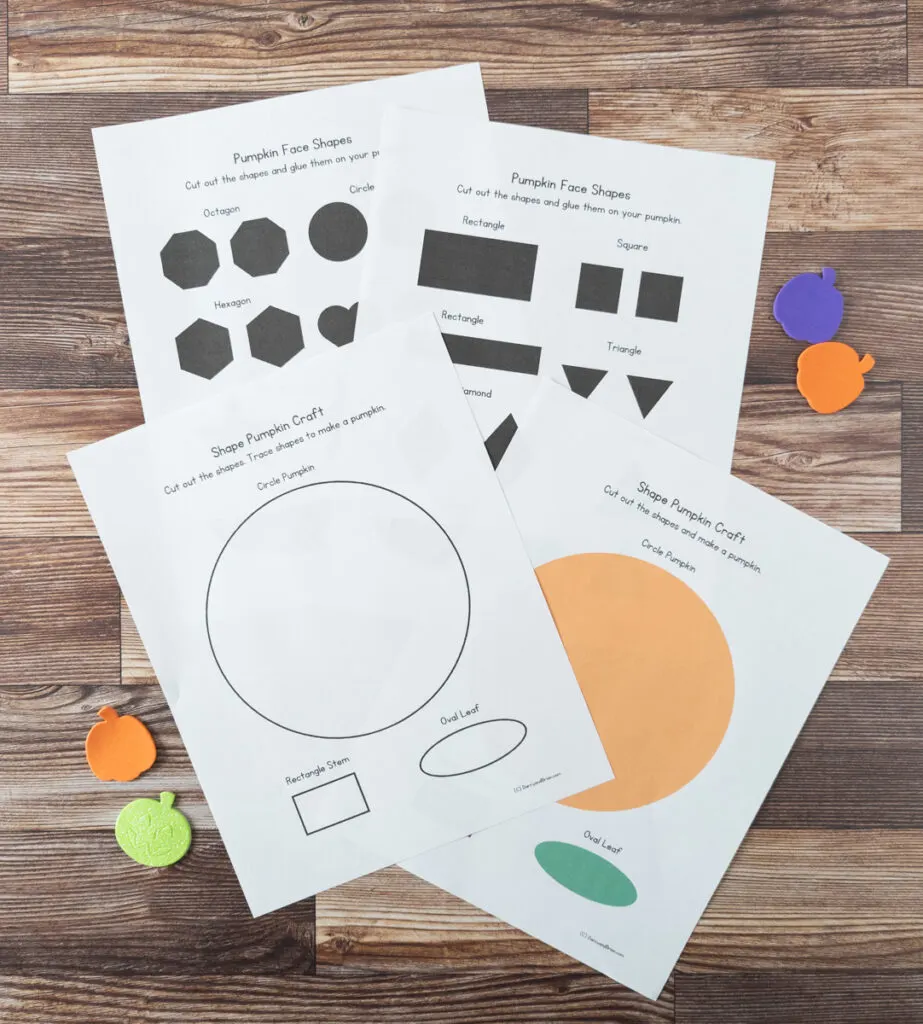 Pumpkin Shape Craft Supplies
This activity is an ideal addition to any math or art center, providing a simple and interactive way for children to learn shapes.
It's also a low-prep activity, which means you won't need a ton of materials or a lot of prep time to get started. All you need are a few basic supplies and you're good to go.
Shape Pumpkin Craft Printables: The printable set is available for free using the form at the bottom of this post.
Construction Paper: We suggest using orange, brown, and green paper, but you can use any colors you'd like.
Scissors
Pencil
Shop some of my favorite craft supplies on Amazon!
How to Make a Shape Pumpkin Craft
This activity is perfect for preschool and kindergarten classrooms, as well as at home with parents. It serves as an excellent addition to fall-themed lessons, Halloween activities, or Thanksgiving crafts.
Here's a step-by-step guide on how to use the shape pumpkin craft templates:
Print out the free craft templates and cut them out. You can use the full color versions or trace the black and white shapes onto construction paper.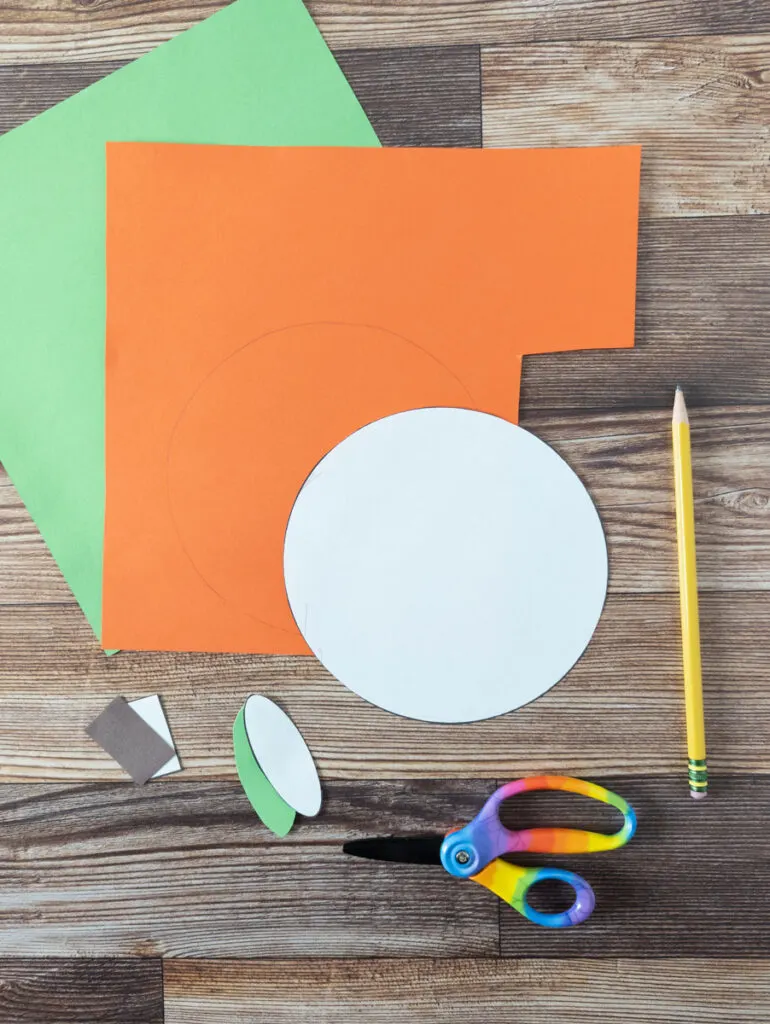 Next, glue the rectangle stem and oval leaf onto the pumpkin shapes. Get creative and use the smaller shapes to make unique faces on the pumpkins. Glue on the facial features.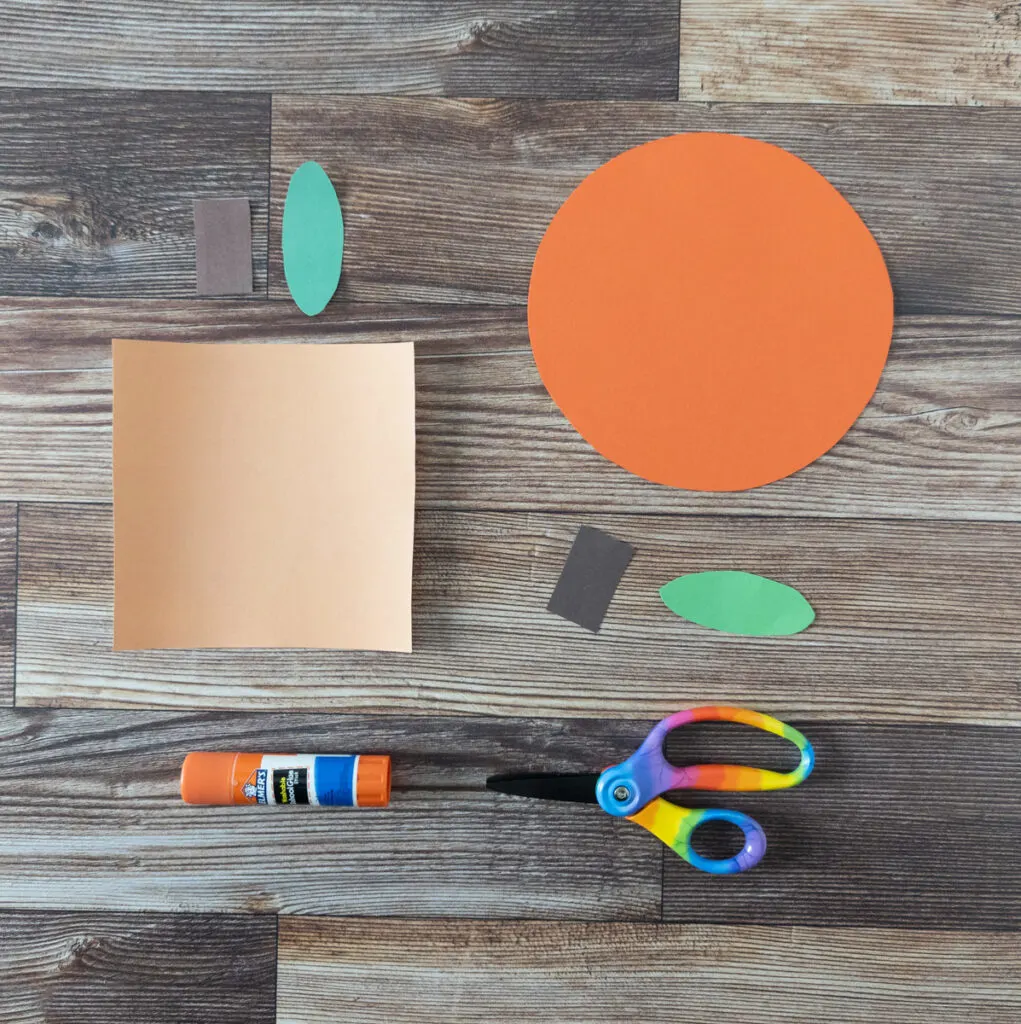 Once everything is dry, you can attach the pumpkins to construction paper, hang them on the wall, or display them on a bulletin board. You could even make your own shape booklet.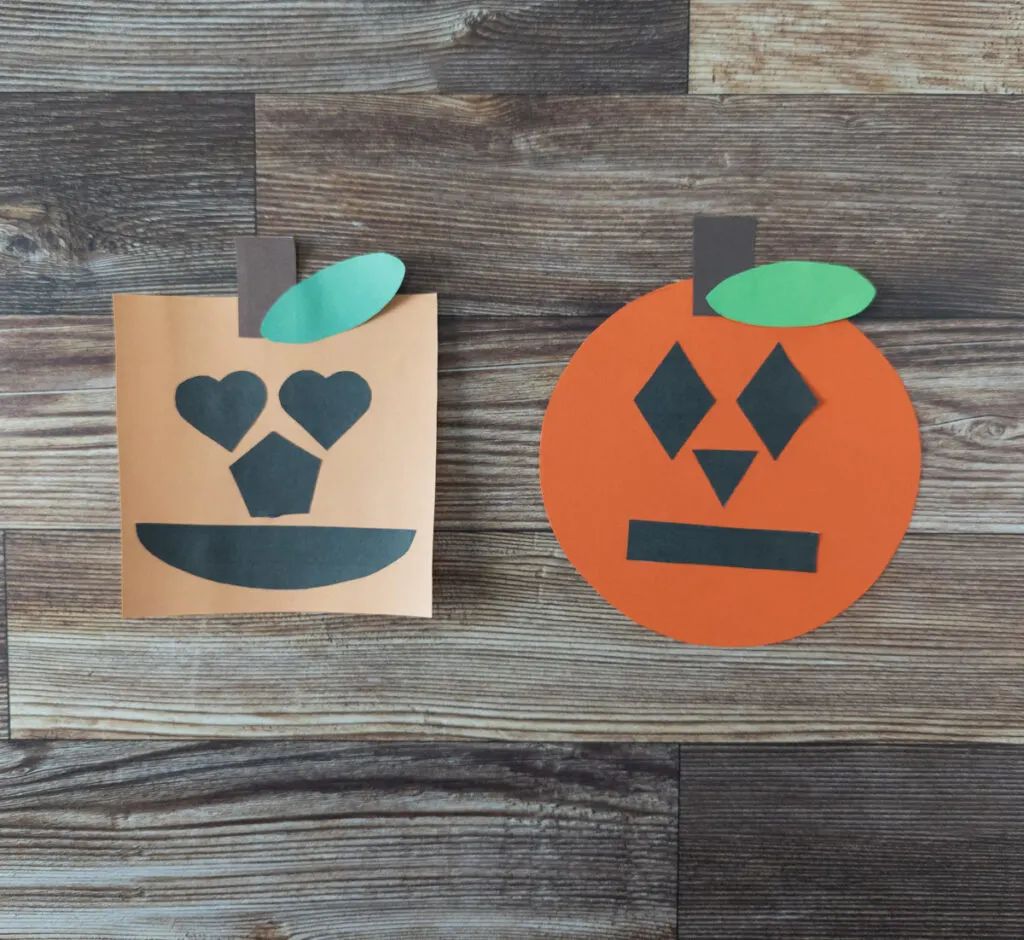 Finally, have the children name or label each shape they used on their pumpkin and discuss the characteristics of each shape.
What Are The Learning Outcomes of This Activity?
Aside from being a fun and engaging activity, this craft also offers many learning outcomes for children. Here are some of the skills that children can develop while making their shape pumpkins:
Shape recognition: Children will be able to identify and differentiate between different shapes, such as circles, squares, and octagons.
Fine motor skills: Tracing and cutting out shapes will help children develop their fine motor skills and hand-eye coordination.
Creativity: Children can use the various shapes to create unique faces for their pumpkins, allowing them to express their creativity.
Geometry concepts: This activity introduces children to basic geometry concepts, such as sides, vertices, and angles.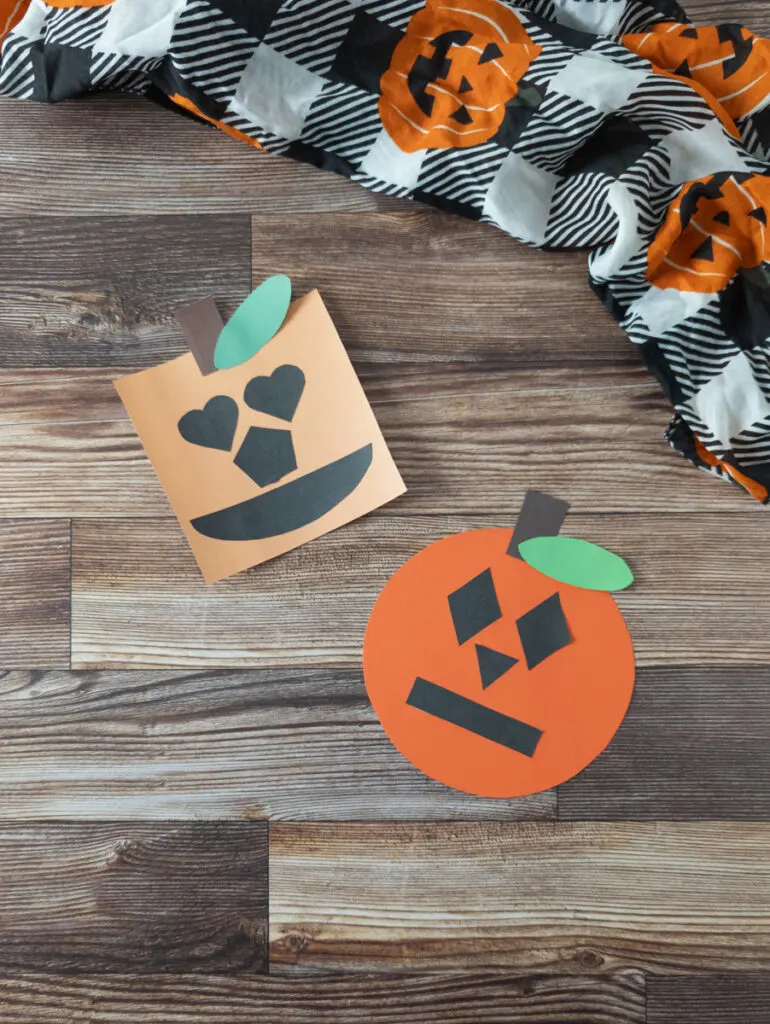 More Fall Learning Activities for Kids
To supplement this shape pumpkin craft, consider incorporating a variety of other fall-themed learning activities into your autumn or Thanksgiving unit. Each of these activities offers unique learning outcomes and adds a fun, seasonal touch to the learning process.
Improve your subitizing skills with the Roll and Color Fall printable dice game. Simply roll the die and color in delightful fall-themed images corresponding to the number rolled.
Enhance fine motor development while exploring shapes and patterns with these free fall pattern block mats.
Spark imagination and creativity in young learners with our printable Thanksgiving Charades game. It's a great way to work on communication skills and vocabulary in a lively and playful environment.
Experience something truly unique with this sensory shaving cream fall art activity. It provides a wonderful opportunity for children to explore their creativity and engage their senses.
Fun Fall Crafts for Kids
As the leaves begin to change and the air turns crisp, there's no better time for kids to dive into a world of creative expression with fall crafts. These activities offer unique ways to engage with the season while stimulating creativity, enhancing motor skills, and most importantly, having fun!
We hope you enjoy making your own shape pumpkins! In crafting these, your young learners can explore shapes, unleash their imagination, and improve their motor skills.
Plus, we've got full-color and black and white printable templates for you to use. Let's make learning an exciting adventure together! Download our free pumpkin shape templates today and let the fall crafting begin!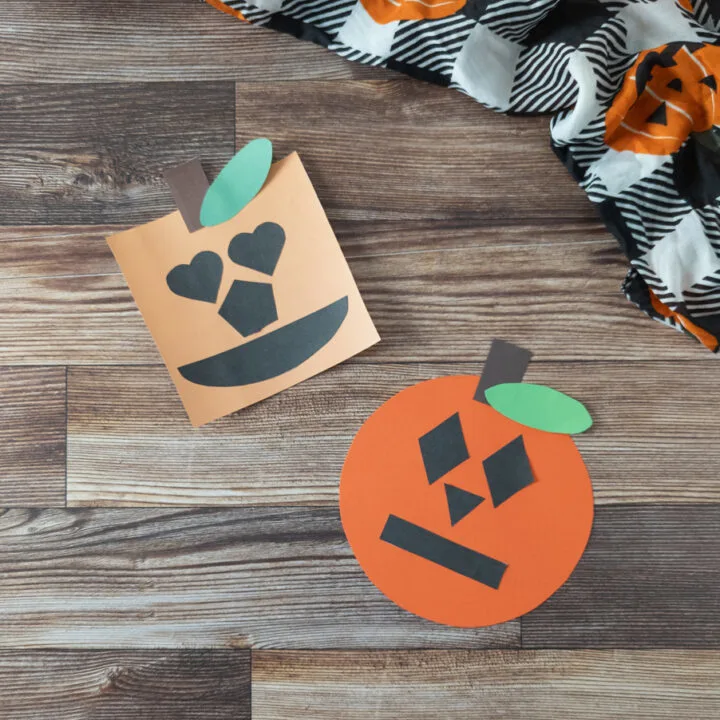 Shape Pumpkin Craft
Additional Time:
5 minutes
Estimated Cost:
$5 or less
Work on learning shapes while making this easy shape pumpkin craft. Great for preschool and kindergarten!
Materials
Shape Pumpkin Craft Printables
Construction Paper
Glue stick
Instructions
Download and print the free craft templates.
Cut out the pumpkin shapes and smaller face shapes.
Provide children with different colors of construction paper or cardstock to trace and cut their pumpkin shapes.
Encourage children to use the smaller shapes to create unique faces for their pumpkins.
Once completed, have children say or label each shape they used on their pumpkin and discuss the characteristics of each shape.
Recommended Products
As an Amazon Associate and member of other affiliate programs, I earn from qualifying purchases.