Our list of Fall activities for children just got more fun with our Thanksgiving charades game! This printable game features family-friendly prompts that will entertain your kids while they learn at the same time.
From 'making a pie' to 'peeling potatoes', these prompts are designed to be acted out and guessed, stirring up laughter and excitement in your holiday celebrations.
The game also includes blank cards for you to customize, adding your own family traditions to the mix. Get the printable charades cards for free at the end of the post!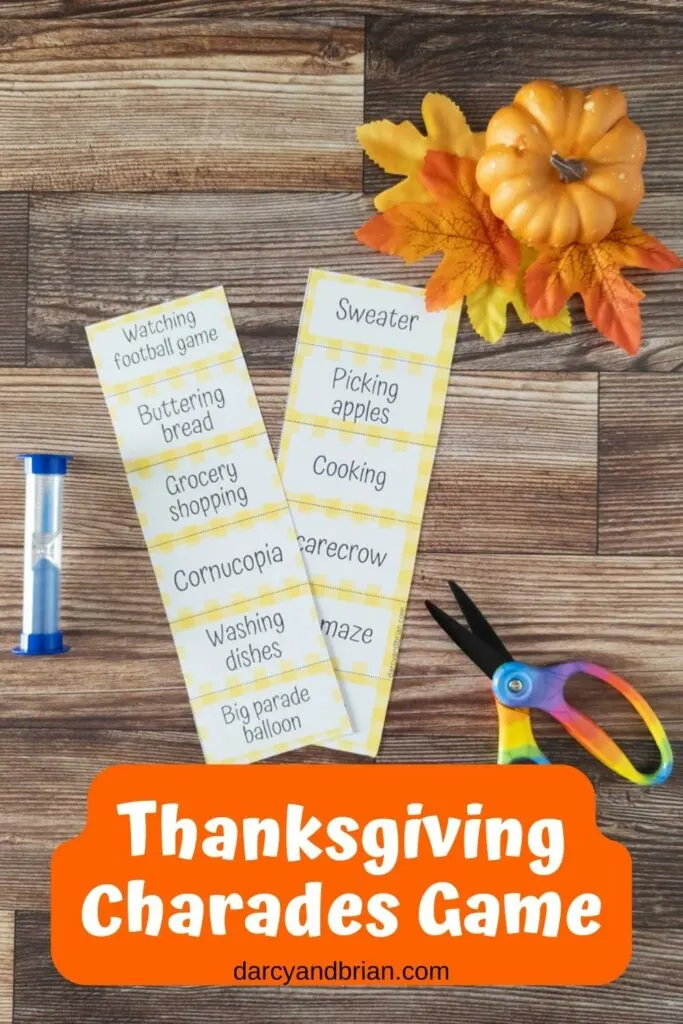 At our core, we believe in making learning a fun and engaging experience. Games are a fantastic way to make that happen, and our Thanksgiving charades game is no exception!
It's not just for family gatherings, but also a great asset for classrooms. These interactive moments of guessing and acting out prompts are not just entertaining, but also a wonderful opportunity for quality bonding.
So why wait? Make this Thanksgiving special with a game that promises laughter, learning, and lasting memories.
What is Charades?
Charades is a classic game where players act out words or phrases without speaking while their teammates try to guess what they're trying to convey. It's a perfect blend of acting, creativity, and communication skills!
Free printable available at the end of this post.
Benefits of Playing Charades
Charades is a fun group game that offers many benefits for children, including:
Improving communication skills: Acting out prompts is an excellent way to improve non-verbal communication and body language.
Enhancing imagination and creativity: With each prompt, players have the chance to come up with unique ways to act them out.
Boosting teamwork and collaboration: Charades requires players to work together, encouraging teamwork and cooperation.
Developing critical thinking skills: As players try to guess the prompts, they have to think critically and use context clues.
More Charades Ideas for Kids
Now that you're familiar with the fun and benefits of charades, why not explore more? We have a treasure trove of charade themes waiting for you.
From superheroes flying into action in our Superhero Charades, to the enchanting worlds of our Movie Charades for Kids and Disney Movie Charades, we've got something for every little imagination.
And guess what? It doesn't stop there! We also offer a wide selection of printable games for kids to keep the fun going.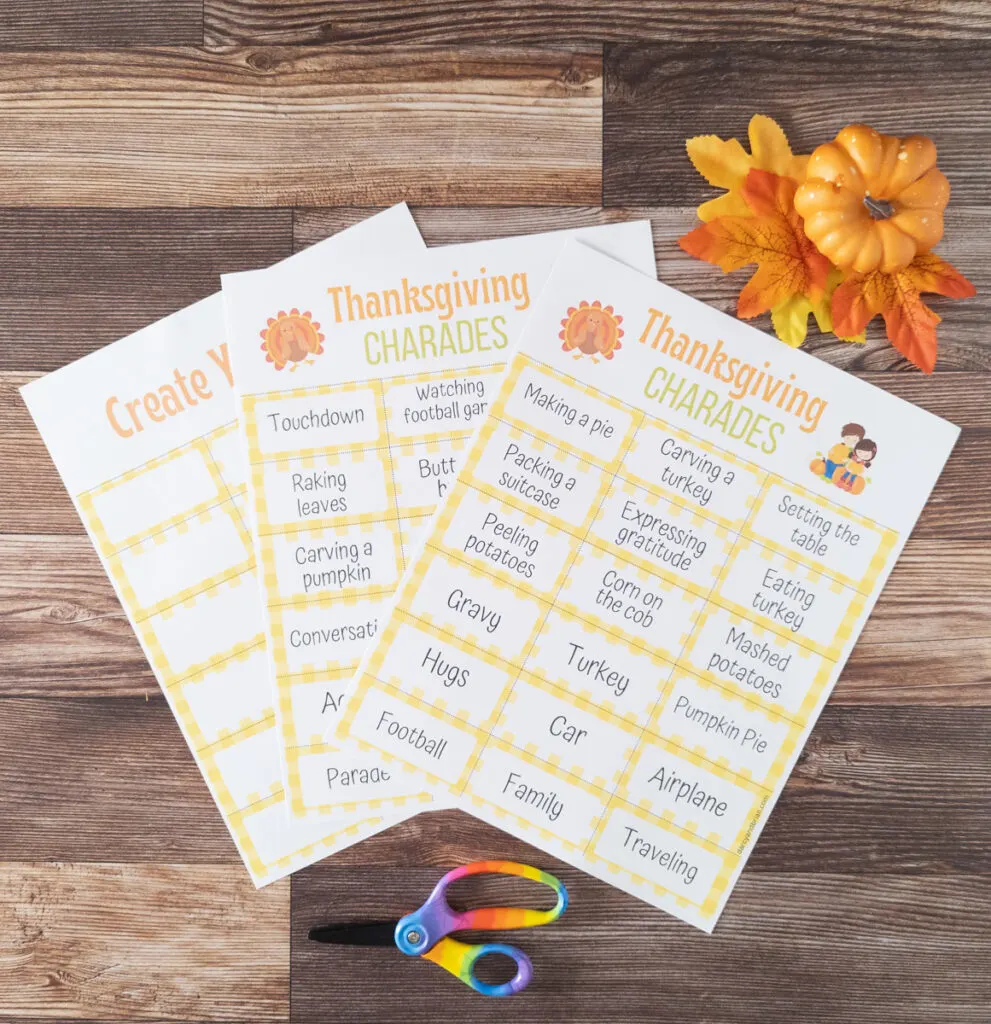 This post contains affiliate links. As an Amazon Associate and a participant in other affiliate programs, we earn a commission on qualifying purchases.
What's Included in the Thanksgiving Charades Game?
This set features 36 printable Thanksgiving charade cards that can also be shuffled in with our other charades games.
The cards include prompts such as: making a pie, peeling potatoes, family, and football. There is also a set of blank cards included, allowing you to create your own charade topics.
Essential Items for Playing Thanksgiving Charades Game
To play Thanksgiving Charades, you'll only need a few essential items. This activity requires minimal preparation, making it ideal for impromptu party setups or spontaneous family fun nights.
You can easily print and start playing with our set of Thanksgiving charades game printable cards, available for free using the form at the bottom of this post.
Print them out on cardstock paper for added durability. If you want to go the extra mile, consider using a laminating machine on the cards to make them spill-proof and reusable for future Thanksgiving celebrations.
And of course, don't forget to have a timer on hand for each round, adding an extra layer of excitement as players race against the clock to act out and guess the prompts.
Epson EcoTank ET-3830 Wireless Color All-in-One Cartridge-Free Supertank Printer with Scan, Copy, Auto 2-Sided Printing and Ethernet – The Perfect Printer Productive Families,White
Astrobrights/Neenah Bright White Cardstock, 8.5
Firbon A4 Paper Cutter 12 Inch Titanium Paper Trimmer Scrapbooking Tool with Automatic Security Safeguard and Side Ruler for Craft Paper, Coupon, Label and Cardstock (Black)
Classroom Timers for Teachers Kids Large Magnetic Digital Timer 2 Pack
TIHOOD 24PCS Sand Timer Assortment Plastic Sand Clock Timer 30s / 1min / 2mins / 3mins / 5mins / 10mins for Adult Kids in Classroom Kitchen Games Office
Charles Leonard Dry Erase Lapboard Class Pack, Includes 12 each of Whiteboards, 2 Inch Felt Erasers and Black Dry Erase Markers (35036)
How to Play Thanksgiving Charades
Playing charades is a fantastic way to celebrate Thanksgiving! Charades rules are fairly simple: act without speaking while everyone guesses.
Start by dividing into two teams. One person from the first team selects a card from the pile of Thanksgiving charades printable cards.
Without verbal communication, they must act out Thanksgiving-themed prompts like 'washing the dishes' or 'making a pie.'
The rest of their team has two minutes to guess the prompt based on their performance. Earn a point for each correct guess within the time limit.
Then, it's the next team's turn. Keep the game going, and the team with the most points at the end will be crowned the Thanksgiving charades winner!
Prefer to keep it friendly and non-competitive? Rather than splitting into teams, keep the game light and casual by letting each person take turns as the "actor" while the others guess.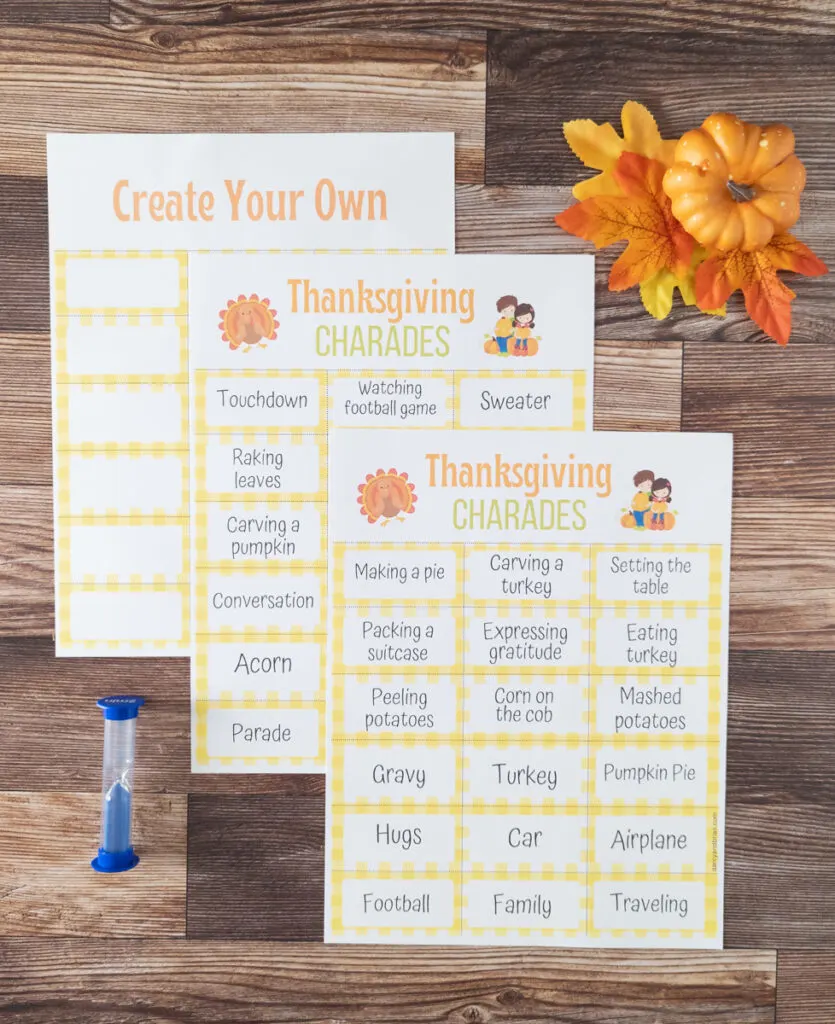 Can You Talk in Charades?
No, talking is not allowed in charades! That's what makes this game so much fun and challenging.
The goal is to communicate the word or phrase on your card solely through your actions, body language, and silent cues. Remember, it's about acting out and guessing with your team without the use of words.
However, if playing with younger children, you can modify this rule by allowing them to make sound effects instead of being completely silent.
Don't worry if it seems a bit difficult at first, keep playing, and you'll soon become a pro at this silent guessing game!
How to Play Charades in the Classroom
Charades is a perfect game for the classroom, whether in person or virtual.
It's an excellent way to get students moving and using their creativity while also learning new vocabulary words related to Thanksgiving.
To play in the classroom, follow the same rules as mentioned above. You can even create your own charades cards with Thanksgiving-themed words that align with your lesson plan or curriculum.
You can also assign students into teams and have them take turns acting out the prompts while their classmates guess. This will encourage teamwork, communication, and critical thinking skills in a fun and engaging way.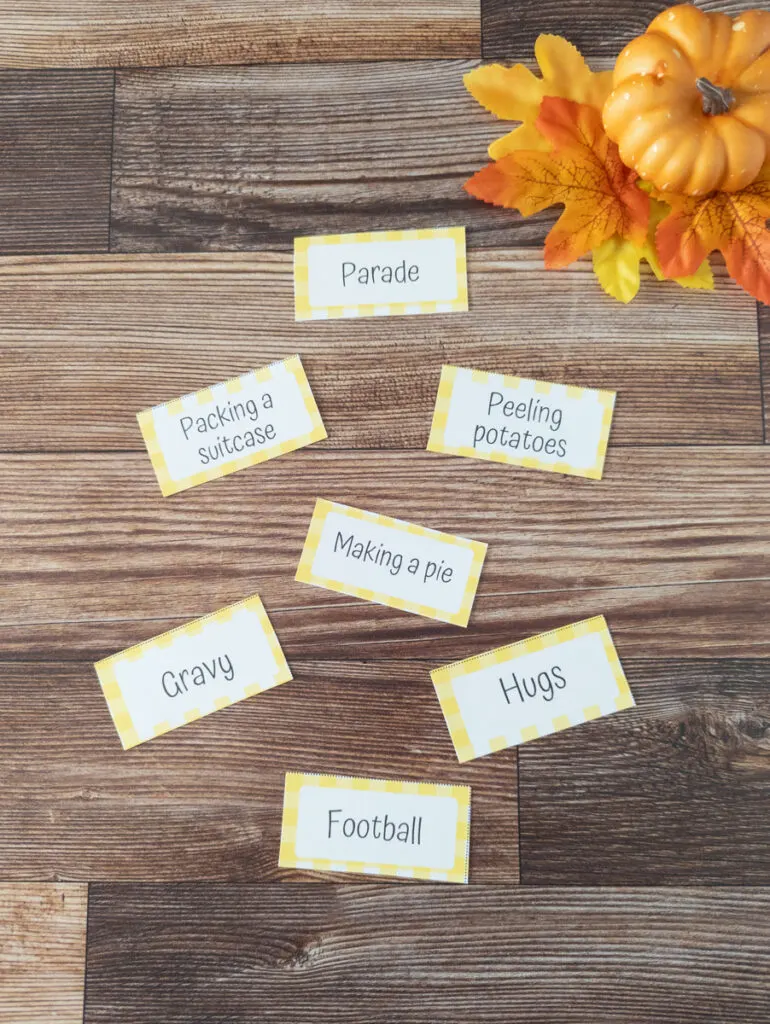 Thanksgiving Charades for Family Game Night
Get the whole family involved in this Thanksgiving charades game during your next family game night! It's a great activity to bring everyone together and have some laughs.
You can also personalize the game by adding in prompts that reflect your family's traditions or inside jokes. No matter how you play, this game is sure to be a hit and create lasting memories with your loved ones.
More Games Similar to Charades
If your children enjoy playing charades, they are likely to find these other games just as entertaining. Games like Telestrations, HedBanz, and Taboo revolve around the concept of guessing, much like charades.
Telestrations is a beloved game in our family. It combines drawing with the classic game of Telephone, resulting in hilarious outcomes.
HedBanz is a fast-paced and enjoyable game where players wear cards on their heads and ask yes-or-no questions to figure out their assigned identity.
Taboo is another excellent choice, challenging players to describe a word to their team without using specific "taboo" words.
Each of these games not only sparks laughter and creativity but also helps improve communication and teamwork skills.
TWOPOINTOH GAMES Artsy Fartsy – Fun Family Games for Kids and Adults. Winner of USA Today's Best Gift for Families National Award
Mythical Creatures Drawing Game for Kids Mashup Animal Art Ideas. 150 Prompt Cards. Creative Gift for Tweens, Teens + Family Fun Night for All Imaginations!
Telestrations Original 8-Player | Family Board Game | A Fun Family Game for Kids and Adults | Family Game Night Just Got Better | The Telephone Game Sketched Out | Ages 12+
The Imagineering Company WatchamaDrawit Fast Action Drawing Game with Wildly Creative Challenges – A Family Board Game for Kids and Adults
Vango The UpsideDownChallenge Game for Family & Kids – Complete Fun Challenges with Upside Down Goggles – Hilarious Fun Game for Game Night & Parties – 2-6 Players, Ages 8+
​Pictionary Air Kids Vs. Grown-Ups Family Game for Game Night with Light Pen and Clue Cards, Connect to Smart Devices
Fun Thanksgiving Activities for Kids
Planning Thanksgiving activities for kids can be an enjoyable way to incorporate festive fun into lessons, as well as keeping them entertained at home during the holiday break.
If you're hosting family, these activities can also provide a wonderful opportunity to create meaningful interactions and memories. From crafting to playing games, these engaging activities cater to various age groups and are sure to keep the children busy.
Thanksgiving Pictionary: Our printable Pictionary cards are a hit at Thanksgiving gatherings. With easy-to-understand prompts that range from "turkey" to "football" both adults and kids will have a blast guessing what each player is trying to draw.
Gratitude Games: This interactive and thoughtful printable gratitude Thanksgiving game uses M&Ms or Skittles to prompt players to express their gratitude. Each color corresponds to a different question about what they're thankful for. Another fun and heartfelt way to remind everyone of the true spirit of family holidays is to have a gratitude scavenger hunt.
Thanksgiving Activity Placemats: These Thanksgiving Printable Placemats feature mazes, word scrambles, tic tac toe, plus images to color. The activities on these placemats will keep kids busy while waiting for dinner to be served.
Coffee Filter Paper Cup Turkey Craft: Get creative with our easy-to-follow turkey craft. Using coffee filters, paper cups, and a bit of paint, kids can create adorable turkey decorations. It's a perfect activity to keep little hands busy while the adults are preparing the Thanksgiving feast.
Make a Cornucopia: Add a festive touch to your Thanksgiving decorations with this easy-to-make Cornucopia craft for kids. It's a fun and creative activity for the whole family to enjoy.
Pie Baking Contest: Let the little ones try their hands at baking. Provide pre-made pie crusts and a variety of fillings, such as this pumpkin mousse, and see who can create the tastiest pie. Not only is it fun, but it's also a delicious addition to your Thanksgiving dessert table.
Thanksgiving Would You Rather Questions: Engage everyone in lively conversations with our Thanksgiving-themed "Would You Rather" questions.
With these engaging, kid-friendly activities, including the lively Thanksgiving Charades game, your holiday is set to be filled with laughter, learning, and lasting memories.
So, get ready to create, act, guess, and most importantly, give thanks this holiday season. Enjoy these moments of holiday fun and celebrate the joy of being together!