As the leaves begin to change and the air becomes crisp, it's the perfect time to introduce your little learners to fall-themed learning activities.
One such resource is our easy-to-make Acorn Tissue Paper Craft, which is ideal for preschoolers. This craft is versatile and can be enjoyed at home or within the classroom.
For more inspiration, we encourage you to explore our collection of tissue paper crafts for kids. You'll find a treasure trove of ideas to keep your students engaged and entertained this fall!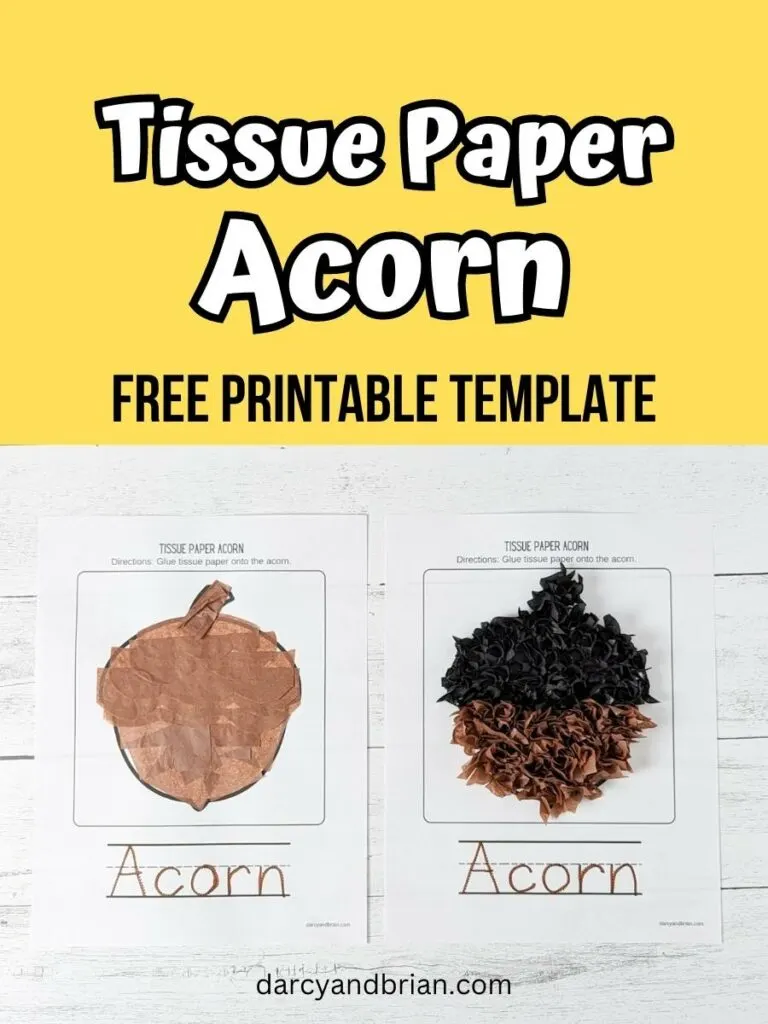 Not only will your young ones have fun creating their own colorful acorns, but they will also enhance their fine motor skills and improve their handwriting by tracing the word 'acorn'.
This Acorn Tissue Paper Craft also seamlessly integrates with a fall unit for preschool and kindergarten.
Whether you're exploring the changing seasons or discussing the life cycle of trees, this craft provides a wonderful hands-on element.
Kids can create their own unique acorns while learning about the natural world during the autumn season.
Additionally, this activity can stimulate discussions about the role of acorns in nature and their importance to wildlife.
Fun Fall Activities for Kids
Fall is a fascinating time of year for children to explore the wonders of nature plus it includes several fun holidays. Here are a few fall activity ideas to engage your kids.
Free printable available at the end of this post.
This post contains affiliate links. As an Amazon Associate and a participant in other affiliate programs, we earn a commission on qualifying purchases.
Fall Themed Games for Kids
Games offer plenty of educational opportunities are an excellent way to enhance children's learning engagement. Below are some fall-themed games to enjoy throughout the season.
Educational Insights The Sneaky, Snacky Squirrel Game, 4 players, for Preschoolers & Toddlers, Gift for Toddlers Ages 3+
HABA My Very First Games – First Orchard Cooperative Board Game for 2 Year Olds (Made in Germany)
Peaceable Kingdom Acorn Soup – Game for You and Your 2-Year-Old
Mattel Games Apples to Apples Junior Kids Game, Card Game for Family Night with Kid-Friendly Words to Make Silly Combinations (Amazon Exclusive)
ROO GAMES Happy Snappy Apples – First Strategy Game for Kids – For Ages 3+ – A Fun Motor Skills Game for Children and Families
Thames & Kosmos – Rustling Leaves – Level Beginner – Decision Making Game – Strategic Board Games for Adults & Kids, Ages 8+ – 680435
What is the Educational Benefit of This Acorn Tissue Paper Craft?
The Acorn Tissue Paper Craft provides an engaging and tactile way for children to develop essential educational skills.
The act of tearing, cutting, and gluing tissue paper onto the template helps to enhance fine motor skills, which are instrumental for tasks ranging from writing to buttoning a shirt.
As children trace the word 'acorn', they not only improve their handwriting abilities but also build their word recognition skills – two vital components of literacy.
Further, by labeling the different parts of the acorn on the craft template, children have an additional learning opportunity.
They can understand the composition of acorns better, thereby enriching their knowledge about nature and the world around them.
Tissue Paper Acorn Craft Supplies
One of the greatest features of the Acorn Tissue Paper Craft is that it's a low-preparation activity requiring minimal materials – perfect for busy educators or parents.
The materials required for this craft are not only affordable but are also typically easy to find in your home or local craft store.
Here's a list of the supplies you'll need:
Acorn template: We provide a free printable template, available near the end of this post, that can be used for this activity.
Tissue paper: You have several options here. You can upcycle tissue paper from gifts, buy full sheets that the kids can rip or cut into pieces, or opt to buy pre-cut squares for even easier prep.
Glue: Either liquid glue or glue sticks would work for this craft. However, we recommend glue sticks as they tend to be less messy, making clean-up a breeze.
Scissors: Any pair of child-safe scissors will suffice for this task.
Writing utensil: For tracing and labeling, we love the sturdy grip and smooth writing of Ticonderoga pencils. However, you can also use a marker or crayon, depending on what you have on hand or what your child prefers.
Recommended Printer for Homeschool
Are you pondering which printer is the best for homeschooling or for printing out a multitude of printables? This is a common question we see.
When we began our homeschool journey, we invested in an Epson EcoTank printer, and it's been a game changer.
We absolutely love our Epson EcoTank! This printer seamlessly handles all of our printing needs, and its ink tanks have significantly reduced our expenses on ink, even when we're frequently printing in color.
It's truly a win-win, offering fantastic value while delivering high-quality prints, time and time again.
How to Make An Acorn Tissue Paper Craft
Print the Acorn Template: Begin by printing out our free printable template. (Fill out the form below to download it.) This will serve as the base for your acorn craft.
Prepare Your Tissue Paper: Next, decide on the colors for your acorn. For a realistic look, consider shades of brown and yellow.
Alternatively, you could opt for a rainbow of colors for a vibrant and joyful acorn.
Once you've decided on the colors, you can either rip or cut your tissue paper into smaller pieces.
Start Gluing: With your tissue paper pieces ready, it's time to start gluing! You can glue the tissue paper down flat in a mosaic style or add a little texture.
To achieve a textured look, scrunch or crumple the pieces of tissue paper before gluing them down, or wrap them around the end of a pencil and press down.
This will create a more dimensional and visually interesting acorn.
Fill in the Acorn: Begin to fill in the outline of the acorn with your pieces of tissue paper.
It's perfectly fine if the pieces overlap or go slightly outside the acorn outline – this will give your acorn a whimsical, artistic touch.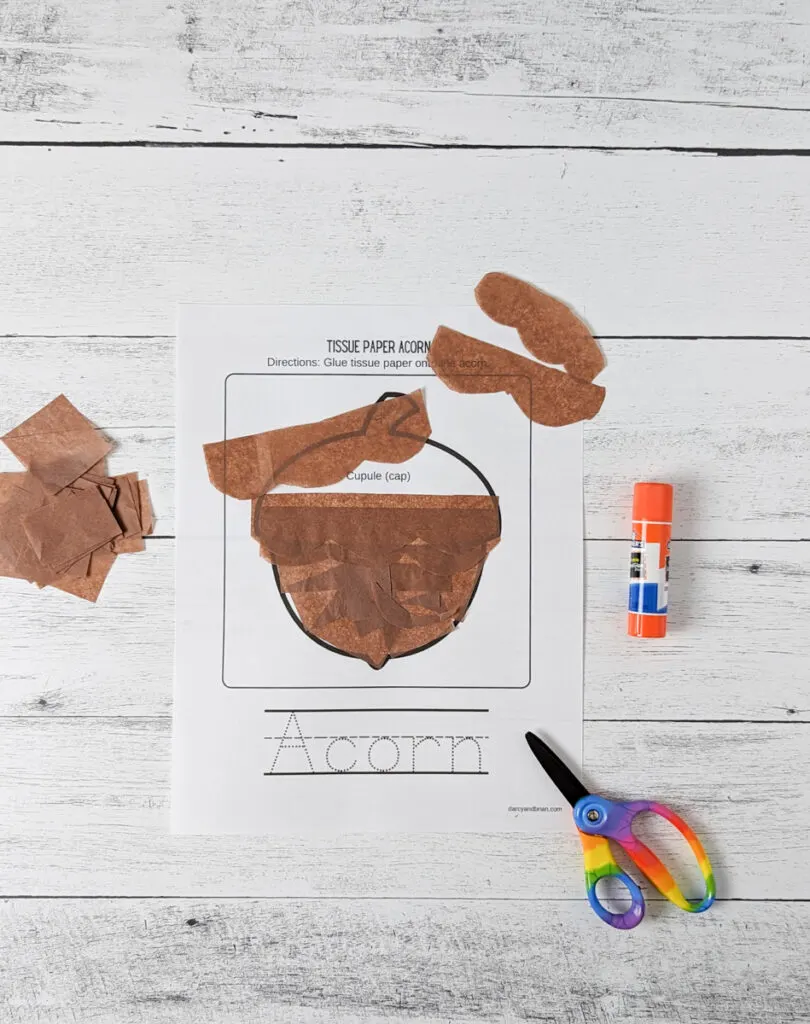 On one of our example acorns, I cut strips of brown tissue paper created a wavy curve along one side.
Next, I glued those down, overlapping each strip so the curved side mimics the pattern of an acorn cap.
Practicing Handwriting: After your child has completed their acorn craft, they can practice their handwriting skills.
At the bottom of the template, they can trace and say the word "acorn".
This will help reinforce their awareness of the word, its spelling and pronunciation.
Remember, crafting should be fun and enjoyable, so let the kids get creative and make their acorn craft their own.
Additional Ways to Use this Acorn Printable
This versatile Acorn Printable can be incorporated into your preschool homeschool or classroom routine in multiple ways. It can also be used for fall kindergarten activities too.
Fall Art Center
Create an autumn-themed art station with the acorn template. Children can enjoy making tissue paper acorn suncatchers, bringing a splash of fall color into the room.
Simply glue the tissue paper down flat within the outline. Then cut out the completed acorns and hang them on the window.
Tree Life Cycle Lesson
The acorn craft fits perfectly into a lesson about the life cycle of trees. Students can learn about acorns as the seeds of oak trees, their role in the tree's reproduction, and how they grow into mighty oaks.
Animal Food Chain Lesson
Incorporate the acorn craft into a lesson about squirrels and food chains. Discuss how acorns form a vital food resource for these creatures and their role in the broader ecosystem.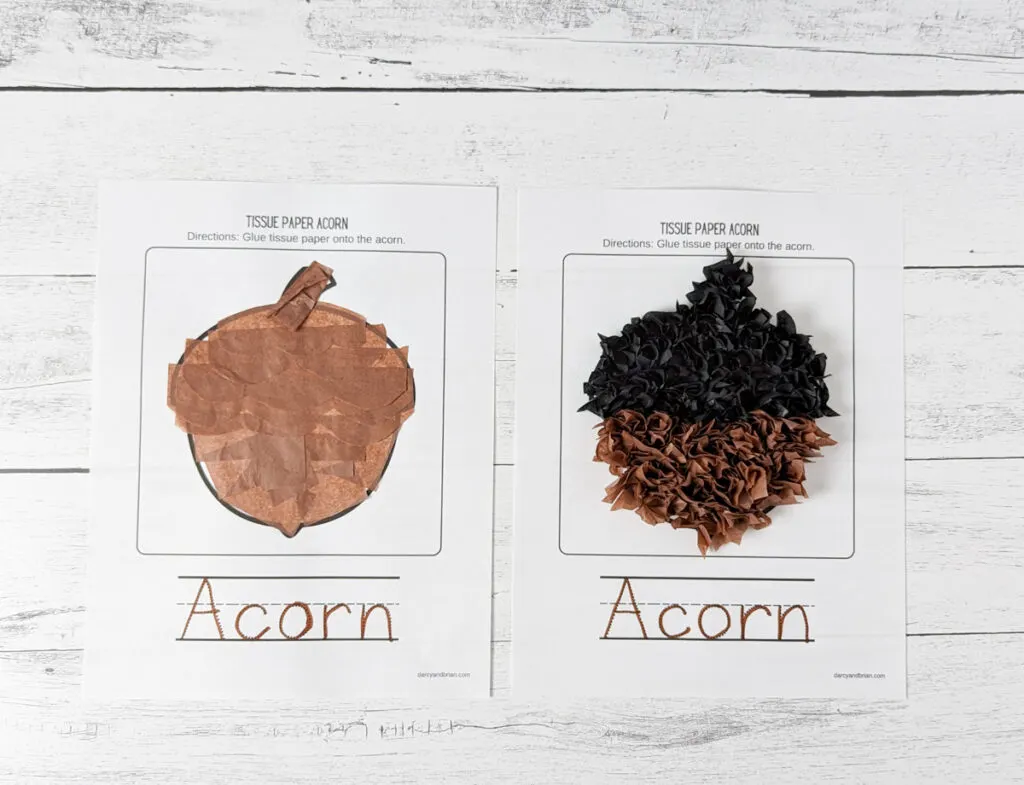 Quiet Morning Work
The acorn craft can be a peaceful and engaging way to start the day. Start the morning with a calm, quiet craft activity, encouraging fine motor skills, concentration, and creativity.
Additional Acorn Craft Template Ideas
The acorn printable craft template is not limited to being a tissue paper craft. It can also be used as a simple coloring page to allow young learners to express their creative side.
Kids can color within the lines using crayons, markers, or colored pencils.
Also, taking a nature walk can provide other materials such as small twigs and leaves that can be glued within the outline, adding a touch of authenticity to the craft.
Ripped pieces of construction paper can also be used to fill in the acorn shape, providing a different texture and helping to improve fine motor skills.
Another exciting idea is to use watercolors to paint the acorn, introducing children to a new art medium while having fun.
This template is truly a versatile tool that offers endless possibilities for creativity and learning. Remember, the key is to foster a fun learning environment where children can explore, learn, and grow.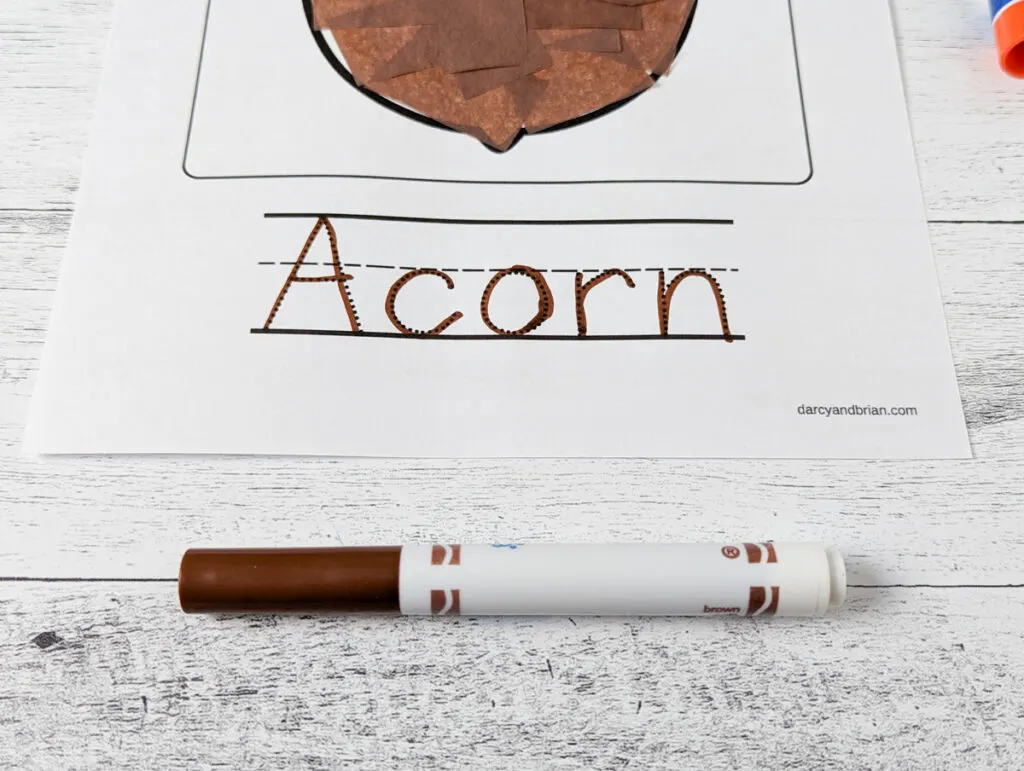 Should Preschoolers Practice Handwriting?
The acorn template provides a great opportunity to introduce tracing and pre-writing.
Young learners can trace the word "acorn" at the bottom of the craft as practice for letter formation, handwriting, and even spelling.
This is an ideal way to introduce basic writing skills in a fun and engaging manner that won't feel like schoolwork, allowing kids to practice without feeling overwhelmed or frustrated.
Practicing handwriting in this way helps children build confidence as they start to recognize the letters and their shapes, and it also gives them a sense of accomplishment.
Fall Learning Unit Ideas
Extending the acorn craft into a full-fledged fall-themed unit can create a cohesive and engaging learning experience.
Our Fall Counting Mats 1-10 Printable are a perfect companion to this activity, nurturing children's math skills through counting and number recognition.
Enhance your fall activities with a delightful Free Fall Bingo Printable from our friend Clare at Homeschool of 1. This fun game helps develop your child's visual perception and concentration skills.
Equally artistic and educational is to gather leaves, twigs and other materials from outside to create nature art.
Our Tissue Paper Leaf Craft is a similar template activity that allows children to explore the vibrant colors of fall foliage.
Moreover, the Roll and Color Fall game is an exciting and interactive dice game that aids in number recognition and subitizing skills.
For further reinforcement of number and color recognition as well as fine motor skills, explore the festive Fall Color By Number Printables by our friend Crystal at Crystal and Co., where children can color their way through fall-themed pictures while practicing these essential skills.
Last but not least, the Parts of an Apple printable activity and Parts of a Pumpkin printable activities can be excellent additions to this fall unit. They give children the opportunity to learn about the anatomy of these iconic fall fruits.
Through these activities, children can visually and interactively explore the different parts of an apple and a pumpkin, encouraging their curiosity about the natural world.
These activities, when combined, offer a well-rounded and engaging fall-themed learning unit, incorporating craft, science, and math in a fun and relatable way.
Fall Books for Kids
Books are an integral part of children's learning journey. They open the door to new worlds, unleash the imagination, and play a crucial role in language development.
When we read to our children or encourage them to read independently, we expose them to a vast vocabulary, complex sentence structures, and a wide range of ideas and concepts.
This can spark their curiosity, foster a love for learning, and enhance their comprehension skills.
Our list of fall picture books is a treasure trove of engaging narratives and vivid illustrations that can captivate the young minds.
These books not only provide a rich reading experience but also help children connect their learning to the season around them.
Turkey Goes to School (Turkey Trouble Book 5)
The Crayons Trick or Treat
Pumpkin Jack
Biscuit and the Great Fall Day (My First I Can Read)
The Berenstain Bears Fall Family Fun (The Berenstain Bears' Classics)
Pete the Cat Falling for Autumn
Whether it's a story about a squirrel preparing for winter, a tale of a pumpkin patch, or an exploration of why leaves change color, these books can make learning about fall a captivating and enjoyable experience.
Encouraging children to look through these books on their own can also foster independence and confidence. So, let's explore the world of fall literature and discover the magic it has to offer!
Fall Crafts for Kids
This fall, let's get creative with more craft ideas that children will love. With a theme of apples, sunflowers, pumpkins, and even turkeys, kids can enjoy an array of hands-on activities that transform simple materials into beautiful autumn-inspired creations.
These crafts not only provide a fun and engaging way to celebrate the season, but also stimulate children's creativity, artistic skills, and understanding of nature.
Let's embrace the magic of fall and its vibrant colors to inspire our young learners in their educational journey.
From reading captivating fall-themed books to engaging in fun, hands-on crafts, these activities not only foster a love for learning, but also celebrate the beauty of the season.
Remember, the goal is not just to create pretty crafts or read books, but to create meaningful and memorable learning experiences.
Acorn Tissue Paper Craft
Estimated Cost:
$5 or less
Make an acorn tissue paper craft for a fun fall activity ideal for preschool and kindergarten children.
Materials
Acorn Craft Template
Tissue Paper
Glue
Instructions
Get the acorn craft template, which is available for free by filling out the form near the end of this post.
Prepare tissue paper by ripping or cutting up pieces. You can also purchase pre-cut tissue paper.
Glue tissue paper onto the paper and fill in the acorn outline.
Practice tracing the word as well for additional learning.
Notes
Get tips and ideas on using this in fall themed lessons in the blog post.
Recommended Products
As an Amazon Associate and member of other affiliate programs, I earn from qualifying purchases.