Are you looking for engaging fall activities for children? Our I Spy Thanksgiving Printables bring the charm of the season to your preschool or kindergarten classroom.
The thematic worksheets can be used both at home or in school, making learning interactive and fun. These printables not only hold kids' attention but also help them improve their counting skills as well as visual and shape recognition.
With items like leaves, turkeys, pies and more to find and count, children will be thoroughly engaged and eager to explore the Thanksgiving theme.
Maintaining a sense of fun and interest in learning is crucial for children's educational development.
One of the most effective ways to achieve this is by incorporating a variety of activities into teaching methods, allowing kids to explore new concepts and reinforce their learning in different and exciting ways.
Seasonal and holiday-themed worksheets, like our I Spy Thanksgiving Printables, provide an excellent opportunity to inject a sense of excitement into education, relating lessons to events that children are looking forward to.
Moreover, these activities require no preparation from parents or teachers. Just print and go—making education seamless, straightforward, and tied to the joy of the season.
What Are the Benefits of I Spy Thanksgiving Printables?
The I Spy Thanksgiving Printables are a valuable tool for young learners of all abilities, providing engaging and interactive ways to work on critical early learning skills. Some of the benefits include:
Improving counting skills
Enhancing visual recognition
Developing shape recognition
Encouraging engagement and interest in learning
Engaging in I Spy worksheets, such as our Thanksgiving themed printables, significantly bolsters children's visual recognition and counting abilities.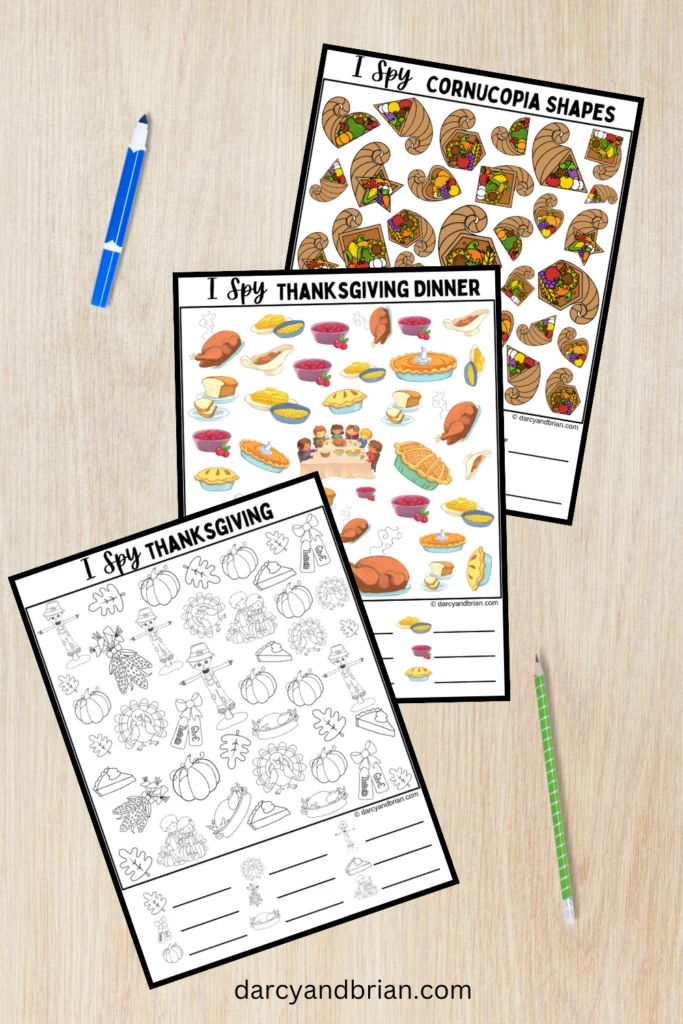 Children are naturally drawn to the vibrant colors and entertaining themes. As they scan the page to match the items or shapes with those listed, they are training their brains to recognize different visual patterns, enhancing their observational skills.
At the same time, by counting how many times each item or shape appears, they are practicing their counting skills. Thus, these worksheets not only keep children engaged but also nurture essential early learning skills in a playful and enjoyable manner.
Why Are Visual Perception Activities Important for Preschoolers?
Activities such as I Spy worksheets are particularly beneficial for preschoolers since they focus on enhancing visual perception skills, which play a vital role in reading readiness.
Visual perception is the ability to interpret and make sense of visual information, including letters, numbers, shapes, and patterns. Developing these skills early on can significantly impact a child's learning journey.
With our I Spy Thanksgiving Printables, children will not only have fun but also develop essential visual perception skills that will serve as a strong foundation for their academic success.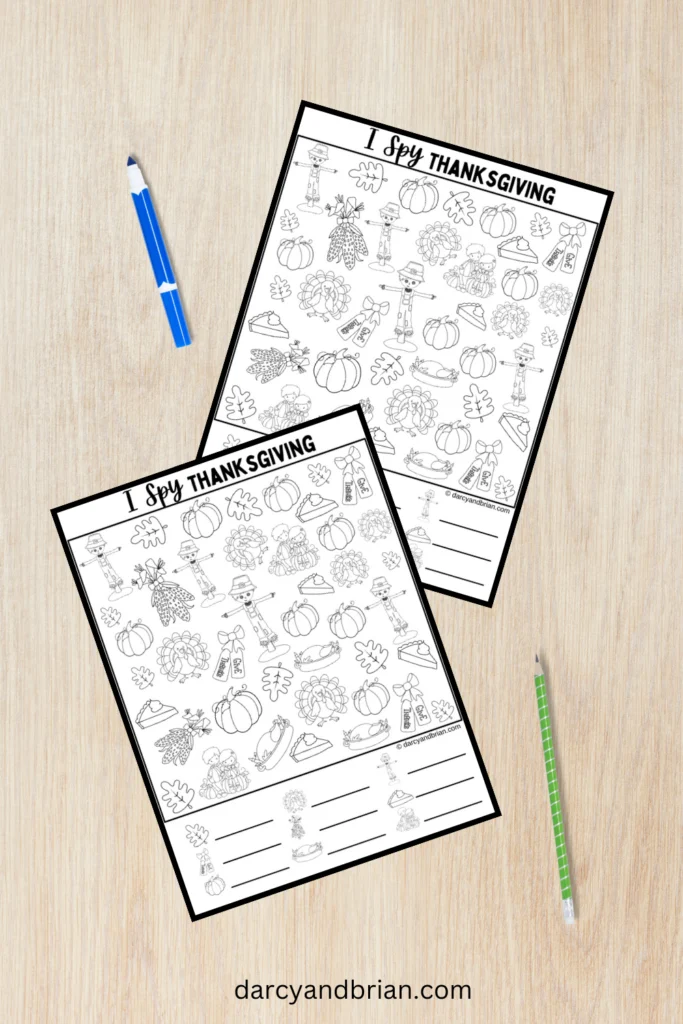 More Visual Perception Activities for Kids
Visual perception activities for kids, such as matching games or puzzles, are fun and engaging ways to help them build visual discrimination skills.
These exercises involve recognizing patterns, looking for matches, distinguishing between different shapes, and more. They train children's eyes and brains to notice slight differences and similarities, which is essential for many academic tasks.
Whether it's identifying the correct letter in a sea of similar letters or spotting the difference in a set of nearly identical pictures, these skills are fundamental building blocks for a child's learning journey.
As kids practice and improve their visual discrimination through these activities, they are also setting the stage for more complex tasks like reading, writing, and math.
Seek and Find Activity Books
Seek and Find activity books are a valuable resource for children to develop visual perception skills. With rich, colorful illustrations and challenges, kids locate specific items or characters, improving focus, attention to detail, and cognitive flexibility.
These books entertain and educate, exploring themes, expanding vocabulary, and enhancing shape and color recognition. In the classroom, they supplement the curriculum and reinforce learning. At home, they foster bonding, a love for reading, and early learning.
This post contains affiliate links. As an Amazon Associate and a participant in other affiliate programs, we earn a commission on qualifying purchases.
Best Hidden Pictures Puzzles EVER: The Ultimate Collection of America's Favorite Puzzle (Highlights Hidden Pictures)
I Spy a Pumpkin (Scholastic Reader, Level 1)
Seek & Find – Dinosaurs (Seek and Find)
My First Search & Find Animal Friends-Identify Animals, Colors and Numbers Along the Way!
The Big Book of Search & Find-Packed with Hilarious Scenes and Amusing Objects to Find, a Fun Way to Sharpen Observation and Concentration Skills in Kids of all Ages (Search & Find-Big Books)
I Spy Year Round Challenger: A Book of Picture Riddles
What's Included in the I Spy Thanksgiving Printables?
The I Spy Thanksgiving Printables package comes with three interactive worksheets that are sure to keep preschoolers and kindergarteners engaged.
The "I Spy Thanksgiving" activity page features nine Thanksgiving-themed items, such as leaves, slices of pumpkin pie, turkeys, and scarecrows, all presented in black and white for the kids to color.
On the other hand, The "I Spy Thanksgiving Dinner" page, is bursting with vibrant colors and features nine items related to Thanksgiving dinner that kids can find and count.
Last but not least, the "I Spy Cornucopia Shapes" page is an explosion of color, showcasing cornucopias of varying sizes with different shaped openings. There are six shapes for children to find and count, making it a fun way of learning and reinforcing their knowledge of shapes.
These worksheets are an excellent way of supplementing the curriculum both at home and at school. To get these printables for free, all you need to do is fill out the form located at the bottom of this post.
Items Needed for I Spy Activities
The beauty of these "I Spy" activities is their simplicity. These are no-prep activities that are easy to print and use, making them perfect for busy parents and teachers. Here are a few items you'll need:
Printer: Our Epson Ecotank printer works wonders for our printing needs. As homeschoolers, we print out tons of stuff, and this printer can keep up with it all.
Writing Utensils: Kids will need something to write down the number of items they find. Any writing utensil like a pencil or marker will do the job. Ticonderoga pencils are our favorite though!
Coloring Materials: For the black and white "I Spy Thanksgiving" page, kids will love adding some color. Have some crayons, colored pencils, or markers on hand to let their creativity shine.
Dry Erase Pockets and Markers: If you want to reuse the worksheets, consider putting them in dry erase pockets (or use a laminating machine). Kids can then use dry erase markers to write down the numbers. When they're finished, just erase and start over!
Bingo Chips: Another fun way to do these activities is by using bingo chips to cover items as they are found. This can make the activity more interactive and engaging.
Binder: These worksheets are perfect for adding to your child's busy binder. It keeps all their activities in one place and can be easily carried around.
Remember, these activities are meant to be fun and flexible. Feel free to adapt them to suit your child's needs and your available resources.
Scribbledo Dry Erase Pockets, 6 Pack Reusable Dry Erase Sleeves with Marker Holder
Crayola 98-5200 8CT Dry Erase Crayons (Pack of 2)
EXPO Low Odor Dry Erase Markers, Chisel Tip, Assorted Colors, 8 Count
Scotch Thermal Laminator and Pouch Bundle, 2 Roller System, Laminate up to 9
Ways to Use I Spy Thanksgiving Printables
Our I Spy Thanksgiving Printables are versatile and can be used in different settings, whether at home or in the classroom. They provide a convenient and engaging way to keep children learning during the holiday season.
Parents can use them as a fun activity for their children at home, while teachers can incorporate them into lesson plans for preschool and kindergarten students.
These worksheets are also great for classroom centers or quiet time activities.
More Counting Activities for Preschoolers
Preschoolers are at a developmental stage where their curiosity is abundant, and their capacity to absorb new information is remarkable. Counting activities form a foundational part of their learning journey, helping them understand numbers and quantity concepts.
Our I Spy Thanksgiving counting activities are perfectly designed to cater to this developmental stage. These worksheets are filled with lively, holiday-themed illustrations that captivate preschoolers' attention, turning the task of counting into an exciting game.
Not only do these activities help to reinforce their counting skills, but they also promote visual discernment, cognitive thinking, and fine motor skills.
Fun Thanksgiving Activities for Kids
In addition to the I Spy Thanksgiving Printables, we also offer a delightful assortment of other fun Thanksgiving activities for kids.
One of our favorites is the printable Thanksgiving Would You Rather? questions for kids. This playful game challenges children to make a choice between two equally appealing or silly scenarios, sparking laughter and conversation around the dinner table.
We also have the Gratitude Thanksgiving Game, a printable game that encourages children to express their gratitude, fostering a sense of appreciation and positivity.
And let's not forget the Thanksgiving Charades Game, where kids can act out holiday-themed words and phrases for a fun and interactive experience.
These activities not only keep the children entertained but also instill meaningful values and learning in a fun, engaging manner.
Thanksgiving Books for Kids
Pairing these engaging activities with Thanksgiving-themed children's books can create an immersive unit study for this special holiday.
Reading books such as "The Night Before Thanksgiving" or "A Turkey for Thanksgiving" can supplement the hands-on exploration provided by the I Spy and counting activities, weaving a rich tapestry of learning experiences.
This combination of reading and interactive learning can help children gain a comprehensive understanding of Thanksgiving themes, traditions, and values.
Llama Llama Gives Thanks
Pete the Cat: The First Thanksgiving
How to Catch a Turkey
The Night Before Thanksgiving
A Turkey for Thanksgiving
If You Lived During the Plimoth Thanksgiving
Thanksgiving Crafts for Kids
Crafting is a wonderful way for children to engage with the Thanksgiving holiday while also flexing their creative muscles.
These Thanksgiving crafts for kids are easy-to-follow projects perfect for little hands. These crafts not only provide a fun-filled activity but also result in decorative pieces that can add a personal touch to your Thanksgiving celebrations.
These crafts are an excellent opportunity for children to learn more about the symbolism and traditions of Thanksgiving in a hands-on, imaginative way.
As the Thanksgiving holiday approaches, it's an excellent time to introduce the little ones in your life to the spirit of gratitude this season embodies. Our Thanksgiving I Spy printables, seamlessly paired with children's books, and crafts, provide a lively, hands-on learning experience.
Children can gain a deeper appreciation of Thanksgiving traditions through these activities, all while honing their cognitive skills and fueling their creativity. Let the joy of Thanksgiving unfold in their inquisitive minds, sparking curiosity and wonder at every turn.
Don't let the fun stop here, though. Keep the excitement alive, and the learning continuous, with more delightful activities you can find throughout our blog. Happy Thanksgiving and happy learning!