Looking for fun Halloween activities for kids? Then you'll want to play our Halloween Charades printable game!
his game is a fantastic way to amp up the spooky spirit, whether you're playing as a family, at a kid-friendly Halloween party, or as a classroom activity.
Our charades prompts include Halloween favorites like carving a pumpkin, pretending to be a ghost, and acting out trick-or-treating.
Be sure to fill out the form at the end of the post to get your free printable and keep the little monsters entertained!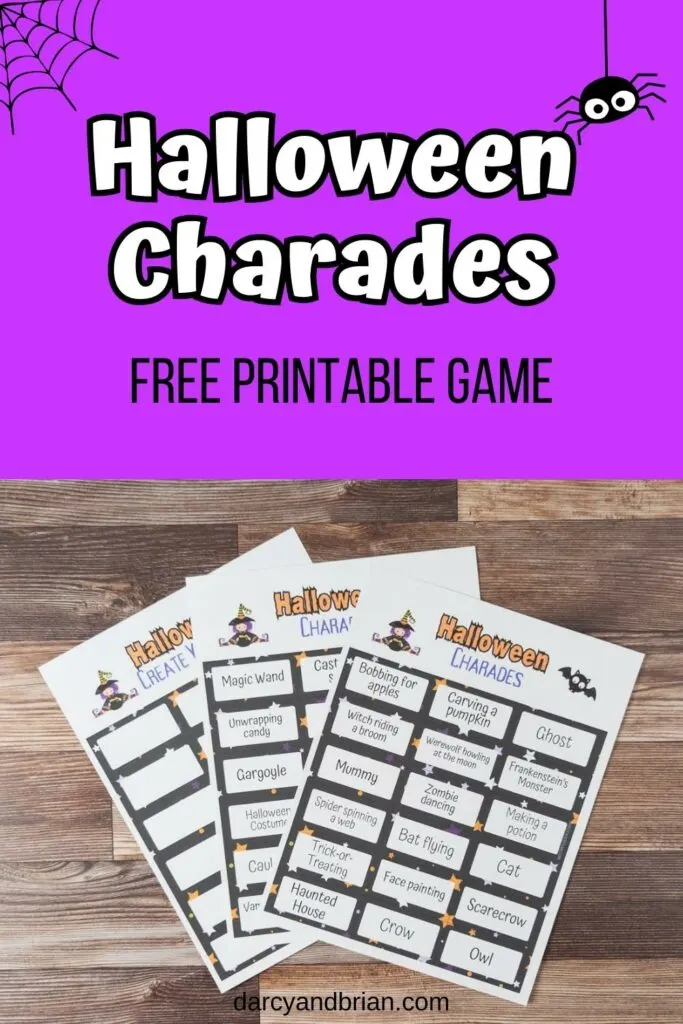 With Halloween right around the corner, you can practically feel the excitement buzzing in kids everywhere.
Their eyes light up at the sight of jack-o-lanterns, costume parties, and the promise of a night filled with trick-or-treating fun.
And you know what? Our family shares that same passion!
We absolutely love Halloween and are always on the lookout for ways to make it an extra special celebration for our kids. That's why we created our own Halloween themed charades cards!
More Printable Halloween Games
Looking for ways to make learning engaging? Halloween themed printable games for kids are a fantastic addition to school lessons this time of year. They have the potential to add a touch of holiday spirit to the learning experience.
Meanwhile, other games make the perfect addition to your Halloween party lineup or even just a cozy night in with family.
This post contains affiliate links. As an Amazon Associate and a participant in other affiliate programs, we earn a commission on qualifying purchases.
JOYIN Halloween Carnival Can Bean Bag Toss Games for Kids
24 Packs Halloween Game Eyeball Spoon Relay Race Toy Set
Halloween Party Games for Kids, Pin The Spider on The Web Game
Max Fun Halloween Ring Toss Games Inflatable Spiders Ring Toss Witch's Hat Toss Game
What is Charades?
Charades is a classic party game that involves acting out game prompts for other participants to guess.
What Ages Can Play Halloween Charades?
Halloween charades is a versatile game that can be enjoyed by all ages – from children to adults.
Younger children, especially those who are still learning to read, might require some assistance with reading the cards.
However, older children who are independent readers should be able to play the game with minimal assistance.
Scroll down for the free printable
What's Included in the Halloween Charades Printable
This set contains 36 Halloween charade printable cards. The prompts on the cards include: carving a pumpkin, ghost, scarecrow, trick-or-treating, vampire, and witch.
Additionally, there is also a sheet of blank cards that you can use to create your own charades topics.
Essential Items to Play Halloween Charades Printable Game
To play Halloween Charades, you will need just a few essential items. It's a low-prep activity, perfect for those last-minute party setups or spontaneous family fun nights. The pre-made cards make it easy to print and start playing.
Our set of Halloween charades printable cards are available for free using the form at the bottom of this post. Then print them out (we like the Epson EcoTank).
For added durability, print the cards on cardstock paper. This ensures they survive the excited hustle and bustle of the game.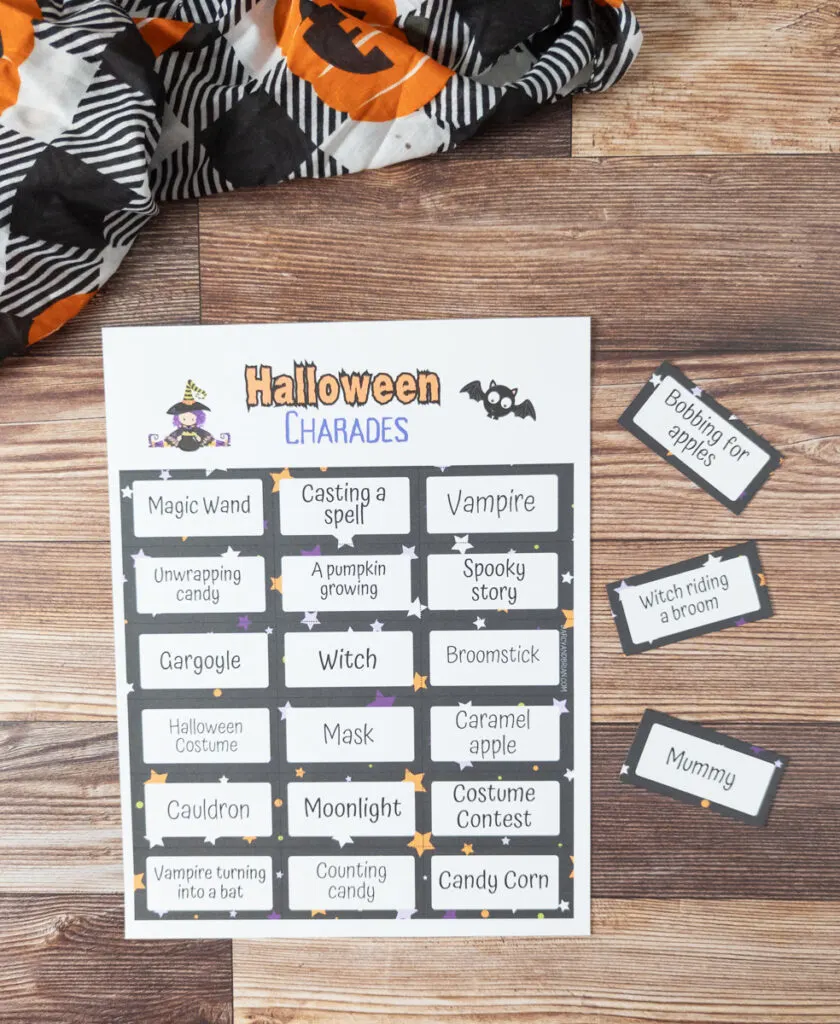 If you want to go a step further, using a laminating machine on the cards can make them even more robust and spill-proof, perfect for reuse in future Halloweens.
Don't forget to have a timer on hand for each round. It adds an extra layer of excitement as players race against time to act out and guess the prompts.
Lastly, consider having small prizes available. Whether it's candy, Halloween stickers, or other tiny treats, little rewards can add a delightful competitive edge to the game and make it all the more memorable for the participants.
Epson EcoTank ET-3830 Wireless Color All-in-One Cartridge-Free Supertank Printer with Scan, Copy, Auto 2-Sided Printing and Ethernet – The Perfect Printer Productive Families,White
Astrobrights/Neenah Bright White Cardstock, 8.5
Firbon A4 Paper Cutter 12 Inch Titanium Paper Trimmer Scrapbooking Tool with Automatic Security Safeguard and Side Ruler for Craft Paper, Coupon, Label and Cardstock (Black)
Classroom Timers for Teachers Kids Large Magnetic Digital Timer 2 Pack
TIHOOD 24PCS Sand Timer Assortment Plastic Sand Clock Timer 30s / 1min / 2mins / 3mins / 5mins / 10mins for Adult Kids in Classroom Kitchen Games Office
Charles Leonard Dry Erase Lapboard Class Pack, Includes 12 each of Whiteboards, 2 Inch Felt Erasers and Black Dry Erase Markers (35036)
How to Play Charades
Playing charades is straightforward and fun, making it a perfect game for parties and family gatherings. Start by dividing your group into two teams.
One person from the first team selects a card from the pile of Halloween charades printable cards.
Without verbal communication, this person must act out the prompt on the card, whether it's 'carving a pumpkin' or acting like a 'vampire'.
The rest of their team has a set amount of time, typically two minutes, to guess the prompt based on the actor's performance.
If the team correctly guesses the prompt within the time limit, they earn a point. Then, it's the next team's turn.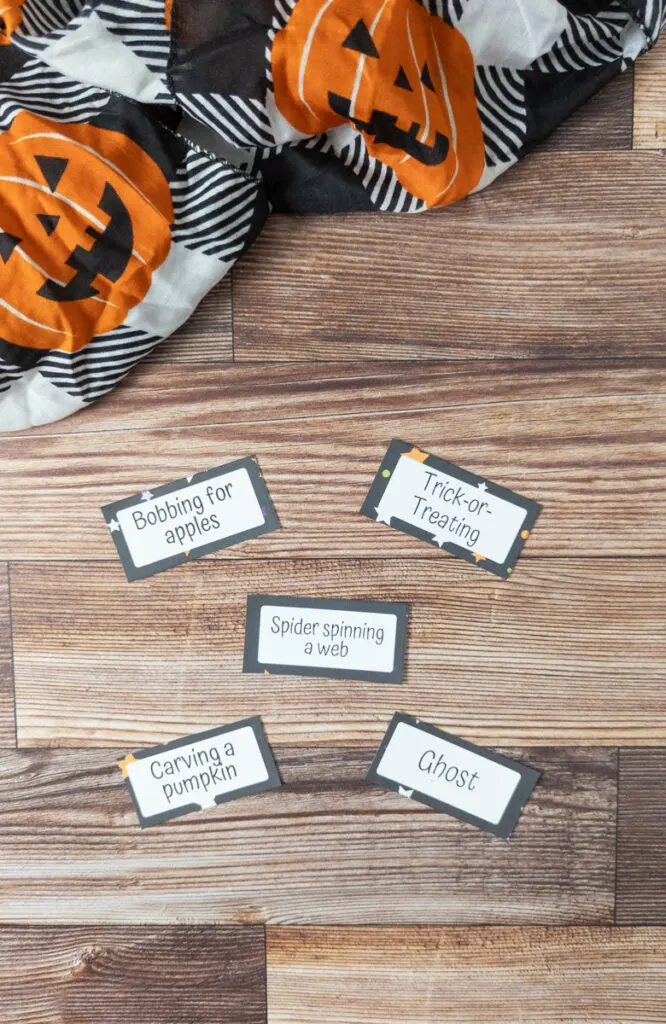 The game continues in this fashion, and the team with the most points at the end of the game is declared the winner.
Remember, the key to charades is to use non-verbal cues, so put on your best mime hat and get ready for some hilarious interpretations!
Can You Talk in Charades?
No, charades is all about non-verbal communication. The goal of this game is to act out the prompt without using words, so talking isn't allowed.
In fact, if someone on the team does accidentally speak out loud during their turn, generally they must forfeit the round and the other team automatically gets a point.
However, you can modify these rules when playing with younger children.
Benefits of Playing Charades
What makes charades such a great game for kids is the many benefits it offers.
Charades can improve communication by teaching children to act without speaking, helping them understand non-verbal cues in conversations and social interactions.
The game also encourages creative thinking, as players must think of inventive ways to communicate their prompt.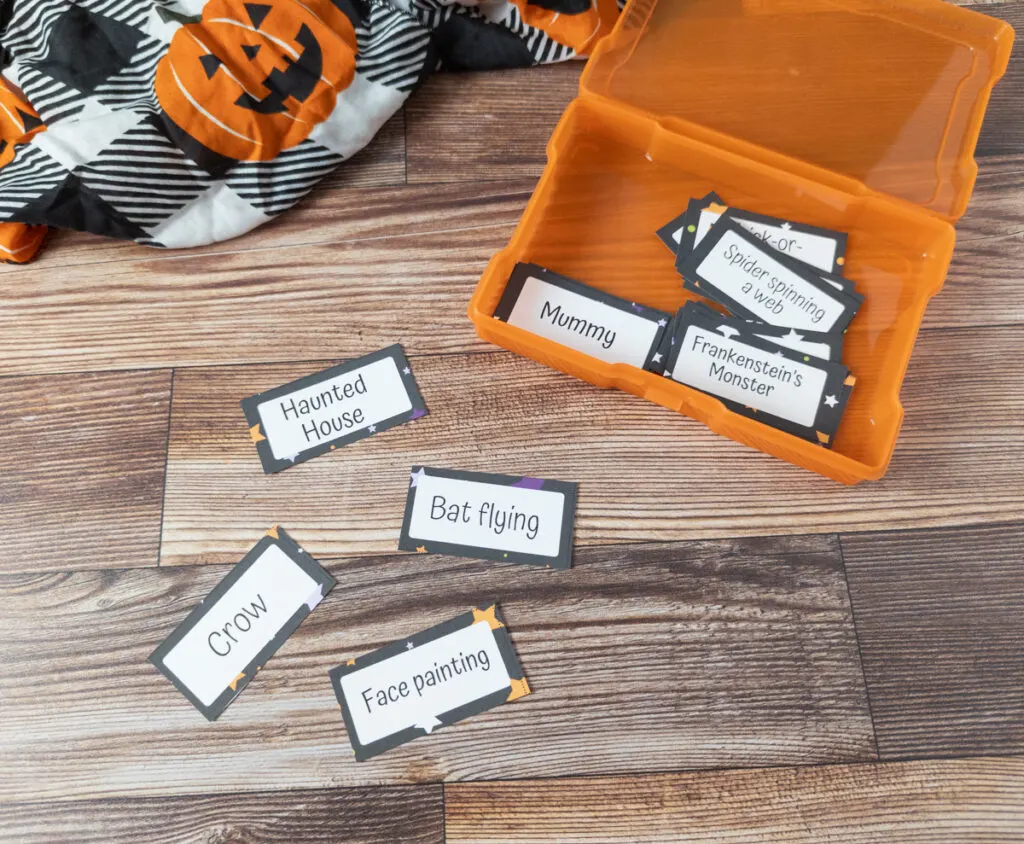 Charades is a great team-building activity as well, helping players work together towards a common goal in a fun and exciting way.
All in all, charades is a fun and educational game enjoyed by people of all ages – perfect for your next Halloween party!
Tips for Adjusting Halloween Charades for Different Ages
When adapting Halloween charades for different age groups, certain considerations can make the game more enjoyable and fair.
For younger children who may not yet be proficient readers, you can have an adult or older child read the charades topic card to them.
If they seem uncertain about how to act out their prompt, feel free to give them ideas to help them get started.
You might also consider allowing young children to use sound effects and props to express their ideas.
This introduces a sensory and fun element to their gameplay and can assist in communication.
For older children, the game can be more challenging. A correct guess should directly correspond with what the card says, and the rules of no speaking must be strictly upheld.
Remove timers when playing with younger children to ensure they don't feel rushed and can fully enjoy the game.
Remember, the primary goal is for everyone to have fun so feel free to adjust and adapt the game as needed!
Fun Halloween Party Ideas
We have a few additional suggestions that could make your kid-friendly Halloween party, whether at home or in the classroom, truly spook-tacular!
One thrilling activity to consider is a scavenger hunt, where the kids can solve riddles to find candy or other prizes using our printable Halloween scavenger hunt clues.
For a fun and festive party food, try making vampire cupcakes or mummy rice crispy treats that are sure to delight the little ghouls and boys.
Make sure to get dressed up! If you need ideas, check out our easy DIY Dalmatian Halloween Costume tutorial or this list of Disney Halloween Costumes.
Don't forget to hold a costume contest and give out Halloween costume rewards for the most creative, scary, or funny costume.
Lastly, engage the children in making fun Halloween crafts, adding an interactive and creative element to your party.
Easy Halloween Crafts for Kids
Crafting can be a fun and engaging party activity for kids. From spooky paper plate ghosts to creative paper bag puppets, these crafts not only keep the little ones entertained and spur their creativity, but can add a personalized touch to your decorations.
So, as Halloween approaches, remember it's all about creating an atmosphere filled with fun, laughter, and a touch of the spooky.
Whether you're hosting a party at home for the kids or planning a school event, these activities, including our printable Halloween charades game, craft ideas, and party treats, are sure to captivate and entertain.
Here's to a fantastically frightful yet delightfully fun-filled Halloween!