Enjoy the changing seasons with these fun fall activities for toddlers. It's fun to take a moment and see the world through the view of 1 year olds, 2 year olds, and 3 year olds.
Toddlers are so curious and eager to learn about the world around them. It's nice to change up your normal routine and incorporate seasonal activities.
Also, don't miss checking out these indoor activities for toddlers. They'll come in handy as the weather gets cooler and you find yourself staying home more.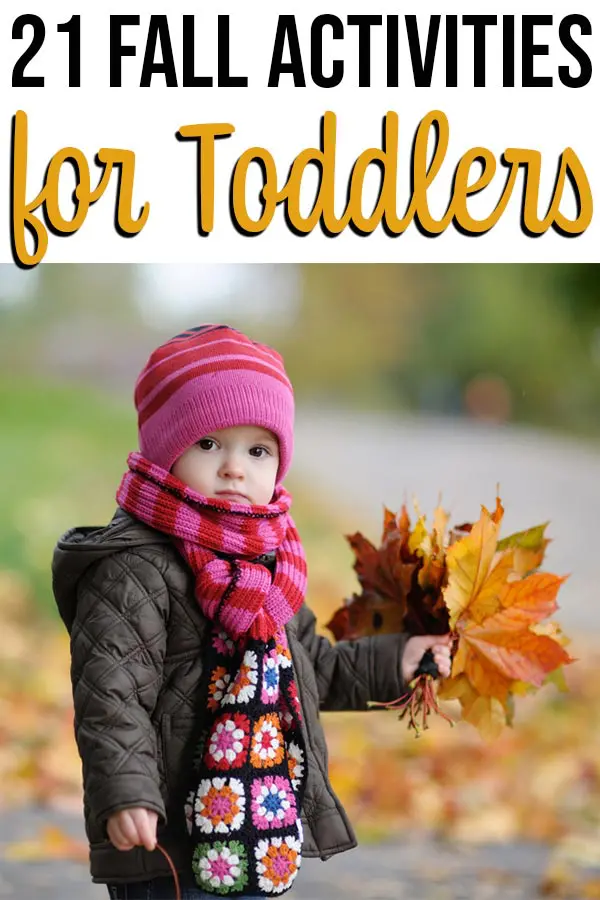 This post contains affiliate links. As an Amazon Associate and a participant in other affiliate programs, we earn a commission on qualifying purchases.
Fall Themed Toddler Activities
It can feel overwhelming trying to keep your little one busy and engaged. Pick a few of these indoor and outdoor fall activities for toddlers and have fun doing them throughout the season.
Fall sensory bin
Pinecones, sticks, leaves, gourds, and acorns make the perfect items to put in a sensory bin. Make this Halloween spaghetti for sensory play too. You can easily change up the colors used to dye the pasta. Toddlers love playing in this stuff!
Fall Sensory Bottle
Sensory bottles are a fantastic quiet time activity for toddlers. Make a fall sensory bottle that they can tip and shake, watching the items inside move around.
Handprint Turkeys
Now this is a classic art project that you may have done as a child too. Trace their hand and let them decorate their hand turkey.
Or, using finger paints, cover their hand with brown paint and press it onto a piece of paper. Then let them add colorful fingerprint feathers.
Trace their hand on some cute scrapbooking paper to make these turkey treat boxes too.
Coffee Filter Turkeys
Little kids will love helping you make this coffee filter turkey craft. They can help tie dye the coffee filters while you paint the clothespins and decorate the faces. You may also enjoy making coffee filter bats too.
Nature walk
Can you really say no to a nature walk? Toddlers are the perfect candidates for nature walks.
You don't even need to walk anywhere special, you can go straight to your own backyard or around the block!
Collect leaves
Toddlers love picking up stuff. Take a basket with you to collect leaves from the yard or while on a nature walk.
Ask your toddler to collect the prettiest leaves out there. It's a great opportunity to talk about the leaves changing colors.
Make Leaf Rubbings
Make leaf rubbings with the leaves your toddler collected. It's a simple science activity that you can do inside or outside.
Read books about fall
There are tons of picture books about fall. Grab a couple from the library and spend some time reading about the leaves and crisp fall weather.
Explore fall colors
Sometimes toddlers just need to spend some time exploring. Get a bunch of orange, red, yellow, and brown colored items together. Have your toddler explore each item, sort them by color, and play.
Read Books About Apples
Fall is the perfect time of year to learn more about apples. Spend time together reading books about apples.
Visit an apple orchard
Taking your toddler apple picking is going to make them so excited. It's a great way to spend time walking around outside and observing all the different types of apples they grow. When you get home, make your very own Apple Cider in your crock-pot.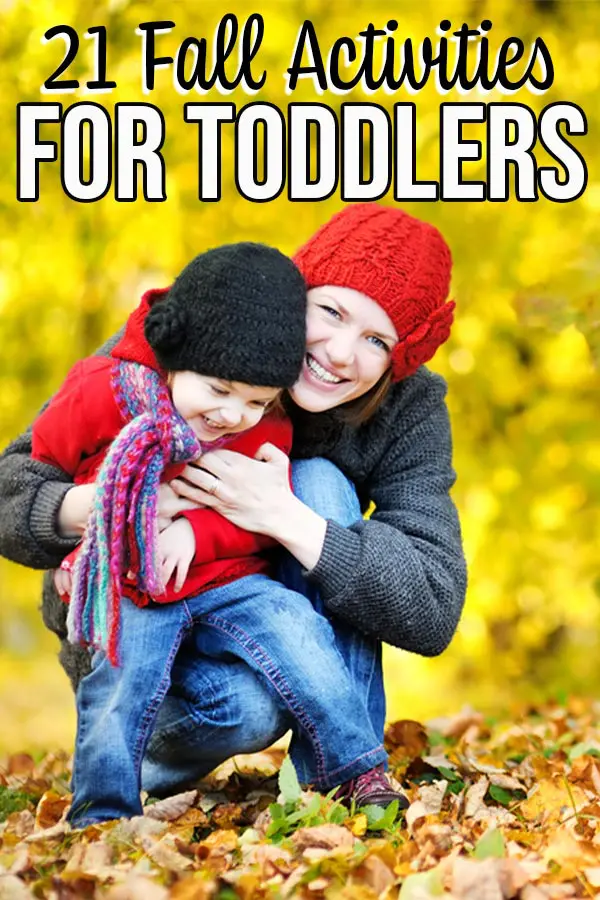 Apple Stamping
This apple stamping craft activity is super fun. It's a great addition to the other apple activities for a themed week.
Make a fall snack
Anything that is picked in the fall months is fair game for making the perfect fall snack. We love to snack on apple slices with peanut butter.
You could also make Fall Candy Corn Puppy Chow together. Your toddler will delight in shaking up the chocolate covered Chex mix to cover it in powdered sugar. Just make sure the zip top bag is completely sealed!
Read Books About Pumpkins
Pumpkins aren't just for Halloween! Curl up with a variety of pumpkin picture books to look through and read.
Visit a Pumpkin Farm
There are lots of kid-friendly things to see and do at pumpkin farms during the fall. A lot of them have hay rides, corn mazes, as well as picking your own pumpkin.
Visit a Farm or Petting Zoo
Fall can be a good time of year to plan a trip to a farm petting zoo. The animals may be more active in cooler weather than they are during summer visits.
Take along our printable farm scavenger hunt and ask your toddler to find the animals pictured.
Paper plate pumpkins
Grab your paper plates and get ready to make some pumpkins. You can use paint or crayons to create fun little pumpkins or Jack-o-lanterns!
Fall themed slime
Make a fall themed slime for your toddler to play with, such as this Edible Pumpkin Pie Slime. It's a great sensory activity and let's them explore how it feels and smells. It's up to you on the tasting part!
Eat fall desserts
Sampling different fall desserts is an excellent way to teach toddlers about seasonal produce. (Of course, trying fall fruits and veggies is too!)
There are lots of fall dessert options, such as classic apple pie, apple pie bread pudding, pumpkin pie, and cinnamon donuts.
Corn box
If you can get a ton of whole corn kernels for cheap, it's time to make a corn box. Believe it not, but corn boxes are a ton of fun for toddlers! I find them less messy than sandboxes and just as fun to scoop, pour, and drive toy trucks through.
Pumpkin painting
Grab a few pumpkins and let the toddlers go to town with painting. You can use real pumpkins or craft pumpkins. You could even decorate the pumpkin to look like a character from a book.
I hope this list gave you some ideas for fall activities to do with your toddler. It's nice to spend time together doing seasonal activities.
More kids activities: