Our Thanksgiving word list and handwriting practice pages are a fun and educational addition to our collection of fall activities for children. The free printable pack is an excellent resource for engaging young learners in your homeschool or classroom.
The Thanksgiving word bank fosters vocabulary development related to the holiday, and tracing words helps to improve their handwriting skills. These materials are specifically designed for preschool and kindergarten students, but lower elementary age students can also benefit from the word list and handwriting practice.
With our Thanksgiving resources, you can create a dynamic and enriching learning experience for children of various ages and abilities.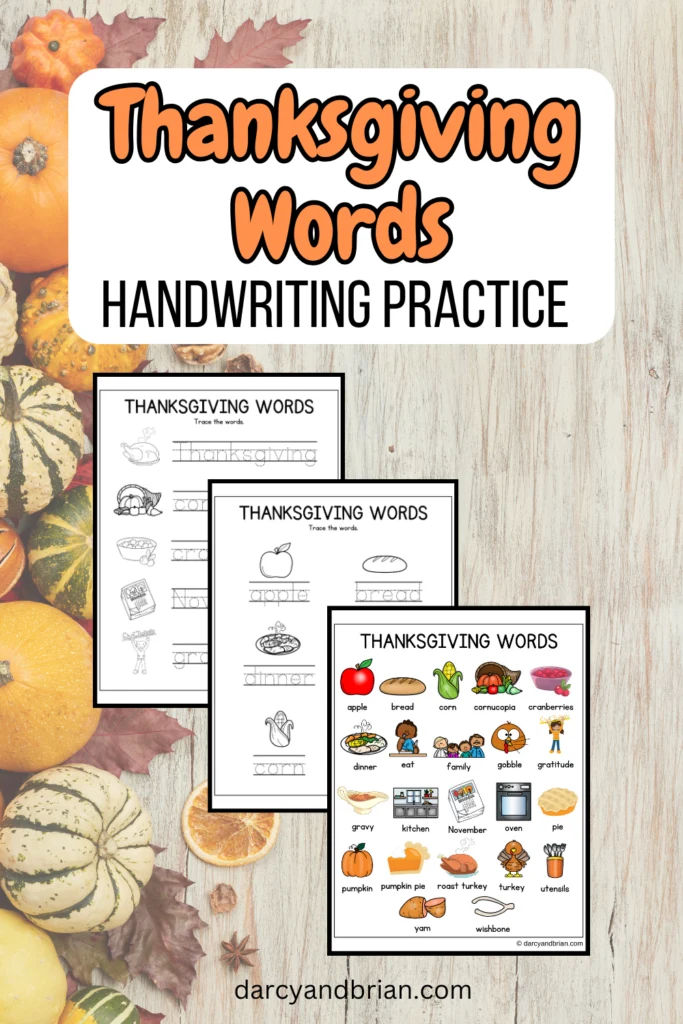 Integrating the Thanksgiving word list bank and handwriting worksheets into your Thanksgiving unit study or fall literacy center can make learning more engaging and meaningful for young students.
Incorporating these resources within thematic units not only enhances their understanding of the Thanksgiving holiday, but also offers an opportunity to practice and reinforce their literacy skills in a contextually relevant manner.
Remember, when children can associate learning activities with real-life events or celebrations, their interest, engagement, and retention significantly increase, making the learning experience more effective and enjoyable.
This post contains affiliate links. As an Amazon Associate and a participant in other affiliate programs, we earn a commission on qualifying purchases.
Ticonderoga My First Short Triangular Wood-Cased Pencils
JuneLsy Pencil Grips for Kids Handwriting Pencil gripper Pencil Holder Posture Correction Training
The Pencil Grip Original Pencil Gripper, Universal Ergonomic Writing Aid For Righties And Lefties
Fiskars Training Scissors for Kids 3+ with Easy Grip
Scissor Skills Preschool cut & paste cats activity pad for kids: Cat Coloring Book & Scissor Activity Book
Ticonderoga Wood-Cased Pencils, Pre-Sharpened, 2 HB Soft, Yellow, 12 Count
Literacy Activities for Kids
Introducing literacy activities for children at a young age is a crucial step in their educational journey. Such activities, including working with letters, word recognition, sight words, and phonics, provide foundational skills necessary for reading and writing.
Engaging in these activities helps children to decode words, enhances their vocabulary, and allows them to understand the correspondence between sounds and symbols. This, in turn, fosters comprehension and fluency in reading.
Thanksgiving Word List Learning Benefits
The Thanksgiving word list printables offer a multitude of learning benefits for young learners. Word recognition and vocabulary building are significantly enhanced through the matching of text and corresponding pictures.
When a child sees the word "turkey" next to the illustration of a turkey, they make a visual connection that reinforces the comprehension of the word and its meaning.
Additionally, these printables provide handwriting and spelling practice by enabling kids to trace the words, aiding in their grasp of letter formation and sequence.
By learning words associated directly with the Thanksgiving holiday, such as "gratitude," "family," and "pumpkin," children not only expand their vocabulary, but also deepen their understanding of the holiday.
In essence, these printables make learning an engaging and contextually relevant experience, heightening the child's interest and retention of the material.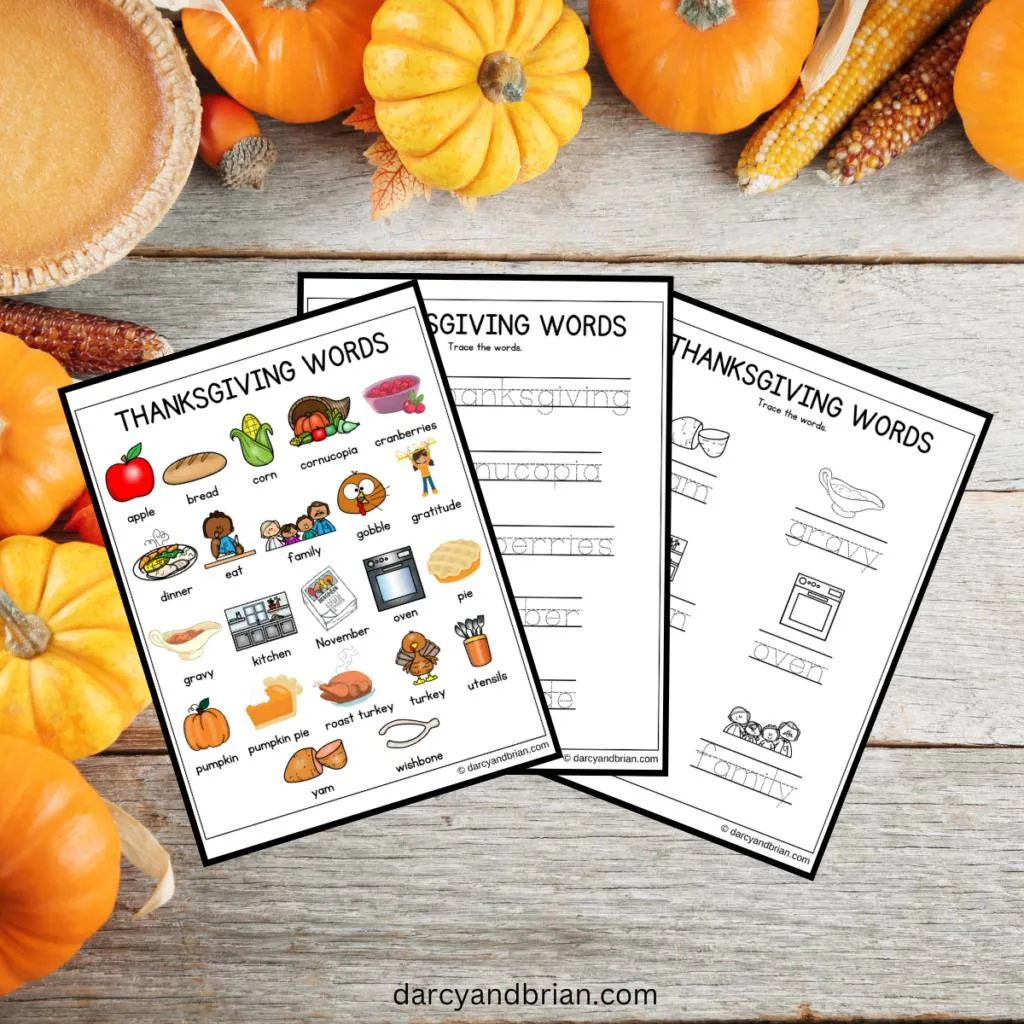 Is Tracing Words Helpful for Preschoolers?
Tracing words is an effective learning tool for preschoolers as it combines visual, kinesthetic, and cognitive skills, making it ideal for this age group's developmental stage.
As they trace the outlines of letters and words, children gain a tactile understanding of their shapes while developing motor skills, which will be crucial for independent writing in the future. The repetition in tracing activities aids in committing the spelling and appearance of words to memory.
Additionally, tracing words, especially those tied to specific themes like Thanksgiving, creates a meaningful context that aids in comprehension and vocabulary retention.
In essence, tracing serves as a bridge between recognizing letters and reading and writing words, making it an essential step in early literacy development.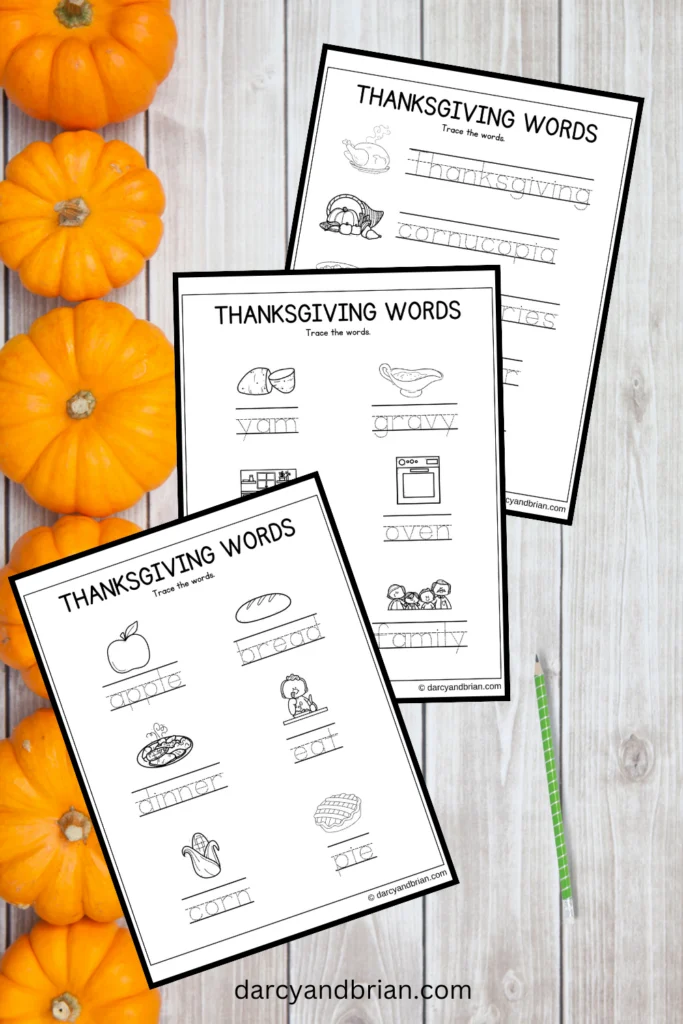 What's Included in the Thanksgiving Word List Printables
The free printable set includes a selection of 22 words closely associated with Thanksgiving. While this word list does not include every single term related to Thanksgiving, it offers an array of vocabulary that would enable children to narratively recount their own family gatherings.
From "November" marking the month of the celebration to "turkey," the traditional centerpiece of the feast, "gratitude" expressing the underlying sentiment of the occasion, to "family," the heart of the celebration, and "cornucopia," symbolizing the fall harvest.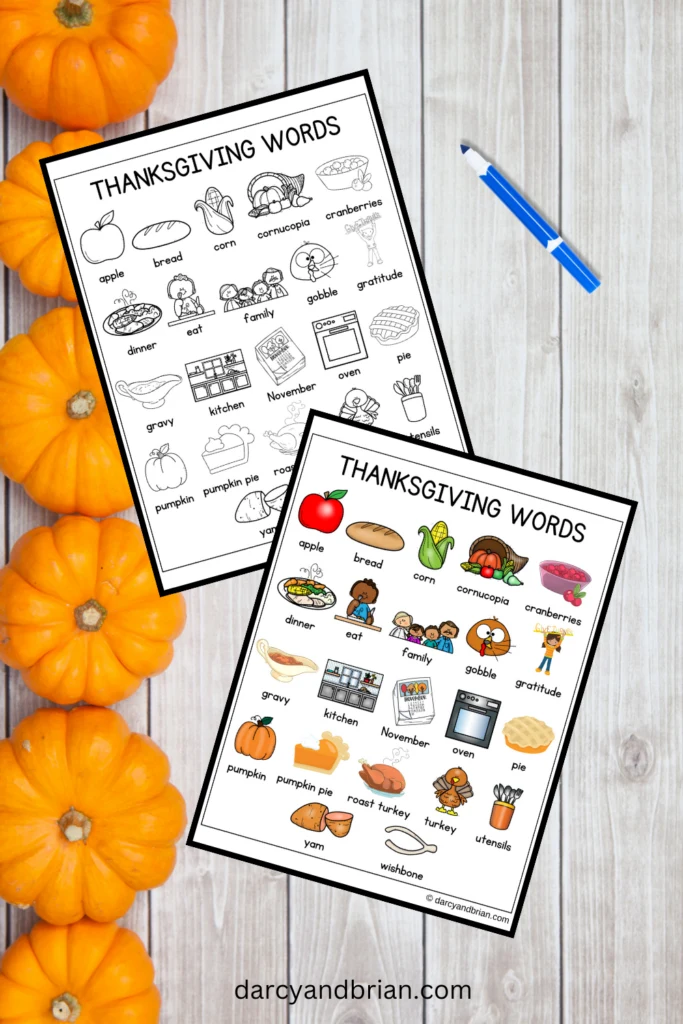 Recommended Items for Thanksgiving Words Worksheets
These Thanksgiving word list printables are no-prep learning activities – simply print and go! It's as straightforward as using your printer (we love our Epson EcoTank printer) to produce these vibrant and engaging worksheets.
All you need are the printouts, some pencils for the little ones to begin tracing, and voila – learning is in progress! If you wish to reuse these worksheets, consider either investing in a laminating machine or using dry erase pockets.
This way, your child can write with fine tip dry erase markers or dry erase crayons, wipe clean, and start all over again. Not only does this make learning fun and interactive, but it's also an eco-friendly practice that saves paper.
Scotch Thermal Laminator and Pouch Bundle, 2 Roller System, Laminate up to 9
Reusable Dry Erase Pocket Sleeves
EXPO Low Odor Dry Erase Markers, Ultra-Fine Tip, Assorted Colors, 4 Count
Avery Clear Laminating Sheets, 9
Ways to Use the Thanksgiving Word List
The Thanksgiving word list printables are a versatile tool that can be incorporated into various activities to enhance your child's learning.
For instance, they can be used in a fall writing center, serving as a word bank for children as they write about the season. The word list can also form part of quiet morning work, providing an engaging, independent task for children to start their day.
Additionally, children can use the words and accompanying pictures to draw and write their own Thanksgiving story, using at least three of the vocabulary words, which will stimulate creativity and apply their understanding of the terms.
Furthermore, you can cut apart the images and tracing words for a matching exercise, enhancing children's word recognition and association skills. These printables offer a hands-on and fun approach to learning, making the vocabulary stick!
More Printable Thanksgiving Activities
Expand your child's skills with our collection of printable Thanksgiving activities, perfect for kids who are eager to learn and have fun! Some of these activities work well as family activities and others are educational tools designed to help kids learn and develop their cognitive and motor skills.
Engage your family in our printable Gratitude Thanksgiving Game, a delightful blend of fun and thoughtfulness. This game not only offers an exciting activity for the family, but also instills the value of gratitude, making the Thanksgiving experience more meaningful.
Enhance your child's vocabulary and problem-solving skills with this Thanksgiving Word Scramble worksheet. This fun, challenging activity involves unscrambling letters to form Thanksgiving-related words, making learning exciting and thematic!
Experience the joy of learning with our Thanksgiving Charades and Thanksgiving Pictionary games! These exciting activities are not only great fun but also reinforce vocabulary knowledge while promoting social interactions and communication skills.
Explore the world of phonetics with these printable Turkey Letter Sound Clip Cards! These captivating tools will help your child correlate letters with their respective sounds, focusing on the word 'turkey', providing a thematic and interactive way to build foundational reading skills.
Easy Thanksgiving Crafts
Unleash your child's creativity with easy and enjoyable Thanksgiving crafts! Crafting together offers a wonderful opportunity for children to express their imagination, enhance their fine motor skills, and learn about Thanksgiving in a hands-on way.
Use this list of simple, yet delightful crafts that are perfect for young children and will keep their little hands busy during the holiday season.
As the leaves change and the holiday season approaches, these Thanksgiving-themed activities and crafts offer a wonderful way to engage your young ones in fun, educational experiences.
They'll not only enhance their vocabulary and fine motor skills but also learn the essence of gratitude and family. Make the most of this Thanksgiving by combining learning with joy, creating memories that will last a lifetime.