Are you looking for fun and engaging ways to get your kids excited about math? Math can be hard as a young learner, but with our roll and color fall printable dice game, it doesn't have to be!
Kids will improve their number recognition skills and fine motor skills in this exciting game. Kids will also learn the basics of addition while having fun rolling dice and coloring fall-themed images.
Learning should be entertaining for kids when possible. Our printable games for kids provide hours of learning entertainment that is both stimulating and enjoyable at the same time.
Download your free Roll & Color Fall Printable Dice Game using the form at the end of this post and get them hooked on learning basic mathematics today!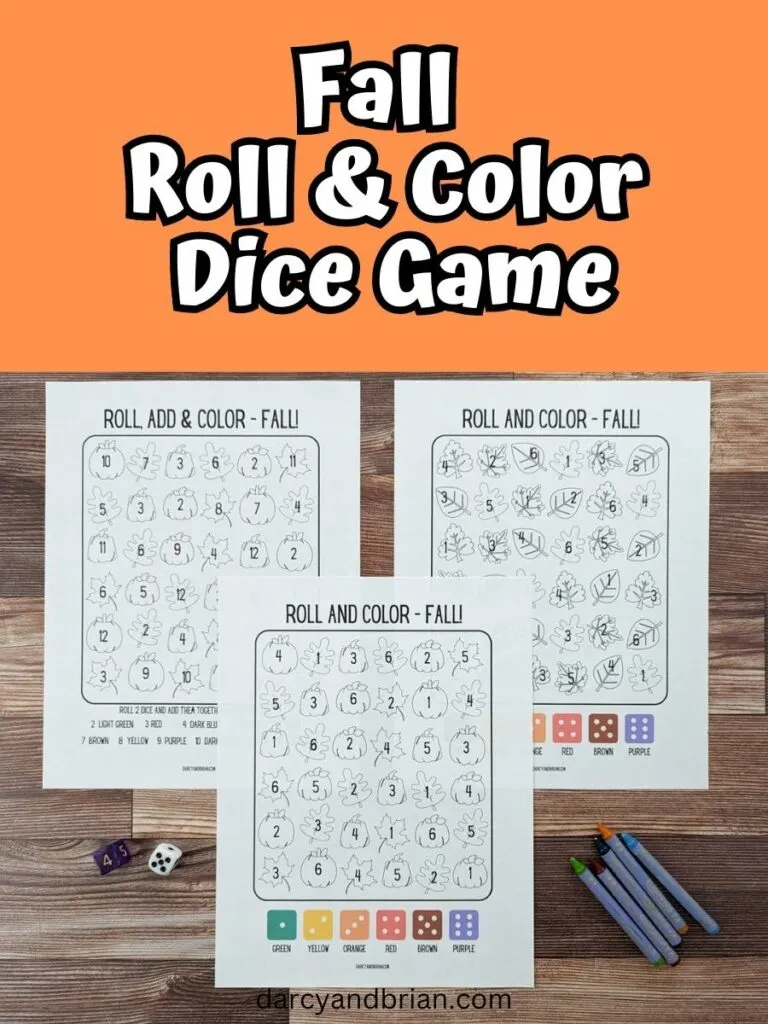 Our roll and color fall dice game is designed to make number recognition and addition practice fun for preschool and kindergarten children.
Not only will work on early math skills while playing this game, but they will also strengthen their fine motor skills.
By rolling dice and coloring fall-themed images, they will even grasp the fundamentals of addition. Learning can be a delightful experience, and our printable games offer hours of educational entertainment for kids.
Easy Preschool Math Activities
Want even more hands on math ideas? Here are some easy and interactive preschool math activities that will keep your child engaged and learning!
Benefits of Playing Roll and Color Fall Printable Game
Playing the Roll and Color Fall Printable Dice Game offers numerous educational advantages for preschool children.
Firstly, it encourages number recognition in an engaging way as children identify the results of their dice rolls.
This also helps them work on subitizing, which is the ability to quickly recognize how many items are in a group without counting.
Secondly, the coloring aspect of the game helps improve children's fine motor skills, as they color within the lines of the leaf and pumpkin images.
Thirdly, the game introduces basic addition, a crucial early math skill, in an enjoyable and accessible manner.
By connecting the abstract concept of addition to a tangible activity, the game helps children understand and retain this new knowledge.
Finally, the game promotes patience and concentration as children await their turn (if playing with others) and focus on completing their coloring tasks.
Thus, this game is not just a fun activity, but a powerful learning tool that can make math more approachable and enjoyable for preschool children.
What's Included in the Roll and Color Fall Printable Dice Game?
This activity includes three pages showcasing various leaf shapes and pumpkins. Additionally, there are two pages dedicated to number recognition, covering numbers 1 to 6.
Another page focuses on single-digit addition, with sums ranging from 2 to 12. By rolling two dice and adding the numbers together, children can engage in valuable mental math practice.
Also, the game worksheets can be easily printed multiple times to suit your needs. This makes it an ideal resource for homeschooling preschool and kindergarten, as well as for classroom use.
This post contains affiliate links. As an Amazon Associate and a participant in other affiliate programs, we earn a commission on qualifying purchases.
64 Crayons Per Box, Classic Colors, Built In Sharpener, Crayons For Kids, School Crayons, Assorted Colors – 64 Crayons Per Box – 1 Box
Crayola Colored Pencils (36ct), Kids Pencil Set, Back to School Supplies, Assorted Colors, Great for Classrooms, Nontoxic, Ages 3+
50 Pieces Colored Dice, 6 Sided Dice for Board Games, 14mm Bulk Dice for Math Learning, Dice for Classroom
CiaraQ Polyhedral Dice Set (35 Pieces) with Black Pouches, 5 Complete Double-Colors Dice Sets of D4 D6 D8 D10 D% D12 D20 Compatible with Dungeons and Dragons DND RPG MTG Table Games
How to Play Roll and Color Fall Math Game
This activity can be enjoyed individually, with a partner, or in a small group as a math center. Children can choose to play solo until all the pumpkins and leaves are colored in, or they can take turns rolling and coloring with a friend.
For the roll and color sheets, simply roll a six-sided die, locate the corresponding number on the page, and use the color key to fill in the picture.
On the roll, add, and color page, roll two six-sided dice, add up the numbers, find the sum, and color the image accordingly using the color key at the bottom.
Additional Fall Preschool Unit Ideas
Incorporating the Roll and Color Fall Printable Dice Game into a fall-themed unit for preschool can be a fun and enriching experience. Here are some ways to achieve this:
Thematic Learning: Begin by introducing the concept of fall – change in weather, falling leaves, and the colors associated with the season. Use the game to reinforce these ideas as children identify and color fall-themed images.
Outdoor Activity: Organize a leaf collecting exercise where children collect different types of leaves. They can then match the leaves they've collected with those on the game sheet, enhancing their observational skills, as well as create leaf rubbings.
Group Activity: Get children to play the game in small groups. This encourages teamwork and makes learning a social experience.
Storytime: Incorporate storytime with fall picture books for preschoolers. Later, children can play the game and identify elements from the stories in their game sheets.
Art Integration: Use the game as a starting point for craft activities. Children can create their own fall tissue paper suncatchers which include a leaf, an apple, a pumpkin, and an acorn or a 3D coffee filter pumpkin. You can also browse this wonderful list of Fall Leaf Crafts curated by Tara of Homeschool Preschool for inspiration.
By incorporating the game in these ways, children will not only learn about the season of fall but also develop essential mathematical and social skills.
More Fun Math Games
If you're looking for more ways to sneak in math practice, here are a few suggestions for cool math games for kids that they will want to play. Whether it's addition, subtraction, or number recognition, these games turn learning into an enjoyable experience.
Melon Rind Jump 1 Game – Adding and Subtracting by 1, Math Game for Kids (Ages 5 and up)
Gamewright Qwixx – A Fast Family Dice Game Multi-colored, 5
Sleeping Queens Card Game, 79 Cards
Adsumudi Math Game – The Monstrously Fun, Smart Game for Kids to Practice Multiplication, Division, Addition and Subtraction – Great for Kids Ages 8-12
Proof! Math Game – The Fast Paced Game of Mental Math Magic – Teachers' Choice Award Winning Educational Game, Ages 9+
Math for Love Prime Climb
More Fall Crafts for Preschoolers
Fall is the perfect time to engage young learners in hands-on, creative activities that not only offer fun but also provide ample learning opportunities. Here are more fall-inspired crafts that preschoolers can enjoy creating at home or in a classroom.
In conclusion, the Roll and Color Fall Printable Dice Game offers a playful and interactive way to reinforce the season of fall while supporting math learning for preschoolers and kindergartners. With its emphasis on fun the game is more than just a math activity.
It engages children in a broad spectrum of learning experiences, fostering fine motor skills, number recognition practice, and simple addition facts.
This game is a simple yet effective tool to make learning both enjoyable and meaningful. So, let's embrace the beauty of the fall season and the joy of learning with our little ones!