As the leaves begin to change and the air becomes crisp, it's the perfect time to plan engaging fall activities for children. We've curated a delightful list of fall popsicle stick crafts for kids of all ages that will ignite their imagination and creativity.
These craft projects provide a great way to bond with your children as well as help them improve their fine motor skills. From adorable crows to charming pumpkins, these crafty masterpieces make use of one of the most versatile materials – popsicle sticks.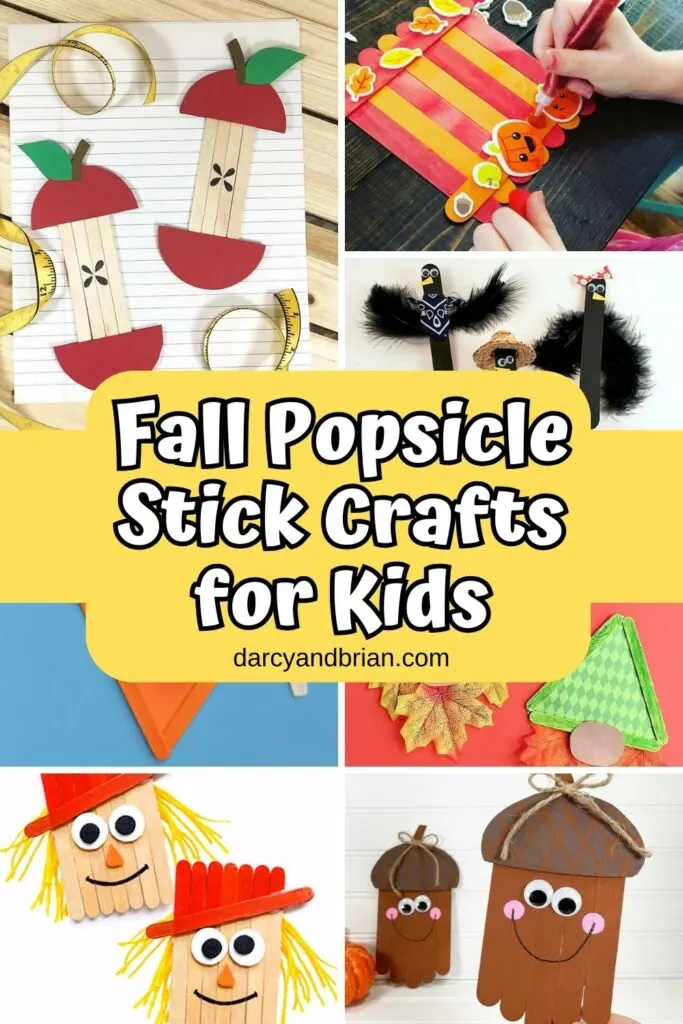 Get ready for endless hours of fun and artistic exploration as your little ones bring their imagination to life with these enchanting fall creations!
Benefits of Making Popsicle Stick Crafts
Fall is the perfect time for kids to unleash their creativity through popsicle stick crafts. As they cut out shapes and carefully position them to create their autumn-inspired masterpieces, children not only have fun but also develop essential skills.
They improve their fine motor skills, which are vital for tasks like writing and tying their shoes. Moreover, choosing colors, recognizing shapes, and counting pieces enhance their understanding of basic concepts and cognitive abilities.
Crafting can also promote problem-solving and innovative thinking. Overall, it's a delightful and engaging activity that offers numerous benefits for children of all ages. For year-round inspiration, be sure to check out our extensive assortment of craft ideas for kids.
This post contains affiliate links. As an Amazon Associate and a participant in other affiliate programs, we earn a commission on qualifying purchases.
Winlyn 48 Sets 12 Styles Magic Color Scratch Black Fall Leaves Ornaments
232 Pieces Fall DIY Picture Frames Craft Kit for Kids
WATINC 123pcs Fall Craft Kits for Kids, Cute Animals Hanging Ornaments
Fennoral 12 Pack Fall Craft Kit for Kids
Engaging Fall Activities for Kids
Including fall-themed activities in lessons or party plans can make the season more enjoyable and memorable for kids. From interactive games to creative worksheets, there are plenty of fun ideas to engage and inspire young learners during this colorful time of year.
Fall Books for Kids
Combining crafts with seasonal books offers children captivating and immersive learning units. As they create fall-themed crafts, kids can draw inspiration from characters, scenes, or elements in their favorite autumn books. This not only deepens their comprehension of the story but also nurtures their creativity.
The Very Last Leaf
Pumpkin Jack
The Leaf Thief: (The Perfect Fall Book for Children and Toddlers)
Too Many Pumpkins
We're Going on a Leaf Hunt
The Roll-Away Pumpkin
Recommended Craft Supplies
One of the best things about these fall popsicle stick craft projects is that they use of a variety of common art supplies that you probably already have at home or in your classroom. This makes them accessible and budget-friendly to create.
Popsicle sticks of different sizes, from jumbo craft sticks to mini popsicle sticks, will be the main features of most of these projects.
You'll need items like paint, markers, and construction paper to add vibrant colors and intricate details to your crafts.
Googly eyes will bring your creations to life, while items such as craft feathers, yarn, and chenille stems can be used to add extra embellishments.
And, of course, don't forget the glue! For most of these, liquid school glue or glue sticks will suffice. However, tacky craft glue or a low temperature glue gun may be preferred for some.
These supplies are not only perfect for these fall crafts but also versatile for a wide range of other creative projects. So go ahead and stock up as needed!
Simple Craft Ideas for Kids
Children adore crafting, and fortunately, there are projects available to match every learning theme. Check out these super fun and easy craft ideas for kids that we think you'll enjoy:
Fun Fall Popsicle Stick Crafts
These fall popsicle stick crafts are perfect for kids of all ages, especially preschool and kindergarten children.
From cute pumpkins to scarecrows and turkeys, these projects make charming fall decorations.
Popsicle sticks, also known as craft sticks and ice cream treat sticks, are versatile and affordable materials for these projects.
With packs available in various sizes and colors, you can cater to any fall-themed craft.
Whether it's at a party, in a classroom, in a homeschool co-op, or in a childcare center, these crafts are perfect for creating a fun and engaging activity for children.
Like the leaves changing color, these projects will undoubtedly bring a dash of autumn magic into your homes and classrooms. Not only will these fall popsicle stick crafts spruce up your decor, they are also an excellent way for children to develop their fine motor skills and unleash their creativity. So get those craft sticks ready and let the autumn crafting begin!