This Roll A Jack O Lantern printable activity is one of our fun and easy Halloween activities for kids. It's the perfect low prep fall activity for preschool and kindergarten children at home or for a classroom math center.
Older children can also play! Plus, it can be used as a solo or small group activity. Playing games is my favorite way to keep my kids engaged in learning without them realizing what we're doing is educational.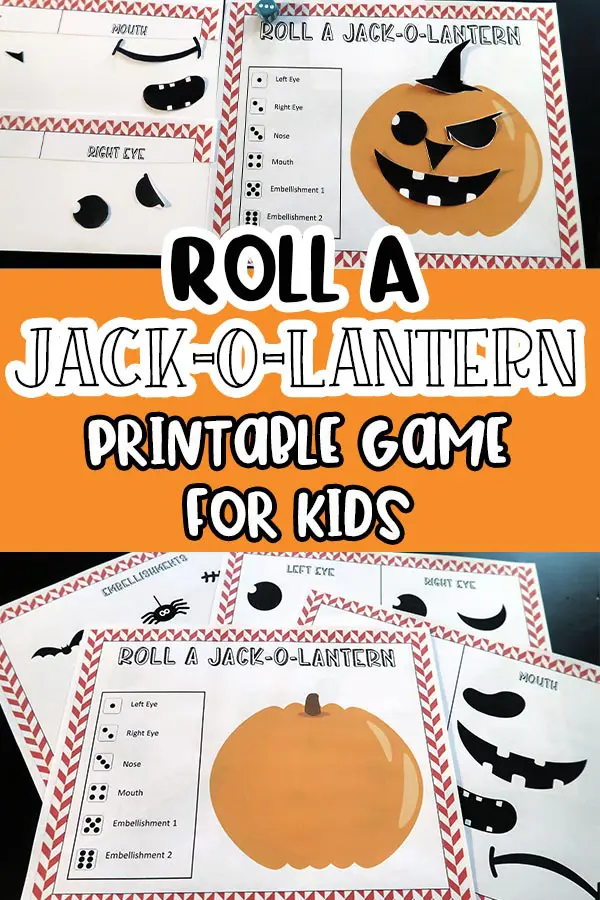 This game is simple to play and helps preschool and kindergarten children work on number recognition and subitizing when rolling the die and following the directions.
Repetition is important in the learning process and playing printable games for kids helps reinforce concepts while keeping learning fun.
Changing things up for holidays and seasons keep activities from feeling boring. Making silly pumpkin faces doesn't feel like a math lesson!
What Math Skills Does This Teach?
This hands-on math activity is perfectly designed for preschool and kindergarten children.
By rolling dice and adding facial features to the pumpkin based on the numbers rolled, children get to practice their number recognition skills.
The game also introduces them to the concept of subitizing, which is the ability to 'see' a small amount of objects and know how many there are without counting.
As a bonus, the element of chance inherent in dice rolling gives us the opportunity to introduce the budding mathematicians to the basic concept of probability.
This adds another layer of educational value to this fun Halloween-themed game.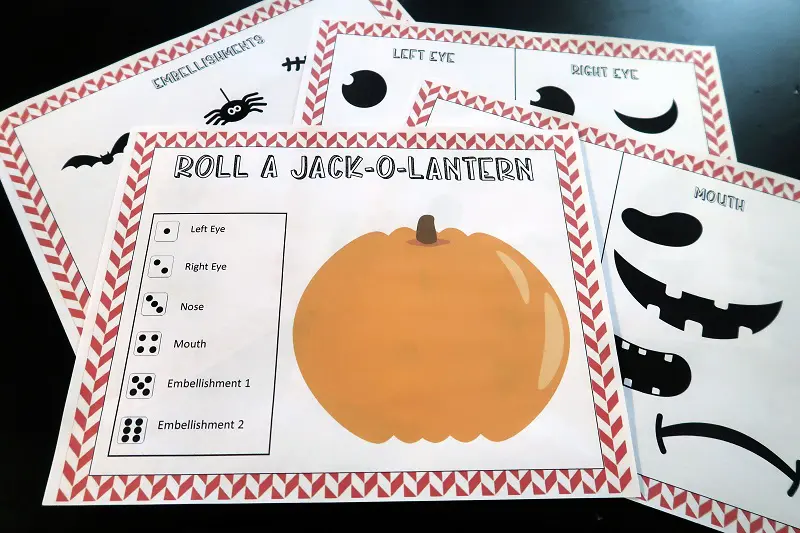 Is Subitizing Important for Children to Learn?
Subitizing is an important skill for children to begin developing in their early years.
It helps them learn to categorize, recognize patterns, and develop a number sense that is key for mathematics learning in the later years. It also helps with counting, one-to-one correspondence, and other basic math skills.
By using our Roll A Jack O Lantern game as a fun and engaging way to introduce these concepts, children can gain an understanding of them through play and it sets them up for future math success.
Free printable available at the end of this post.
This post contains affiliate links. As an Amazon Associate and a participant in other affiliate programs, we earn a commission on qualifying purchases.
More Fun Math Activities for Kids
Keeping math fun and engaging for kids is vital in fostering a love for learning.
Activities such as color by number and playing games help reinforce key mathematical concepts while also bringing an element of fun and creativity to learning.
This varied approach keeps kids interested and makes math an adventure rather than a chore.
Melon Rind Jump 1 Game – Adding and Subtracting by 1, Math Game for Kids (Ages 5 and up)
Gamewright Qwixx – A Fast Family Dice Game Multi-colored, 5
Sleeping Queens Card Game, 79 Cards
Adsumudi Math Game – The Monstrously Fun, Smart Game for Kids to Practice Multiplication, Division, Addition and Subtraction – Great for Kids Ages 8-12
Proof! Math Game – The Fast Paced Game of Mental Math Magic – Teachers' Choice Award Winning Educational Game, Ages 9+
Math for Love Prime Climb
What You Need to Play Roll A Jack-O-Lantern Printable Dice Game
Blank pumpkin and carving decoration cards – The printable set (available by filling out the form below) includes a blank pumpkin with dice key, eyes, noses, mouths, and other decoration embellishments.
Dice – Each player needs one die or can take turns using one. This colorful set of dice would be perfect!
One or more players – You can decide to add an element of competition to the game if you wish, or keep it as a simple activity.
Snacks aren't required while playing, but why not add a yummy treat? Keep the pumpkin theme going with this easy pumpkin mousse or these pumpkin chocolate chip pancake muffins to snack on while playing.
How To Play Roll A Jack-O-Lantern Game
Once you have the printable Roll a Jack-O-Lantern game for kids, it needs to be printed out.
I highly recommend printing everything out on white card stock paper for better durability. If you plan to use it with a classroom or again next year, consider laminating it.
Print as many dice key and pumpkin sheets as needed. If multiple children are playing together at the same time, each one needs a blank pumpkin.
Everyone can share the decoration cards, but you may print additional decoration pieces as needed.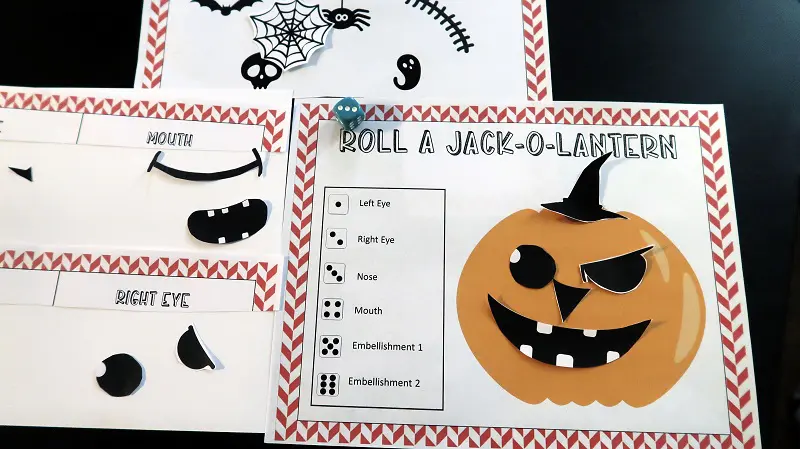 If you want each student to have their own set, then print out the complete game set for each child.
Cut out the eye, mouth, and nose pieces as well as the other embellishments and set them aside.
Roll the die and match the number to the dice key and follow the directions for which pieces to add and make a pumpkin face!
See who can roll one of each type first and share your decorated pumpkins with each other. Then slide the cards off and start rolling to decorate again.
For older children, you could have them roll two dice and adjust the dice key to incorporate addition, subtraction, or multiplication facts.
If you don't want to use the cut out pieces, let the kids roll the die and draw the item shown on the dice key instead. It's fun to see the creative faces they draw on their pumpkins!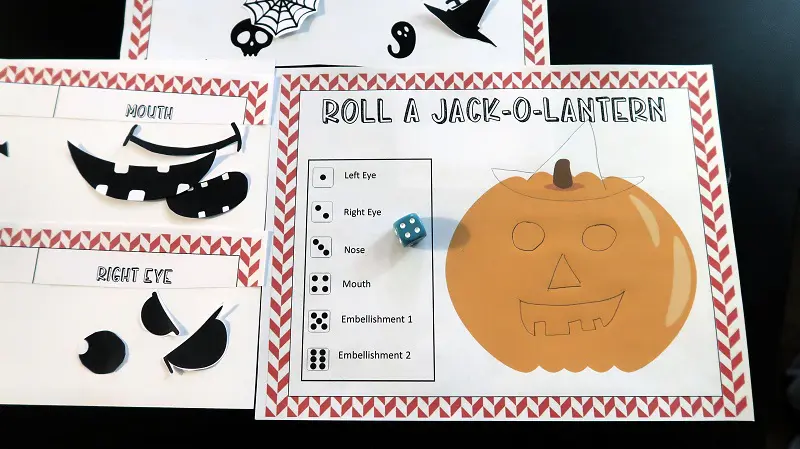 Engaging Pumpkin Learning Activities for Kids
Incorporating our Roll A Jack O Lantern game into a comprehensive Pumpkin Unit can make learning incredibly enjoyable for preschool and kindergarten children.
This hands-on, creative game not only reinforces math skills, it also allows kids to explore and understand the iconic symbol of Halloween—the Jack O Lantern—in a fun way.
Alongside this, we offer a variety of other pumpkin-themed activities that can be seamlessly integrated into your Pumpkin Unit.
Our Parts of a Pumpkin printable activity is an excellent tool for teaching children about the different sections of a pumpkin in an engaging and easy-to-understand manner.
It can be the perfect complement to a pumpkin dissection activity or pumpkin life cycle coloring pages.
An interactive math activity is to play a pumpkin seed counting game. Provide children with a set of pumpkin seeds and ask them to count the seeds out and place them with the corresponding number. This will reinforce counting skills and introduce the concept of grouping.
Additionally, our Pumpkin Size Sorting printable game is a fantastic way to introduce youngsters to the concept of size and comparisons.
It enhances their observational skills and encourages them to categorize items based on their size, a critical part of cognitive development.
These activities not only provide children with a holistic learning experience but also keep them excited and engaged, making the Pumpkin Unit a highlight of their early learning journey.
Books About Pumpkins for Kids
Incorporating read-alouds of pumpkin-themed books can add a literacy element to your pumpkin unit, making it even richer. Our curated list of 30 charming pumpkin picture books for kids offers a wide array of stories and illustrations to captivate young minds.
Thomas and the Runaway Pumpkins (Thomas & Friends) (Little Golden Book)
Weird But True Halloween: 300 Spooky Facts to Scare You Silly
How Big Could Your Pumpkin Grow?
Too Many Pumpkins
Pumpkin Circle: The Story of a Garden
It's Pumpkin Day, Mouse! (If You Give…)
From tales of adventurous pumpkins to informative books on pumpkin growth, these readings can spark imagination and reinforce the concepts covered in our pumpkin unit activities.
Fun Pumpkin Crafts for Kids
Crafting offers numerous developmental benefits for children, improving their fine motor skills, fostering creativity, and enhancing cognitive abilities.
In line with our pumpkin theme, we've put together a collection of pumpkin crafts that your children will absolutely adore.
These hands-on projects not only entertain but also provide a fun, educational experience.