This Roll A Jack-O-Lantern printable activity is a fun and easy Halloween game for kids to play.
It's the perfect low prep activity for preschool and kindergarten children at home or for a classroom math center.
Older children can also play! Plus, it can be used as a solo or small group activity.
Want more activities like this? Don't miss our Roll A Christmas Tree, Roll a Cupcake, and other free printable games for kids!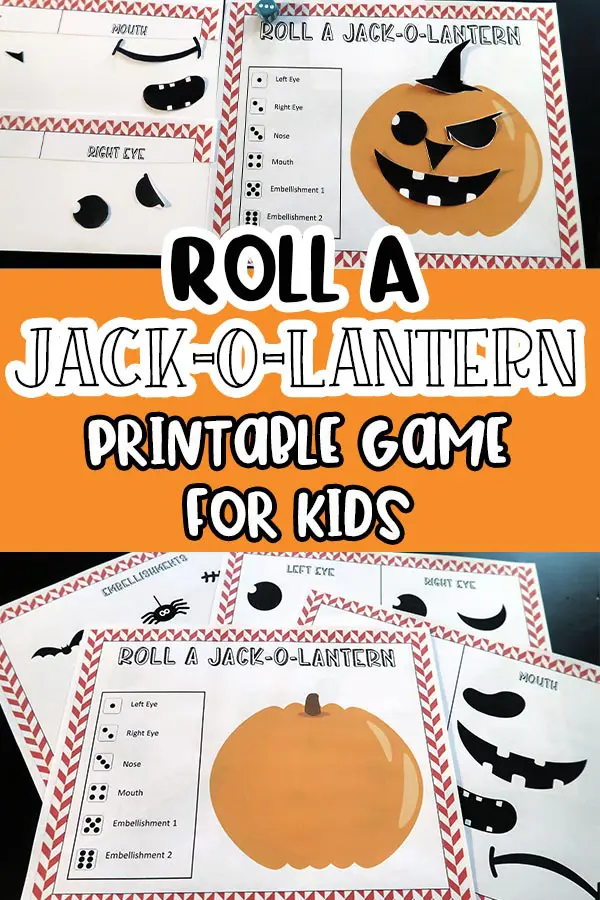 This post contains affiliate links. As an Amazon Associate and a participant in other affiliate programs, we earn a commission on qualifying purchases.
Roll A Jack-O-Lantern Printable Dice Game
Repetition is important in the learning process and playing games helps reinforce concepts while keeping learning fun.
Playing board games is my favorite way to keep my kids engaged in learning without them realizing what we're doing is educational.
This game is simple to play and helps preschool and kindergarten children work on number recognition and subitizing when rolling the die and following the directions.
For older children, you could have them roll two dice and adjust the dice key to incorporate addition, subtraction, or multiplication facts.
Changing things up for holidays and seasons keep activities from feeling boring. Making silly pumpkin faces doesn't feel like a math lesson!
For a yummy treat, make this easy pumpkin mousse or these pumpkin chocolate chip pancake muffins to snack on while playing.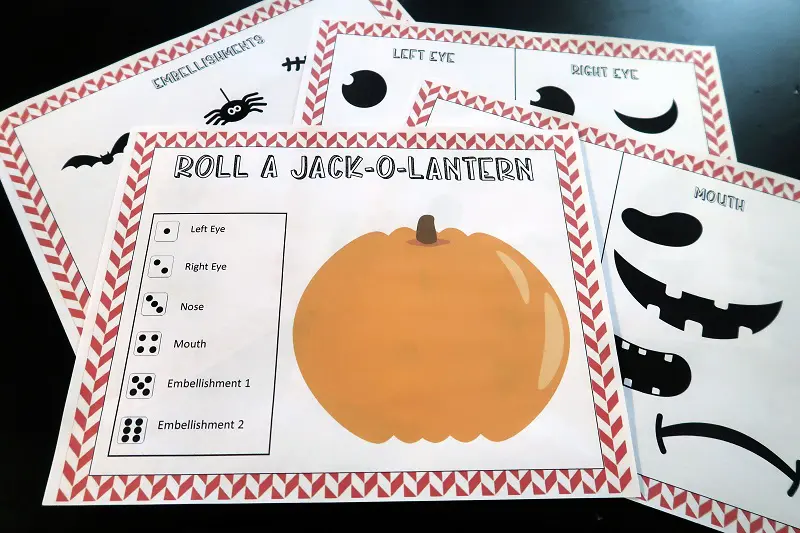 What You Need to Play Roll A Jack-O-Lantern
Blank pumpkin and carving decoration cards – The printable set (available below) includes a blank pumpkin with dice key, eyes, noses, mouths, and other decoration embellishments.
Dice – Each player needs one die or can take turns using one. This colorful set of dice would be perfect!
One or more players – You can decide to add an element of competition to the game if you wish, or keep it as a simple activity.
How To Play Roll A Jack-O-Lantern Game
Once you have the printable Roll a Jack-O-Lantern game for kids, it needs to be printed out.
I highly recommend printing everything out on white card stock paper for better durability. If you plan to use it with a classroom or again next year, consider laminating it.
Print as many dice key and pumpkin sheets as needed. If multiple children are playing together at the same time, each one needs a blank pumpkin.
Everyone can share the decoration cards, but you may print additional decoration pieces as needed.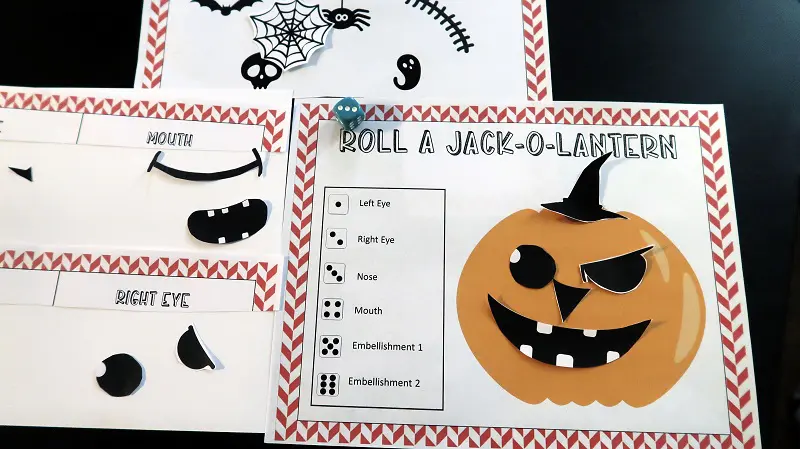 If you want each student to have their own set, then print out the complete game set for each child.
Cut out the eye, mouth, and nose pieces as well as the other embellishments and set them aside.
Roll the die and match the number to the dice key and follow the directions for which pieces to add and make a pumpkin face!
See who can roll one of each type first and share your decorated pumpkins with each other. Then slide the cards off and start rolling to decorate again.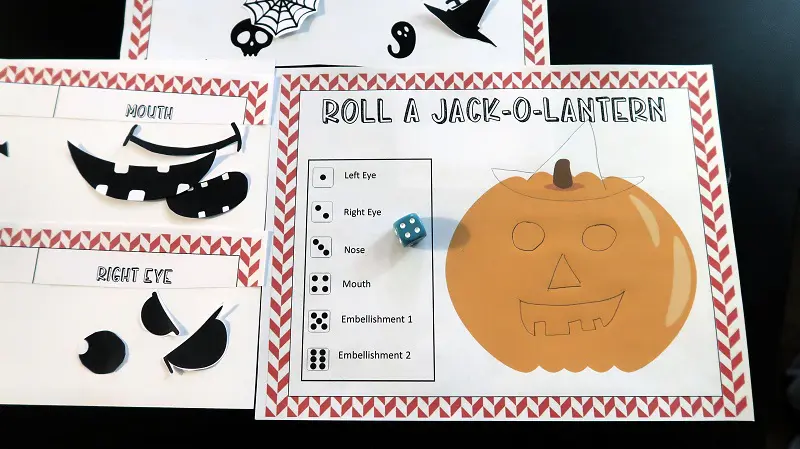 If you don't want to use the cut out pieces, let the kids roll the die and draw the item shown on the dice key instead. It's fun to see the creative faces they draw on their pumpkins!
You can print this activity out at home or at a local printing shop. It is for your own personal or classroom use only.
More Pumpkin Activities for Kids: