These cute fall counting mat printables are perfect for preschool math centers. They are a great no prep counting activity at home or at school for toddlers, preschoolers, and kindergartners.
Repetition and play help children learn math concepts and changing up the theme keeps it interesting. I love fall and think these fall themed pictures – especially the animals wearing scarves – are simply adorable!
I am also sharing a few tips on how to use these counting mats to work on math skills.
Looking for more fall activities for kids? Don't miss our pumpkin size sorting activity, this list of fall picture books to read and collect leaves for leaf rubbings.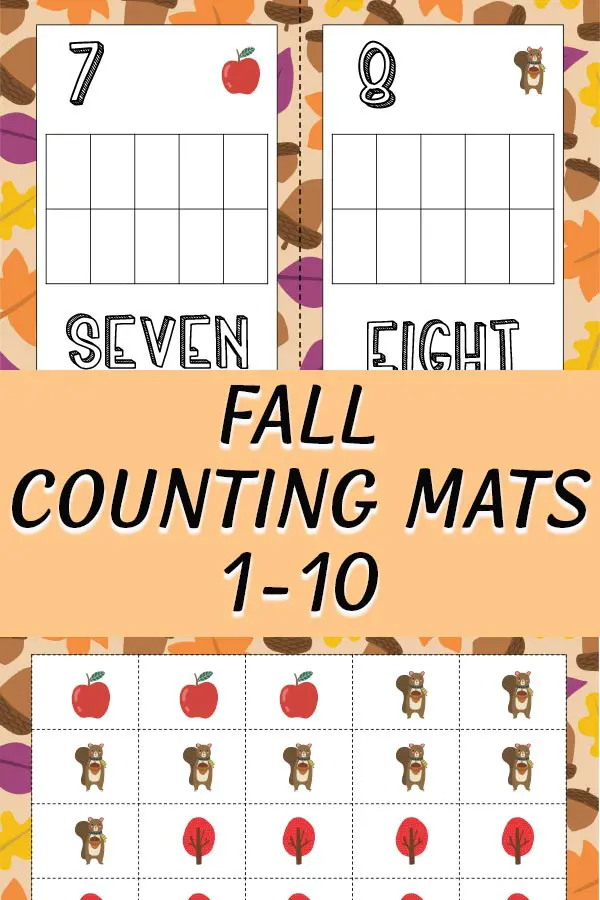 This post contains affiliate links. As an Amazon Associate and a participant in other affiliate programs, we earn a commission on qualifying purchases.
Fall Counting Mat Activities
The changing seasons provide plenty of learning opportunities for kids. There are so many fun ways to incorporate fall into fun lessons. From autumn leaves changing colors to changes in weather and animal migration.
What's included in this fall counting mat packet? After you download and save the printable pack at the bottom of this post, this is what you can expect:
A separate 10 frame for each number 1-10.
They print two to a page, so just cut them in half.
Matching fall themed picture tokens to go with each counting mat

Bear in a sweater
Fox wearing a scarf
Squirrels
Acorns
Apples
Pumpkins
Sunflowers
Owls with scarves
Fall trees
Umbrellas
You can print these counting mats at home on regular paper or cardstock. I recommend laminating them if you are using these in a classroom math center.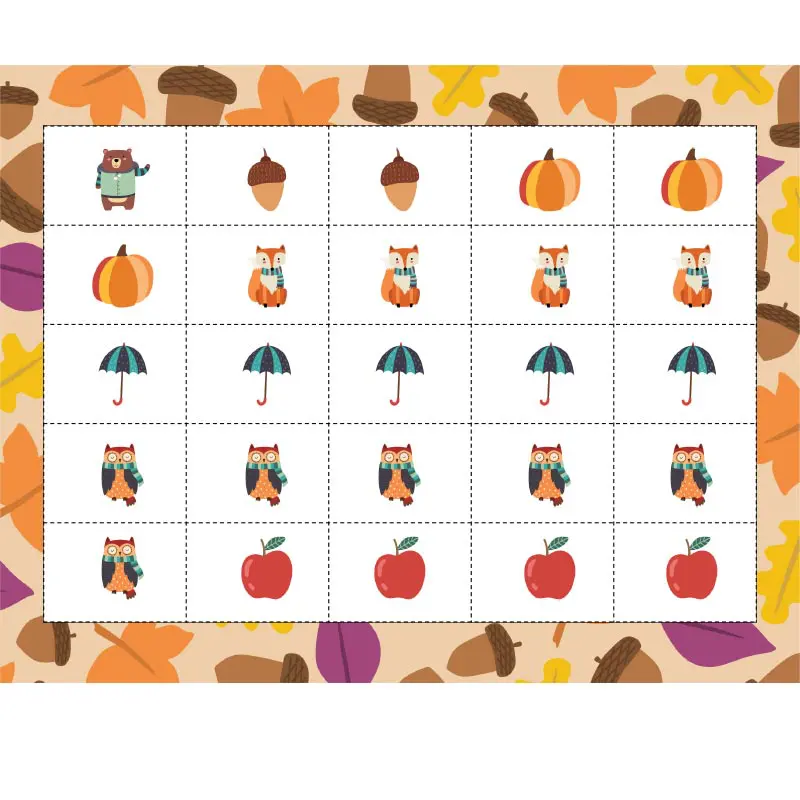 Cut the counting mats apart and cut out the image tokens. You can keep the mats in numerical order or shuffle them in a pile.
Point out the number on each one and the number written out. You can have them trace the numbers and words with their finger, pencil or crayon.
Find the matching picture and count the tokens as they are placed on the mat.
If you do not want to use the picture tokens or simply want to change things up a bit, you can have students place a number of other items on the counting mat.
For example, you can use pumpkin seeds, mini pumpkin erasers, fall stickers or pom poms.
You can also use these number mats to create simple addition problems by placing a plus sign between two of them.
Have your child place the correct number of tokens on each sheet then add the two numbers together.
Benefits of Using Fall 10 Frame Counting Mats
There are several benefits to using printable 10 frame counting mats. They offer a variety of low prep activities for hands-on math practice for preschool and kindergarten kids.
They can practice scissor skills by cutting out all the pieces themselves. Placing the items develops fine motor skills.
The mats also help kids work on number recognition (both numeral and word). They can also practice tracing and writing the numbers.
These help kids working on counting 1-10 and learning how to use ten frames.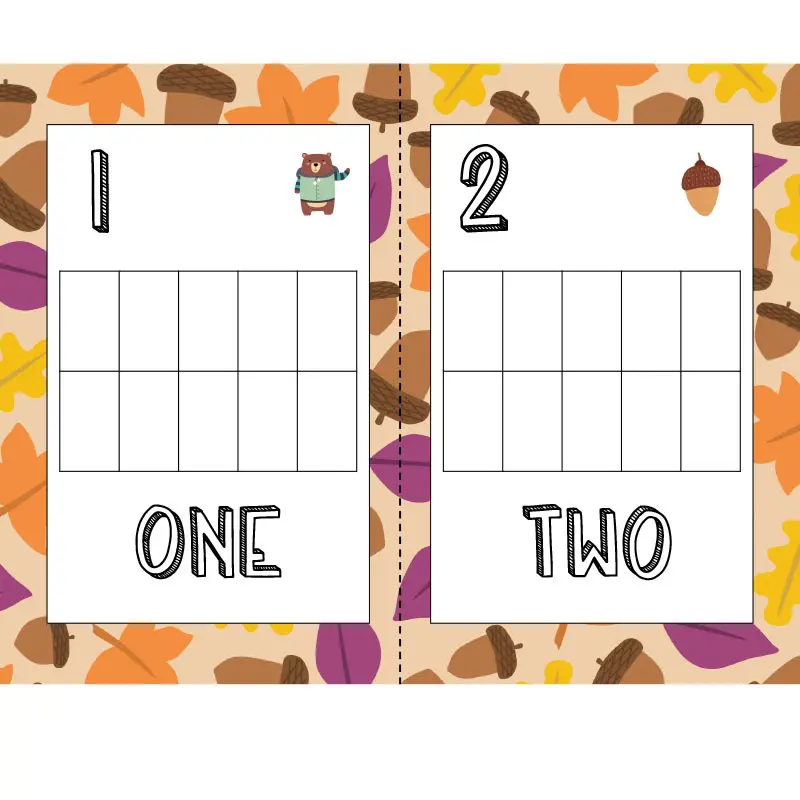 What is a Ten Frame?
A ten frame is a rectangular grid with two rows of five cells. Ten frames are a great visual and help with an important math skill called subitizing.
What is Subitizing?
Subitize is knowing the number of objects in a set without counting.
For example, when rolling dice, the ability to tell the number of pips without counting them. Or seeing a domino and knowing the number on each side by just looking.
More Preschool Math Activities:
More Printable Learning Activities
Fall Ten Frame Printable Counting Mats
This fall counting mat printable activity packet is for your personal or classroom use only. Share this post with parents and teachers you know to obtain their own set to use.
After downloading and saving, you may print these fall counting mats at home or have them printed out at a local printing place.