Get ready to embrace the fall season with our tissue paper leaf craft! This engaging activity is part of our fabulous collection of tissue paper crafts for kids. Not only are these crafts super fun, they also provide educational benefits.
With our free printable template, your little ones will have a blast tracing, cutting or ripping, and gluing to create their vibrant autumn masterpiece.
This offers an excellent way to work on fine motor skills, color recognition, and more while getting crafty.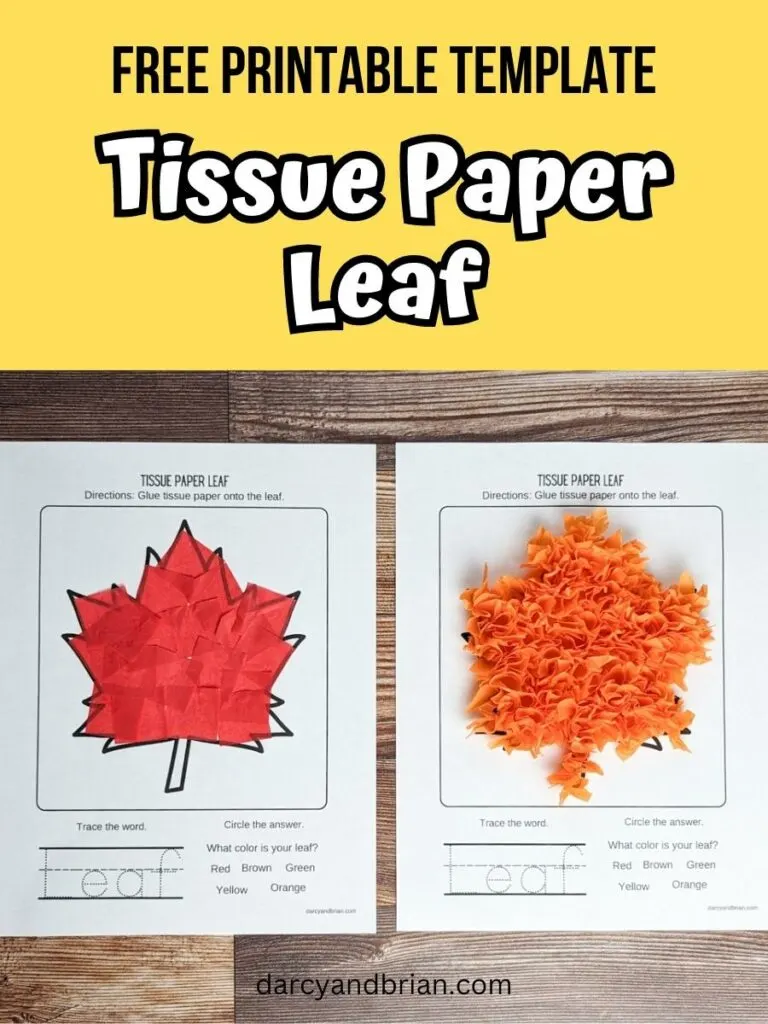 The beginning of fall is a magical time for children, as they witness the transformation of green leaves into a spectacular palette of red, orange, yellow, green, and brown.
The changing colors of leaves not only pique their innate curiosity about nature but also offer a canvas for their creativity.
This tissue paper leaf craft activity encapsulates the beauty of fall and gives preschoolers a chance to recreate the colorful foliage in their unique way. It's a fun and engaging way to celebrate the start of the fall season.
More Leaf Crafts
Exploring a variety of leaf crafts during fall allows children to appreciate the season's unique charm while boosting their creativity and skills.
From tracing, cutting, and pasting, each craft activity is a new adventure that unfolds the magic of fall in a fun, educational way.
Benefits of This Tissue Paper Leaf Craft
This tissue paper leaf craft boasts a variety of developmental benefits for preschoolers. As they cut or rip tissue paper and glue it onto their leaf template, they are unknowingly strengthening their fine motor skills.
These actions require precision and coordination, which help enhance their hand-eye coordination and dexterity.
By tracing the word "leaf" on the craft template, children get the opportunity to improve their pencil grip, enhance word recognition, and practice handwriting.
As they trace the letters, they not only learn the spelling of the word "leaf", but also achieve better control over their writing movements.
This multi-faceted, hands-on activity not only stimulates their creativity, but also contributes to their cognitive, physical, and linguistic development.
Why Are Fine Motor Skills Important?
Fine motor skills are essential for young children as they underpin most of their everyday tasks and activities.
They pertain to the movement and dexterity of small muscles, particularly in the hands and fingers.
Building these skills from an early age helps children perform tasks such as writing, buttoning their clothes, using cutlery, and manipulating small objects with ease.
Developing fine motor skills is not just about practicality, it's also crucial for a child's cognitive development.
Strengthening these skills enhances their ability to explore the world around them, engage more effectively in play, and lays a solid foundation for future learning and academic achievements.
Tissue Paper Leaf Craft Supplies
This wonderfully interactive and educational craft requires a few basic supplies, most of which you may already have at home or in the classroom. Here's what you will need: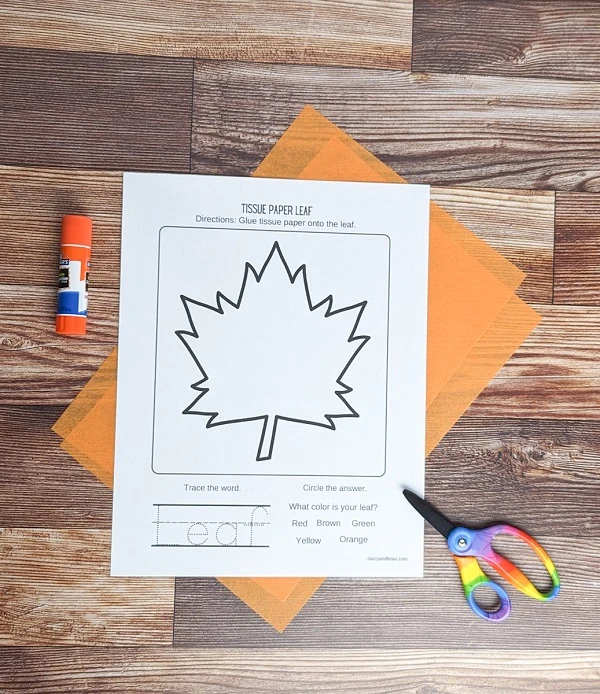 This post contains affiliate links. As an Amazon Associate and a participant in other affiliate programs, we earn a commission on qualifying purchases.
Printable Leaf Craft Template: This is a crucial component of the craft. It provides a guide for your preschooler to follow and create their leaf. The template can be obtained by filling out the form provided at the end of this post.
Tissue Paper: This will be used to decorate the leaf. You can either have your child cut or rip the tissue paper into small pieces or use pre-cut tissue paper squares for ease.
Glue: To adhere the tissue paper pieces onto the template, you can use either a glue stick or liquid school glue. Opting for a glue stick would be the less messy option.
Scissors: If your child will be cutting the tissue paper themselves, they'll need a pair of scissors. Remember, safety first! Ensure they are child-friendly scissors with a blunt tip.
Pencil: This will be used to trace the word "leaf" and circle the colors they used at the bottom of the craft template, enhancing your child's word recognition, handwriting, and spelling skills.
Gather these items, and you're all set to embark on a fun, educational crafting journey with your little one!
How to Make a Tissue Paper Leaf Craft
Start by downloading the free printable leaf template provided at the end of this post. Once downloaded, print out the template to get started on your craft.
Now, select your tissue paper. Consider using fall colors like red, orange, yellow, green, or brown, or use a combination of these colors to make your leaf unique.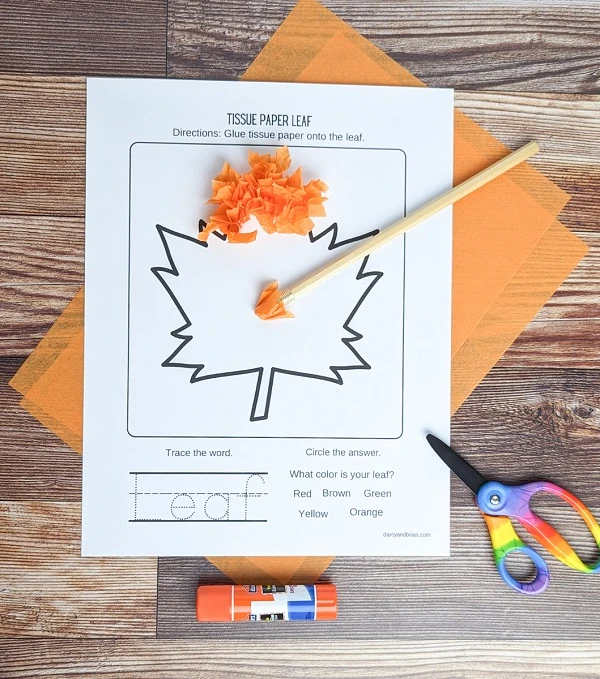 Take your chosen tissue paper and either crumble or twist it to create a fun, textured look for your craft. If you like, you can also wrap your tissue paper around the end of a pencil and press it down onto the craft for added texture.
Now, apply some glue to your leaf template and start placing your tissue paper onto it. You can also choose to glue your tissue paper down flat, overlapping pieces for a different look.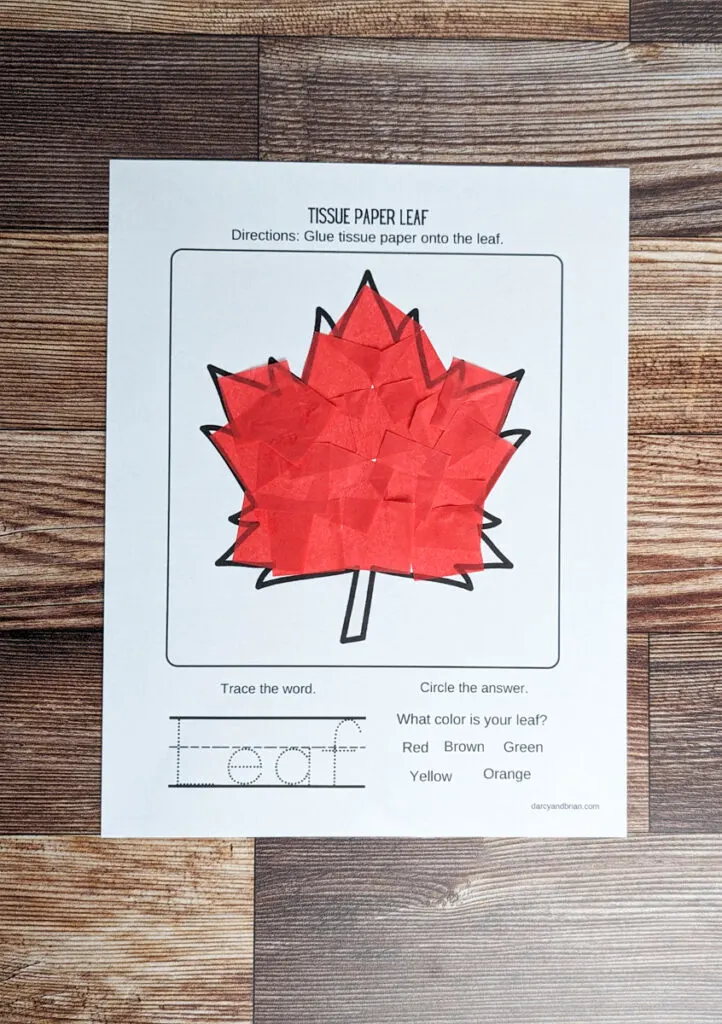 Continue to add pieces of tissue paper until the leaf shaped outline on your template is filled.
Once your leaf is filled, take your pencil and trace the word "leaf" at the bottom of the template. Also, circle the colors you used for your leaf for a fun exercise in color recognition.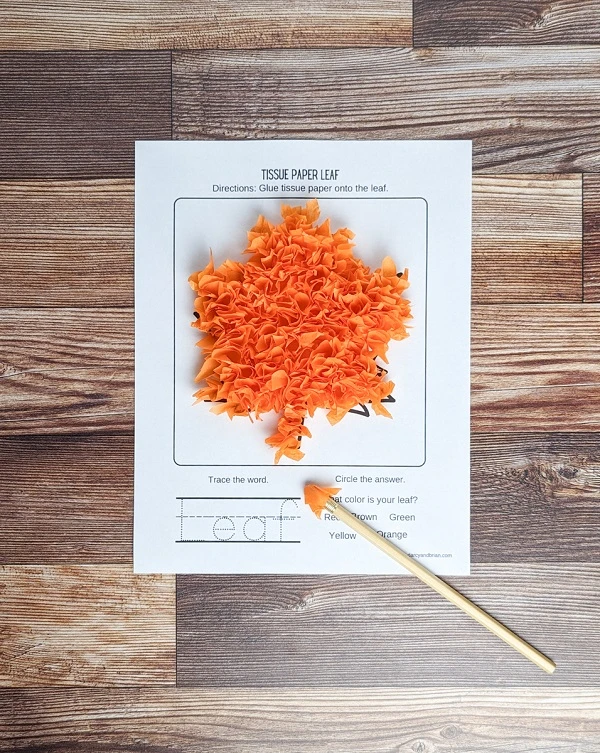 Allow some time for your craft to dry before moving on to the final step.
After your craft has dried, you can cut out your leaf. This final product can be hung up on its own or incorporated into another art project.
And there you have it! You've made your very own tissue paper leaf craft. This activity is a great way to engage your child in fun, hands-on learning.
More Fine Motor Skill Activities for Preschoolers
Having a variety of activities to develop fine motor skills is crucial to keep it interesting for your preschooler. Look no further, as we have a list of different options just for you!
Squeezing Clothespins: This vibrant, popsicle stick color match game is not only engaging but also beneficial in strengthening your child's fine motor skills.
The act of squeezing clothespins to match them with their corresponding colors adds an element of physicality that enhances grip, dexterity, and control.
Playing with Playdough: The simple, tactile experience of squishing, rolling, and shaping playdough is incredibly beneficial for fine motor development. Plus, it's a fantastic way for them to express their creativity!
Our popular easy gingerbread scented playdough recipe is a hit amongst preschoolers. This spiced, aromatic dough adds a sensory delight to the hands-on play, making it a fun and beneficial fine motor skills activity.
Building Button Towers: A wonderful, fun-filled activity that emphasizes precise finger movements and hand-eye coordination is the creation of button towers.
By picking up and meticulously placing the buttons, your child can significantly enhance their dexterity and fine motor control.
This simple yet effective activity encourages a focus on detail and patience, fostering both cognitive and motor skill development.
Create a Fall Unit Study
Fall is a great time to focus on nature-themed learning activities. Incorporate the Tissue Paper Leaf Craft into your fall unit and have fun exploring nature, weather, and other seasonal topics! Here are some ideas:
Read Aloud Together
Incorporate a selection from our list of fall picture books into your schedule to spark curiosity and increase understanding about this wonderful season.
We're Going on a Leaf Hunt
The Leaf Thief: (The Perfect Fall Book for Children and Toddlers)
Fletcher and the Falling Leaves: A Fall Book for Kids
There Was an Old Lady Who Swallowed Some Leaves!
What Can You See in Fall? (Seasons)
Pete the Cat Falling for Autumn
These books tell engaging stories and feature vivid illustrations of leaves and landscapes, helping preschoolers understand the changes in nature during fall.
Reading them aloud enriches vocabulary, stimulates visual perception, and fosters an appreciation for the beauty of the season.
Nature Walk and Collection
How about a fun nature walk around the neighborhood or at the park? There are lots of activities that help kids connect with nature. Put on your explorer hats and venture out to collect different types of leaves, pine cones, acorns, and other natural items. You can even turn it into a game with a fall scavenger hunt.
It will be an exciting sensory adventure to touch, see, and smell the essence of autumn. You can use them in your classroom to learn more about the different trees in our park, why leaves change color, and how animals use these items to prepare for winter.
Investigate Weather
Record the temperature each day and note which days might be good for doing outdoor activities. Discuss why leaves change colors in the fall, and observe the weather patterns.
Fall Produce Exploration
And of course, no fall unit would be complete without learning about apples and pumpkins. Have children work on apple life cycle coloring pages for a relaxing way to learn about the different life stages. They can also learn more about pumpkins with our parts of a pumpkin printable activity.
Our tissue paper leaf is one delightful way to celebrate the season, and it is also an excellent opportunity for your little ones to work on their fine motor skills, color recognition, and spelling.
We even have a free printable craft template to help get you started. So, why not give it a try?
It's a fantastic way to spend some quality time with your preschooler while also fostering their creativity and learning.
Remember, the best part is there's no right or wrong leaf color – let their imaginations run wild!
Tissue Paper Leaf Craft
Estimated Cost:
$5 or less
Welcome fall with this simple tissue paper leaf craft. It's perfect for preschool and kindergarten children.
Materials
Tissue Paper Leaf Craft Template
Tissue Paper in Fall Colors
Glue
Tools
Scissors
Pencil or Marker
Instructions
Download and print out the leaf craft template.
Cut or rip plenty of tissue paper pieces in one color or a variety of fall colors.
Glue tissue paper pieces onto the paper within the leaf outline.
Trace the word 'leaf.'
Circle the color(s) of tissue paper used.
Recommended Products
As an Amazon Associate and member of other affiliate programs, I earn from qualifying purchases.