Are you looking for a variety of fun, educational Halloween activities for kids? These free printable Halloween Pre K worksheets can easily be incorporated into your homeschool curriculum or used in a school classroom to reinforce fundamental skills.
They were designed to help preschoolers practice counting, graphing, letter and number recognition, shape matching, and so much more. Additionally, featuring an adorable Halloween theme will captivate children and enhance their engagement in the learning process.
These Halloween Pre K worksheets serve as a fantastic resource for both morning work and math and literacy centers. Children can work on these delightful packets all at once or gradually spread it over a longer Halloween-themed unit.
For morning work, the varied activities offer an engaging way to start the day, warming up their little brains and easing them into the school day. In math and literacy centers, these worksheets offer a thematic approach to reinforce key skills.
The flexibility of these worksheets ensures learning can be paced according to each learner's individual needs, keeping the process fun and stress-free while ensuring a comprehensive coverage of necessary preschool skills.
Halloween Preschool Printables
These Halloween preschool printables are brimming with cute Halloween themes and are perfect for little learners to practice key skills.
Not only do they help children in solidifying their understanding of core concepts, but they also keep young minds entertained while doing so.
Whether you are a homeschooling parent or a preschool teacher, these printables will add a dash of spooky fun to your teaching toolkit.
This post contains affiliate links. As an Amazon Associate and a participant in other affiliate programs, we earn a commission on qualifying purchases.
Winlyn 32 Sets Halloween Crafts Kits
Wettarn Halloween Haunted House with Colors Markers
Creativity for Kids Big Gem Diamond Painting Kit – Halloween Stickers and Suncatchers
NATIONAL GEOGRAPHIC Creepy Creatures Halloween Rock Painting Kit
Benefits of These Halloween Pre K Worksheets
These Halloween Pre K worksheets ensure an engaging and productive learning experience for preschoolers.
They cater to the development of several key skills, such as letter and number recognition, shape matching, graphing, counting, and handwriting practice.
The worksheets also introduce the concept of skip counting by 2s, a pre-math skill that lays the groundwork for multiplication in later grades.
These activities, while entertaining with their festive Halloween themes, also help enhance fine motor skills through activities like line tracing.
What's Included in the Printable PreK Halloween Worksheets?
These printable Halloween Preschool worksheets can be used in a variety of settings, from homeschooling lessons or as supplemental activities in a school classroom.
These pages are designed to provide engaging and educational content for children in the pre-k age range.
The Halloween themes make them perfect for the month of October and can help get children excited about learning. The following pages are included:
Halloween Count and Graph: Children can practice counting and graphing skills by filling in the correct number of Halloween themed objects.
Fill in Missing Letters: This activity helps children with letter recognition and reinforces knowledge of both uppercase and lowercase letters.
Fill in Missing Numbers: Similar to the missing letter activity, this worksheet focuses on number recognition for preschoolers.
Spider Web Shape Match: Children can identify and match different shapes to their corresponding names in this fun and educational activity.
Count and Trace Number Words: This activity combines counting with handwriting practice as children trace the number words next to a set of Halloween objects.
Line Tracing: The spooky themed lines on this worksheet are perfect for helping preschoolers develop fine motor skills while having fun.
Skip Counting Dot to Dot: This activity introduces the concept of skip counting by connecting the dots to draw a pumpkin.
Counting Peg Board | Montessori Math and Numbers for Kids | Wooden Math Manipulatives Materials
Counting Bears – Math Manipulatives Preschool Learning Activities
RAINBOW TOYFROG Chain Link Math Manipulatives
Torlam Magnetic Ten-Frame Set
edxeducation Linking Cubes – Set of 100
TOP BRIGHT Montessori Math Counting Toy for Kids
Why is Number Recognition Important?
Number recognition is a crucial skill for preschoolers to develop as it sets the foundation for future math skills.
By introducing numbers and counting at an early age, children can build confidence in their abilities and begin to understand basic mathematical concepts.
These Halloween worksheets provide a fun and engaging way to practice number recognition in multiple ways using a holiday theme.
Why Should Preschoolers Count and Graph?
Counting and graphing are important skills for preschoolers to learn as they help with number sense, understanding quantities and patterns, and developing problem-solving abilities.
These Halloween worksheets allow children to practice these skills in a visually appealing way through counting objects and creating graphs.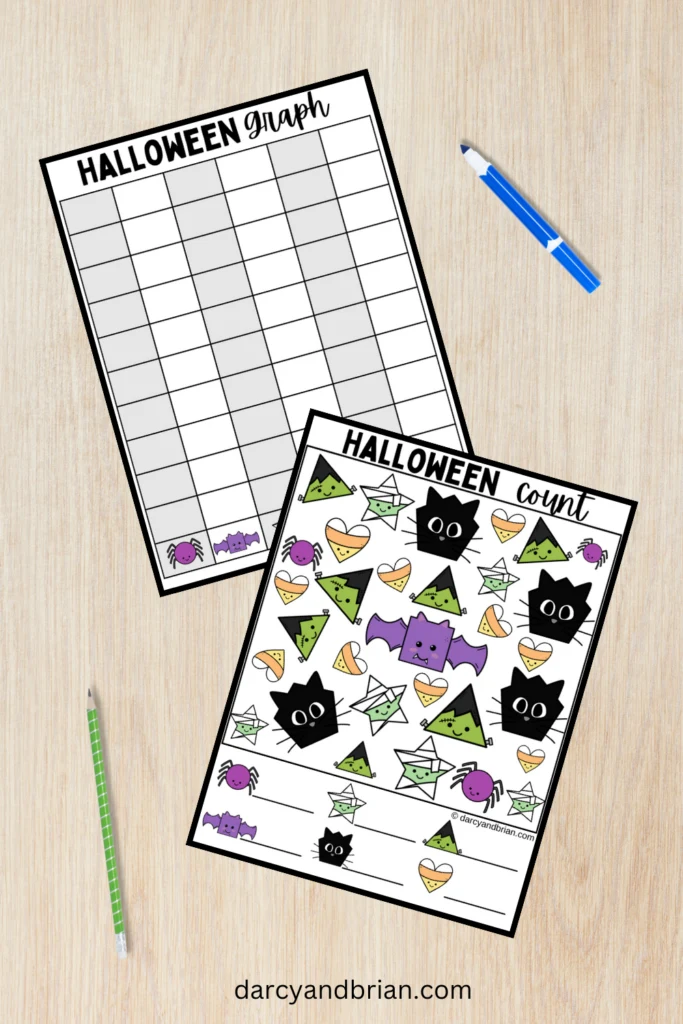 This spider counting activity complements the count and graph worksheets in a Halloween math center, creating a cohesive learning experience that reinforces counting skills in a fun and interactive way.
Is Shape Recognition a Math Skill?
Yes, shape recognition is a fundamental math skill for preschoolers. It helps with identifying and categorizing objects, understanding spatial relationships, and building visual discrimination skills.
These Halloween worksheets incorporate shape recognition in a playful way to make learning enjoyable for young children.
The Importance of Letter Recognition for Preschoolers
Letter recognition is a fundamental skill that helps children develop reading and writing abilities. By recognizing letters, children can start to understand the building blocks of language and develop phonemic awareness.
These Halloween worksheets provide a fun way for preschoolers to practice letter recognition through fill-in-the-blank activities for both upper and lowercase letters.
How Does Line Tracing Help Preschoolers Learn to Write?
Line tracing is a valuable activity for developing fine motor skills and preparing preschoolers for writing.
It helps children learn to control their hand movements, develop hand-eye coordination, and practice the basic strokes needed for handwriting.
These Halloween worksheets include line tracing activities that are perfect for building these skills in a festive and playful way.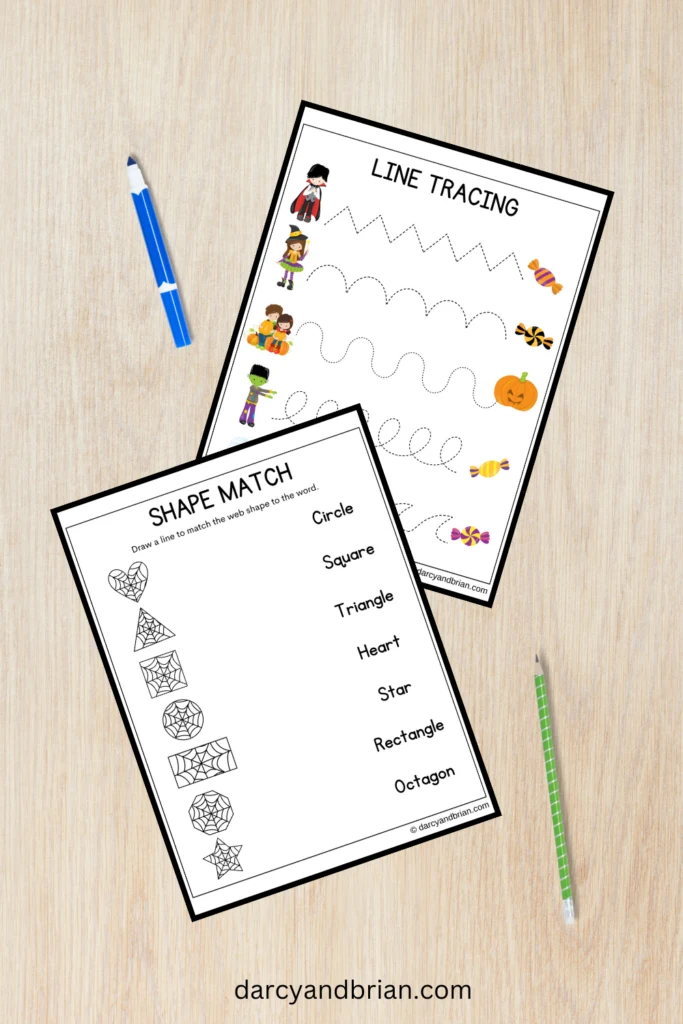 Fine Motor Skill Activities for Preschoolers
Fine motor skills are crucial for a child's development, especially during the preschool years.
These skills involve the coordination of small muscles in the hands and fingers and are essential for executing tasks such as writing, cutting, and buttoning.
Worksheets with line tracing and connecting dot-to-dot pictures are wonderful tools to help strengthen these skills.
Other engaging activities such as manipulating playdough, using scissors, and stringing beads also contribute significantly to refining these small muscle movements.
Ticonderoga My First Short Triangular Wood-Cased Pencils
JuneLsy Pencil Grips for Kids Handwriting Pencil gripper Pencil Holder Posture Correction Training
The Pencil Grip Original Pencil Gripper, Universal Ergonomic Writing Aid For Righties And Lefties
Fiskars Training Scissors for Kids 3+ with Easy Grip
Scissor Skills Preschool cut & paste cats activity pad for kids: Cat Coloring Book & Scissor Activity Book
Ticonderoga Wood-Cased Pencils, Pre-Sharpened, 2 HB Soft, Yellow, 12 Count
More Free Preschool Printables
In addition to our Halloween themed offerings, there are a plethora of other free preschool printables to further ignite the love of learning in your young ones.
These resources are excellent tools for both classroom centers and homeschool settings, promoting fundamental skills through fun and interactive learning.
These worksheets are perfect for classroom centers or morning work, enabling a flexible learning schedule that can be tailored to individual needs.
Whether used at home or in the preschool classroom, these Halloween worksheets offer an enjoyable way to build foundational skills.
With their flexibility and focus on fun-filled learning, these worksheets are sure to captivate young learners and promote their educational development.