Are you looking for fun and engaging fall activities for children? Then get drawing with these Fall Pictionary words for kids! This game isn't just an entertaining way to spend time, but also a creative outlet for your little ones.
As parents, you will enjoy watching as they bring each word to life and guessing their masterpieces, making it a fun-filled family activity.
The printable fall-themed word cards are available for free at the bottom of this post. Grab your set to use at home or in the classroom!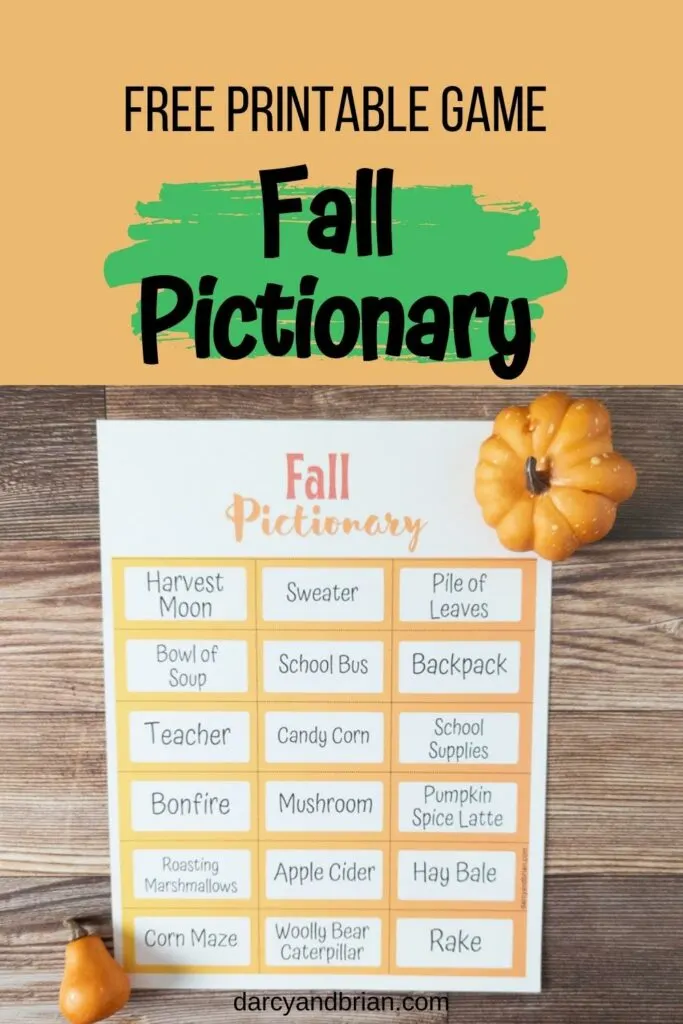 Incorporating the seasons into learning activities, keeps education fresh and engaging for children.
Each season brings with it a new set of themes and vocabulary, providing an ever-changing backdrop that keeps the learning environment stimulating and interesting.
Children can explore and learn about the world around them in a fun, relaxed setting, increasing their retention and understanding.
This game isn't just limited to the classroom; it can be enjoyed at home with family or during a playdate with friends.
More Printable Games for Children
Printable games are a wonderful resource that combines fun and learning, and their convenience makes them a popular choice among parents and educators.
Easy to print and play, these games eliminate the hassle of set-up and can be readily used anywhere, anytime – be it a cozy family night indoors, a classroom activity, or an impromptu gathering with friends.
With our collection of printable games for kids, entertainment is just a click and a print away!
Scroll down for the free printable
Benefits of Playing Drawing Games
Playing drawing games like Pictionary offers a variety of benefits for kids.
It fosters creative problem-solving as children must think on their feet and find innovative ways to depict the subject matter.
Not only does this enhance their imagination, but it also develops their quick-thinking abilities.
The fast-paced nature of the game encourages children to make instant decisions and strategize their drawings, refining their cognitive agility.
Additionally, by visually representing different words and phrases, it helps kids practice and learn new vocabulary.
The blend of fun and learning in games like Pictionary makes it an ideal choice for both educational and recreational settings.
This post contains affiliate links. As an Amazon Associate and a participant in other affiliate programs, we earn a commission on qualifying purchases.
TWOPOINTOH GAMES Artsy Fartsy – Fun Family Games for Kids and Adults. Winner of USA Today's Best Gift for Families National Award
Mythical Creatures Drawing Game for Kids Mashup Animal Art Ideas. 150 Prompt Cards. Creative Gift for Tweens, Teens + Family Fun Night for All Imaginations!
Telestrations Original 8-Player | Family Board Game | A Fun Family Game for Kids and Adults | Family Game Night Just Got Better | The Telephone Game Sketched Out | Ages 12+
The Imagineering Company WatchamaDrawit Fast Action Drawing Game with Wildly Creative Challenges – A Family Board Game for Kids and Adults
Vango The UpsideDownChallenge Game for Family & Kids – Complete Fun Challenges with Upside Down Goggles – Hilarious Fun Game for Game Night & Parties – 2-6 Players, Ages 8+
​Pictionary Air Kids Vs. Grown-Ups Family Game for Game Night with Light Pen and Clue Cards, Connect to Smart Devices
What's Included in the Fall Pictionary Words Printable
The Fall Pictionary Words printable set includes 54 word cards with autumn-themed words and phrases.
Prompts are a mix of easy and medium difficulty. Examples of our Fall Pictionary word list:
scarecrow
cornucopia
hayride
sunflower
picking apples
sweater
school supplies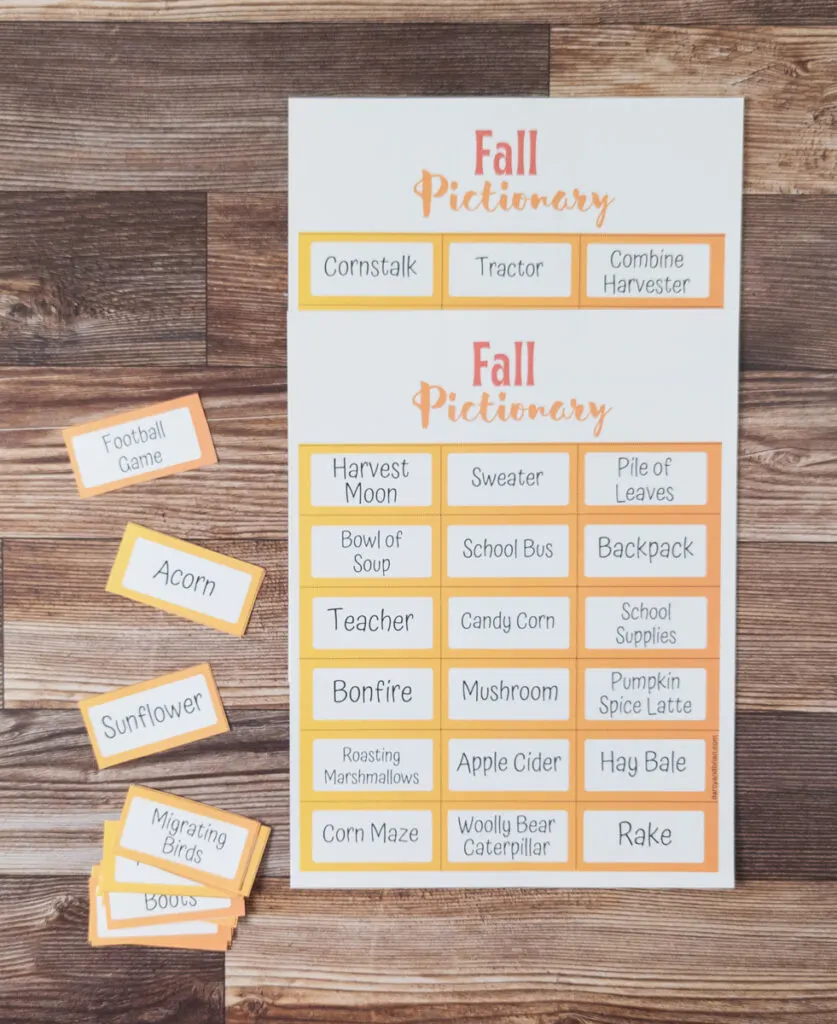 This pack is designed to unleash your child's creativity as they draw and guess the fall-centric prompts.
To further enhance the fun, we also included a sheet of blank cards. These give you the flexibility to create your own prompts.
Essentials Items for Playing Fall Pictionary
To play Fall Pictionary, you'll need only a few items, making it a great low-prep activity.
The bare essentials include paper and pencils, plus a list of words for drawing prompts.
To make it even simpler to get started, our free printable can be obtained by filling out the form at the end of this post, giving you immediate access to a fall-themed word list.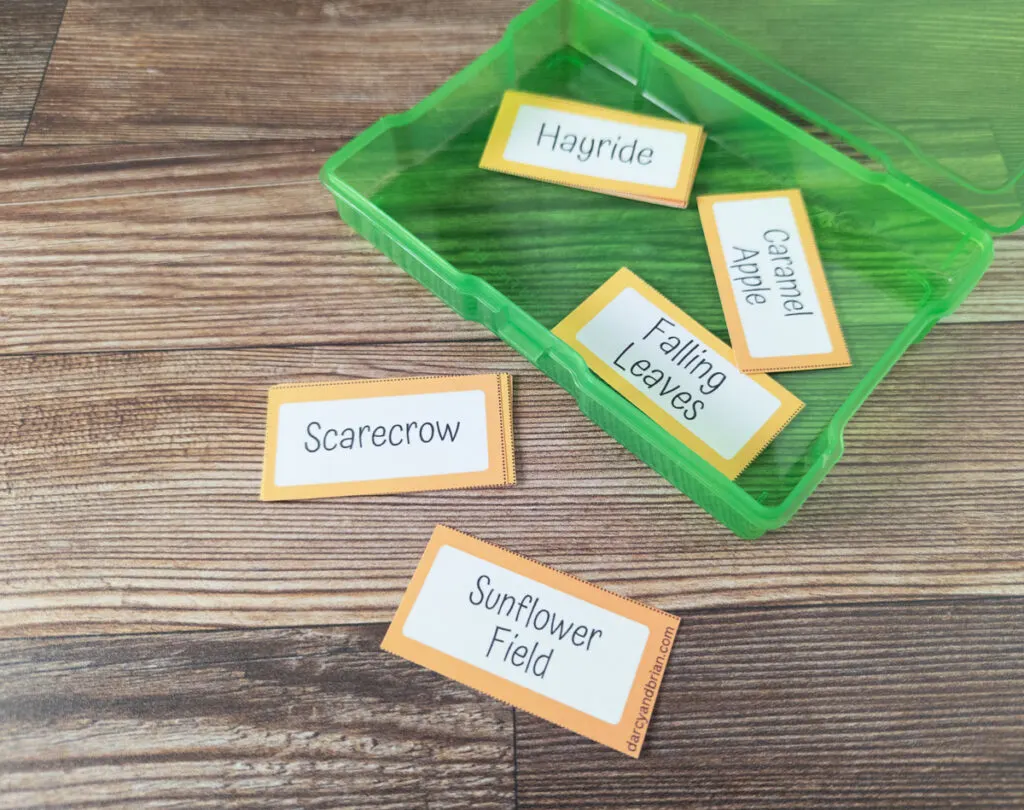 For longer-lasting and more durable prompt cards, consider printing them on cardstock paper or laminating them.
Small dry erase boards can be a reusable and eco-friendly alternative to paper for drawing.
A timer – either digital or a sand timer – can be a useful tool to keep the game moving smoothly and maintain a competitive edge.
And for storage and easy access, you can keep the cards in a task card box, a small bag, or even attach them together on a book ring.
Epson EcoTank ET-3830 Wireless Color All-in-One Cartridge-Free Supertank Printer with Scan, Copy, Auto 2-Sided Printing and Ethernet – The Perfect Printer Productive Families,White
Astrobrights/Neenah Bright White Cardstock, 8.5
Firbon A4 Paper Cutter 12 Inch Titanium Paper Trimmer Scrapbooking Tool with Automatic Security Safeguard and Side Ruler for Craft Paper, Coupon, Label and Cardstock (Black)
Classroom Timers for Teachers Kids Large Magnetic Digital Timer 2 Pack
TIHOOD 24PCS Sand Timer Assortment Plastic Sand Clock Timer 30s / 1min / 2mins / 3mins / 5mins / 10mins for Adult Kids in Classroom Kitchen Games Office
Charles Leonard Dry Erase Lapboard Class Pack, Includes 12 each of Whiteboards, 2 Inch Felt Erasers and Black Dry Erase Markers (35036)
How to Play Fall Pictionary
Fall Pictionary is easy to play, making it a hit for both classroom activities and family game nights.
To begin, divide the group into two teams. Each team takes turns selecting a card and trying to draw the fall-themed word or phrase while others guess what it is within a specified time limit.
For classroom use, this game can be an engaging way to introduce new vocabulary or phrases related to the fall season, while also promoting teamwork among students.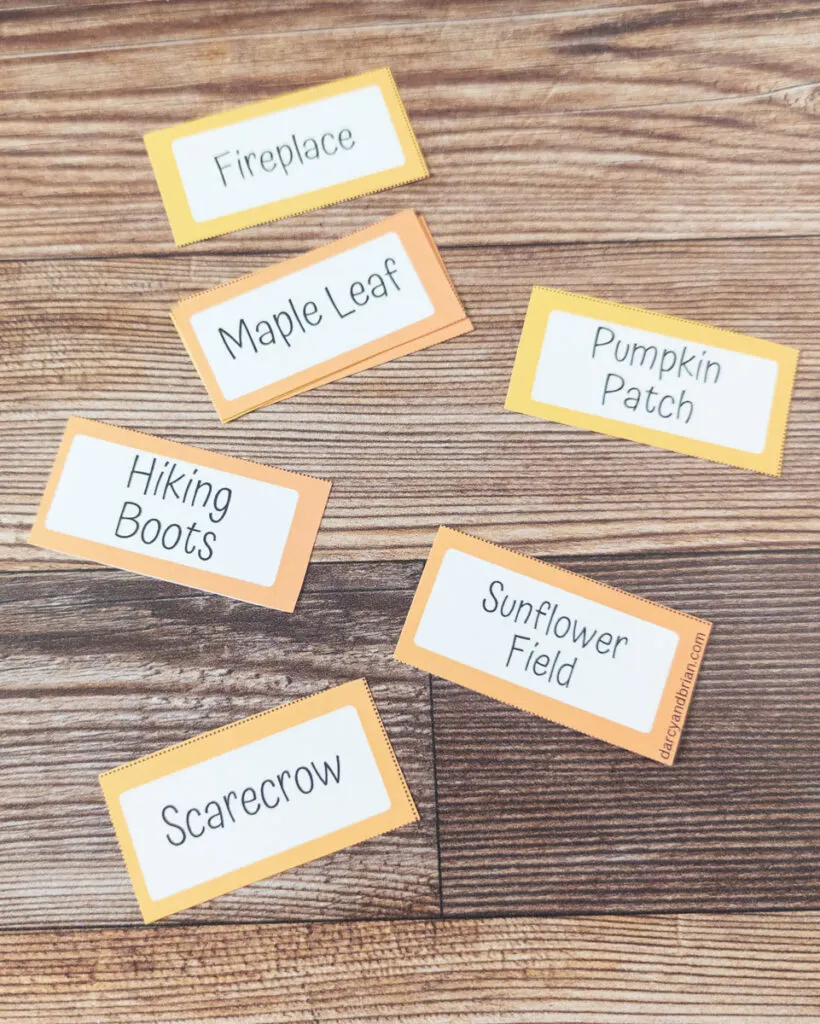 Remember to encourage creativity and positive reinforcement! For family game nights, consider adding an extra element of fun by turning the game into a friendly competition with small rewards for the winning team.
No matter how you play, Fall Pictionary is sure to bring laughter, learning, and a love of autumn into any setting.
Fun Ways to Use Fall Pictionary Words
There are numerous exciting and unique ways to use the fall Pictionary words beyond the standard game.
They can serve as random drawing prompts in a sketchbook, sparking creativity and imagination while fostering artistic skills.
For writing enthusiasts, they can act as creative writing prompts or as a fun way to practice spelling words.
These words can also integrate seamlessly into a fall-themed learning unit, bringing a touch of seasonal joy into the classroom.
Hosting a fall party? Why not incorporate these words into a lively, interactive game that guests of all ages will enjoy.
Additionally, a family game night can be elevated with these prompts, making for an enjoyable and educational experience that bridges generations.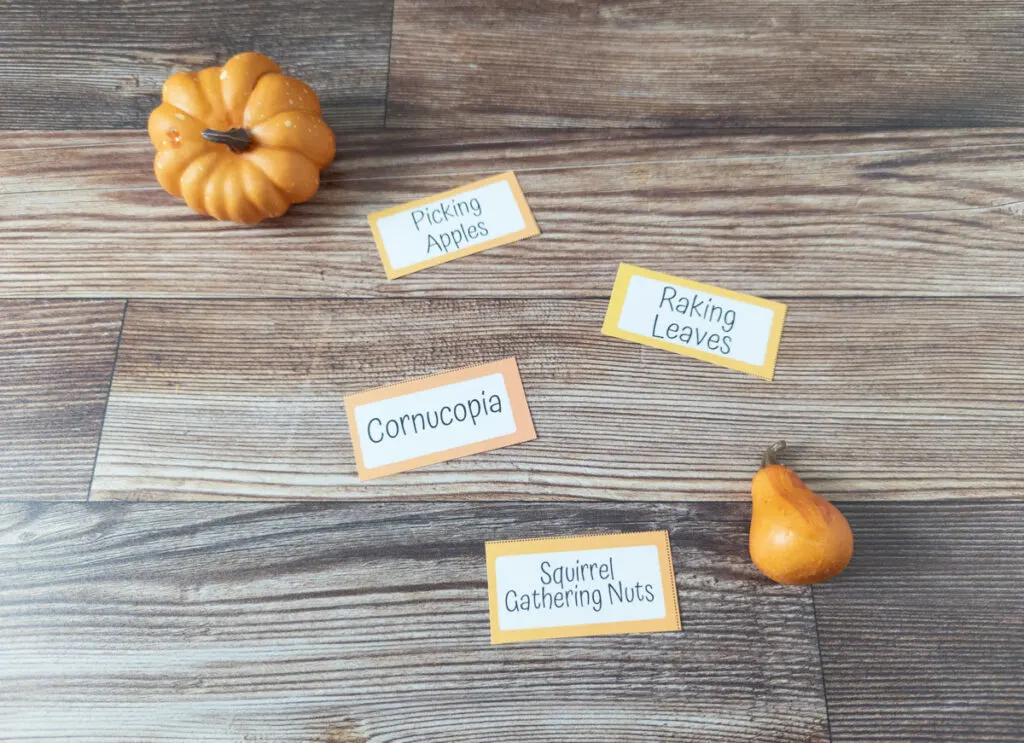 More Learning Activities for Fall
As the leaves turn and autumn sets in, it's the perfect opportunity to add some seasonal fun to your child's learning activities. So, let's explore some fall-themed educational activities that are not just engaging, but also help children appreciate the beauty and significance of this vibrant season.
The tissue paper leaf craft is a colorful, hands-on activity that involves creating stunning fall leaves using pieces of tissue paper. This engaging project not only promotes fine motor skills but also allows children to explore the vibrant colors and patterns of autumn leaves in a fun and tactile way.
The "Find the Letter C is for Corn" worksheet is an engaging activity that helps children master letter recognition with a seasonal twist. In this fun and educational exercise, children are tasked with finding all the instances of the letter 'C', enhancing their familiarity with this letter while connecting it to a commonly seen fall produce – corn.
Making leaf rubbings is a fascinating science activity that brings the beauty of fall into the learning process. Children can explore the unique textures and structures of different leaves, enhancing their understanding of nature while fostering their observational skills.
Kids can also conduct this Fall leaf science experiment to explore colors. They can examine the parts of each leaf and learn about chlorophyll.
Fall pattern block printables provide a hands-on, interactive way for children to learn about shapes, patterns, and symmetry while exploring the colors and themes of the autumn season. This activity encourages spatial awareness and cognitive development through the constructive play of arranging block shapes to form fall-related images.
Fall Scattergories with printable game boards is a creative and mind-challenging activity that will have children brainstorm words related to autumn. They'll have fun racing against time to list words in various categories that start with a chosen letter, all while exploring the rich vocabulary and themes of the fall season.
Fall Books for Kids
Incorporating our Fall Pictionary words with reading sessions can create an enriching learning experience for kids.
After reading from our curated selection of fall picture books, children can reinforce their understanding and recollection of the story by playing the Fall Pictionary game.
Drawing prompts from the game, inspired by fall elements in the picture books, will transform the reading experience into a fun, interactive game.
This combination not only promotes comprehension of the story but also stirs up their creativity and imagination.
Biscuit and the Great Fall Day (My First I Can Read)
Fall Mixed Up (Carolrhoda Picture Books)
There Was an Old Lady Who Swallowed Some Leaves!
Goodbye Summer, Hello Autumn
The Scarecrow: A Fall Book for Kids
Little Critter: The Fall Festival (My First I Can Read)
Fall Crafts for Kids
Crafts make excellent extension activities for kids as they provide a hands-on, creative way to reinforce learning and bring concepts to life.
They engage multiple senses and allow kids to express their understanding in a tangible, personal way.
Our fall craft ideas offer a wonderful opportunity to explore the themes, colors, and textures of the season.
These projects not only encourage creativity and fine motor skills but also deepen children's connection to the natural world around them during the autumn season.
Embracing the autumn season with these activities not only fosters a love for learning but also cultivates creativity and imagination.
Whether through engaging in our Fall Pictionary game, diving into a captivating fall-themed book, or creating a beautiful fall craft, kids will explore and connect with the world around them in unique and meaningful ways.
So, let's celebrate the wonders of fall together, making the most of this season of change, color, and discovery.