Keep the family entertained with fun fall activities for children, such as our Thanksgiving Pictionary printable game.
Thanksgiving is a cherished time of year when family and friends gather together. Often, these gatherings last well beyond the meal itself, creating a need for enjoyable activities that the whole family can participate in.
Thanksgiving Pictionary is a delightful game that is fun for all ages, promoting creativity and laughter while providing heartwarming family entertainment.
Be sure to grab our free printable Thanksgiving themed word list at the bottom of the post and get ready for some unforgettable holiday fun!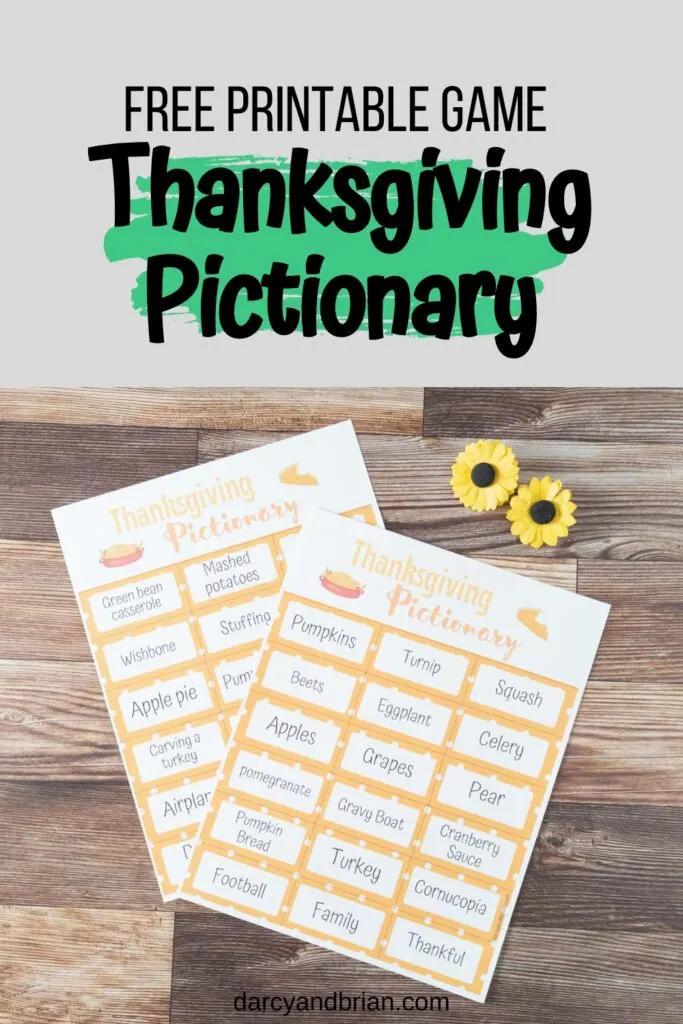 As the vibrant colors of fall give way to the early chills of winter, the holiday season kicks off, bringing together extended family with holiday parties and dinners.
Finding activities that cater to a wide age range can often be challenging, with interests varying significantly from one generation to the next.
That's precisely where our games, like the Thanksgiving Pictionary, prove invaluable.
Designed with inclusivity in mind, they provide a universal source of amusement, ensuring that everyone, from the youngest member to the oldest, is included in the fun and festivities.
More Fall Printable Games for Kids
Many games subtly reinforce skills that kids are learning in school. For instance, Pictionary games encourage creativity, quick thinking, and reinforce language skills.
Our printable games for kids offer an unsurpassed convenience, as they can be quickly printed off and are ready to play within moments, making them an easy go-to activity.
They integrate fun and learning seamlessly, making them a wonderful source of entertainment as well as valuable educational tools.
Scroll down for the free printable
Is Pictionary a Party Game?
Pictionary is a classic game that can be played with any number of participants, making it an excellent choice for parties.
Pictionary involves two teams guessing words based on the drawings created by their teammates.
What Ages Can Play Thanksgiving Pictionary?
Thanksgiving Pictionary is a super fun game that brings everyone together, from kids to adults! It's perfect for all ages and guarantees a great time.
Kids aged 5 and up can show off their creativity and language skills while having a blast. Younger children just may need some help from the grown-ups reading the prompts.
And for the adults, it adds an extra level of excitement to the Thanksgiving gathering. So, no matter how old you are, grab a pencil and get ready to draw!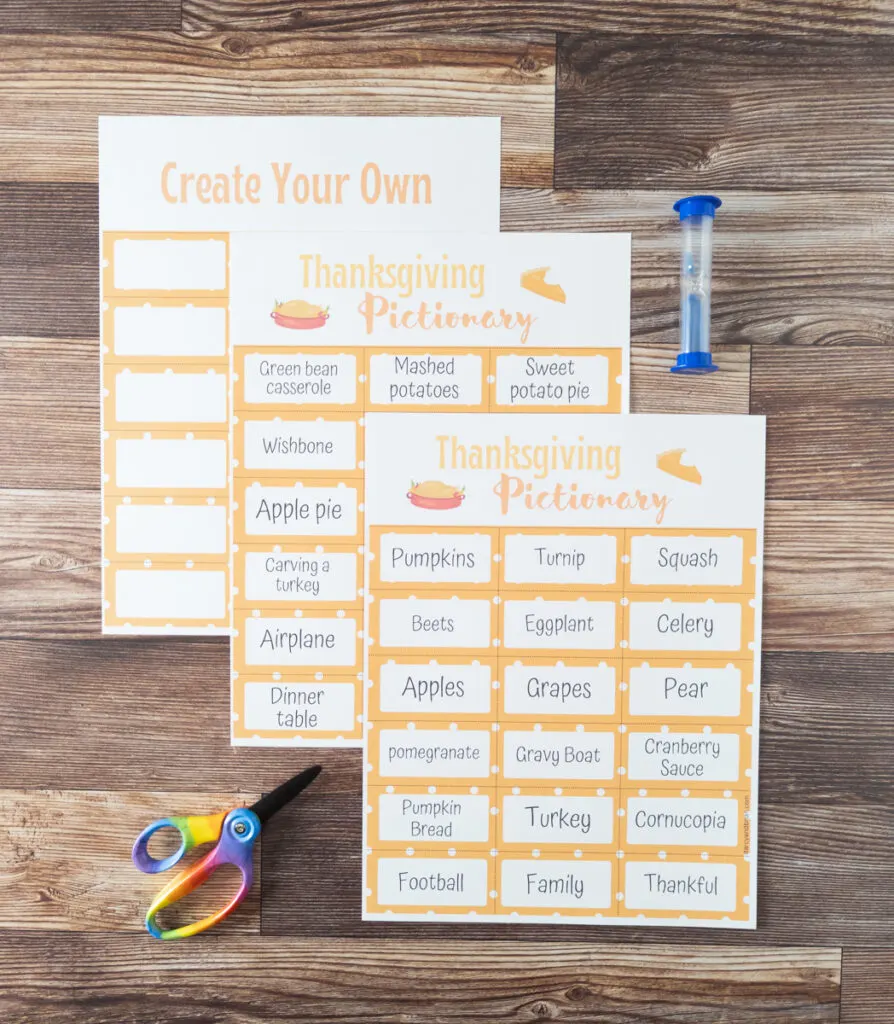 Do You Need to be Good at Drawing to Play?
Not at all! Thanksgiving Pictionary is about having fun with your friends and family. In fact, the game can be quite hilarious when people aren't good at drawing.
So don't worry if you aren't the best artist around – just pick up a pencil, get creative, and enjoy yourself.
And what makes this game even better is that everyone gets to guess the answer, making it quite entertaining for everyone.
This post contains affiliate links. As an Amazon Associate and a participant in other affiliate programs, we earn a commission on qualifying purchases.
TWOPOINTOH GAMES Artsy Fartsy – Fun Family Games for Kids and Adults. Winner of USA Today's Best Gift for Families National Award
Mythical Creatures Drawing Game for Kids Mashup Animal Art Ideas. 150 Prompt Cards. Creative Gift for Tweens, Teens + Family Fun Night for All Imaginations!
Telestrations Original 8-Player | Family Board Game | A Fun Family Game for Kids and Adults | Family Game Night Just Got Better | The Telephone Game Sketched Out | Ages 12+
The Imagineering Company WatchamaDrawit Fast Action Drawing Game with Wildly Creative Challenges – A Family Board Game for Kids and Adults
Vango The UpsideDownChallenge Game for Family & Kids – Complete Fun Challenges with Upside Down Goggles – Hilarious Fun Game for Game Night & Parties – 2-6 Players, Ages 8+
​Pictionary Air Kids Vs. Grown-Ups Family Game for Game Night with Light Pen and Clue Cards, Connect to Smart Devices
What's Included in Thanksgiving Pictionary?
The Thanksgiving Pictionary printable pack comes complete with 36 drawing prompts, each one centering around a unique aspect of Thanksgiving, from food to common activities.
You'll find cards featuring examples like gravy boat, football, turkey, wishbone, family, and pumpkin pie.
Also included is a blank sheet for you to create your own personalized cards, adding a fun twist to the game.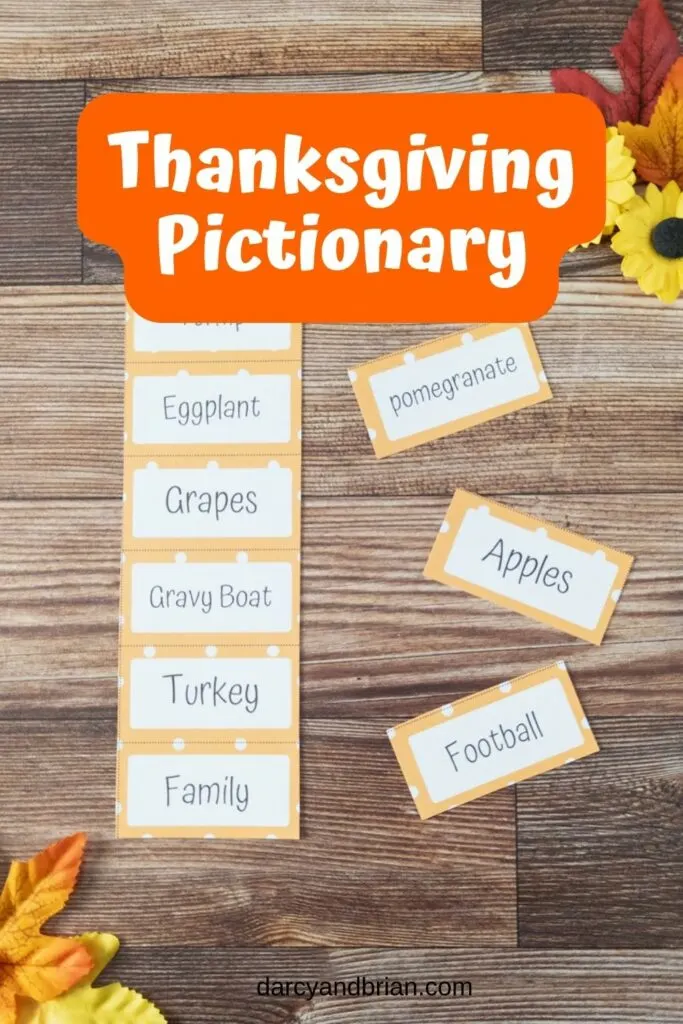 Recommended Items for Playing Pictionary
To get started with your game, all you need are a few supplies. If you are in a creative mood, you could make your own prompts on slips of paper.
Or, if you prefer to dive straight into the fun, we offer a free printable set of prompts that are ready to use – simply fill out the form at the end of this post.
For durability and repeated use, we recommend either laminating the printable prompts or printing them on cardstock. This way, they can withstand even the most enthusiastic of games!
As for drawing, a dry erase board is a fantastic option. It's reusable and allows for quick edits or corrections while drawing.
And don't forget about the timer – a crucial part of the suspense in Pictionary. You could use a digital timer on your phone or go old school with a sand timer.
Either way, the ticking countdown adds an extra layer of excitement to the game!
Epson EcoTank ET-3830 Wireless Color All-in-One Cartridge-Free Supertank Printer with Scan, Copy, Auto 2-Sided Printing and Ethernet – The Perfect Printer Productive Families,White
Astrobrights/Neenah Bright White Cardstock, 8.5
Firbon A4 Paper Cutter 12 Inch Titanium Paper Trimmer Scrapbooking Tool with Automatic Security Safeguard and Side Ruler for Craft Paper, Coupon, Label and Cardstock (Black)
Classroom Timers for Teachers Kids Large Magnetic Digital Timer 2 Pack
TIHOOD 24PCS Sand Timer Assortment Plastic Sand Clock Timer 30s / 1min / 2mins / 3mins / 5mins / 10mins for Adult Kids in Classroom Kitchen Games Office
Charles Leonard Dry Erase Lapboard Class Pack, Includes 12 each of Whiteboards, 2 Inch Felt Erasers and Black Dry Erase Markers (35036)
How Do You Play Thanksgiving Pictionary?
The rules of Thanksgiving Pictionary are fairly simple
Divide into two teams
Each player takes a turn as the drawer
Teams alternate turns to pick a prompt card
Set the timer for one minute
Take turns drawing and guessing what's being drawn
The first team to guess correctly wins a point!
Play until all the cards have been used
Are There Variations to the Game?
Absolutely! Instead of the first team guessing correctly to gain a point, you could have only the drawing team guess. But if they don't guess correctly before the timer runs out, the other team can steal the point.
Another interesting variation is to challenge each team to guess the most words in a certain amount of time. This is great for creating a competitive atmosphere, as teams race to answer the clues first.
To keep it more casual, do away with teams altogether. Have all participants take turns drawing and whoever guesses first gets the point. Honestly, you don't even have to keep score and simple have fun.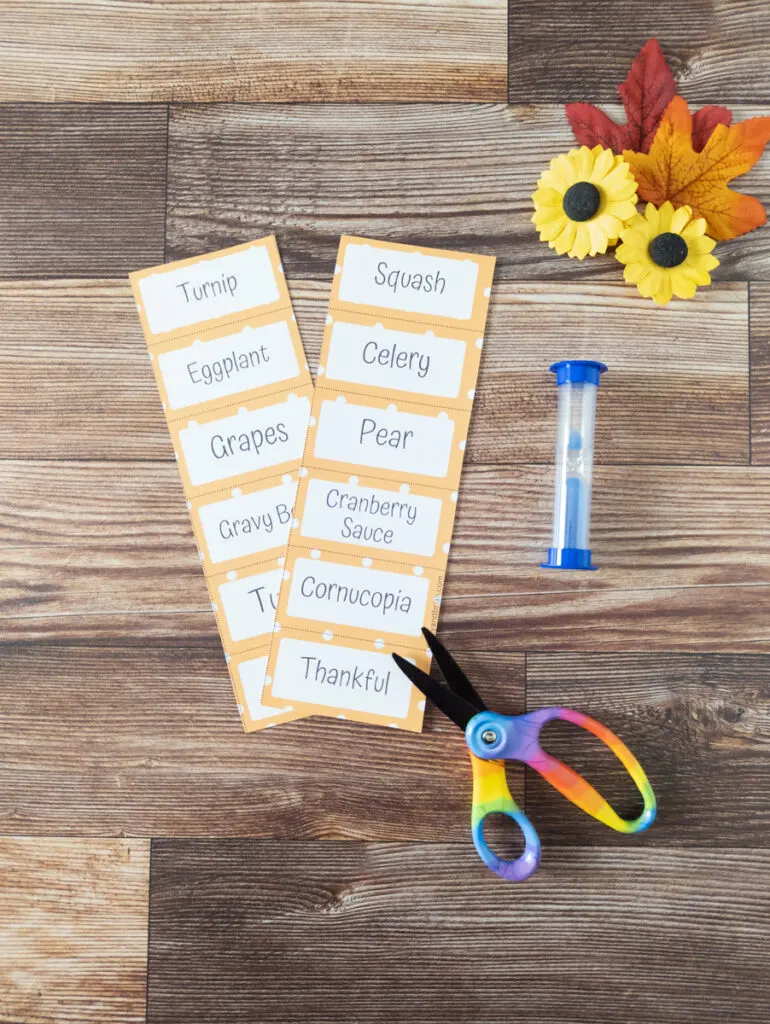 You can also switch things up by combining the Thanksgiving Pictionary words with our other popular games. For example, you could shuffle them together with our Food Pictionary game cards.
No matter which version you choose, Thanksgiving Pictionary will always be an entertaining way to bring your friends and family together!
Benefits of Playing Thanksgiving Pictionary for Kids
Playing Thanksgiving Pictionary offers kids an exciting and educational experience.
The game stimulates mental agility and creative thinking as children attempt to interpret and draw visual clues.
It also enhances communication skills, as players learn to convey ideas visually and guess answers based on others' drawings.
Additionally, this fun-filled activity instills a sense of teamwork and cooperation as children work together in groups.
Some important concepts are easier for kids to understand through play, which is why we value teaching good sportsmanship with board games.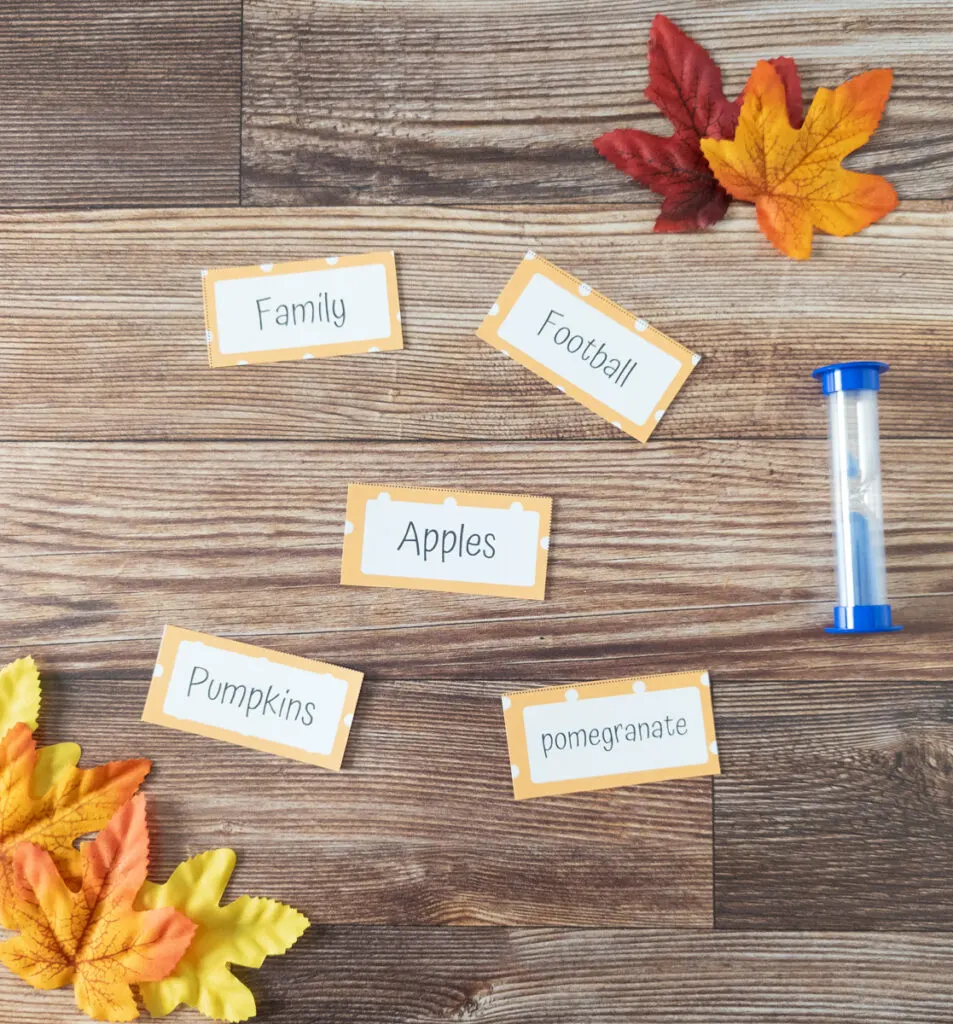 Is Thanksgiving Pictionary a Good Game to Play With Family?
This game is a fantastic choice for a family gathering. It's fun, exciting, and brings everyone together during the Thanksgiving holiday season.
Suitable for both kids and adults, it provides an excellent opportunity for everyone to bond.
Unlike conversations that may exclude some or become challenging to maintain, this game ensures inclusivity and avoids awkwardness, especially when reuniting with family members you don't see often.
Whether you are playing with close family and friends or hosting a virtual game night, this game is the perfect way to get everyone involved!
More Fun Family Games
Games are an awesome way to bring the whole family together for quality time. They create opportunities for laughter, conversation, and connection. Here are a few suggestions for your next family game night or family gathering.
As you prepare for your Thanksgiving gathering, consider including Thanksgiving Pictionary in your festivities.
Not only is it a fantastic avenue for some light-hearted competition, but it serves as an excellent bridge promoting engagement and connection among family members of all ages.
So this Thanksgiving, create lasting memories with our delightful and entertaining game, and let the joy of togetherness fill your home with warmth and laughter.