Spark imagination and creativity with a variety of tissue paper crafts for kids! One such delightful craft is the tissue paper tree, a simple yet fantastic activity that is perfect for preschoolers and kindergartners.
This hands-on project not only allows children to have fun, but also helps develop and strengthen their fine motor skills.
With the help of our free printable template, little artists can effortlessly create stunning trees bursting with vibrant colors. Let their creativity flourish as they bring their own unique touch to this craft project!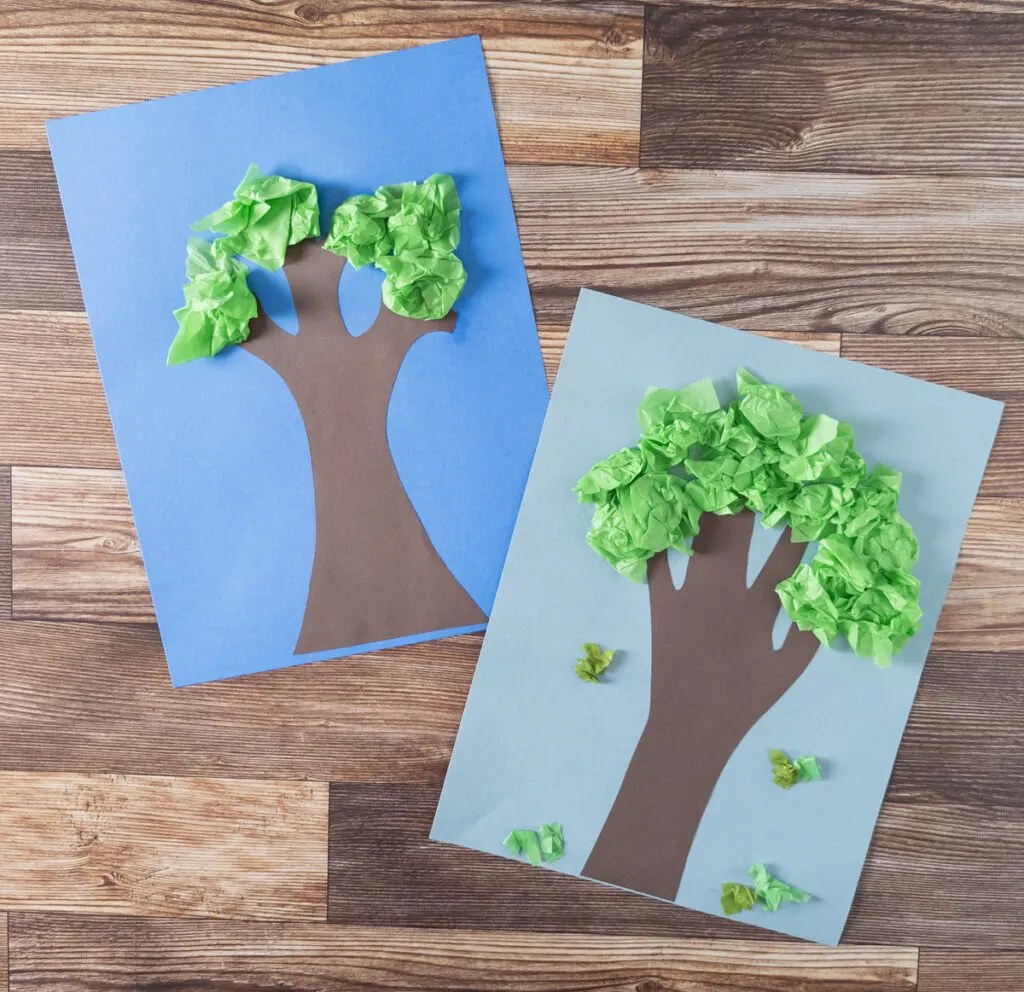 Adding crafts to homeschooling curriculums and classroom art centers has tons of benefits for kids, even if the projects seem simple.
These hands-on activities aren't just fun, they also boost creativity, problem-solving skills, and fine motor development.
Take the tissue paper tree craft, for example. It's a simple way for children to let their creativity shine while also improving their skills.
Free printable available at the end of this post.
Easy Preschool Crafts
Crafts are particularly popular among preschool children because they provide a hands-on, fun approach to learning.
Engaging in such activities can bring to life concepts learned in the classroom, reinforcing knowledge and sparking curiosity in a playful manner.
This post contains affiliate links. As an Amazon Associate and a participant in other affiliate programs, we earn a commission on qualifying purchases.
Apple Barrel Acrylic Paint Set, 16 Piece (2-Ounce), Best Colors Count
Bassion Pack of 2 Kids Art Smocks, Children Waterproof Artist Painting Aprons Long Sleeve with 3 Pockets for Age 2-6 Years
AdTech Ultra Low-Temp Cool Tool | Mini Hot Glue Gun for Safe Crafting | Children and Kids | Item #05690 , White
Aleene's Turbo Tacky Glue, 4 FL OZ – 3 Pack, Multi
Benefits of Making a Tissue Paper Tree
Creating a tissue paper tree is a wonderful activity that promotes creativity and encourages the development of fine motor skills in a fun and engaging manner.
As children trace templates or their own hands, cut out tree shapes, and crumple tissue paper to glue onto their designs, they're enhancing their hand-eye coordination and manual dexterity.
Every crumple, cut, and glue application strengthens their little fingers and hands, preparing them for more complex tasks.
Plus, by giving children the freedom to select their tree's colors and design, we foster their artistic expression and imagination.
Encouraging creativity in this way helps kids to not only think outside the box but also nurtures their problem-solving and innovation skills.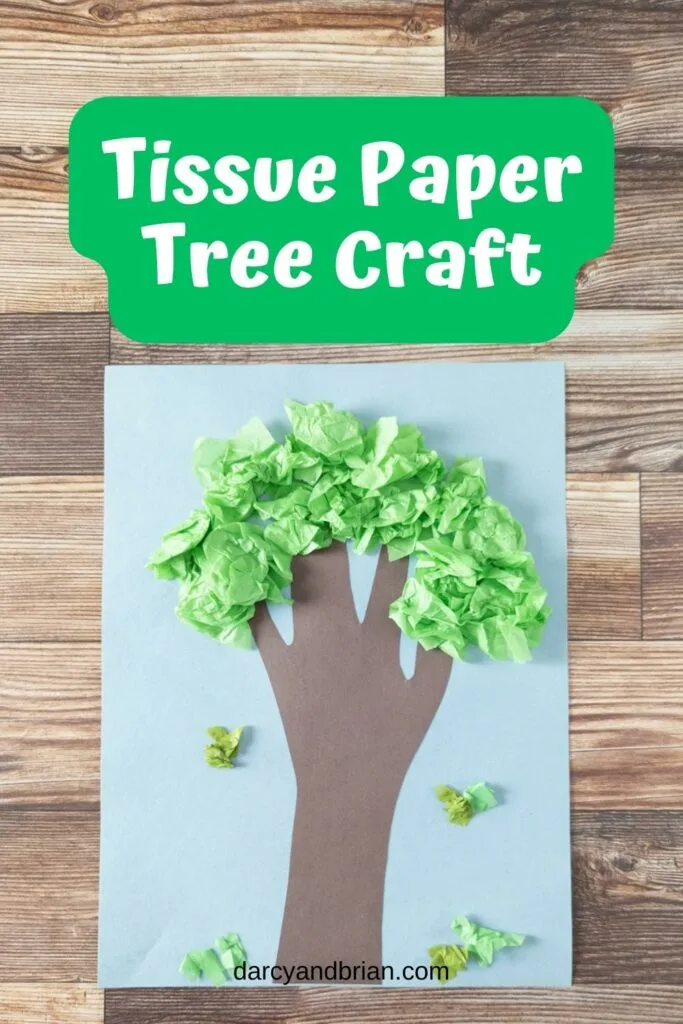 Why Are Fine Motor Skill Activities Important for Preschoolers?
Fine motor skill activities are essential for preschoolers as they nurture the development of small muscle movements, usually involving fingers and hands, key for tasks such as writing, buttoning, and tying shoes.
There are a myriad of enjoyable techniques to enhance these skills, and crafting ranks high on the list. The act of cutting, pasting, folding, or molding can be both fun and educational.
Activities like the tissue paper tree craft provide a platform where children can explore their creativity while simultaneously improving their fine motor skills.
Ways to Include a Tissue Paper Tree Craft into Lessons
Incorporating the tissue paper tree craft into preschool lessons is both versatile and enjoyable.
For instance, it can serve as an extension activity after reading children's books about trees or nature, allowing kids to visualize, create, and solidify their understanding of the story's content.
Furthermore, the craft fits perfectly into a general nature unit, providing a hands-on, tangible connection to the natural world.
It also seamlessly integrates into a four seasons study, with children altering the colors of the tissue paper leaves to represent different times of the year, thereby gaining insight into the cyclic pattern of nature.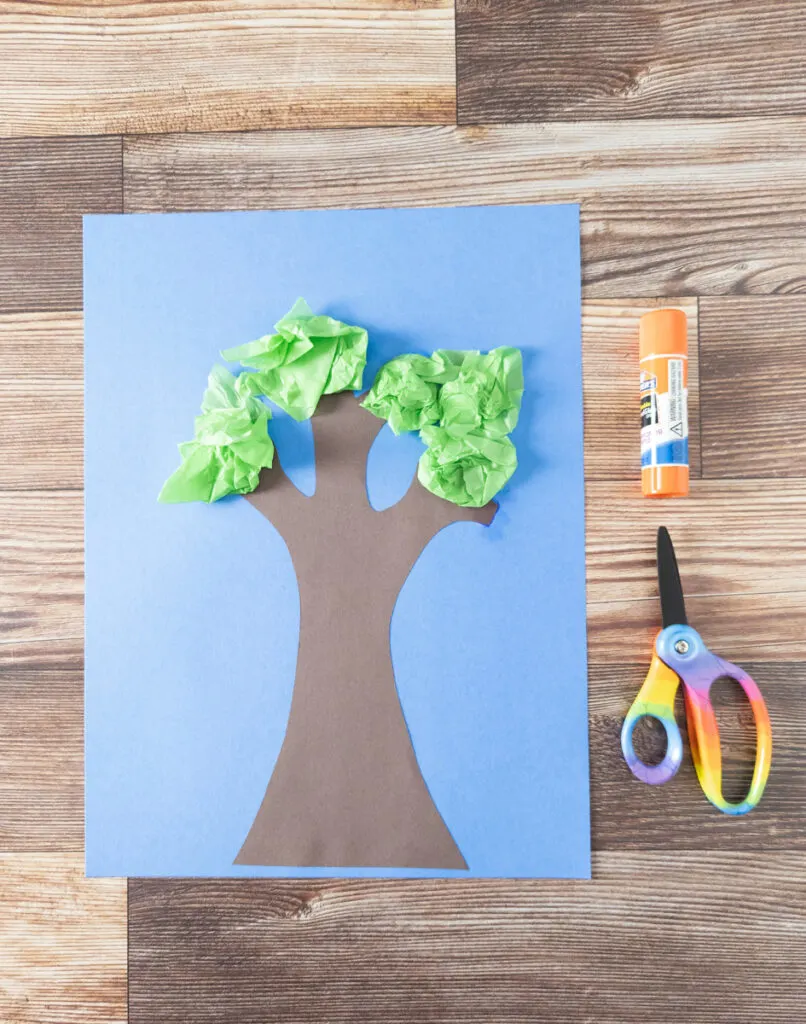 Lastly, it could be included in a habitat unit study. Children could create trees for different animal habitats or decorate their trees with different animals and insects to show who lives in or around it.
This encourages them to consider how different species interact with their environment. From birds to squirrels, and butterflies to spiders, it's a fantastic opportunity to learn about biodiversity.
In each of these applications, the tissue paper tree craft enhances learning through creativity and practical involvement.
Books About Trees for Preschoolers
Reading aloud to preschoolers is super important because it helps them develop language skills, literacy, and a love for reading.
And when you add hands-on activities like our tissue paper tree craft, it becomes a fun learning adventure that sparks their imagination and creativity.
Plus, there are tons of beautifully illustrated picture books about trees and nature that you can read together.
Tap the Magic Tree
Tall Tall Tree: A Nature Book for Kids About Forest Habitats (A Rhyming Counting Book with STEAM Activities)
Tree: A Peek-Through Board Book
Explore My World A Tree Grows Up
A Tree for All Seasons (Rise and Shine)
Tree Full of Wonder: An educational, rhyming book about magic of trees for children (World Full of Wonder)
When you combine these books with our craft, it's a cool educational experience that engages all their senses!
Tissue Paper Tree Craft Supplies
This project utilizes common craft supplies that you probably already have on hand, making it a convenient last-minute activity. Here's what you'll need: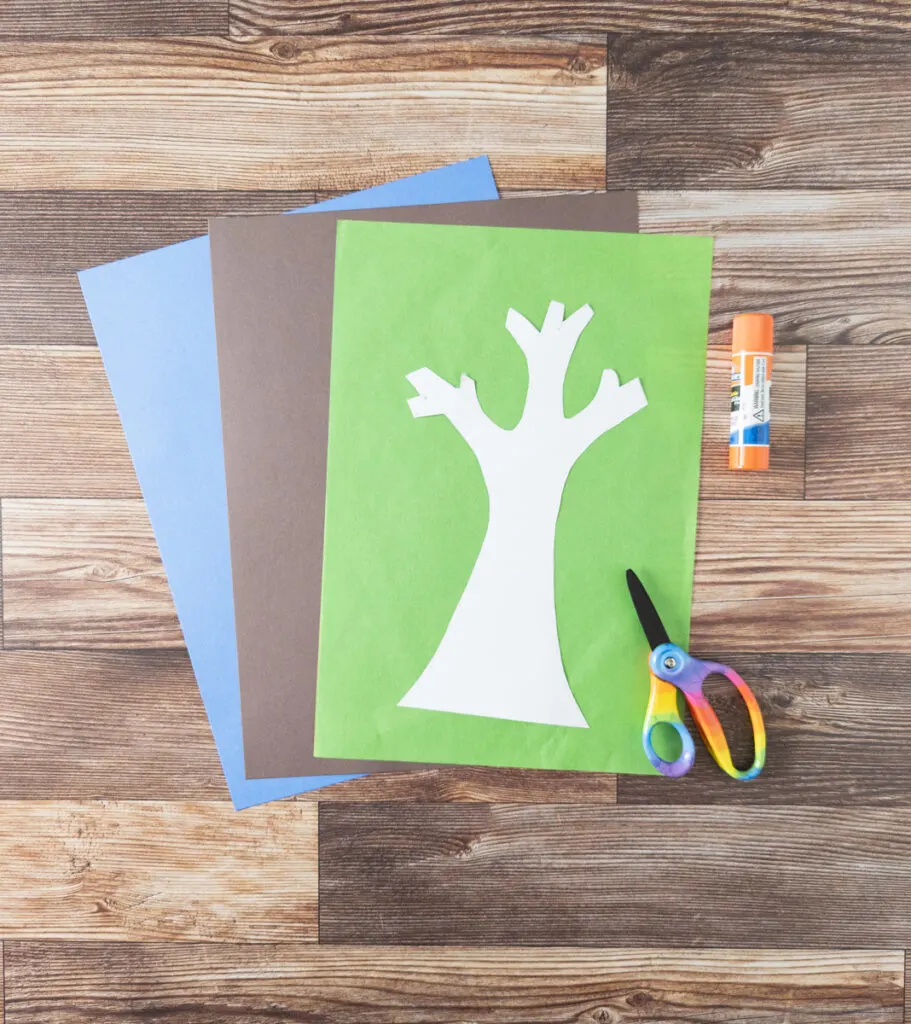 Tree Craft Template: We provide a free printable template that you can either print directly onto colored paper or use as a guide to trace and cut out a tree trunk. You can follow our instructions to create a tissue paper tree using the template, or you can trace your hand to make the tree.
Tissue Paper: Grab some green tissue paper for the leaves, or use different colors to represent different seasons. Children can either cut or tear full sheets of tissue paper, or use pre-cut tissue paper squares.
Construction Paper: You'll need paper to create the tree trunk and branches, as well as glue it to. For this tutorial, we used blue and brown construction paper.
Glue: You can use either liquid school glue or glue sticks to assemble the tree. Glue sticks tend to be less messy.
With these supplies and our instructions, you'll be able to create a beautiful tree in no time.
How to Make a Tissue Paper Tree
Begin by tracing your hand or the tree template onto a sheet of brown construction paper.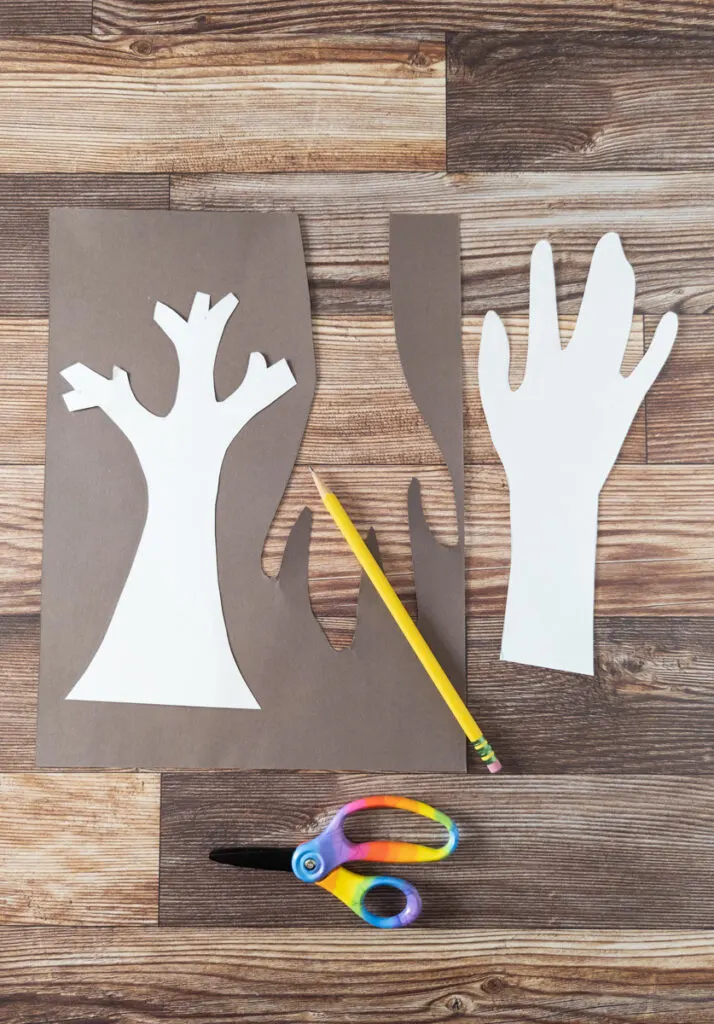 Next, carefully cut out the tree trunk and branches, and attach them onto another piece of construction paper.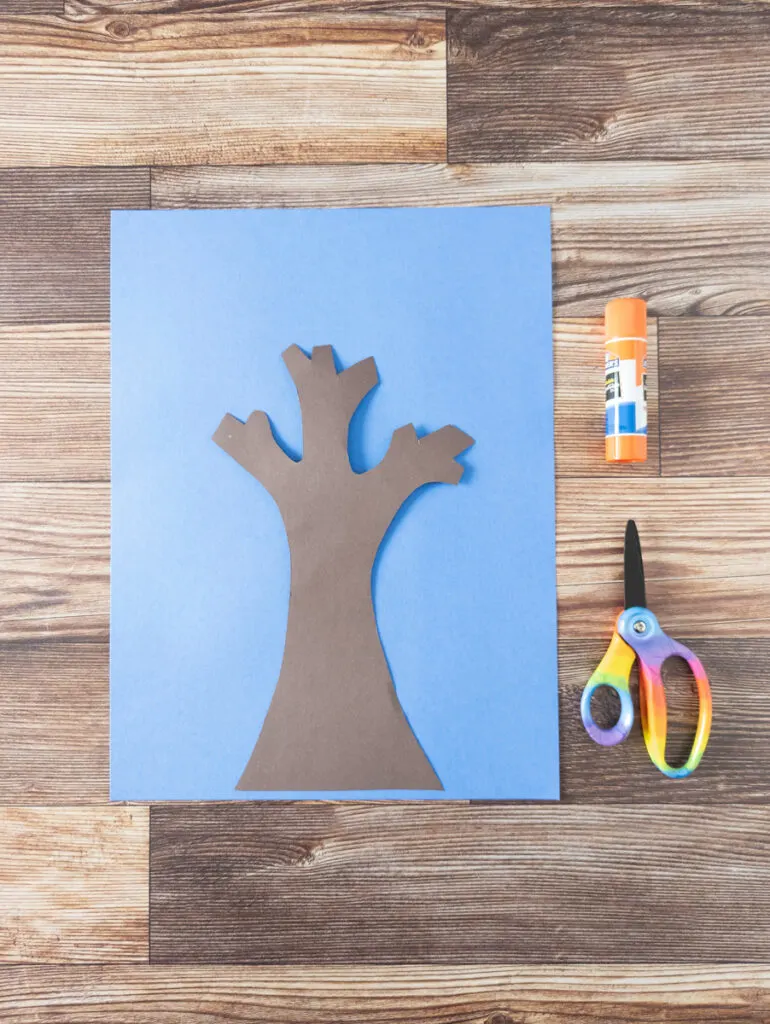 We used blue to make the tree pop against the sky.
Now, take some green tissue paper and tear or cut it into small pieces. Crumple the tissue paper and then glue it around the branches of the tree.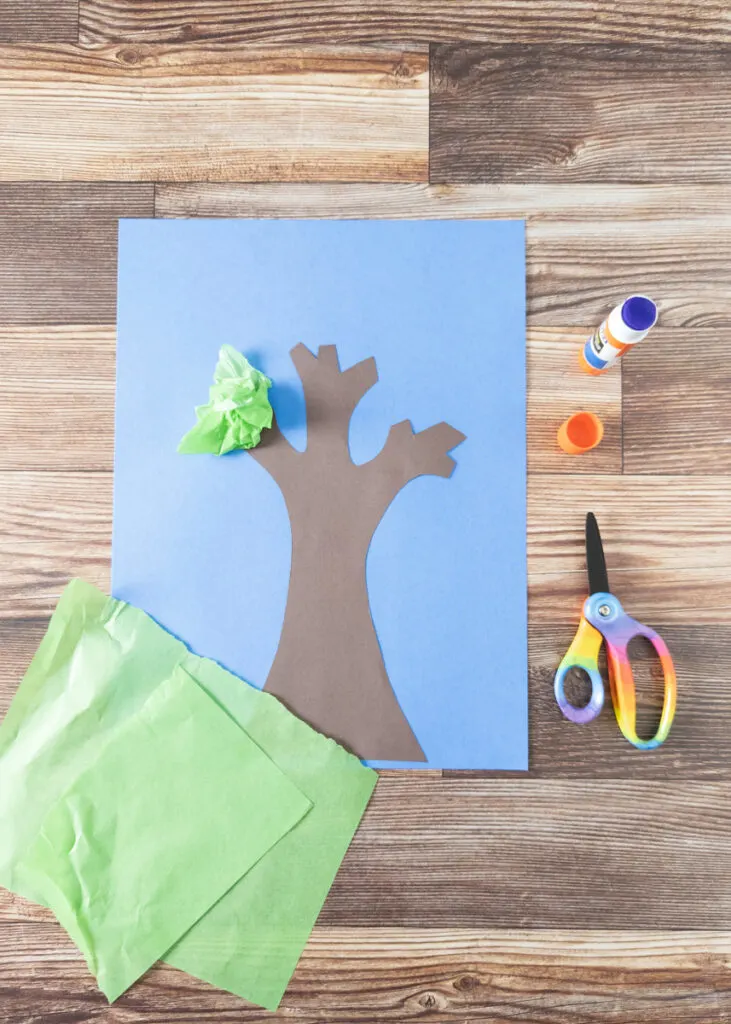 Feel free to make the tree as lush and full as you want.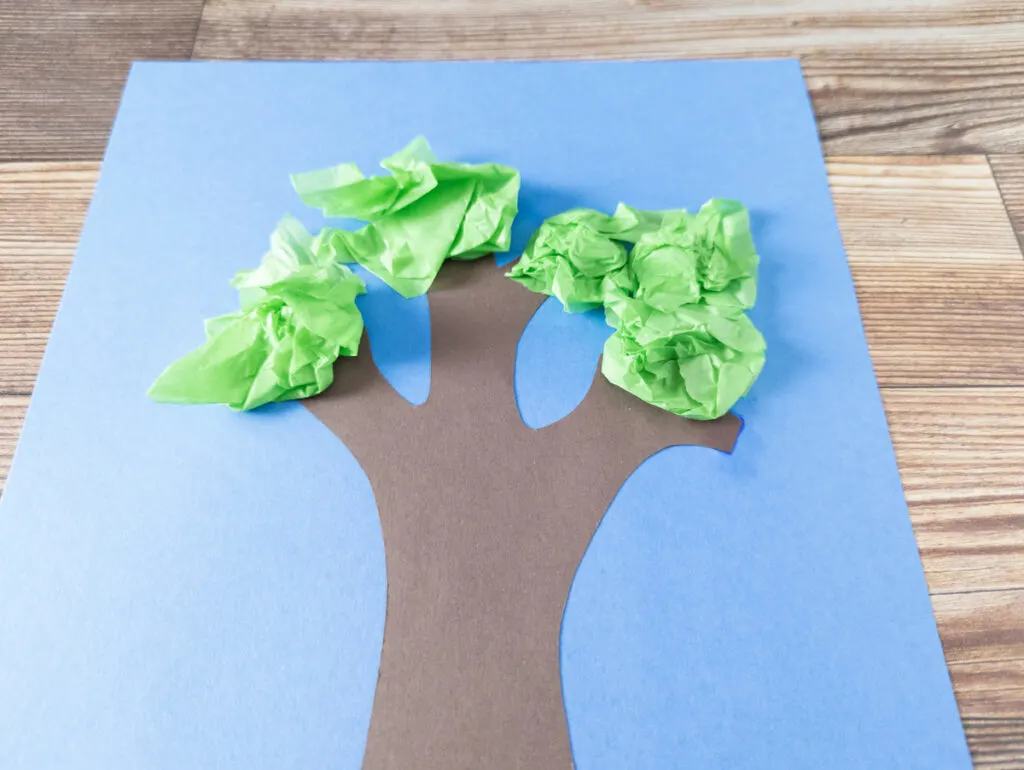 For added visual appeal, you can even incorporate a few falling leaves in various shades of green.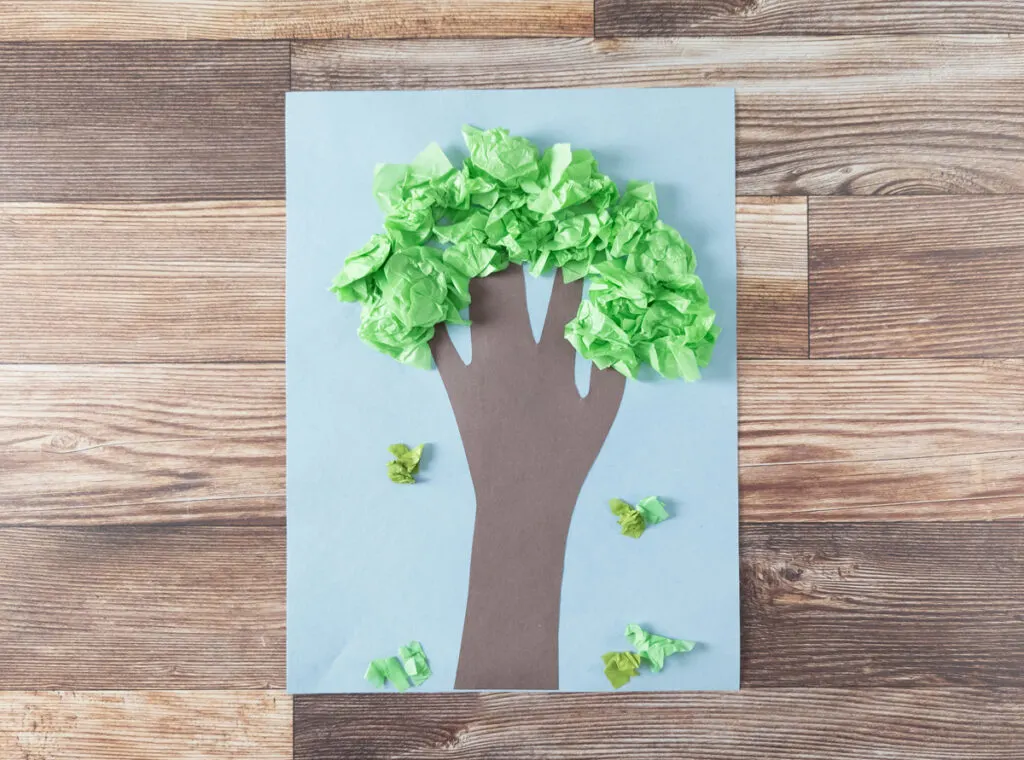 Lastly, allow the tree to thoroughly dry before proudly displaying your creation.
Additional Nature Activities for Kids
In addition to creating a stunning tissue paper tree, there are several other nature-themed activities that perfectly complement this craft, catering to the inherent curiosity children have about the world around them.
An animal scavenger hunt is a fantastic way for our little explorers to learn about different animals and their habitats. Provide children with a checklist of animals and let them go on a nature walk to spot these creatures in their natural surroundings.
These apple life cycle worksheets offer an engaging way to teach kids about the life cycle of an apple, from seeds to a full-grown apple. It's an excellent way to introduce the concept of plant growth and seasonal changes.
Making leaf rubbings is another fun and educational activity; they can collect various leaves and create beautiful rubbings using crayons, learning about different leaf shapes and patterns in the process.
Lastly, using these acorn line tracing printables is a great exercise to enhance fine motor skills. By tracing the lines next to the acorns, preschoolers can improve their hand-eye coordination and pencil grip.
These activities not only provide enjoyable learning experiences but also foster a deeper understanding and appreciation of nature.
More Tree Crafts for Kids
If your little ones enjoyed our tissue paper tree craft and are eager for more tree-themed creativity, we've got you covered!
Here are some additional tree craft ideas that they can easily make:
Lorax Truffula Tree Craft – While they aren't real trees, the story does have a message about the environment. Plus, kids will have a blast fork painting!
This Fall Tree Craft is covered in alphabet leaves for working on letter recognition at the same time.
Create a Handprint Apple Tree Craft by tracing your child's hand for the tree trunk and gluing on pom poms for the apples.
We hope you are inspired by all of these ideas for having a fun and engaging journey through nature, right from your living room or classroom. Our tissue paper tree craft not only sparks creativity but also enhances fine motor skills and literacy.
Paired with nature-inspired books and additional activities, it's an educational adventure that your kids will love. Remember, learning is most effective when it's fun and hands-on!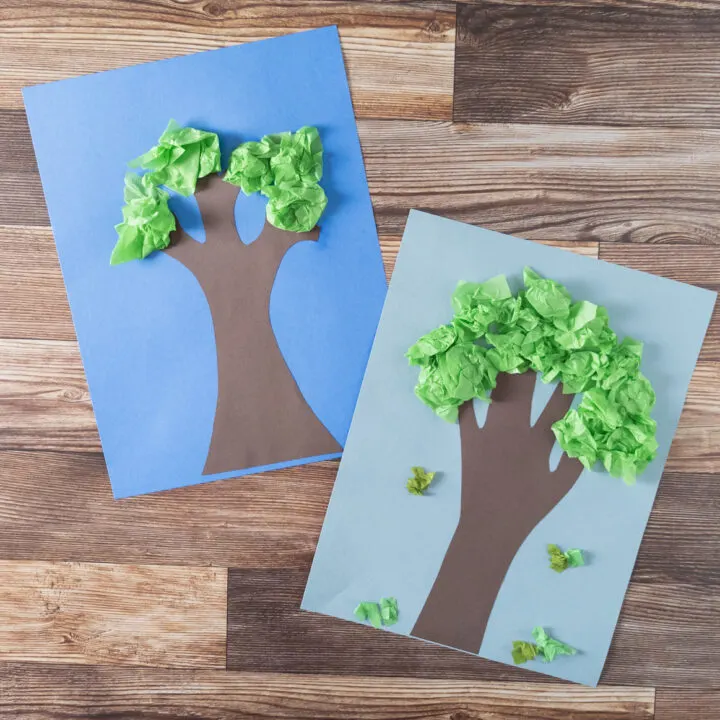 Tissue Paper Tree Craft
Estimated Cost:
$5 or less
Create this easy tissue paper tree craft for a fun nature-themed unit. Perfect for preschool and kindergarten children to make at home or school!
Materials
Tree Craft Template
2 Pieces of Construction Paper
Green Tissue Paper
Glue
Instructions
Start by tracing your hand or the tree template on a piece of brown construction paper.
Cut out the tree trunk and branches and glue them onto another piece of construction paper (we used blue).
Rip or cut green tissue paper into pieces.
Crumple tissue paper and glue around the branches of the tree.
Make the tree as full as you'd like. One one tree, we added a few falling leaves in multiple shades of green.
Allow tree to completely dry before displaying.
Recommended Products
As an Amazon Associate and member of other affiliate programs, I earn from qualifying purchases.